Abstract
Recent studies suggest that animals are decreasing in size as a general response to global warming, for reasons that remain unclear. Here, by analysing ectotherm death time curves that take into consideration the intensity and duration of a thermal challenge, we show that heat tolerance varies predictably with size. Smaller animals can maintain higher body temperatures than larger ones during short periods, but cannot maintain higher body temperatures over long periods as their endurance declines more rapidly with time. Body size effects and adaptive variation in heat tolerance may have been obscured in the past by these unaccounted for temporal effects. With increasing size, thermal death occurs at relatively lower metabolic rates with respect to rest at a non-stressful temperature, which might partly explain the reported reductions in organism size with climate warming and shed light on the mechanisms that underlie scaling.
Access options
Subscribe to Journal
Get full journal access for 1 year
$59.00
only $4.92 per issue
All prices are NET prices.
VAT will be added later in the checkout.
Tax calculation will be finalised during checkout.
Rent or Buy article
Get time limited or full article access on ReadCube.
from$8.99
All prices are NET prices.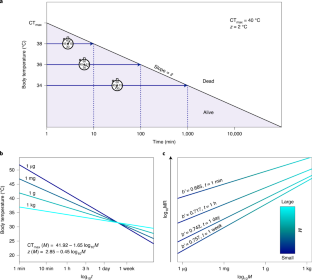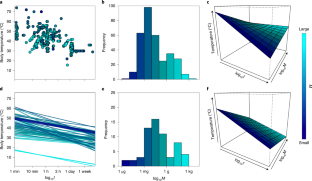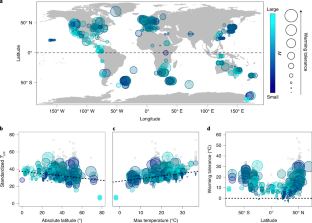 References
1.

Smith, J. J., Hasiotis, S. T., Kraus, M. J. & Woody, D. T. Transient dwarfism of soil fauna during the Paleocene–Eocene thermal maximum. Proc. Natl Acad. Sci. USA 106, 17655–17660 (2009).

2.

Sheridan, J. A. & Bickford, D. Shrinking body size as an ecological response to climate change. Nat. Clim. Change 1, 401–406 (2011).

3.

Daufresne, M., Lengfellner, K. & Sommer, U. Global warming benefits the small in aquatic ecosystems. Proc. Natl Acad. Sci. USA 106, 12788–12793 (2009).

4.

Gardner, J. L., Peters, A., Kearney, M. R., Joseph, L. & Heinsohn, R. Declining body size: a third universal response to warming? Trends Ecol. Evol. 26, 285–291 (2011).

5.

Gillooly, J. F., Brown, J. H., West, G. B., Savage, V. M. & Charnov, E. L. Effects of size and temperature on metabolic rate. Science 293, 2248–2251 (2001).

6.

Brown, J. H., Gillooly, J. F., Allen, A. P., Savage, V. M. & West, G. B. Toward a metabolic theory of ecology. Ecology 85, 1771–1789 (2004).

7.

Martinez del Rio, C. & Karasov, W. H. Body size and temperature: why they matter. Nat. Educ. Knowl. 3, 10 (2010).

8.

Araújo, M. B. et al. Heat freezes niche evolution. Ecol. Lett. 16, 1206–1219 (2013).

9.

Klockmann, M., Günter, F. & Fischer, K. Heat resistance throughout ontogeny: body size constrains thermal tolerance. Glob. Change Biol. 23, 686–696 (2017).

10.

Leiva, F. P., Calosi, P. & Verberk, W. C. Scaling of thermal tolerance with body mass and genome size in ectotherms: a comparison between water-and air-breathers. Philos. T. R. Soc. B. 374, 20190035 (2019).

11.

Sinclair, B. J., Vernon, P., Klok, C. J. & Chown, S. L. Insects at low temperatures: an ecological perspective. Trends Ecol. Evol. 18, 257–262 (2003).

12.

Rezende, E. L., Castañeda, L. E. & Santos, M. Tolerance landscapes in thermal ecology. Funct. Ecol. 28, 799–809 (2014).

13.

Santos, M., Castañeda, L. E. & Rezende, E. L. Making sense of heat tolerance estimates in ectotherms: lessons from Drosophila. Funct. Ecol. 25, 1169–1180 (2011).

14.

Rezende, E. L., Tejedo, M. & Santos, M. Estimating the adaptive potential of critical thermal limits: methodological problems and evolutionary implications. Funct. Ecol. 25, 111–121 (2011).

15.

Strang, T. J. K. A review of published temperatures for the control of pest insects in museums. Coll. Forum 8, 41–67 (1992).

16.

Sunday, J. M., Bates, A. E. & Dulvy, N. K. Global analysis of thermal tolerance and latitude in ectotherms. Proc. Natl Acad. Sci. USA 278, 1823–1830 (2010).

17.

Hoffmann, A. A., Chown, S. L. & Clusella–Trullas, S. Upper thermal limits in terrestrial ectotherms: how constrained are they? Funct. Ecol. 27, 934–949 (2013).

18.

May, R. M. How many species are there on earth? Science 241, 1441–1449 (1988).

19.

Sunday, J. M. et al. Thermal–safety margins and the necessity of thermoregulatory behavior across latitude and elevation. Proc. Natl Acad. Sci. USA 111, 5610–5615 (2014).

20.

Pinsky, M. L., Eikeset, A. M., McCauley, D. J., Payne, J. L. & Sunday, J. M. Greater vulnerability to warming of marine versus terrestrial ectotherms. Nature 569, 108–111 (2019).

21.

Kearney, M. R., Gillingham, P. K., Bramer, I., Duffy, J. P. & Maclean, I. M. A method for computing hourly, historical, terrain‐corrected microclimate anywhere on Earth. Methods Ecol. Evol. 11, 38–43 (2020).

22.

Rezende, E. L., Bozinovic, F., Szilágyi, A. & Santos, M. Predicting temperature mortality and selection in natural Drosophila populations. Science 369, 1242–1245 (2020).

23.

Glazier, D. S. A unifying explanation for diverse metabolic scaling in animals and plants. Biol. Rev. 85, 111–138 (2010).

24.

Schmid, P. E., Tokeshi, M. & Schmid-Araya, J. M. Relation between population density and body size in stream communities. Science 289, 1557–1560 (2000).

25.

Pörtner, H. O. & Knust, R. Climate change affects marine fishes through the oxygen limitation of thermal tolerance. Science 315, 95–97 (2007).

26.

Fan, Y. & van den Dool, H. A global monthly land surface air temperature analysis for 1948–present. J. Geophys. Res. Atmos. 113, 1–18 (2008).

27.

Reynolds, R. W., Rayner, N. A., Smith, T. M., Stokes, D. C. & Wang, W. An improved in situ and satellite SST analysis for climate. J. Clim. 15, 1609–1625 (2002).

28.

Crisp, D. J. Methods for the Study of Marine Benthos 2nd edn (eds Holme, N. A. & McIntyre, A. D) 284–366 (Blackwell, 1984).

29.

Reiss, J. & Schmid‐Araya, J. M. Existing in plenty: abundance, biomass and diversity of ciliates and meiofauna in small streams. Freshw. Bol. 53, 652–668 (2008).

30.

Burnham, K. P. & Anderson, D. R. Model Selection and Multimodel Inference: A Practical Information–Theoretic Approach (Springer, 2002).

31.

Turkheimer, F. E., Hinz, R. & Cunningham, V. J. On the undecidability among kinetic models: from model selection to model averaging. J. Cereb. Blood Flow. Metab. 23, 490–498 (2003).
Acknowledgements
We thank M. Santos for discussions on the subject and insightful comments on a first draft. This work was partly funded by a ANID PIA/BASAL FB0002 grant and a FONDECYT grant no. 1170017 to E.L.R.
Ethics declarations
Competing interests
The authors declare no competing interests.
Additional information
Peer review information Nature Climate Change thanks Félix Leiva and the other, anonymous, reviewer(s) for their contribution to the peer review of this work.
Publisher's note Springer Nature remains neutral with regard to jurisdictional claims in published maps and institutional affiliations.
Supplementary information
Supplementary methods for heat tolerance and metabolic scaling comparisons, Tables 1–4, Figs. 1–5 and references.
About this article
Cite this article
Peralta-Maraver, I., Rezende, E.L. Heat tolerance in ectotherms scales predictably with body size. Nat. Clim. Chang. 11, 58–63 (2021). https://doi.org/10.1038/s41558-020-00938-y
Received:

Accepted:

Published:

Issue Date:
Further reading
Nature Climate Change (2021)

Rory S. Telemeco

&

Eric J. Gangloff

Journal of Experimental Zoology Part A: Ecological and Integrative Physiology (2021)