Abstract
The massive expansion of scientific literature on climate change1 poses challenges for global environmental assessments and our understanding of how these assessments work. Big data and machine learning can help us deal with large collections of scientific text, making the production of assessments more tractable, and giving us better insights about how past assessments have engaged with the literature. We use topic modelling to draw a topic map, or topography, of over 400,000 publications from the Web of Science on climate change. We update current knowledge on the IPCC, showing that compared with the baseline of the literature identified, the social sciences are in fact over-represented in recent assessment reports. Technical, solutions-relevant knowledge—especially in agriculture and engineering—is under-represented. We suggest a variety of other applications of such maps, and our findings have direct implications for addressing growing demands for more solution-oriented climate change assessments that are also more firmly rooted in the social sciences2,3. The perceived lack of social science knowledge in assessment reports does not necessarily imply an IPCC bias, but rather suggests a need for more social science research with a focus on technical topics on climate solutions.
Access options
Subscribe to Journal
Get full journal access for 1 year
$99.00
only $8.25 per issue
All prices are NET prices.
VAT will be added later in the checkout.
Tax calculation will be finalised during checkout.
Rent or Buy article
Get time limited or full article access on ReadCube.
from$8.99
All prices are NET prices.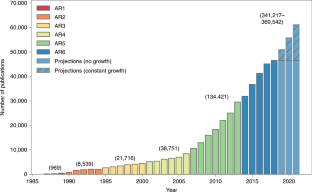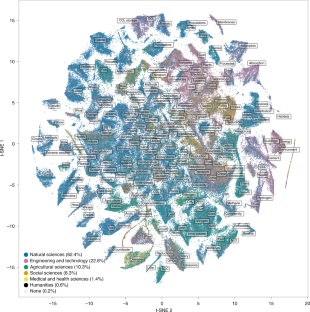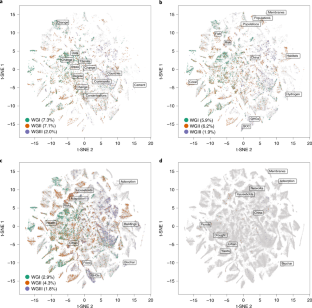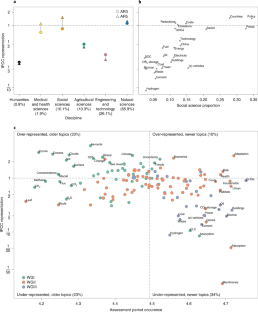 Data availability
The datasets from the study are available as Supplementary Information files.
References
1.

Minx, J. C., Callaghan, M., Lamb, W. F., Garard, J. & Edenhofer, O. Learning about climate change solutions in the IPCC and beyond. Environ. Sci. Policy 77, 252–259 (2017).

2.

Kowarsch, M. et al. A road map for global environmental assessments. Nat. Clim. Change 7, 379–382 (2017).

3.

Victor, D. G. Embed the social sciences in climate policy. Nature 520, 7–9 (2015).

4.

Nunez-Mir, G. C. et al. Automated content analysis: addressing the big literature challenge in ecology and evolution. Methods Ecol. Evol. 7, 1262–1272 (2016).

5.

Grieneisen, M. & Zhang, M. The current status of climate change research. Nat. Clim. Change 1, 72–73 (2011).

6.

Haunschild, R., Bornmann, L. & Marx, W. Climate change research in view of bibliometrics. PLoS ONE 11, e0160393 (2016).

7.

IPCC Climate Change 2014: Synthesis Report (eds Core Writing Team, Pachauri, R. K. & Meyer, L. A.) (IPCC, 2014).

8.

Rao, V. B. et al. Future increase in extreme El Nino events under greenhouse warming increases Zika virus incidence in South America. npj Clim. Atmos. Sci. 2, 2–8 (2019).

9.

IPCC Principles Governing IPCC Work (IPCC, 2013).

10.

Chalmers, I., Hedges, L. V. & Cooper, H. A brief history of research synthesis. Eval. Health Prof. 25, 12–37 (2002).

11.

Beller, E. et al. Making progress with the automation of systematic reviews: principles of the International Collaboration for the Automation of Systematic Reviews (ICASR). Syst. Rev. 7, 77 (2018).

12.

Bjurström, A. & Polk, M. Physical and economic bias in climate change research: a scientometric study of IPCC Third Assessment Report. Climatic Change 108, 1–22 (2011).

13.

Blei, D., Carin, L. & Dunson, D. Probabilistic topic models. IEEE Signal Process. Mag. 27, 55–65 (2010).

14.

Lee, D. D. & Seung, H. S. Learning the parts of objects by non-negative matrix factorization. Nature 401, 788–791 (1999).

15.

Van der Maaten, L. & Hinton, G. Visualizing data using t-SNE. J. Mach. Learn. Res. 9, 2579–2605 (2008).

16.

Moss, R. H. et al. The next generation of scenarios for climate change research and assessment. Nature 463, 747–756 (2010).

17.

Hulme, M. & Mahony, M. Climate change: what do we know about the IPCC? Prog. Phys. Geog. 34, 705–718 (2010).

18.

Corbera, E., Calvet-Mir, L., Hughes, H. & Paterson, M. Patterns of authorship in the IPCC Working Group III report. Nat. Clim. Change 6, 94–99 (2016).

19.

Overland, I. & Sovacool, B. K. The misallocation of climate research funding. Energy Res. Soc. Sci. 62, 101349 (2020).

20.

Ford, J. D. et al. Including indigenous knowledge and experience in IPCC assessment reports. Nat. Clim. Change 6, 349–353 (2016).

21.

Meehl, G. A. et al. The WCRP CMIP3 multimodel dataset: a new era in climatic change research. Bull. Am. Meteorol. Soc. 88, 1383–1394 (2007).

22.

Le, Q. V. & Mikolov, T. Distributed representations of sentences and documents. In Proc. International Conference on Machine Learning Vol. 32 (eds Xing, E. P. & Jebara, T.) 1188–1196 (PMLR, 2014).

23.

Khabsa, M. & Giles, C. L. The number of scholarly documents on the public web. PLoS ONE 9, e93949 (2014).

24.

Pedregosa, F. et al. Scikit-learn: machine learning in Python. J. Mach. Learn. Res. 12, 2825–2830 (2011).

25.

Chaney, A. J. B. & Blei, D. M. Visualizing topic models. In Proc. Sixth International AAAI Conference on Weblogs and Social Media 419–422 (Association for the Advancement of Artificial Intelligence, 2012).

26.

Chang, J., Gerrish, S., Wang, C., Boyd-graber, J. L. & Blei, D. M. Reading tea leaves: how humans interpret topic models. Adv. Neural Inf. Process. Syst. 22, 288–296 (2009).

27.

Hall, D., Jurafsky, D. & Manning, C. D. Studying the history of ideas using topic models. In Proc. Conference on Empirical Methods in Natural Language Processing 363–371 (Association for Computational Linguistics, 2008).
Acknowledgements
M.C. is supported by a PhD stipend from the Heinrich Böll Stiftung. J.M. acknowledges funding from the German Federal Ministry of Education and Research within the PEGASOS project (grant reference: 01LA1826A).
Ethics declarations
Competing interests
The authors declare no competing interests.
Additional information
Peer review information Nature Climate Change thanks Robin Haunschild, Hannah Hughes and the other, anonymous, reviewer(s) for their contribution to the peer review of this work.
Publisher's note Springer Nature remains neutral with regard to jurisdictional claims in published maps and institutional affiliations.
Supplementary information
About this article
Cite this article
Callaghan, M.W., Minx, J.C. & Forster, P.M. A topography of climate change research. Nat. Clim. Chang. 10, 118–123 (2020). https://doi.org/10.1038/s41558-019-0684-5
Received:

Accepted:

Published:

Issue Date: