Abstract
Economic development in sub-Saharan Africa has increased carbon emissions and will continue to do so. However, changes in emissions in the past few decades and their underlying drivers are not well understood. Here we use a Kaya decomposition to show that rising carbon intensity has played an increasingly important role in emission growth in sub-Saharan Africa since 2005. These changes have mainly been driven by the increasing use of oil, especially in the transportation sector. Combining investment data in the power sector with economic and population projections, we find that investments in new coal-fired capacity may become a major driver of future carbonization. Our results highlight the importance of making low-carbon technologies available and financially attractive to sub-Saharan African countries to avoid a lock-in of emission-intensive energy use patterns.
Access options
Subscribe to Journal
Get full journal access for 1 year
$209.00
only $17.42 per issue
All prices are NET prices.
VAT will be added later in the checkout.
Rent or Buy article
Get time limited or full article access on ReadCube.
from$8.99
All prices are NET prices.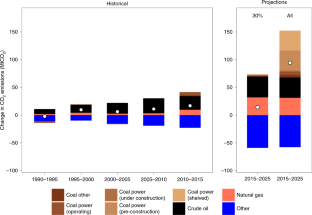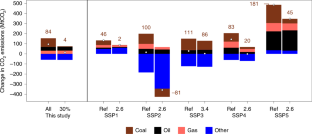 Data availability
The data used in this study are not publically available (except Shearer et al.22 and Wirth34). Data on emissions and energy are available from the IEA15, and data on power plants are available from Platts16, but fees and restrictions apply to the availability of both databases that we used under license for the current study. Data are available from the authors on reasonable request and with permission of the IEA and Platts, respectively. Data on SSP scenarios rely on peer reviewed publications and are available from the respective modelling teams23,24,25,26,27,28.
References
1.

IPCC Climate Change 2014: Mitigation of Climate Change (eds Edenhofer, O. et al.) (Cambridge Univ. Press, 2014).

2.

Steckel, J. C., Edenhofer, O. & Jakob, M. Drivers for the renaissance of coal. Proc. Natl Acad. Sci. USA 112, E3775–E3781 (2015).

3.

Davis, S. J. & Socolow, R. H. Commitment accounting of CO2 emissions. Environ. Res. Lett. 9, 084018 (2014).

4.

Edenhofer, O., Steckel, J. C., Jakob, M. & Bertram, C. Reports of coal's terminal decline may be exaggerated. Environ. Res. Lett. 13, 024019 (2018).

5.

Peters, G. P. et al. Key indicators to track current progress and future ambition of the Paris Agreement. Nat. Clim. Change 7, 118–122 (2017).

6.

Jackson, R. B. et al. Warning signs for stabilizing global CO2 emissions. Environ. Res. Lett. 12, 110202 (2017).

7.

Akinlo, A. E. Energy consumption and economic growth: evidence from 11 sub-Sahara African countries. Energy Econ. 30, 2391–2400 (2008).

8.

Kebede, E., Kagochi, J. & Jolly, C. M. Energy consumption and economic development in sub-Sahara Africa. Energy Econ. 32, 532–537 (2010).

9.

Wolde-Rufael, Y. Energy demand and economic growth: the African experience. J. Policy Model. 27, 891–903 (2005).

10.

Wolde-Rufael, Y. Energy consumption and economic growth: the experience of African countries revisited. Energy Econ. 31, 217–224 (2009).

11.

Lucas, P. L. et al. Future energy system challenges for Africa: insights from integrated assessment models. Energy Policy 86, 705–717 (2015).

12.

Calvin, K., Pachauri, S., De Cian, E. & Mouratiadou, I. The effect of African growth on future global energy, emissions, and regional development. Climatic Change 136, 109–125 (2016).

13.

van der Zwaan, B., Kober, T., Longa, F. D., van der Laan, A. & Jan Kramer, G. An integrated assessment of pathways for low-carbon development in Africa. Energy Policy 117, 387–395 (2018).

14.

Leimbach, M., Roming, N., Schultes, A. & Schwerhoff, G. Long-term development perspectives of sub-Saharan Africa under climate policies. Ecol. Econ. 144, 148–159 (2018).

15.

World Energy Balances (IEA, 2017).

16.

World Electric Power Plants Database (Platts, 2017).

17.

Riahi, K. et al. The shared socioeconomic pathways and their energy, land use, and greenhouse gas emissions implications: an overview. Glob. Environ. Change 42, 153–168 (2017).

18.

Kaya, Y. in Response Strategies Working Group, Energy and Industry Subgroup (IPCC, 1989).

19.

Tilman, D. et al. Beneficial biofuels—the food, energy, and environment trilemma. Science 325, 270–271 (2009).

20.

Cherubini, F., Peters, G. P., Berntsen, T., StrøMman, A. H. & Hertwich, E. CO2 emissions from biomass combustion for bioenergy: atmospheric decay and contribution to global warming. GCB Bioenergy 3, 413–426 (2011).

21.

Summary Statistics: Coal Plants by Country (MW) July 2019 (Global Coal Plant Tracker, 2019).

22.

Shearer, C., Mathew-Shaw, N., Myllyvirta, L., Yu, A. & Nace, T. Boom and Bust 2018: Tracking the Global Coal Plant Pipeline (2018); http://endcoal.org/wp-content/uploads/2018/03/BoomAndBust_2018_r4.pdf

23.

van Vuuren, D. P. et al. Energy, land-use and greenhouse gas emissions trajectories under a green growth paradigm. Glob. Environ. Change 42, 237–250 (2017).

24.

Fricko, O. et al. The marker quantification of the Shared Socioeconomic Pathway 2: a middle-of-the-road scenario for the 21st century. Glob. Environ. Change 42, 251–267 (2017).

25.

Fujimori, S. et al. SSP3: AIM implementation of shared socioeconomic pathways. Glob. Environ. Change 42, 268–283 (2017).

26.

Calvin, K. et al. The SSP4: a world of deepening inequality. Glob. Environ. Change 42, 284–296 (2017).

27.

Kriegler, E. et al. Fossil-fueled development (SSP5): an energy and resource intensive scenario for the 21st century. Glob. Environ. Change 42, 297–315 (2017).

28.

Bauer, N. et al. Shared socio-economic pathways of the energy sector—quantifying the narratives. Glob. Environ. Change 42, 316–330 (2017).

29.

Jakob, M. & Steckel, J. C. How climate change mitigation could harm development in poor countries. WIREs Clim. Change 5, 161–168 (2014).

30.

McCollum, D. L. et al. Connecting the sustainable development goals by their energy inter-linkages. Environ. Res. Lett. 13, 033006 (2018).

31.

Sun, J. W. & Ang, B. W. Some properties of an exact energy decomposition model. Energy 25, 1177–1188 (2000).

32.

Ang, B. W. Decomposition analysis for policymaking in energy: which is the preferred method? Energy Policy 32, 1131–1139 (2004).

33.

Steckel, J. C., Jakob, M., Marschinski, R. & Luderer, G. From carbonization to decarbonization? Past trends and future scenarios for China's CO2 emissions. Energy Policy 39, 3443–3455 (2011).

34.

Wirth, H. Recent Facts about Photovoltaics in Germany (Fraunhofer ISE, 2018); https://www.ise.fraunhofer.de/en/publications/studies/recent-facts-about-pv-in-germany.html

35.

IPCC 2006 IPCC Guidelines for National Greenhouse Gas Inventories (eds Eggleston, H. S. et al.) (Institute for Global Environmental Strategies, 2006).
Acknowledgements
The authors acknowledge funding from the German Federal Ministry of Education and Research (BMBF), funding code 011A1807A (DECADE). We also thank K. Calvin (PNNL), N. Bauer (PIK), D. van Vuuren and M. Hamsen (PBL), S. Fujimori (NIES) and O. Fricko (IIASA) for sharing IAM data with us. We thank L. Montrone and L. M. Puerto Chaves for excellent research assistance.
Ethics declarations
Competing interests
The authors declare no competing interests.
Additional information
Peer review information Nature Climate Change thanks Fadiel Ahjum, Heli Arminen, Paul Lucas and the other, anonymous, reviewer(s) for their contribution to the peer review of this work.
Publisher's note Springer Nature remains neutral with regard to jurisdictional claims in published maps and institutional affiliations.
Supplementary information
Supplementary Figs. 1–8, Tables 1–5 and detailed descriptions of data and methods.
About this article
Cite this article
Steckel, J.C., Hilaire, J., Jakob, M. et al. Coal and carbonization in sub-Saharan Africa. Nat. Clim. Chang. 10, 83–88 (2020). https://doi.org/10.1038/s41558-019-0649-8
Received:

Accepted:

Published:

Issue Date: