Saltwater wetlands are typically a carbon sink, whereas freshwater wetlands are generally a net source of greenhouse gases (GHGs). However, the effect of increasing salinity on GHG emissions from freshwater wetlands is uncertain. Restoration of drained wetlands is an important conservation strategy; as freshwater wetlands provide important ecosystem services. Moreover, conversion of dried peatland to wetlands may mitigate carbon loss from these systems, as CH4 emissions could be offset by plant biomass production.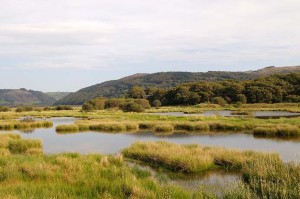 Samuel Chamberlain, from the University of California, Berkley, USA, and colleagues use ecosystem-scale eddy covariance measurements and machine learning models to investigate the effects that increasing salinity due to drought had on GHG emissions from wetlands. They find that salinization could lead to increased emissions. This effect was due to stronger decreases in net primary productivity (64%) that were not balanced by a similar decrease in CH4 emissions (CH4 decreased by 10%).
These results indicate that, with changing weather and precipitation patterns, freshwater wetlands may become stronger sources of GHGs to the atmosphere.
About this article
Cite this article
Findlay, A. Salty, gassy wetlands. Nat. Clim. Chang. 9, 801 (2019). https://doi.org/10.1038/s41558-019-0623-5