Abstract
People who distrust scientists are more likely to reject scientific consensus, and are more likely to support politicians who are sceptical of scientific research1. Consequently, boosting Americans' trust in scientists is a central goal of science communication2. However, while previous research has identified several correlates of distrust in climate scientists3 and scientists more broadly4, far less is known about potential long-term influences taking root in young adulthood. This omission is notable, as previous research suggests that attitudes towards science formulated in pre-teenage years play a key role in shaping attitudes in adulthood5. Using data from the Longitudinal Study of American Youth, I find that interest in science at age 12–14 years is associated with increased trust in climate scientists in adulthood (mid thirties), irrespective of Americans' political ideology. The enduring and bipartisan effects of scientific interest at young ages suggest a potential direction for future efforts to boost mass trust in climate scientists.
Relevant articles
Open Access articles citing this article.
Matthew Motta

&

Timothy Callaghan

Scientific Reports Open Access 01 July 2020
Access options
Subscribe to Nature+
Get immediate online access to Nature and 55 other Nature journal
Subscribe to Journal
Get full journal access for 1 year
$99.00
only $8.25 per issue
All prices are NET prices.
VAT will be added later in the checkout.
Tax calculation will be finalised during checkout.
Buy article
Get time limited or full article access on ReadCube.
$32.00
All prices are NET prices.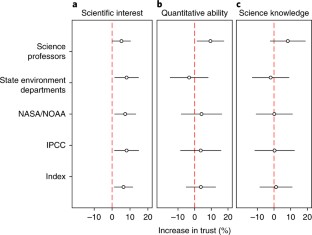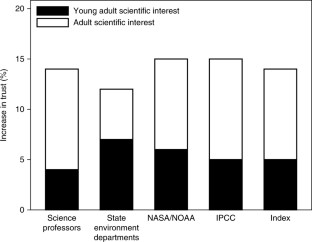 References
Motta, M. The dynamics and political implications of anti-intellectualism in the United States. Am. Politics Res. https://doi.org/10.1177/1532673X17719507 (2017).

Besley, J. & Dudo, A. in Oxford Research Encyclopedia of Climate Science 10.1093/acrefore/9780190228620.013.380 (Oxford Univ. Press, Oxford, 2017).

Gordon, G. Politicization of science in the public sphere: A study of public trust in the United States, 1974 to 2010. Am. Sociol. Rev. 77, 167–187 (2012).

Gauchat, G., O'Brien, T. & Mirosa, O. The legitimacy of environmental scientists in the public sphere. Climatic Change 143, 297–306 (2017).

Simpson, R. D. & Oliver, J. S. A summary of major influences on attitude toward and achievement in science among adolescent students. Sci. Educ. 74, 1–18 (1990).

Blank, J. M. & Shaw, D. Does partisanship shape attitudes toward science and public policy? The case for ideology and religion. Ann. Am. Acad. Pol. Soc. Sci. 658, 18–35 (2015).

McCright, A. M., Dentzman, K., Charters, M. & Dietz, T. The influence of political ideology on trust in science. Environ. Res. Lett. 8, 044029 (2013).

Funk, C. & Kennedy, B. The Politics of Climate (Pew Research Center, 2016).

Klopfer, L. E. in Handbook on Formative and Summative Evaluation of Student Learning (eds Bloom, B. S. et al) 559–641 (McGraw-Hill, London, 1971).

Osborne, J., Shirley, S. & Collins, S. Attitudes towards science: A review of the literature and its implications. Int. J. Sci. Educ. 25, 1049–1079 (2003).

Gardner, P.L. Attitudes to science: A review. Stud. Sci. Educ. 2, 1–41 (1975).

Kahan, D. M., Carpenter K. & Landrum, A. Evidence-Based Science Filmmaking Initiative: Study No. 1 (The Cultural Cognition Project at Yale Law School, New Haven, 2015); https://doi.org/10.2139/ssrn.2713563

Kahan, D. M., Landrum, A., Carpenter, K., Helft, L. & Jamieson, K. H. Science curiosity and political information processing. Political Psychol. 38, 179–199 (2017).

Kahan, D. M. & et al The polarizing impact of science literacy and numeracy on perceived climate change risks. Nat. Clim. Change 2, 732–735 2012).

Kahan, D. M., Peters, E., Cantrell Dawson, E. & Slovic, P. Motivated numeracy and enlightened self-government. Behav. Public Poliÿcy 1, 54–86 (2017).

Gauchat, G. W. A test of three theories of anti-science attitudes. Sociol. Focus 41, 337–357 (2008).

Sturgis, P. & Allum, N. Science in society: Re-evaluating the deficit model of public attitudes. Public Underst. Sci. 13, 55–74 (2004).

Lewandowsky, S. & Oberauer, K. Motivated rejection of science. Curr. Dir. Psychol. Sci. 25, 217–222 (2016).

Miller, J. D. Longitudinal Study of American Youth, 1987-1994, 2007-2011 ICPSR30263 (Inter-university Consortium for Political and Social Research, 2016); https://doi.org/10.3886/ICPSR30263.v6

Kahan, D. M. Ordinary science intelligence: A science-comprehension measure for study of risk and science communication, with notes on evolution and climate change. J. Risk Res. 20, 995–1016 (2017).

Ansolabehere, S., Rodden, J. & Snyder, J. M. The strength of issues: Using multiple measures to gauge preference stability, ideological constraint, and issue voting. Am. Political Sci. Rev. 102, 215–232 (2008).

Landrum, A. R., Eaves, B. S. & Shafto, P. Learning to trust and trusting to learn: A theoretical framework. Trends Cogn. Sci. 19, 109–111 (2015).

Nuccitelli, D. The climate change generation gap. Bulletin of the Atomic Scientists (21 April 2016); https://thebulletin.org/climate-change-generation-gap9351

Wu, J. S. & Lee, J. J. Climate change games as tools for education and engagement. Nat. Clim. Change 5, 413–418 (2015).

Kwok, R. Enterprise: Game on. Nature 547, 369–371 (2017).

Lindsey, R. Record low sea ice in Alaska waters in fall 2017. ClimateWatch Magazine (21 November 2017); https://www.climate.gov/news-features/featured-images/record-low-sea-ice-alaska-waters-fall-2017
Acknowledgements
Funding for this research was provided by the National Science Foundation (grant no. 00039202).
Ethics declarations
Competing interests
The author declares no competing interests.
Additional information
Publisher's note: Springer Nature remains neutral with regard to jurisdictional claims in published maps and institutional affiliations.
Supplementary information
Supplementary Tables 1–6 and Figures 1 & 2
This DO file (syntax file for Stata 13) contains all syntax necessary to reproduce the tables and figures presented in both the letter and Supplementary Information. File paths have been removed, so the user must point to locations on their own drive. As a reminder, the data necessary to reproduce these findings can be downloaded for free (consult the Methods for a full citation and link)
About this article
Cite this article
Motta, M. The enduring effect of scientific interest on trust in climate scientists in the United States. Nature Clim Change 8, 485–488 (2018). https://doi.org/10.1038/s41558-018-0126-9
Received:

Accepted:

Published:

Issue Date:

DOI: https://doi.org/10.1038/s41558-018-0126-9
This article is cited by
Matthew J. Hornsey
Stephan Lewandowsky

Nature Human Behaviour (2022)

Matthew Motta
Timothy Callaghan

Scientific Reports (2020)

Nature Climate Change (2018)