A large number of published ecological studies fail to include basic information about the climate data used. In the interest of reproducibility and transparency, we offer recommendations for best practices that we urge Editors, authors, and reviewers to adopt in future publications.
Access options
Subscribe to Journal
Get full journal access for 1 year
$59.00
only $4.92 per issue
All prices are NET prices.
VAT will be added later in the checkout.
Tax calculation will be finalised during checkout.
Rent or Buy article
Get time limited or full article access on ReadCube.
from$8.99
All prices are NET prices.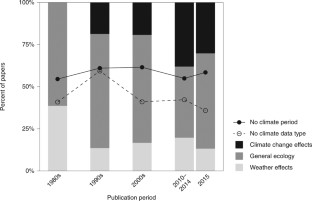 References
1.

Cheng, L. et al. Ecol. Lett. 13, 284–291 (2010).

2.

Reichman, O. J., Jones, M. B. & Schildhauer, M. P. Science 331, 703–705 (2011).

3.

Karl, T. R. et al. Bull. Am. Meteorol. Soc. 77, 279–292 (1996).

4.

Hijmans, R. J., Cameron, S. E., Parra, J. L., Jones, P. G. & Jarvis, A. Int. J. Climatol. 25, 1965–1978 (2005).

5.

Groisman, P. Y., Legates, D. R., Groisman, P. Y. & Legates, D. R. Bull. Am. Meteorol. Soc. 75, 215–227 (1994).

6.

Oyler, J. W., Dobrowski, S. Z., Ballantyne, A. P., Klene, A. E. & Running, S. W. Geophys. Res. Lett. 42, 153–161 (2015).

7.

Date and Time Formats (W3C, 1997); http://go.nature.com/2AjU0cw

8.

Climate-data-reporting (Github, 2017); http://go.nature.com/2z8mOWZ
Acknowledgements
We thank P. Papper for help with data collection, S. Veloz and T. Dawson for comments that improved this manuscript, and M. Schildhauer for discussions on ecological metadata language. N.M.H. acknowledges support from a Villum Foundation Postdoctoral Fellowship and the Danish National Research Foundation (DNRF96) for support to the Center for Macroecology, Evolution and Climate. The research was further supported by NSF Research Grants to A.H.T. (DEB-1354552) and S.N.S. (DBI-1523866), and the NSF Graduate Research Fellowship Grants to M.F.O. (#DGE-1106400), M.M.K., and R.L.O. (#1049702).
Supplementary information
About this article
Cite this article
Morueta-Holme, N., Oldfather, M.F., Olliff-Yang, R.L. et al. Best practices for reporting climate data in ecology. Nature Clim Change 8, 92–94 (2018). https://doi.org/10.1038/s41558-017-0060-2