Abstract
Understanding and controlling protein motion at atomic resolution is a hallmark challenge for structural biologists and protein engineers because conformational dynamics are essential for complex functions such as enzyme catalysis and allosteric regulation. Time-resolved crystallography offers a window into protein motions, yet without a universal perturbation to initiate conformational changes the method has been limited in scope. Here we couple a solvent-based temperature jump with time-resolved crystallography to visualize structural motions in lysozyme, a dynamic enzyme. We observed widespread atomic vibrations on the nanosecond timescale, which evolve on the submillisecond timescale into localized structural fluctuations that are coupled to the active site. An orthogonal perturbation to the enzyme, inhibitor binding, altered these dynamics by blocking key motions that allow energy to dissipate from vibrations into functional movements linked to the catalytic cycle. Because temperature jump is a universal method for perturbing molecular motion, the method demonstrated here is broadly applicable for studying protein dynamics.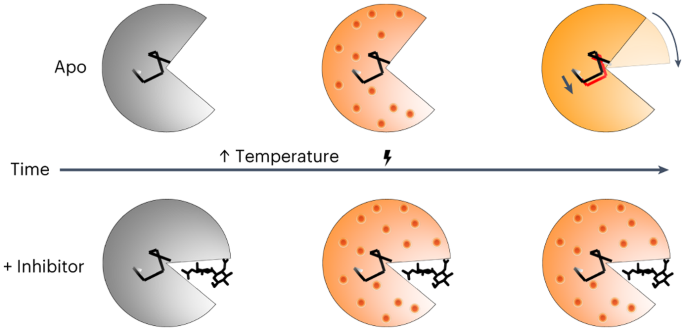 Data availability
Crystallographic models (refined against the raw structure factors as described above) and the associated reflection data have been deposited in the PDB under the following accession codes: 8CVU, 8CVV, 8CVW, 8CW0, 8CW1, 8CW3, 8CW5, 8CW6, 8CW7, 8CW8, 8CWB, 8CWC, 8CWD, 8CWE, 8CWF, 8CWG and 8CWH. The model used for MR is available under accession code 1IEE. Additionally, the raw data are publicly available at CXIDB under ID205. Source data are provided with this paper.
References
Henzler-Wildman, K. & Kern, D. Dynamic personalities of proteins. Nature 450, 964–972 (2007).

Bhabha, G., Biel, J. T. & Fraser, J. S. Keep on moving: discovering and perturbing the conformational dynamics of enzymes. Acc. Chem. Res. 48, 423–430 (2015).

van den Bedem, H. & Fraser, J. S. Integrative, dynamic structural biology at atomic resolution-it's about time. Nat. Methods 12, 307–318 (2015).

Coquelle, N. et al. Chromophore twisting in the excited state of a photoswitchable fluorescent protein captured by time-resolved serial femtosecond crystallography. Nature Chem. 10, 31–37 (2018).

Hekstra, D. R. et al. Electric-field-stimulated protein mechanics. Nature 540, 400–405 (2016).

Genick, U. K. et al. Structure of a protein photocycle intermediate by millisecond time-resolved crystallography. Science 275, 1471–1475 (1997).

Schlichting, I. et al. Time-resolved X-ray crystallographic study of the conformational change in Ha-Ras p21 protein on GTP hydrolysis. Nature 345, 309–315 (1990).

Srajer, V. et al. Photolysis of the carbon monoxide complex of myoglobin: nanosecond time-resolved crystallography. Science 274, 1726–1729 (1996).

Schmidt, M. Time-resolved macromolecular crystallography at modern X-ray sources. Methods Mol. Biol. 1607, 273–294 (2017).

Neutze, R. & Moffat, K. Time-resolved structural studies at synchrotrons and X-ray free electron lasers: opportunities and challenges. Curr. Opin. Struct. Biol. 22, 651–659 (2012).

Orville, A. M. Recent results in time resolved serial femtosecond crystallography at XFELs. Curr. Opin. Struct. Biol. 65, 193–208 (2020).

Josts, I. et al. Photocage-initiated time-resolved solution X-ray scattering investigation of protein dimerization. IUCrJ 5, 667–672 (2018).

Olmos, J. L. et al. Enzyme intermediates captured 'on the fly' by mix-and-inject serial crystallography. BMC Biol. 16, 59 (2018).

Fenimore, P. W., Frauenfelder, H., McMahon, B. H. & Parak, F. G. Slaving: solvent fluctuations dominate protein dynamics and functions. Proc. Natl Acad. Sci. USA 99, 16047–16051 (2002).

Keedy, D. A. et al. Mapping the conformational landscape of a dynamic enzyme by multitemperature and XFEL crystallography. eLife Sci. 4, e07574 (2015).

Keedy, D. A. et al. An expanded allosteric network in PTP1B by multitemperature crystallography, fragment screening, and covalent tethering. eLife 7, e36307 (2018).

Wang, J. & El-Sayed, M. A. Temperature jump-induced secondary structural change of the membrane protein bacteriorhodopsin in the premelting temperature region: a nanosecond time-resolved Fourier transform infrared study. Biophys. J. 76, 2777–2783 (1999).

Meadows, C. W., Balakrishnan, G., Kier, B. L., Spiro, T. G. & Klinman, J. P. Temperature-jump fluorescence provides evidence for fully reversible microsecond dynamics in a thermophilic alcohol dehydrogenase. J. Am. Chem. Soc. 137, 10060–10063 (2015).

Gillespie, B. et al. NMR and temperature-jump measurements of de novo designed proteins demonstrate rapid folding in the absence of explicit selection for kinetics. J. Mol. Biol. 330, 813–819 (2003).

Ma, H., Wan, C. & Zewail, A. H. Ultrafast T-jump in water: studies of conformation and reaction dynamics at the thermal limit. J. Am. Chem. Soc. 128, 6338–6340 (2006).

Rubtsov, I. V. & Burin, A. L. Ballistic and diffusive vibrational energy transport in molecules. J. Chem. Phys. 150, 020901 (2019).

Butterfoss, G. L. & Hermans, J. Boltzmann-type distribution of side-chain conformation in proteins. Protein Sci. A 12, 2719 (2003).

Thompson, M. C. et al. Temperature-jump solution X-ray scattering reveals distinct motions in a dynamic enzyme. Nat. Chem. 11, 1058–1066 (2019).

Cho, H. S. et al. Dynamics of quaternary structure transitions in R-state carbonmonoxyhemoglobin unveiled in time-resolved X-ray scattering patterns following a temperature jump. J. Phys. Chem. B 122, 11488–11496 (2018).

Hori, T. et al. The initial step of the thermal unfolding of 3-isopropylmalate dehydrogenase detected by the temperature-jump Laue method. Protein Eng. 13, 527–533 (2000).

Ursby, T. & Bourgeois, D. Improved estimation of structure-factor difference amplitudesfrom poorly accurate data. Acta Crystallogr. A 53, 564–575 (1997).

Genick, U. K. Structure-factor extrapolation using the scalar approximation: theory, applications and limitations. Acta Crystallogr. D 63, 1029–1041 (2007).

De Zitter, E., Coquelle, N., Oeser, P., Barends, T. R. M. & Colletier, J.-P. Xtrapol8 enables automatic elucidation of low-occupancy intermediate-states in crystallographic studies. Commun. Biol. 5, 1–11 (2022).

Boutet, S. et al. High-resolution protein structure determination by serial femtosecond crystallography. Science 337, 362–364 (2012).

Kubo, M. et al. Nanosecond pump–probe device for time-resolved serial femtosecond crystallography developed at SACLA. J. Synchrotron. Rad. 24, 1086–1091 (2017).

Nango, E., Kubo, M., Tono, K. & Iwata, S. Pump–probe time-resolved serial femtosecond crystallography at SACLA: current status and data collection strategies. Appl. Sci. 9, 5505 (2019).

Beitz, J. V., Flynn, G. W., Turner, D. H. & Sutin, N. Stimulated Raman effect. A new source of laser temperature-jump Heating. J. Am. Chem. Soc. 92, 4130–4132 (1970).

Sugahara, M. et al. Hydroxyethyl cellulose matrix applied to serial crystallography. Sci. Rep. 7, 703 (2017).

Shimazu, Y. et al. High-viscosity sample-injection device for serial femtosecond crystallography at atmospheric pressure. J. Appl. Cryst. 52, 1280–1288 (2019).

Ishikawa, T. et al. A compact X-ray free-electron laser emitting in the sub-ångström region. Nat. Photonics 6, 540–544 (2012).

Kameshima, T. et al. Development of an X-ray pixel detector with multi-port charge-coupled device for X-ray free-electron laser experiments. Rev. Sci. Instrum. 85, 033110 (2014).

Nakane, T. et al. Data processing pipeline for serial femtosecond crystallography at SACLA. J Appl Cryst 49, 1035–1041 (2016).

Grosse-Kunstleve, R. W., Sauter, N. K., Moriarty, N. W. & Adams, P. D. The Computational Crystallography Toolbox: crystallographic algorithms in a reusable software framework. J. Appl. Cryst. 35, 126–136 (2002).

Winter, G. et al. DIALS: implementation and evaluation of a new integration package. Acta Crystallogr. D 74, 85–97 (2018).

Brewster, A. S. et al. Improving signal strength in serial crystallography with DIALS geometry refinement. Acta Crystallogr. D 74, 877–894 (2018).

Sauter, N. K. XFEL diffraction: developing processing methods to optimize data quality. J. Synchrotron. Rad. 22, 239–248 (2015).

Wickstrand, C. et al. A tool for visualizing protein motions in time-resolved crystallography. Struct. Dyn. 7, 024701 (2020).

Mccammon, J. A., Gelin, B. R., Karplus, M. & Wolynes, P. G. The hinge-bending mode in lysozyme. Nature 262, 325–326 (1976).

Mchaourab, H. S., Oh, K. J., Fang, C. J. & Hubbell, W. L. Conformation of T4 lysozyme in solution. Hinge-bending motion and the substrate-induced conformational transition studied by site-directed spin labeling. Biochemistry 36, 307–316 (1997).

De Simone, A., Montalvao, R. W., Dobson, C. M. & Vendruscolo, M. Characterization of the interdomain motions in hen lysozyme using residual dipolar couplings as replica-averaged structural restraints in molecular dynamics simulations. Biochemistry 52, 6480–6486 (2013).

Brooks, B. & Karplus, M. Normal modes for specific motions of macromolecules: application to the hinge-bending mode of lysozyme. Proc. Natl Acad. Sci. USA 82, 4995–4999 (1985).

Moorman, V. R., Valentine, K. G. & Wand, A. J. The dynamical response of hen egg white lysozyme to the binding of a carbohydrate ligand. Protein Sci. 21, 1066–1073 (2012).

Matthews, B. W., Remington, S. J., Grütter, M. G. & Anderson, W. F. Relation between hen egg white lysozyme and bacteriophage T4 lysozyme: evolutionary implications. J. Mol. Biol. 147, 545–558 (1981).

Yirdaw, R. B. & McHaourab, H. S. Direct observation of T4 lysozyme hinge-bending motion by fluorescence correlation spectroscopy. Biophys. J. 103, 1525–1536 (2012).

Akhterov, M. V. et al. Observing lysozyme's closing and opening motions by high-resolution single-molecule enzymology. ACS Chem. Biol. 10, 1495–1501 (2015).

Sanabria, H. et al. Resolving dynamics and function of transient states in single enzyme molecules. Nat. Commun. 11, 1231 (2020).

Lu, M. & Lu, H. P. Revealing multiple pathways in T4 lysozyme substep conformational motions by single-molecule enzymology and modeling. J. Phys. Chem. B 121, 5017–5024 (2017).

Sugahara, M. et al. Grease matrix as a versatile carrier of proteins for serial crystallography. Nat. Methods 12, 61–63 (2015).

Tono, K. et al. Diverse application platform for hard X-ray diffraction in SACLA (DAPHNIS): application to serial protein crystallography using an X-ray free-electron laser. J. Synchrotron Radiat. 22, 532–537 (2015).

Tono, K., Hara, T., Yabashi, M. & Tanaka, H. Multiple-beamline operation of SACLA. J. Synchrotron Radiat. 26, 595–602 (2019).

White, T. A. et al. CrystFEL: a software suite for snapshot serial crystallography. J. Appl. Cryst. 45, 335–341 (2012).

Barty, A. et al. Cheetah: software for high-throughput reduction and analysis of serial femtosecond X-ray diffraction data. J. Appl. Cryst. 47, 1118–1131 (2014).

Evans, P. R. An introduction to data reduction: space-group determination, scaling and intensity statistics. Acta Crystallogr. D 67, 282–292 (2011).

xray_thermometer. GitHub https://github.com/fraser-lab/xray_thermometer (2019).

Rimmerman, D. et al. Direct observation of insulin association dynamics with time-resolved X-ray scattering. J. Phys. Chem. Lett. 8, 4413–4418 (2017).

Kjær, K. S. et al. Introducing a standard method for experimental determination of the solvent response in laser pump, X-ray probe time-resolved wide-angle X-ray scattering experiments on systems in solution. Phys. Chem. Chem. Phys. 15, 15003–15016 (2013).

Cammarata, M. et al. Impulsive solvent heating probed by picosecond x-ray diffraction. J. Chem. Phys. 124, 124504 (2006).

Miyazaki, Y., Matsuo, T. & Suga, H. Low-temperature heat capacity and glassy behavior of lysozyme crystal. J. Phys. Chem. B 104, 8044–8052 (2000).

McCoy, A. J. et al. Phaser crystallographic software. J. Appl. Cryst. 40, 658–674 (2007).

Afonine, P. V. et al. Towards automated crystallographic structure refinement with phenix.refine. Acta Crystallogr. D 68, 352–367 (2012).

Wolff, A. M. et al. Comparing serial X-ray crystallography and microcrystal electron diffraction (MicroED) as methods for routine structure determination from small macromolecular crystals. IUCrJ 7, 306–323 (2020).

Srajer, V. et al. Protein conformational relaxation and ligand migration in myoglobin: a nanosecond to millisecond molecular movie from time-resolved Laue X-ray diffraction. Biochemistry 40, 13802–13815 (2001).

Greisman, J. B., Dalton, K. M. & Hekstra, D. R. Reciprocalspaceship: a Python library for crystallographic data analysis. J. Appl. Cryst. 54, 1521–1529 (2021).

gemmi. GitHub https://github.com/project-gemmi/gemmi (2023).

Bakan, A., Meireles, L. M. & Bahar, I. ProDy: protein dynamics inferred from theory and experiments. Bioinformatics 27, 1575–1577 (2011).

Modevectors. PyMOLWiki https://pymolwiki.org/index.php/Modevectors (2012).
Acknowledgements
We thank T. Nakane for assistance with real-time data analysis, S. Boutet for advice on experimental design and P. Anfinrud for helpful discussions about T-jump experiments. We acknowledge members of the Engineering Team of RIKEN SPring-8 Center for technical support. This work was supported by: grants to M.C.T. and J.S.F. from the NSF BioXFEL Science and Technology Center (STC-1231306); MEXT/JSPS KAKENHI Grants 19H05781 to E.N., 19H05784 to M.K., and 19H05776 to S.I.; the Platform Project for Supporting Drug Discovery and Life Science Research (Basis for Supporting Innovative Drug Discovery and Life Science Research) from Japan Agency for Medical Research and Development under Grant JP21am0101070 to S.I.; and the National Institutes of Health, grant GM117126 to N.K.S. The XFEL experiments were performed at BL2 of SACLA with the approval of the Japan Synchrotron Radiation Research Institute (JASRI) (proposal nos. 2017B8055 and 2018A8023).
Ethics declarations
Competing interests
The authors declare no competing interests.
Peer review
Peer review information
Nature Chemistry thanks the anonymous reviewers for their contribution to the peer review of this work.
Additional information
Publisher's note Springer Nature remains neutral with regard to jurisdictional claims in published maps and institutional affiliations.
Extended data
(a) Comparison of weighted difference density maps for each pump-probe time delay (Flight – Fdark2) and matched controls (Fdark1 – Fdark2) visualized at an absolute contour level of ± 0.04 e−/Å3 alongside initial refined models. Atoms with greater electron density, such as the disulfide bridge between residues 76 and 94, display clear signals across all experimental maps yet very little noise in matching controls. (b) Pairwise correlation coefficients were calculated between all difference maps, revealing varying levels of similarity between experimental maps and low noise across controls. Labels correspond to time-delay (20ns, 20µs, 200µs) presence of the inhibitor, chitobiose (CHI), whether a map was a matched control (CTRL), or based on simulated (SIM) structure factors (see Methods for details).
The experimental 20ns difference electron density map is visualized along with a simulated difference density map created by linearly scaling the B-factors in the laser off structure by a factor of 1.2. Negative peaks (yellow) are centered upon atoms in both maps, surrounded by positive features (blue).
ProDy was used to generate an anisotropic network model based on the apo ground state conformation. (a) The apo structure was then visualized as a ribbon diagram (grey) along with the same model projected along the combined ANM modes (green). (b) Per-residue RMSF values for the ANM model were plotted to quantify local dynamics.
Models were refined against Laser Off, Experiment (apo or chitobiose bound), or Control structure factors. Controls exhibit similar B-factors across all time points, while B-factors for experimental measurements increase following T-jump. Apo models reveal a decline in B-factors at longer pump-probe time delays as complex motions develop, while chitobiose-bound experimental models retain higher B-factors at 200 μs, indicative of persistent, short-amplitude motions.
Supplementary information
Rights and permissions
Open Access This article is licensed under a Creative Commons Attribution 4.0 International License, which permits use, sharing, adaptation, distribution and reproduction in any medium or format, as long as you give appropriate credit to the original author(s) and the source, provide a link to the Creative Commons license, and indicate if changes were made. The images or other third party material in this article are included in the article's Creative Commons license, unless indicated otherwise in a credit line to the material. If material is not included in the article's Creative Commons license and your intended use is not permitted by statutory regulation or exceeds the permitted use, you will need to obtain permission directly from the copyright holder. To view a copy of this license, visit http://creativecommons.org/licenses/by/4.0/.
About this article
Cite this article
Wolff, A.M., Nango, E., Young, I.D. et al. Mapping protein dynamics at high spatial resolution with temperature-jump X-ray crystallography. Nat. Chem. 15, 1549–1558 (2023). https://doi.org/10.1038/s41557-023-01329-4
Received:

Accepted:

Published:

Issue Date:

DOI: https://doi.org/10.1038/s41557-023-01329-4