Abstract
Deuterogenation of unsaturated organic compounds is an attractive route for installing C(sp3)−D bonds, but the existing methods typically use expensive D2 and introduce only two deuterium atoms per unsaturation. Herein we report the hydrogenative perdeuteration of alkenes using readily available H2 and D2O instead of D2, catalysed by an acridanide-based ruthenium pincer complex and resulting in the incorporation of up to 4.9 D atoms per C=C double bond in a single synthetic step. Importantly, adding a catalytic amount of thiol, which serves as a transient cooperative ligand, ensures the incorporation of deuterium rather than protium by balancing the rates of two sequential deuteration processes. The current method opens an avenue for installing perdeuteroalkyl groups at specific sites from widely available alkenes under mild conditions.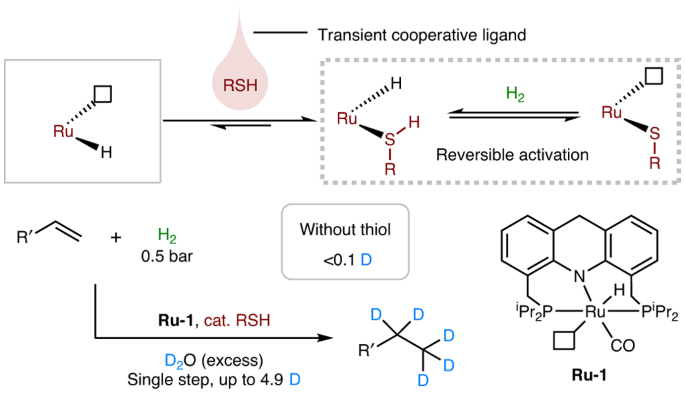 Access options
Access Nature and 54 other Nature Portfolio journals
Get Nature+, our best-value online-access subscription
$29.99 / 30 days
cancel any time
Subscribe to this journal
Receive 12 print issues and online access
$259.00 per year
only $21.58 per issue
Rent or buy this article
Prices vary by article type
from$1.95
to$39.95
Prices may be subject to local taxes which are calculated during checkout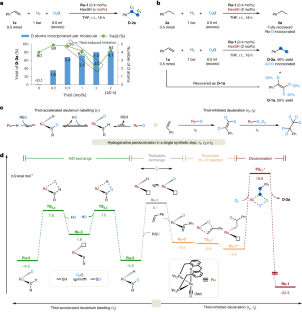 References
Schmidt, C. First deuterated drug approved. Nat. Biotechnol. 35, 493–494 (2017).

Mullard, A. First de novo deuterated drug poised for approval. Nat. Rev. Drug Discov. 21, 623–625 (2022).

Pirali, T., Serafini, M., Cargnin, S. & Genazzani, A. A. Applications of deuterium in medicinal chemistry. J. Med. Chem. 62, 5276–5297 (2019).

Zhang, L. et al. Spectral tracing of deuterium for imaging glucose metabolism. Nat. Biomed. Eng. 3, 402–413 (2019).

Gomez-Gallego, M. & Sierra, M. A. Kinetic isotope effects in the study of organometallic reaction mechanisms. Chem. Rev. 111, 4857–4963 (2011).

Li, L., Jakowski, J., Do, C. & Hong, K. Deuteration and polymers: rich history with great potential. Macromolecules 54, 3555–3584 (2021).

Prakash, G. et al. C–H deuteration of organic compounds and potential drug candidates. Chem. Soc. Rev. 51, 3123–3163 (2022).

Yang, X., Ben, H. & Ragauskas, A. J. Recent advances in the synthesis of deuterium-labeled compounds. Asian J. Org. Chem. 10, 2473–2485 (2021).

Kopf, S. et al. Recent developments for the deuterium and tritium labeling of organic molecules. Chem. Rev. 122, 6634–6718 (2022).

Loh, Y. Y. et al. Photoredox-catalyzed deuteration and tritiation of pharmaceutical compounds. Science 358, 1182–1187 (2017).

Kurita, T. et al. Efficient and convenient heterogeneous palladium-catalyzed regioselective deuteration at the benzylic position. Chem. Eur. J. 14, 664–673 (2008).

Sajiki, H. et al. Efficient C–H/C–D exchange reaction on the alkyl side chain of aromatic compounds using heterogeneous Pd/C in D2O. Org. Lett. 6, 1485–1487 (2004).

Uttry, A., Mal, S. & van Gemmeren, M. Late-stage β-C(sp3)–H deuteration of carboxylic acids. J. Am. Chem. Soc. 143, 10895–10901 (2021).

Kurimoto, A. et al. Electrolytic deuteration of unsaturated bonds without using D2. Nat. Catal. 3, 719–726 (2020).

Lecomte, M. et al. A general, versatile and divergent synthesis of selectively deuterated amines. Chem. Sci. 12, 11157–11165 (2021).

Sloane, S. E. et al. Copper-catalyzed formal transfer hydrogenation/deuteration of aryl alkynes. Org. Lett. 22, 9139–9144 (2020).

Ackermann, L. Carboxylate-assisted transition-metal-catalyzed C–H bond functionalizations: mechanism and scope. Chem. Rev. 111, 1315–1345 (2011).

Gunanathan, C. & Milstein, D. Metal–ligand cooperation by aromatization–dearomatization: a new paradigm in bond activation and "green" catalysis. Acc. Chem. Res. 44, 588–602 (2011).

Khusnutdinova, J. R. & Milstein, D. Metal–ligand cooperation. Angew. Chem. Int. Ed. 54, 12236–12273 (2015).

Gunanathan, C. & Milstein, D. Applications of acceptorless dehydrogenation and related transformations in chemical synthesis. Science 341, 1229712 (2013).

Kumar, A., Daw, P. & Milstein, D. Homogeneous catalysis for sustainable energy: hydrogen and methanol economies, fuels from biomass, and related topics. Chem. Rev. 122, 385–441 (2022).

Luo, J. et al. Controlled selectivity through reversible inhibition of the catalyst: stereodivergent semihydrogenation of alkynes. J. Am. Chem. Soc. 144, 13266–13275 (2022).

Luo, J. et al. Catalytic hydrogenation of thioesters, thiocarbamates, and thioamides. J. Am. Chem. Soc. 142, 21628–21633 (2020).

Luo, J. et al. Formation of thioesters by dehydrogenative coupling of thiols and alcohols with H2 evolution. Nat. Catal. 3, 887–892 (2020).

Luo, J. et al. Efficient base-free aqueous reforming of methanol homogeneously catalyzed by ruthenium exhibiting a remarkable acceleration by added catalytic thiol. J. Am. Chem. Soc. 143, 17284–17291 (2021).

Rauch, M. et al. Mechanistic investigations of ruthenium catalyzed dehydrogenative thioester synthesis and thioester hydrogenation. ACS Catal. 11, 2795–2807 (2021).

Qiu, C. et al. Highly crystalline K-intercalated polymeric carbon nitride for visible-light photocatalytic alkenes and alkynes deuterations. Adv. Sci. 6, 1801403 (2019).

Rowbotham, J. S. et al. Bringing biocatalytic deuteration into the toolbox of asymmetric isotopic labelling techniques. Nat. Commun. 11, 1454 (2020).

Sajiki, H. et al. Complete replacement of H2 by D2 via Pd/C-catalyzed H/D exchange reaction. Org. Lett. 6, 3521–3523 (2004).

Himeda, Y. et al. Catalytic (transfer) deuterogenation in D2O as deuterium source with H2 and HCO2H as electron sources. Dalton Trans. 2009, 6286–6288 (2009).

Nishimura, S. Handbook of Heterogeneous Catalytic Hydrogenation for Organic Synthesis (Wiley, 2001).

Sawama, Y., Park, K., Yamada, T. & Sajiki, H. New gateways to the platinum group metal-catalyzed direct deuterium-labeling method utilizing hydrogen as a catalyst activator. Chem. Pharm. Bull. 66, 21–28 (2018).

Sellmann, D., Kaeppler, J. & Moll, M. Transition metal complexes with sulfur ligands. 96. Hydrogenase model reactions: D2/H+ exchange at metal sulfur centers catalyzed by [Rh(H)(CO)('buS4')] ('buS4'2- = 1,2-bis((2-mercapto-3,5-di-tert-butylphenyl)thio)ethanato(2-)). J. Am. Chem. Soc. 115, 1830–1835 (1993).

Yu, X. et al. Terminal thiolate-dominated H/D exchanges and H2 release: diiron thiol-hydride. J. Am. Chem. Soc. 140, 11454–11463 (2018).

Chen, J. et al. Thiol-water proton exchange of glutathione, cysteine, and N-acetylcysteine: implications for CEST MRI. NMR Biomed. 33, e4188 (2020).

Jessop, P. G. & Morris, R. H. Hydrogen/deuterium exchange reactions of an iridium dithiol complex. Inorg. Chem. 32, 2236–2237 (1993).

Vang, Z. P., Hintzsche, S. J. & Clark, J. R. Catalytic transfer deuteration and hydrodeuteration: emerging techniques to selectively transform alkenes and alkynes to deuterated alkanes. Chem. Eur. J. 27, 9988–10000 (2021).

Wang, Y. et al. Transfer hydrogenation of alkenes using ethanol catalyzed by a NCP pincer iridium complex: scope and mechanism. J. Am. Chem. Soc. 140, 4417–4429 (2018).

Zhang, C. & Chakma, J. Preparation of deuterium-substituted azetidine compounds as sphingosine 1-phosphate receptor. US patent US20190047951 (2017).

Pytlarczyk, M. et al. Deuterated liquid crystals – practical synthesis of deuterium labeled 4-alkyl-4″-isothiocyanato-[1,1ʹ:4ʹ,1″]terphenyls. J. Mol. Liq. 345, 117847 (2022).

Zhang, Y. et al. Synthesis of deuterated benzopyran derivatives as selective COX-2 inhibitors with improved pharmacokinetic properties. ACS Med. Chem. Lett. 5, 1162–1166 (2014).

Puleo, T. R., Strong, A. J. & Bandar, J. S. Catalytic α-selective deuteration of styrene derivatives. J. Am. Chem. Soc. 141, 1467–1472 (2019).

Vang, Z. P. et al. Copper-catalyzed transfer hydrodeuteration of aryl alkenes with quantitative isotopomer purity analysis by molecular rotational resonance spectroscopy. J. Am. Chem. Soc. 143, 7707–7718 (2021).

Liu, K. et al. Atomically dispersed palladium catalyzes H/D exchange and isomerization of alkenes via reversible insertion and elimination. Chem Catal. 1, 1480–1492 (2021).

Erdogan, G. & Grotjahn, D. B. Mild and selective deuteration and isomerization of alkenes by a bifunctional catalyst and deuterium oxide. J. Am. Chem. Soc. 131, 10354–10355 (2009).

Liu, J. F. Preparation of deuterated isoindolinedione derivatives for use as PDE4 and TNFα inhibitors. World Intellectual Property Organization patent WO2010/147922 A1 (2010).

Harbeson, S. L. Preparation of substituted triazolobenzodiazepines as medicaments. World Intellectual Property Organization patent WO2015120393 A1 (2015).

Grillot, A. L. et al. Second-generation antibacterial benzimidazole ureas: discovery of a preclinical candidate with reduced metabolic liability. J. Med. Chem. 57, 8792–8816 (2014).

Ertl, P., Altmann, E. & McKenna, J. M. The most common functional groups in bioactive molecules and how their popularity has evolved over time. J. Med. Chem. 63, 8408–8418 (2020).

Collins, K. D. & Glorius, F. A robustness screen for the rapid assessment of chemical reactions. Nat. Chem. 5, 597–601 (2013).
Acknowledgements
J.L. thanks the Feinberg Graduate School (FGS) of the Weizmann Institute of Science for a Senior Postdoctoral Fellowship. L.L. thanks the FGS for a Dean Excellence Postdoctoral Fellowship. We thank M. Rauch for help with the computational work.
Ethics declarations
Competing interests
The authors declare no competing interests.
Peer review
Peer review information
Nature Chemistry thanks Wen-Guang Wang and the other, anonymous, reviewer(s) for their contribution to the peer review of this work.
Additional information
Publisher's note Springer Nature remains neutral with regard to jurisdictional claims in published maps and institutional affiliations.
Supplementary information
Supplementary Figs. 1–107, Notes 1–5 and Tables 1 and 2.
Computational data including xyz coordinates.
Rights and permissions
Springer Nature or its licensor (e.g. a society or other partner) holds exclusive rights to this article under a publishing agreement with the author(s) or other rightsholder(s); author self-archiving of the accepted manuscript version of this article is solely governed by the terms of such publishing agreement and applicable law.
About this article
Cite this article
Luo, J., Lu, L., Montag, M. et al. Hydrogenative alkene perdeuteration aided by a transient cooperative ligand. Nat. Chem. 15, 1384–1390 (2023). https://doi.org/10.1038/s41557-023-01313-y
Received:

Accepted:

Published:

Issue Date:

DOI: https://doi.org/10.1038/s41557-023-01313-y
This article is cited by
Anika Tarasewicz
Volker Derdau

Nature Chemistry (2023)