Abstract
The formation of two-electron chemical bonds requires the alignment of spins. Hence, it is well established for gas-phase reactions that changing a molecule's electronic spin state can dramatically alter its reactivity. For reactions occurring at surfaces, which are of great interest during, among other processes, heterogeneous catalysis, there is an absence of definitive state-to-state experiments capable of observing spin conservation and therefore the role of electronic spin in surface chemistry remains controversial. Here we use an incoming/outgoing correlation ion imaging technique to perform scattering experiments for O(3P) and O(1D) atoms colliding with a graphite surface, in which the initial spin-state distribution is controlled and the final spin states determined. We demonstrate that O(1D) is more reactive with graphite than O(3P). We also identify electronically nonadiabatic pathways whereby incident O(1D) is quenched to O(3P), which departs from the surface. With the help of molecular dynamics simulations carried out on high-dimensional machine-learning-assisted first-principles potential energy surfaces, we obtain a mechanistic understanding for this system: spin-forbidden transitions do occur, but with low probabilities.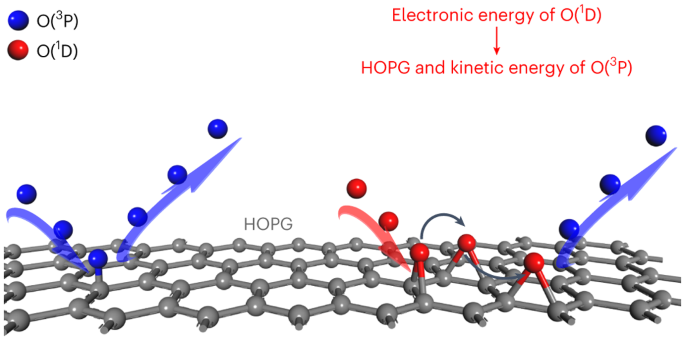 References
Casavecchia, P., Balucani, N., Alagia, M., Cartechini, L. & Volpi, G. G. Reactive scattering of oxygen and nitrogen atoms. Acc. Chem. Res. 32, 503–511 (1999).

Alagia, M. et al. Crossed molecular beams and quasiclassical trajectory studies of the reaction O(1D) + H2(D2). J. Chem. Phys. 108, 6698–6708 (1998).

Garton, D. J., Minton, T. K., Maiti, B., Troya, D. & Schatz, G. C. A crossed molecular beams study of the O(3P) + H2 reaction: comparison of excitation function with accurate quantum reactive scattering calculations. J. Chem. Phys. 118, 1585–1588 (2003).

Marian, C. M. Understanding and controlling intersystem crossing in molecules. Annu. Rev. Phys. Chem. 72, 617–640 (2021).

Cui, Q., Morokuma, K., Bowman, J. M. & Klippenstein, S. J. The spin-forbidden reaction CH(2Π) + N2 → HCN + N(4S) revisited. II. Nonadiabatic transition state theory and application. J. Chem. Phys. 110, 9469–9482 (1999).

Österlund, L., Zorić, I. & Kasemo, B. Dissociative sticking of O2 on Al(111). Phys. Rev. B 55, 15452–15455 (1997).

Behler, J., Delley, B., Lorenz, S., Reuter, K. & Scheffler, M. Dissociation of O2 at Al(111): the role of spin selection rules. Phys. Rev. Lett. 94, 036104 (2005).

Behler, J., Reuter, K. & Scheffler, M. Nonadiabatic effects in the dissociation of oxygen molecules at the Al(111) surface. Phys. Rev. B 77, 115421 (2008).

Libisch, F., Huang, C., Liao, P., Pavone, M. & Carter, E. A. Origin of the energy barrier to chemical reactions of O2 on Al(111): evidence for charge transfer, not spin selection. Phys. Rev. Lett. 109, 198303 (2012).

Yin, R. et al. Dissociative chemisorption of O2 on Al(111): dynamics on a correlated wave-function-based potential energy surface. J. Phys. Chem. Lett. 9, 3271–3277 (2018).

Borodin, D. et al. Quantum effects in thermal reaction rates at metal surfaces. Science 377, 394–398 (2022).

Kretchmer, J. S. & Chan, G. K.-L. The fate of atomic spin in atomic scattering off surfaces. J. Phys. Chem. Lett. 9, 2863–2868 (2018).

Barber, M., Evans, E. L. & Thomas, J. M. Oxygen chemisorption on the basal faces of graphite: an XPS study. Chem. Phys. Lett. 18, 423–425 (1973).

Incze, A., Pasturel, A. & Chatillon, C. First-principles study of the atomic oxygen adsorption on the (0001) graphite surface and dissolution. Appl. Surf. Sci. 177, 226–229 (2001).

Incze, A., Pasturel, A. & Chatillon, C. Oxidation of graphite by atomic oxygen: a first-principles approach. Surf. Sci. 537, 55–63 (2003).

Paci, J. T., Upadhyaya, H. P., Zhang, J., Schatz, G. C. & Minton, T. K. Theoretical and experimental studies of the reactions between hyperthermal O(3P) and graphite: graphene-based direct dynamics and beam-surface scattering approaches. J. Phys. Chem. A 113, 4677–4685 (2009).

Goverapet Srinivasan, S. & van Duin, A. C. T. Molecular-dynamics-based study of the collisions of hyperthermal atomic oxygen with graphene using the ReaxFF reactive force field. J. Phys. Chem. A 115, 13269–13280 (2011).

Morón, V. et al. Classical dynamics study of atomic oxygen over graphite (0001) with new interpolated and analytical potential energy surfaces. Comput. Theor. Chem. 990, 132–143 (2012).

Xu, S. C., Chen, H.-L. & Lin, M. C. Quantum chemical prediction of reaction pathways and rate constants for the reactions of Ox (x = 1 and 2) with pristine and defective graphite (0001) surfaces. J. Phys. Chem. C 116, 1841–1849 (2012).

Paci, J. T., Minton, T. K. & Schatz, G. C. Hyperthermal oxidation of graphite and diamond. Acc. Chem. Res. 45, 1973–1981 (2012).

Murray, V. J., Smoll, E. J. & Minton, T. K. Dynamics of graphite oxidation at high temperature. J. Phys. Chem. C 122, 6602–6617 (2018).

Jayee, B., Nieman, R., Minton, T. K., Hase, W. L. & Guo, H. Direct dynamics simulations of hyperthermal O(3P) collisions with pristine, defected, oxygenated and nitridated graphene surfaces. J. Phys. Chem. C 125, 9795–9808 (2021).

Cardinaud, C., Peignon, M.-C. & Tessier, P.-Y. Plasma etching: principles, mechanisms, application to micro- and nano-technologies. Appl. Surf. Sci. 164, 72–83 (2000).

Lu, X., Huang, H., Nemchuk, N. & Ruoff, R. S. Patterning of highly oriented pyrolytic graphite by oxygen plasma etching. Appl. Phys. Lett. 75, 193–195 (1999).

Jia, P., Pan, F. & Chen, T. Effect of oxygen plasma etching on graphene's mechanical and electrical properties. IOP Conf. Ser. Mater. Sci. Eng. 182, 012030 (2017).

Al-Mumen, H., Rao, F., Li, W. & Dong, L. Singular sheet etching of graphene with oxygen plasma. Nano Micro Lett. 6, 116–124 (2014).

Isborn, C. M., Li, X. & Tully, J. C. Time-dependent density functional theory Ehrenfest dynamics: collisions between atomic oxygen and graphite clusters. J. Chem. Phys. 126, 134307 (2007).

Morón, V., Martin-Gondre, L., Gamallo, P. & Sayós, R. Quasiclassical trajectory dynamics study of atomic oxygen collisions on an O-preadsorbed graphite (0001) surface with a new analytical potential energy surface. J. Phys. Chem. C 116, 13092–13103 (2012).

Murray, V. J. et al. Gas-surface scattering dynamics applied to concentration of gases for mass spectrometry in tenuous atmospheres. J. Phys. Chem. C 121, 7903–7922 (2017).

Zhu, Y. F. & Gordon, R. J. The production of O(3P) in the 157-nm photodissociation of CO2. J. Chem. Phys. 92, 2897–2901 (1990).

Quan, J. et al. A free electron laser-based 1 + 1′ resonance-enhanced multiphoton ionization scheme for rotationally resolved detection of OH radicals with correct relative intensities. J. Mol. Spectrosc. 380, 111509 (2021).

Lu, I. C., Huang, W.-J., Chaudhuri, C., Chen, W.-K. & Lee, S.-H. Development of a stable source of atomic oxygen with a pulsed high-voltage discharge and its application to crossed-beam reactions. Rev. Sci. Instrum. 78, 083103 (2007).

Harding, D. J., Neugebohren, J., Auerbach, D. J., Kitsopoulos, T. N. & Wodtke, A. M. Using ion imaging to measure velocity distributions in surface scattering experiments. J. Phys. Chem. A 119, 12255–12262 (2015).

Harding, D. J. et al. Ion and velocity map imaging for surface dynamics and kinetics. J. Chem. Phys. 147, 013939 (2017).

Neugebohren, J. et al. Velocity-resolved kinetics of site-specific carbon monoxide oxidation on platinum surfaces. Nature 558, 280–283 (2018).

Park, G. B. et al. The kinetics of elementary thermal reactions in heterogeneous catalysis. Nat. Rev. Chem. 3, 723–732 (2019).

Kresse, G. & Furthmüller, J. Efficient iterative schemes for ab initio total-energy calculations using a plane-wave basis set. Phys. Rev. B 54, 11169–11186 (1996).

Kresse, G. & Furthmüller, J. Efficiency of ab-initio total energy calculations for metals and semiconductors using a plane-wave basis set. Comput. Mater. Sci. 6, 15–50 (1996).

Perdew, J. P., Burke, K. & Ernzerhof, M. Generalized gradient approximation made simple. Phys. Rev. Lett. 77, 3865–3868 (1996).

Zhang, Y., Hu, C. & Jiang, B. Embedded atom neural network potentials: efficient and accurate machine learning with a physically inspired representation. J. Phys. Chem. Lett. 10, 4962–4967 (2019).

Zhao, Z. et al. Supplementary data for 'Spin-dependent reactivity and spin-flipping dynamics in O atom scattering from graphite' Zenodo https://doi.org/10.5281/zenodo.7743197 (2023).
Acknowledgements
A.M.W. acknowledges support from the Alexander von Humboldt Foundation. This project has been supported by the Max Planck Society under the special central award Elementary Dynamical Processes at Model Catalytic Surfaces Experiment. H.G. thanks the National Science Foundation (CHE-1951328) and NASA (80NSSC21K1117) for financial support and CARC (Center for Advanced Research Computing) for computational resources. H.G. is a Humboldt Research Awardee.
Funding
Open access funding provided by Max Planck Society.
Ethics declarations
Competing interests
The authors declare no competing interests.
Peer review
Peer review information
Nature Chemistry thanks Joshua Kretchmer and the other, anonymous, reviewer(s) for their contribution to the peer review of this work.
Additional information
Publisher's note Springer Nature remains neutral with regard to jurisdictional claims in published maps and institutional affiliations.
Extended data
The flight distance from the discharge source (1) to the REMPI probe laser (6) is 320.5 mm, whereas the distance from the photolysis region (overlap of the CO2 molecular beam (3) with the focused F2 laser (4)) to the REMPI laser is 152 mm. The incident atomic beam flies from left to right across two differentially pumped chambers before entering the UHV chamber, where it impinges upon an HOPG surface (8) mounted on a manipulator (9). The surface is located 22 mm from the REMPI laser. Oxygen ions are extracted into a flight tube (7) through which they are sent upward towards an imaging detector (not shown). See Section 1.1 of the Supplementary Information for further details.
The experimental kinetic energy and angular distribution (top row) obtained for O atoms from the O2 discharge source after scattering from HOPG. Scattered atoms were detected in the 3P2 state. The plotted distribution corresponds to those atoms assigned to an incidence energy range of Ei = 0.34 ± 0.05 eV via the incoming/outgoing correlation method (Section 1.2 of the Supplementary Information). The results of MD simulations on the triplet PES (middle row) and adiabatic PES (bottom row) are shown for comparison. The simulations were performed at an incidence energy of precisely 0.34 eV. The radial coordinate corresponds to the final kinetic energy divided by the nominal incidence energy (0.34 eV). The left, center, and right columns correspond to incidence angles of 0°, −10°, and −20°, respectively. The incidence angle is indicated by a white arrow for clarity.
Supplementary information
Rights and permissions
Open Access This article is licensed under a Creative Commons Attribution 4.0 International License, which permits use, sharing, adaptation, distribution and reproduction in any medium or format, as long as you give appropriate credit to the original author(s) and the source, provide a link to the Creative Commons license, and indicate if changes were made. The images or other third party material in this article are included in the article's Creative Commons license, unless indicated otherwise in a credit line to the material. If material is not included in the article's Creative Commons license and your intended use is not permitted by statutory regulation or exceeds the permitted use, you will need to obtain permission directly from the copyright holder. To view a copy of this license, visit http://creativecommons.org/licenses/by/4.0/.
About this article
Cite this article
Zhao, Z., Wang, Y., Yang, X. et al. Spin-dependent reactivity and spin-flipping dynamics in oxygen atom scattering from graphite. Nat. Chem. 15, 1006–1011 (2023). https://doi.org/10.1038/s41557-023-01204-2
Received:

Accepted:

Published:

Issue Date:

DOI: https://doi.org/10.1038/s41557-023-01204-2