Abstract
The circadian rhythm generates out-of-equilibrium metabolite oscillations that are controlled by feedback loops under light/dark cycles. Here we describe a non-equilibrium nanosystem comprising a binary population of enzyme-containing polymersomes capable of light-gated chemical communication, controllable feedback and coupling to macroscopic oscillations. The populations consist of esterase-containing polymersomes functionalized with photo-responsive donor–acceptor Stenhouse adducts (DASA) and light-insensitive semipermeable urease-loaded polymersomes. The DASA–polymersome membrane becomes permeable under green light, switching on esterase activity and decreasing the pH, which in turn initiates the production of alkali in the urease-containing population. A pH-sensitive pigment that absorbs green light when protonated provides a negative feedback loop for deactivating the DASA–polymersomes. Simultaneously, increased alkali production deprotonates the pigment, reactivating esterase activity by opening the membrane gate. We utilize light-mediated fluctuations of pH to perform non-equilibrium communication between the nanoreactors and use the feedback loops to induce work as chemomechanical swelling/deswelling oscillations in a crosslinked hydrogel. We envision possible applications in artificial organelles, protocells and soft robotics.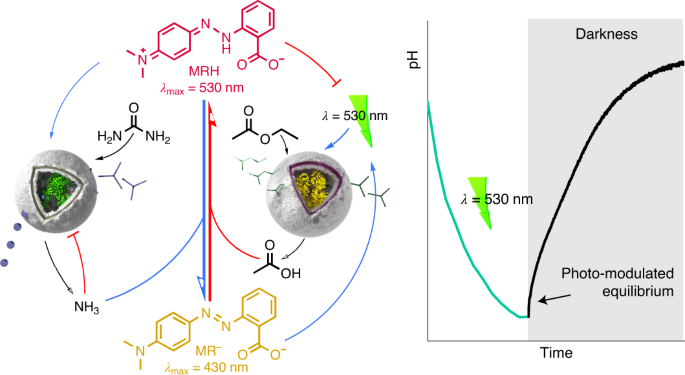 Data availability
Data supporting the findings of this study are contained within the manuscript and its Supplementary Information files, and raw research data are available online at https://doi.org/10.5281/zenodo.6795274. Source data are provided with this Paper.
References
Merindol, R. & Walther, A. Materials learning from life: concepts for active, adaptive and autonomous molecular systems. Chem. Soc. Rev. 46, 5588–5619 (2017).

Marguet, M., Bonduelle, C. & Lecommandoux, S. Multicompartmentalized polymeric systems: towards biomimetic cellular structure and function. Chem. Soc. Rev. 42, 512–529 (2013).

Küchler, A., Yoshimoto, M., Luginbühl, S., Mavelli, F. & Walde, P. Enzymatic reactions in confined environments. Nat. Nanotechnol. 11, 409–420 (2016).

Palivan, C. G. et al. Bioinspired polymer vesicles and membranes for biological and medical applications. Chem. Soc. Rev. 45, 377–411 (2016).

Discher, D. E. & Eisenberg, A. Polymer vesicles. Science 297, 967–973 (2002).

Che, H., Cao, S. & van Hest, J. C. Feedback-induced temporal control of 'breathing' polymersomes to create self-adaptive nanoreactors. J. Am. Chem. Soc. 140, 5356–5359 (2018).

Rifaie-Graham, O. et al. Wavelength-selective light-responsive DASA-functionalized polymersome nanoreactors. J. Am. Chem. Soc. 140, 8027–8036 (2018).

Rifaie-Graham, O. et al. Shear stress-responsive polymersome nanoreactors inspired by the marine bioluminescence of dinoflagellates. Angew. Chem. Int. Ed. 60, 904–909 (2021).

Moreno, S. et al. Light-driven proton transfer for cyclic and temporal switching of enzymatic nanoreactors. Small 16, 2002135 (2020).

Wang, X. et al. Feedback-induced and oscillating pH regulation of a binary enzyme-polymersomes system. Chem. Mater. 33, 6692–6700 (2021).

Wang, L. & Li, Q. Photochromism into nanosystems: towards lighting up the future nanoworld. Chem. Soc. Rev. 47, 1044–1097 (2018).

Jochum, F. D. & Théato, P. Temperature- and light-responsive smart polymer materials. Chem. Soc. Rev. 42, 7468–7483 (2013).

Molla, M. R. et al. Dynamic actuation of glassy polymersomes through isomerization of a single azobenzene unit at the block copolymer interface. Nat. Chem. 10, 659–666 (2018).

Wang, X. et al. Reversibly switching bilayer permeability and release modules of photochromic polymersomes stabilized by cooperative noncovalent interactions. J. Am. Chem. Soc. 137, 15262–15275 (2015).

Jerca, F. A., Jerca, V. V. & Hoogenboom, R. Advances and opportunities in the exciting world of azobenzenes. Nat. Rev. Chem. 6, 51–69 (2022).

Helmy, S. et al. Photoswitching using visible light: a new class of organic photochromic molecules. J. Am. Chem. Soc. 136, 8169–8172 (2014).

Hemmer, J. R. et al. Controlling dark equilibria and enhancing donor-acceptor Stenhouse adduct photoswitching properties through carbon acid design. J. Am. Chem. Soc. 140, 10425–10429 (2018).

Hemmer, J. R. et al. Tunable visible and near infrared photoswitches. J. Am. Chem. Soc. 138, 13960–13966 (2016).

Mallo, N. et al. Photochromic switching behaviour of donor-acceptor Stenhouse adducts in organic solvents. Chem. Commun. 52, 13576–13579 (2016).

Lerch, M. M., Wezenberg, S. J., Szymanski, W. & Feringa, B. L. Unraveling the photoswitching mechanism in donor-acceptor Stenhouse adducts. J. Am. Chem. Soc. 138, 6344–6347 (2016).

Diaz, Y. J. et al. A versatile and highly selective colorimetric sensor for the detection of amines. Chem. Eur. J. 23, 3562–3566 (2017).

Dolinski, N. D. et al. A versatile approach for in situ monitoring of photoswitches and photopolymerizations. ChemPhotoChem 1, 125–131 (2017).

Jia, S. et al. Investigation of donor-acceptor Stenhouse adducts as new visible wavelength-responsive switching elements for lipid-based liquid crystalline systems. Langmuir 33, 2215–2221 (2017).

Ulrich, S. et al. Visible light-responsive DASA-polymer conjugates. ACS Macro Lett. 6, 738–742 (2017).

Yap, J. E., Zhang, L., Lovegrove, J. T., Beves, J. E. & Stenzel, M. H. Visible light-responsive drug delivery nanoparticle via donor-acceptor Stenhouse adducts (DASA). Macromol. Rapid Commun. 2020, 2000236 (2020).

Senthilkumar, T. et al. Conjugated polymer nanoparticles with appended photo‐responsive units for controlled drug delivery, release and imaging. Angew. Chem. Int. Ed. 57, 13114–13119 (2018).

Ulrich, S. et al. Nano-3D-printed photochromic micro-objects. Small 2021, 2101337 (2021).

Lee, J. et al. Tunable photothermal actuation enabled by photoswitching of donor-acceptor Stenhouse adducts. ACS Appl. Mater. Interfaces 12, 54075–54082 (2020).

Chen, Q. et al. Stable activated furan and donor–acceptor Stenhouse adduct polymer conjugates as chemical and thermal sensors. Macromolecules 52, 4370–4375 (2019).

Blackman, L. D. et al. Permeable protein-loaded polymersome cascade nanoreactors by polymerization-induced self-assembly. ACS Macro Lett. 6, 1263–1267 (2017).

Hu, G., Pojman, J. A., Scott, S. K., Wrobel, M. M. & Taylor, A. F. Base-catalyzed feedback in the urea-urease reaction. J. Phys. Chem. B 114, 14059–14063 (2010).

Heuser, T., Merindol, R., Loescher, S., Klaus, A. & Walther, A. Photonic devices out of equilibrium: transient memory, signal propagation and sensing. Adv. Mater. 29, 1606842 (2017).

Jee, E., Bánsági, T. Jr, Taylor, A. F. & Pojman, J. A. Temporal control of gelation and polymerization fronts driven by an autocatalytic enzyme reaction. Angew. Chem. Int. Ed. 55, 2127–2131 (2016).

Che, H., Buddingh', B. C. & van Hest, J. C. Self‐regulated and temporal control of a 'breathing' microgel mediated by enzymatic reaction. Angew. Chem. Int. Ed. 56, 12581–12585 (2017).

Gao, N. et al. Chemical-mediated translocation in protocell-based microactuators. Nat. Chem 13, 868–879 (2021).

Wrobel, M. M. et al. pH wave-front propagation in the urea-urease reaction. Biophys. J. 103, 610–615 (2012).

Li, Y. & Ju, D. in Neurotoxicity of Nanomaterials and Nanomedicine (eds Jiang, X. & Gao, H.) 285–329 (Elsevier, 2017).

Grzybowski, B. A. & Whitesides, G. M. Dynamic aggregation of chiral spinners. Science 296, 718–721 (2002).

Kundu, P. K. et al. Light-controlled self-assembly of non-photoresponsive nanoparticles. Nat. Chem. 7, 646–652 (2015).

Iamsaard, S. et al. Conversion of light into macroscopic helical motion. Nat. Chem. 6, 229–235 (2014).

Zhao, H. et al. Reversible trapping and reaction acceleration within dynamically self-assembling nanoflasks. Nat. Nanotechnol. 11, 82–88 (2016).

Leira-Iglesias, J., Tassoni, A., Adachi, T., Stich, M. & Hermans, T. M. Oscillations, travelling fronts and patterns in a supramolecular system. Nat. Nanotechnol. 13, 1021–1027 (2018).

Monreal Santiago, G., Liu, K., Browne, W. R. & Otto, S. Emergence of light-driven protometabolism on recruitment of a photocatalytic cofactor by a self-replicator. Nat. Chem. 12, 603–607 (2020).

Semenov, S. N. et al. Rational design of functional and tunable oscillating enzymatic networks. Nat. Chem. 7, 160–165 (2015).

van der Helm, M. P., de Beun, T. & Eelkema, R. On the use of catalysis to bias reaction pathways in out-of-equilibrium systems. Chem. Sci. 12, 4484–4493 (2021).

Boekhoven, J., Hendriksen, W. E., Koper, G. J., Eelkema, R. & van Esch, J. H. Transient assembly of active materials fueled by a chemical reaction. Science 349, 1075–1079 (2015).

Maiti, S., Fortunati, I., Ferrante, C., Scrimin, P. & Prins, L. J. Dissipative self-assembly of vesicular nanoreactors. Nat. Chem. 8, 725–731 (2016).

Rodríguez-Arco, L., Li, M. & Mann, S. Phagocytosis-inspired behaviour in synthetic protocell communities of compartmentalized colloidal objects. Nat. Mater. 16, 857–863 (2017).

Pearce, S. & Perez-Mercader, J. Chemoadaptive polymeric assemblies by integrated chemical feedback in self-assembled synthetic protocells. ACS Cent. Sci. 7, 1543–1550 (2021).

Kapusta, P. Absolute Diffusion Coefficients: Compilation of Reference Data for FCS Calibration (PicoQuant, 2010); https://www.picoquant.com/images/uploads/page/files/7353/appnote_diffusioncoefficients.pdf

Müller, P., Schwille, P. & Weidemann, T. PyCorrFit—generic data evaluation for fluorescence correlation spectroscopy. Bioinformatics 30, 2532–2533 (2014).

Eberhardt, M., Mruk, R., Zentel, R. & Théato, P. Synthesis of pentafluorophenyl(meth)acrylate polymers: new precursor polymers for the synthesis of multifunctional materials. Eur. Polym. J. 41, 1569–1575 (2005).

Perrier, S., Takolpuckdee, P. & Mars, C. A. Reversible addition-fragmentation chain transfer polymerization: end group modification for functionalized polymers and chain transfer agent recovery. Macromolecules 38, 2033–2036 (2005).

Yin, H. et al. Solvent-free copper-catalyzed N-arylation of amino alcohols and diamines with aryl halides. Tetrahedron Lett. 53, 1265–1270 (2012).

Helmy, S., Oh, S., Leibfarth, F. A., Hawker, C. J. & Read de Alaniz, J. Design and synthesis of donor-acceptor Stenhouse adducts: a visible light photoswitch derived from furfural. J. Org. Chem 79, 11316–11329 (2014).
Acknowledgements
O.R.-G. acknowledges the support given by the Swiss National Science Foundation (SNSF) through an Early Postdoc. Mobility Fellowship (P2FRP2_181432) and the European Union's Horizon 2020 research and innovation programme under a Marie Skłodowska-Curie grant agreement (893158). J.Y. acknowledges funding from the European Union's Horizon 2020 research and innovation programme under a Marie Skłodowska-Curie grant agreement (839137). A.N. was supported from his previous SNSF Early Postdoc.Mobility Fellowship (P2BSP2_168751) and current Sir Henry Wellcome Postdoctoral Fellowship (209121_Z_17_Z) from the Wellcome Trust. R.W. acknowledges funding from The Rosetrees Trust under the Young Enterprise Fellowship agreement (A2741/M873). T.N.D. received funding under the EPSRC Doctoral Training Partnership (EP/R513052/1). C.A. acknowledges funding from the Agency for Science, Technology and Research Singapore through a National Science Scholarship. C.T. acknowledges support from a Royal Thai Government scholarship. S.M. acknowledges financial support from the European Commission (8082 H2020 PCELLS 740235). M.M.S. acknowledges support from the Royal Academy of Engineering under the Chairs in Emerging Technologies scheme (CIET2021\94). We thank P. Purhonen at the cryo-TEM measurements node at the Resource Center for Coordination of Electron Microscopy (RSEM) at KTH Royal Institute of Technology (Sweden), Y. Xu for aid with NMR spectrometers at the CFNMR Centre at Imperial College London and A. Nogiwa Valdez for extensive manuscript and data management support. We acknowledge access to facilities at the Harvey Flower Electron Microscopy Suite (Department of Materials, Imperial College London) and the Light Microscopy Facilities at the Francis Crick Institute (London, UK). The funders had no role in study design, data collection and analysis, decision to publish or preparation of the manuscript.
Ethics declarations
Competing interests
The authors declare no competing interests.
Peer review
Peer review information
Nature Chemistry thanks Silvia Moreno and the other, anonymous, reviewer(s) for their contribution to the peer review of this work.
Additional information
Publisher's note Springer Nature remains neutral with regard to jurisdictional claims in published maps and institutional affiliations.
Supplementary information
Rights and permissions
Open Access This article is licensed under a Creative Commons Attribution 4.0 International License, which permits use, sharing, adaptation, distribution and reproduction in any medium or format, as long as you give appropriate credit to the original author(s) and the source, provide a link to the Creative Commons license, and indicate if changes were made. The images or other third party material in this article are included in the article's Creative Commons license, unless indicated otherwise in a credit line to the material. If material is not included in the article's Creative Commons license and your intended use is not permitted by statutory regulation or exceeds the permitted use, you will need to obtain permission directly from the copyright holder. To view a copy of this license, visit http://creativecommons.org/licenses/by/4.0/.
About this article
Cite this article
Rifaie-Graham, O., Yeow, J., Najer, A. et al. Photoswitchable gating of non-equilibrium enzymatic feedback in chemically communicating polymersome nanoreactors. Nat. Chem. 15, 110–118 (2023). https://doi.org/10.1038/s41557-022-01062-4
Received:

Accepted:

Published:

Issue Date:

DOI: https://doi.org/10.1038/s41557-022-01062-4