Abstract
The controlled switching of fluorophores between non-fluorescent and fluorescent states is central to every super-resolution fluorescence microscopy (nanoscopy) technique, and the exploration of radically new switching mechanisms remains critical to boosting the performance of established, as well as emerging super-resolution methods. Photoactivatable dyes offer substantial improvements to many of these techniques, but often rely on photolabile protecting groups that limit their applications. Here we describe a general method to transform 3,6-diaminoxanthones into caging-group-free photoactivatable fluorophores. These photoactivatable xanthones (PaX) assemble rapidly and cleanly into highly fluorescent, photo- and chemically stable pyronine dyes upon irradiation with light. The strategy is extendable to carbon- and silicon-bridged xanthone analogues, yielding a family of photoactivatable labels spanning much of the visible spectrum. Our results demonstrate the versatility and utility of PaX dyes in fixed and live-cell labelling for conventional microscopy, as well as the coordinate-stochastic and deterministic nanoscopies STED, PALM and MINFLUX.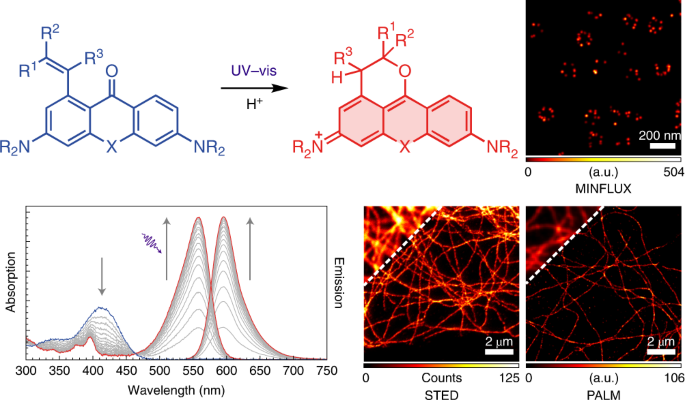 Data availability
The data supporting the findings of this study are provided within the Paper and its Supplementary Information. The data are also available from the corresponding authors upon reasonable request. Source data are provided with this Paper.
References
Schmidt, R. et al. MINFLUX nanometer-scale 3D imaging and microsecond-range tracking on a common fluorescence microscope. Nat. Commun. 12, 1478 (2021).

Strauss, S. & Jungmann, R. Up to 100-fold speed-up and multiplexing in optimized DNA-PAINT. Nat. Methods 17, 789–791 (2020).

Sahl, S. J., Hell, S. W. & Jakobs, S. Fluorescence nanoscopy in cell biology. Nat. Rev. Mol. Cell Biol. 18, 685–701 (2017).

Balzarotti, F. et al. Nanometer resolution imaging and tracking of fluorescent molecules with minimal photon fluxes. Science 355, 606–612 (2017).

Dempsey, G. T., Vaughan, J. C., Chen, K. H., Bates, M. & Zhuang, X. Evaluation of fluorophores for optimal performance in localization-based super-resolution imaging. Nat. Methods 8, 1027–1036 (2011).

Hauke, S., von Appen, A., Quidwai, T., Ries, J. & Wombacher, R. Specific protein labeling with caged fluorophores for dual-color imaging and super-resolution microscopy in living cells. Chem. Sci. 8, 559–566 (2017).

Grimm, J. B. et al. Synthesis of a far-red photoactivatable silicon-containing rhodamine for super-resolution microscopy. Angew. Chem. Int. Ed. 55, 1723–1727 (2016).

Manley, S. et al. High-density mapping of single-molecule trajectories with photoactivated localization microscopy. Nat. Methods 5, 155–157 (2008).

Grimm, J. B. et al. Bright photoactivatable fluorophores for single-molecule imaging. Nat. Methods 13, 985–988 (2016).

Banaz, N., Makela, J. & Uphoff, S. Choosing the right label for single-molecule tracking in live bacteria: side-by-side comparison of photoactivatable fluorescent protein and Halo tag dyes. J. Phys. D Appl. Phys. 52, 064002 (2019).

Jang, S., Kim, M. & Shim, S. H. Reductively caged, photoactivatable DNA-PAINT for high-throughput super-resolution microscopy. Angew. Chem. Int. Ed. 59, 11758–11762 (2020).

Weber, M. et al. Photoactivatable fluorophore for stimulated emission depletion (STED) microscopy and bioconjugation technique for hydrophobic labels. Chemistry 27, 451–458 (2021).

Lardon, N. et al. Systematic tuning of rhodamine spirocyclization for super-resolution microscopy. J. Am. Chem. Soc. 143, 14592–14600 (2021).

Zheng, Q. et al. Rational design of fluorogenic and spontaneously blinking labels for super-resolution imaging. ACS Cent. Sci. 5, 1602–1613 (2019).

Wang, L. et al. A general strategy to develop cell permeable and fluorogenic probes for multicolour nanoscopy. Nat. Chem. 12, 165–172 (2020).

Bucevicius, J., Kostiuk, G., Gerasimaite, R., Gilat, T. & Lukinavicius, G. Enhancing the biocompatibility of rhodamine fluorescent probes by a neighbouring group effect. Chem. Sci. 11, 7313–7323 (2020).

Grimm, J. B. et al. A general method to improve fluorophores using deuterated auxochromes. JACS Au. 1, 690–696 (2021).

Grimm, J. B. et al. A general method to improve fluorophores for live-cell and single-molecule microscopy. Nat. Methods 12, 244–250 (2015).

Koide, Y., Urano, Y., Hanaoka, K., Terai, T. & Nagano, T. Evolution of group 14 rhodamines as platforms for near-infrared fluorescence probes utilizing photoinduced electron transfer. ACS Chem. Biol. 6, 600–608 (2011).

Lukinavicius, G. et al. Fluorogenic probes for multicolor imaging in living cells. J. Am. Chem. Soc. 138, 9365–9368 (2016).

Butkevich, A. N. et al. Hydroxylated fluorescent dyes for live-cell labeling: synthesis, spectra and super-resolution STED. Chemistry 23, 12114–12119 (2017).

Lukinavicius, G. et al. Fluorogenic probes for live-cell imaging of the cytoskeleton. Nat. Methods 11, 731–733 (2014).

Lukinavicius, G. et al. A near-infrared fluorophore for live-cell super-resolution microscopy of cellular proteins. Nat. Chem. 5, 132–139 (2013).

Wysocki, L. M. et al. Facile and general synthesis of photoactivatable xanthene dyes. Angew. Chem. Int. Ed. 50, 11206–11209 (2011).

Grimm, J. B. et al. Carbofluoresceins and carborhodamines as scaffolds for high-contrast fluorogenic probes. ACS Chem. Biol. 8, 1303–1310 (2013).

Zheng, Y. et al. Nitroso-caged rhodamine: a superior green light-activatable fluorophore for single-molecule localization super-resolution imaging. Anal. Chem. 93, 7833–7842 (2021).

Belov, V. N., Wurm, C. A., Boyarskiy, V. P., Jakobs, S. & Hell, S. W. Rhodamines NN: a novel class of caged fluorescent dyes. Angew. Chem. Int. Ed. 49, 3520–3523 (2010).

Halabi, E. A., Thiel, Z., Trapp, N., Pinotsi, D. & Rivera-Fuentes, P. A photoactivatable probe for super-resolution imaging of enzymatic activity in live cells. J. Am. Chem. Soc. 139, 13200–13207 (2017).

Frei, M. S. et al. Photoactivation of silicon rhodamines via a light-induced protonation. Nat. Commun. 10, 4580 (2019).

Irie, M. Diarylethene Molecular Photoswitches: Concepts and Functionalities (Wiley, 2021).

Ciamician, G. & Silber, P. Chemische Lichtwirkungen. Ber. Dtsch. Chem. Ges. 33, 2911–2913 (2006).

Fagnoni, M. Modern molecular photochemistry of organic molecules. By Nicholas J. Turro, V. Ramamurthy and Juan C. Scaiano. Angew. Chem. Int. Ed. 49, 6709–6710 (2010).

Dorman, G. & Prestwich, G. D. Benzophenone photophores in biochemistry. Biochemistry 33, 5661–5673 (1994).

Horvath, P., Sebej, P., Solomek, T. & Klan, P. Small-molecule fluorophores with large Stokes shifts: 9-iminopyronin analogues as clickable tags. J. Org. Chem. 80, 1299–1311 (2015).

Butkevich, A. N. et al. Fluorescent rhodamines and fluorogenic carbopyronines for super-resolution STED microscopy in living cells. Angew. Chem. Int. Ed. 55, 3290–3294 (2016).

Butkevich, A. N., Lukinavicius, G., D'Este, E. & Hell, S. W. Cell-permeant large Stokes shift dyes for transfection-free multicolor nanoscopy. J. Am. Chem. Soc. 139, 12378–12381 (2017).

Dell'Amico, L., Vega-Penaloza, A., Cuadros, S. & Melchiorre, P. Enantioselective organocatalytic Diels-Alder trapping of photochemically generated hydroxy-o-quinodimethanes. Angew. Chem. Int. Ed. 55, 3313–3317 (2016).

Itoh, H., Kikuchi, T., Ishiyama, T. & Miyaura, N. Iridium-catalyzedortho-C–H borylation of aryl ketones with bis(pinacolato)diboron. Chem. Lett. 40, 1007–1008 (2011).

Zhou, D., Chu, W., Voller, T. & Katzenellenbogen, J. A. Copper-mediated nucleophilic radiobromination of aryl boron precursors: convenient preparation of a radiobrominated PARP-1 inhibitor. Tetrahedron Lett. 59, 1963–1967 (2018).

Shizuka, H. & Kimura, E. Acid-base properties in the triplet-state of aromatic ketones studied by nanosecond laser flash-photolysis. Can. J. Chem. 62, 2041–2046 (1984).

Ramseier, M., Senn, P. & Wirz, J. Photohydration of benzophenone in aqueous acid. J. Phys. Chem. A 107, 3305–3315 (2003).

Sauer, M. & Heilemann, M. Single-molecule localization microscopy in eukaryotes. Chem. Rev. 117, 7478–7509 (2017).

Li, H. & Vaughan, J. C. Switchable fluorophores for single-molecule localization microscopy. Chem. Rev. 118, 9412–9454 (2018).

Jungmann, R. et al. Quantitative super-resolution imaging with qPAINT. Nat. Methods 13, 439–442 (2016).

Thevathasan, J. V. et al. Nuclear pores as versatile reference standards for quantitative superresolution microscopy. Nat. Methods 16, 1045–1053 (2019).

Otsuka, S. et al. Nuclear pore assembly proceeds by an inside-out extrusion of the nuclear envelope. eLife 5, e19071 (2016).

Xue, L., Karpenko, I. A., Hiblot, J. & Johnsson, K. Imaging and manipulating proteins in live cells through covalent labeling. Nat. Chem. Biol. 11, 917–923 (2015).

Butkevich, A. N. et al. Two-color 810-nm STED nanoscopy of living cells with endogenous SNAP-tagged fusion proteins. ACS Chem. Biol. 13, 475–480 (2018).

Li, Y. et al. Real-time 3D single-molecule localization using experimental point spread functions. Nat. Methods 15, 367–369 (2018).

Weber, M. et al. MINSTED fluorescence localization and nanoscopy. Nat. Photon. 15, 361–366 (2021).

Ratz, M., Testa, I., Hell, S. W. & Jakobs, S. CRISPR/Cas9-mediated endogenous protein tagging for RESOLFT super-resolution microscopy of living human cells. Sci. Rep. 5, 9592 (2015).
Acknowledgements
The research was funded by Bundesministerium für Bildung und Forschung (German Federal Ministry of Education and Research), project no. 13N14122 '3D Nano Life Cell' (S.W.H.). R.L. is grateful to the Max Planck Society for a Nobel Laureate Fellowship. We thank S. Jakobs (MPI-NAT) for providing the U2OS-Vim-Halo and U2OS-Vim-SNAP cells and the EMBL for providing the U2OS-ZFN-SNAP-Nup107, U2OS-NUP96-Halo and HK-2xZFN-mEGFP-Nup107 cells. We thank the following people at the MPI for Medical Research: S. Fabritz (Mass Spectrometry Core Facility) for recording mass spectra of proteins and small molecules, M. Steigleder (Electronics Workshop) for building the custom 405-nm light source for the Penn m1 photoreactor, K. Johnsson (Department of Chemical Biology) for the SNAP-tag protein, M. Tarnawski (Protein Expression and Characterization Facility) for the HaloTag7 protein, and our colleagues at the Department of Optical Nanoscopy—J. Hubrich for supporting the cell culture, A. Aktalay for assistance with labelling of nanobody samples, and J. Matthias for critical reading of the manuscript and advice on sample preparation for MINFLUX. We thank the team at Abberior Instruments for support on the MINFLUX image acquisition.
Funding
Open access funding provided by Max Planck Society.
Ethics declarations
Competing interests
The authors declare the following competing financial interest(s): R.L., M.L.B. and A.N.B. are co-inventors of a patent application (International Patent Application No. PCT/EP2021/069804) covering the photoactivatable dyes of this work, filed by the Max Planck Society. S.W.H. owns shares of Abberior GmbH and Abberior Instruments GmbH, whose dyes and MINFLUX microscope, respectively, have been used in this study. The remaining authors declare no competing interests.
Peer review
Peer review information
Nature Chemistry thanks Francisco Raymo and the other, anonymous, reviewer(s) for their contribution to the peer review of this work.
Additional information
Publisher's note Springer Nature remains neutral with regard to jurisdictional claims in published maps and institutional affiliations.
Supplementary information
Rights and permissions
Open Access This article is licensed under a Creative Commons Attribution 4.0 International License, which permits use, sharing, adaptation, distribution and reproduction in any medium or format, as long as you give appropriate credit to the original author(s) and the source, provide a link to the Creative Commons license, and indicate if changes were made. The images or other third party material in this article are included in the article's Creative Commons license, unless indicated otherwise in a credit line to the material. If material is not included in the article's Creative Commons license and your intended use is not permitted by statutory regulation or exceeds the permitted use, you will need to obtain permission directly from the copyright holder. To view a copy of this license, visit http://creativecommons.org/licenses/by/4.0/.
About this article
Cite this article
Lincoln, R., Bossi, M.L., Remmel, M. et al. A general design of caging-group-free photoactivatable fluorophores for live-cell nanoscopy. Nat. Chem. 14, 1013–1020 (2022). https://doi.org/10.1038/s41557-022-00995-0
Received:

Accepted:

Published:

Issue Date:

DOI: https://doi.org/10.1038/s41557-022-00995-0