Abstract
Liquid–liquid phase separation (LLPS) of SynGAP and PSD-95, two abundant proteins that interact in the postsynaptic density (PSD) of neurons, has been implicated in modulating SynGAP PSD enrichment in excitatory synapses. However, the underlying regulatory mechanisms remain enigmatic. Here we report that O-GlcNAcylation of SynGAP acts as a suppressor of LLPS of the SynGAP/PSD-95 complex. We identified multiple O-GlcNAc modification sites for the endogenous SynGAP isolated from rat brain and the recombinantly expressed protein. Protein semisynthesis was used to generate site-specifically O-GlcNAcylated forms of SynGAP, and in vitro and cell-based LLPS assays demonstrated that T1306 O-GlcNAc of SynGAP blocks the interaction with PSD-95, thus inhibiting LLPS. Furthermore, O-GlcNAcylation suppresses SynGAP/PSD-95 LLPS in a dominant-negative manner, enabling sub-stoichiometric O-GlcNAcylation to exert effective regulation. We also showed that O-GlcNAc-dependent LLPS is reversibly regulated by O-GlcNAc transferase (OGT) and O-GlcNAcase (OGA). These findings demonstrate that OGT- and OGA-catalysed O-GlcNAc cycling may serve as an LLPS-regulating post-translational modification.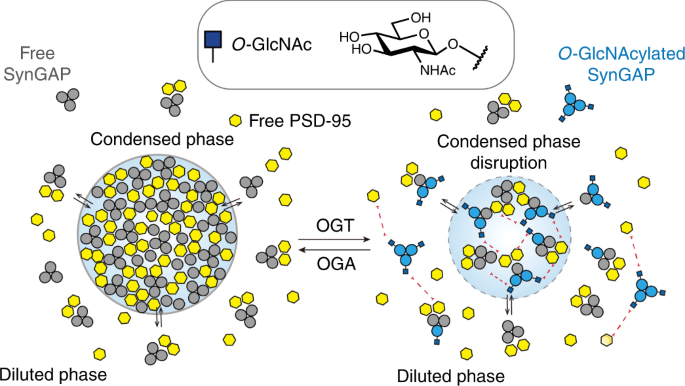 Relevant articles
Open Access articles citing this article.
Yu-Wen Hung

,

Ching Ouyang

…

David K. Ann

Journal of Biomedical Science Open Access 22 May 2023
Access options
Access Nature and 54 other Nature Portfolio journals
Get Nature+, our best-value online-access subscription
$29.99 / 30 days
cancel any time
Subscribe to this journal
Receive 12 print issues and online access
$259.00 per year
only $21.58 per issue
Rent or buy this article
Get just this article for as long as you need it
$39.95
Prices may be subject to local taxes which are calculated during checkout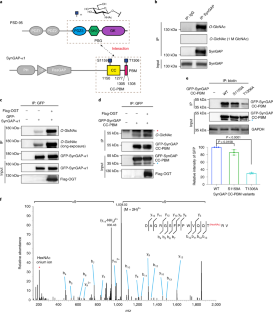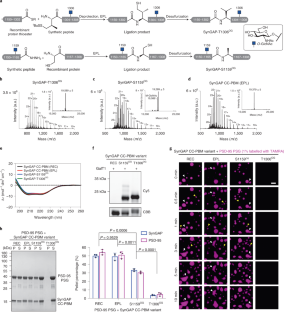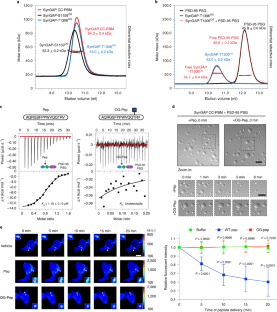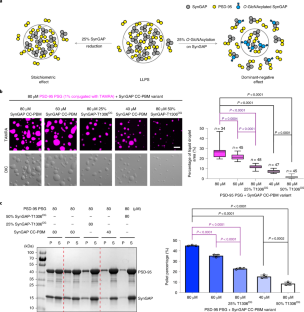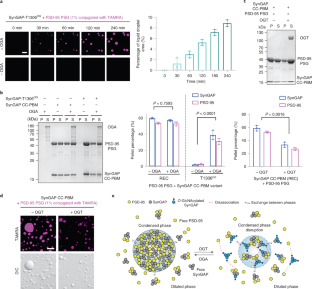 Data availability
All relevant data presented in this study are provided in the Article, Extended Data figures and Supplementary Information. The data and genetic constructs are also available from the corresponding authors upon request. The crystal structure of the PSD-95 PDZ3-C/SynGAP PBM complex is from https://www.rcsb.org/structure/5JXB (PDB 5JXB). Source data are provided with this paper.
References
Shin, Y. & Brangwynne, C. P. Liquid phase condensation in cell physiology and disease. Science 357, eaaf4382 (2017).

Banani, S. F., Lee, H. O., Hyman, A. A. & Rosen, M. K. Biomolecular condensates: organizers of cellular biochemistry. Nat. Rev. Mol. Cell Biol. 18, 285–298 (2017).

Chen, X., Wu, X., Wu, H. & Zhang, M. Phase separation at the synapse. Nat. Neurosci. 23, 301–310 (2020).

Shin, Y. et al. Liquid nuclear condensates mechanically sense and restructure the genome. Cell 175, 1481–1491 (2018).

Hondele, M. et al. DEAD-box ATPases are global regulators of phase-separated organelles. Nature 573, 144–148 (2019).

Hofweber, M. & Dormann, D. Friend or foe—post-translational modifications as regulators of phase separation and RNP granule dynamics. J. Biol. Chem. 294, 7137–7150 (2019).

Nott, T. J. et al. Phase transition of a disordered nuage protein generates environmentally responsive membraneless organelles. Mol. Cell 57, 936–947 (2015).

Qamar, S. et al. FUS phase separation is modulated by a molecular chaperone and methylation of arginine cation-π interactions. Cell 173, 720–734 (2018).

Hofweber, M. et al. Phase separation of FUS is suppressed by its nuclear import receptor and arginine methylation. Cell 173, 706–719 (2018).

Ryan, V. H. et al. Mechanistic view of hnRNPA2 low-complexity domain structure, interactions, and phase separation altered by mutation and arginine methylation. Mol. Cell 69, 465–479 (2018).

Tsang, B. et al. Phosphoregulated FMRP phase separation models activity-dependent translation through bidirectional control of mRNA granule formation. Proc. Natl. Acad. Sci. USA 116, 4218–4227 (2019).

Murray, D. T. et al. Structure of FUS protein fibrils and its relevance to self-assembly and phase separation of low-complexity domains. Cell 171, 615–627 (2017).

Wang, A. et al. A single N‐terminal phosphomimic disrupts TDP‐43 polymerization, phase separation and RNA splicing. EMBO J. 37, e97452 (2018).

Ambadipudi, S., Biernat, J., Riedel, D., Mandelkow, E. & Zweckstetter, M. Liquid–liquid phase separation of the microtubule-binding repeats of the Alzheimer-related protein Tau. Nat. Commun. 8, 275 (2017).

Kim, T. H. et al. Phospho-dependent phase separation of FMRP and CAPRIN1 recapitulates regulation of translation and deadenylation. Science 365, 825–829 (2019).

Guo, Y. E. et al. Pol II phosphorylation regulates a switch between transcriptional and splicing condensates. Nature 572, 543–548 (2019).

Yang, X. & Qian, K. Protein O-GlcNAcylation: emerging mechanisms and functions. Nat. Rev. Mol. Cell Biol. 18, 452–465 (2017).

Lagerlof, O. & Hart, G. W. O-GlcNAcylation of neuronal proteins: roles in neuronal functions and in neurodegeneration. Adv. Neurobiol. 9, 343–366 (2014).

Lagerlöf, O., Hart, G. W. & Huganir, R. L. O-GlcNAc transferase regulates excitatory synapse maturity. Proc. Natl. Acad. Sci. USA 114, 1684–1689 (2017).

Trinidad, J. C. et al. Global identification and characterization of both O-GlcNAcylation and phosphorylation at the murine synapse. Mol. Cell Proteomics 11, 215–229 (2012).

Li, W. et al. Characterization of a novel SynGAP isoform, SynGAP-β. J. Biol. Chem. 276, 21417–21424 (2001).

Gamache, T. R., Araki, Y. & Huganir, R. L. Twenty years of SynGAP research: from synapses to cognition. J. Neurosci. 40, 1596–1605 (2020).

Chen, H.-J., Rojas-Soto, M., Oguni, A. & Kennedy, M. B. A synaptic Ras-GTPase Activating Protein (p135 SynGAP) inhibited by CaM Kinase II. Neuron 20, 895–904 (1998).

Kim, J. H., Liao, D., Lau, L.-F. & Huganir, R. L. SynGAP: a synaptic RasGAP that associates with the PSD-95/SAP90 protein family. Neuron 20, 683–691 (1998).

Zeng, M. et al. Phase transition in postsynaptic densities underlies formation of synaptic complexes and synaptic plasticity. Cell 166, 1163–1175(2016).

Clark, P. M. et al. Direct in-gel fluorescence detection and cellular imaging of O-GlcNAc-modified proteins. J. Am. Chem. Soc. 130, 11576–11577 (2008).

Muir, T. W., Sondhi, D. & Cole, P. A. Expressed protein ligation: a general method for protein engineering. Proc. Natl. Acad. Sci. USA 95, 6705–6710 (1998).

Shah, N. H., Dann, G. P., Vila-Perelló, M., Liu, Z. & Muir, T. W. Ultrafast protein splicing is common among cyanobacterial split inteins: implications for protein engineering. J. Am. Chem. Soc. 134, 11338–11341 (2012).

Chen, J., Wan, Q., Yuan, Y., Zhu, J. & Danishefsky, S. J. Native chemical ligation at valine: a contribution to peptide and glycopeptide synthesis. Angew. Chem. Int. Ed. 47, 8521–8524 (2008).

Wan, Q. & Danishefsky, S. J. Free‐radical‐based, specific desulfurization of cysteine: a powerful advance in the synthesis of polypeptides and glycopolypeptides. Angew. Chem. Int. Ed. 46, 9248–9252 (2007).

Fang, G. et al. Protein chemical synthesis by ligation of peptide hydrazides. Angew. Chem. Int. Ed. 50, 7645–7649 (2011).

Cheng, D. et al. Relative and absolute quantification of postsynaptic density proteome isolated from rat forebrain and cerebellum. Mol. Cell Proteomics 5, 1158–1170 (2006).

Sugiyama, Y., Kawabata, I., Sobue, K. & Okabe, S. Determination of absolute protein numbers in single synapses by a GFP-based calibration technique. Nat. Methods 2, 677–684 (2005).

Zeng, M. et al. Phase separation-mediated TARP/MAGUK complex condensation and AMPA receptor synaptic transmission. Neuron 104, 529–543 (2019).

Zeng, M. et al. Reconstituted postsynaptic density as a molecular platform for understanding synapse formation and plasticity. Cell 174, 1172–1187 (2018).

Araki, Y., Zeng, M., Zhang, M. & Huganir, R. L. Rapid dispersion of SynGAP from synaptic spines triggers AMPA receptor insertion and spine enlargement during LTP. Neuron 85, 173–189 (2015).

Araki, Y. et al. SynGAP isoforms differentially regulate synaptic plasticity and dendritic development. eLife 9, e56273 (2020).

Vazquez, L. E., Chen, H.-J., Sokolova, I., Knuesel, I. & Kennedy, M. B. SynGAP regulates spine formation. J. Neurosci. 24, 8862–8872 (2004).

Rumbaugh, G., Adams, J. P., Kim, J. H. & Huganir, R. L. SynGAP regulates synaptic strength and mitogen-activated protein kinases in cultured neurons. Proc. Natl. Acad. Sci. USA 103, 4344–4351 (2006).

Wu, X. et al. RIM and RIM-BP form presynaptic active-zone-like condensates via phase separation. Mol. Cell 73, 971–984.e5 (2019).

Milovanovic, D., Wu, Y., Bian, X. & Camilli, P. D. A liquid phase of synapsin and lipid vesicles. Science 361, eaat5671 (2018).

Labokha, A. A. et al. Systematic analysis of barrier‐forming FG hydrogels from Xenopus nuclear pore complexes. EMBO J. 32, 204–218 (2013).

Lin, D. H. et al. Architecture of the symmetric core of the nuclear pore. Science 352, aaf1015 (2016).

Yuzwa, S. A. et al. Increasing O-GlcNAc slows neurodegeneration and stabilizes tau against aggregation. Nat. Chem. Biol. 8, 393–399 (2012).

Marotta, N. P. et al. O-GlcNAc modification blocks the aggregation and toxicity of the protein α-synuclein associated with Parkinson's disease. Nat. Chem. 7, 913–920 (2015).

Ray, S. et al. Synuclein aggregation nucleates through liquid–liquid phase separation. Nat. Chem. 12, 705–716 (2020).

Tarbet, H. J., Toleman, C. A. & Boyce, M. A sweet embrace: control of protein-protein interactions by O-linked β-N-acetylglucosamine. Biochemistry 57, 13–21 (2017).

Qin, W. et al. Quantitative time-resolved chemoproteomics reveals that stable O-GlcNAc regulates box C/D snoRNP biogenesis. Proc. Natl. Acad. Sci. USA 114, E6749–E6758 (2017).

Hao, Y. et al. Next-generation unnatural monosaccharides reveal that ESRRB O-GlcNAcylation regulates pluripotency of mouse embryonic stem cells. Nat. Commun. 10, 4065 (2019).

Walkup, W. G. et al. Phosphorylation of synaptic GTPase-Activating Protein (synGAP) by Ca2+/calmodulin-dependent protein kinase II (CaMKII) and cyclin-dependent kinase 5 (CDK5) alters the ratio of its GAP activity toward Ras and Rap GTPases. J. Biol. Chem. 290, 4908–4927 (2015).
Acknowledgements
We thank Y. Liu for help with the Rosetta simulation. Parts of the MS experiments were performed at the Analytical Instrumentation Center of Peking University (PKUAIC). This work was supported by the National Key R&D Program of China (no. 2018YFA0507600 to X.C., S.D., C.L. and P.Z.) and the National Natural Science Foundation of China (nos. 91753206 and 21521003 to X.C. and no. 21708002 to W.Z.).
Ethics declarations
Competing interests
The authors declare no competing interests.
Peer review
Peer review information
Nature Chemistry thanks Xiaoyong Yang and the other, anonymous, reviewer(s) for their contribution to the peer review of this work.
Additional information
Publisher's note Springer Nature remains neutral with regard to jurisdictional claims in published maps and institutional affiliations.
Supplementary information
About this article
Cite this article
Lv, P., Du, Y., He, C. et al. O-GlcNAcylation modulates liquid–liquid phase separation of SynGAP/PSD-95. Nat. Chem. 14, 831–840 (2022). https://doi.org/10.1038/s41557-022-00946-9
Received:

Accepted:

Published:

Issue Date:

DOI: https://doi.org/10.1038/s41557-022-00946-9
This article is cited by
Yu-Wen Hung
Ching Ouyang
David K. Ann

Journal of Biomedical Science (2023)