Abstract
The cytoskeleton is an essential component of a cell. It controls the cell shape, establishes the internal organization, and performs vital biological functions. Building synthetic cytoskeletons that mimic key features of their natural counterparts delineates a crucial step towards synthetic cells assembled from the bottom up. To this end, DNA nanotechnology represents one of the most promising routes, given the inherent sequence specificity, addressability and programmability of DNA. Here we demonstrate functional DNA-based cytoskeletons operating in microfluidic cell-sized compartments. The synthetic cytoskeletons consist of DNA tiles self-assembled into filament networks. These filaments can be rationally designed and controlled to imitate features of natural cytoskeletons, including reversible assembly and ATP-triggered polymerization, and we also explore their potential for guided vesicle transport in cell-sized confinement. Also, they possess engineerable characteristics, including assembly and disassembly powered by DNA hybridization or aptamer–target interactions and autonomous transport of gold nanoparticles. This work underpins DNA nanotechnology as a key player in building synthetic cells.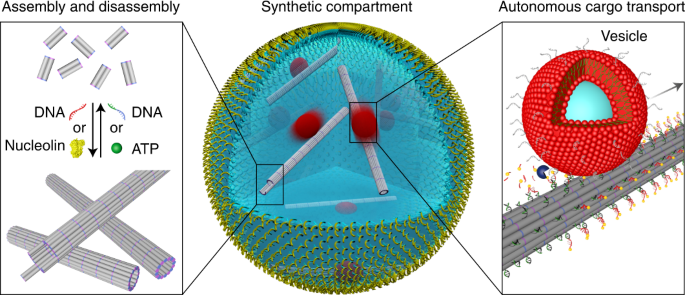 Data availability
Data supporting this study are available in the manuscript, Supplementary Information and are also available from the corresponding author on request. Source data are provided with this paper.
References
Brouhard, G. J. & Rice, L. M. Microtubule dynamics: an interplay of biochemistry and mechanics. Nat. Rev. Mol. Cell Biol. 19, 451–463 (2018).

Murrell, M., Oakes, P. W., Lenz, M. & Gardel, M. L. Forcing cells into shape: the mechanics of actomyosin contractility. Nat. Rev. Mol. Cell Biol. 16, 486–498 (2015).

Rothemund, P. W. K. Folding DNA to create nanoscale shapes and patterns. Nature 440, 297–302 (2006).

Tikhomirov, G., Petersen, P. & Qian, L. Fractal assembly of micrometre-scale DNA origami arrays with arbitrary patterns. Nature 552, 67–71 (2017).

Langecker, M. et al. Synthetic lipid membrane channels formed by designed DNA nanostructures. Science 338, 932–936 (2012).

Göpfrich, K. et al. DNA-tile structures induce ionic currents through lipid membranes. Nano Lett. 15, 3134–3138 (2015).

Shin, J.-S. & Pierce, N. A. A synthetic DNA walker for molecular transport. J. Am. Chem. Soc. 126, 10834–10835 (2004).

Yin, P., Yan, H., Daniell, X. G., Turberfield, A. J. & Reif, J. H. A unidirectional DNA walker that moves autonomously along a track. Angew. Chem. Int. Ed. 43, 4906–4911 (2004).

Kopperger, E. et al. A self-assembled nanoscale robotic arm controlled by electric fields. Science 301, 296–301 (2018).

Göpfrich, K., Urban, M. J., Frey, C., Platzman, I. & Spatz, J. P. Dynamic actuation of DNA-assembled plasmonic nanostructures in microfluidic cell-sized compartments. Nano Lett. 20, 1571–1577 (2020).

Gu, H., Chao, J., Xiao, S.-J. & Seeman, N. C. A proximity-based programmable DNA nanoscale assembly line. Nature 465, 202–205 (2010).

Green, L., Amodio, A., Subramanian, H. K. K., Ricci, F. & Franco, E. pH-driven reversible self-assembly of micron-scale DNA scaffolds. Nano Lett. 17, 7283–7288 (2017).

Green, L. N. et al. Autonomous dynamic control of DNA nanostructure self-assembly. Nat. Chem. 11, 510–520 (2019).

Del Grosso, E., Prins, L. J. & Ricci, F. Transient DNA-based nanostructures controlled by redox inputs. Angew. Chem. Int. Ed. 59, 13238–13245 (2020).

Agarwal, S. & Franco, E. Enzyme-Driven Assembly and Disassembly of Hybrid DNA–RNA Nanotubes. J. Am. Chem. Soc. 141, 7831–7841 (2019).

Agarwal, S., Klocke, M. A., Pungchai, P. E. & Franco, E. Dynamic self-assembly of compartmentalized DNA nanotubes. Nat Commun. 12, 3557 (2021).

Rothemund, P. W. K. et al. Design and characterization of programmable DNA nanotubes. J. Am. Chem. Soc. 126, 16344–16352 (2004).

Jahnke, K., Huth, V., Mersdorf, U., Liu, N. & Göpfrich, K. Bottom-Up Assembly of Synthetic Cells with a DNA Cytoskeleton. ACS Nano 16, 7233–7241 (2022).

Yurke, B., Turberfield, A. J., Mills, A. P., Simmel, F. C. & Neumann, J. L. A DNA-fuelled molecular machine made of DNA. Nature 406, 605–608 (2000).

Lin, C., Liu, Y., Rinker, S. & Yan, H. DNA tile based self-assembly: building complex nanoarchitectures. ChemPhysChem 7, 1641–1647 (2006).

Zhang, D. Y. & Winfree, E. Control of DNA strand displacement kinetics using toehold exchange. J. Am. Chem. Soc. 131, 17303–17314 (2009).

Huizenga, D. E. & Szostak, J. W. A DNA aptamer that binds adenosine and ATP. Biochemistry 34, 656–665 (1995).

Li, Q. et al. ATP-Triggered, Allosteric Self-Assembly of DNA Nanostructures. J. Am. Chem. Soc. 142, 665–668 (2020).

Debiais, M., Lelievre, A., Smietana, M. & Müller, S. Splitting aptamers and nucleic acid enzymes for the development of advanced biosensors. Nucleic Acids Res. 48, 3400–3422 (2020).

Brieher, W. Mechanisms of actin disassembly. Mol. Biol. Cell 24, 2299–2302 (2013).

Schaffter, S. W. et al. Reconfiguring DNA nanotube architectures via selective regulation of terminating structures. ACS Nano 14, 13451–13462 (2020).

Mohammed, A. M. & Schulman, R. Directing Self-Assembly of DNA Nanotubes Using Programmable Seeds. Nano Lett. 13, 4006–4013 (2013).

Mohammed, A. M., Šulc, P., Zenk, J. & Schulman, R. Self-assembling DNA nanotubes to connect molecular landmarks. Nat. Nanotechnol. 12, 312–316 (2017).

Verdeny-Vilanova, I. et al. 3D motion of vesicles along microtubules helps them to circumvent obstacles in cells. J. Cell Sci. 130, 1904–1916 (2017).

Bazrafshan, A. et al. DNA gold nanoparticle motors demonstrate processive motion with bursts of speed up to 50 nm per second. ACS Nano 15, 8427–8438 (2021).

Du, Y., Pan, J., Qiu, H., Mao, C. & Choi, J. H. Mechanistic understanding of surface migration dynamics with DNA walkers. J. Phys. Chem. B 125, 507–517 (2021).

Bazrafshan, A. et al. Tunable DNA origami motors translocate ballistically over μm distances at nm/s speeds. Angew. Chem. Int. Ed. 59, 9514–9521 (2020).

Yehl, K. et al. High-speed DNA-based rolling motors powered by RNase H. Nat. Nanotechnol. 11, 184–190 (2015).

Weiss, M. et al. Sequential bottom-up assembly of mechanically stabilized synthetic cells by microfluidics. Nat. Mater. 17, 89–98 (2018).

Link, D. R. et al. Electric control of droplets in microfluidic devices. Angew. Chem. Int. Ed. 45, 2556–2560 (2006).

Dreher, Y., Jahnke, K., Bobkova, E., Spatz, J. P. & Göpfrich, K. Controlled division and regrowth of phase-separated giant unilamellar vesicles. Angew. Chem. Int. Ed. 133, 10756–10764 (2020).

Jahnke, K. et al. Engineering light-responsive contractile actomyosin networks with DNA nanotechnology. Adv. Biosyst. 4, 2000102 (2020).

Lodish, H. in Molecular Cell Biology 4th edn, Section 19.3 (ed. Tenney, S.) (W. H. Freeman, 2000).

Ibusuki, R. Programmable molecular transport achieved by engineering protein motors to move on DNA nanotubes. Science 375, 1159–1164 (2022).

Stömmer, P. et al. A synthetic tubular molecular transport system. Nat Commun. 12, 4393 (2021).

Jahnke, K. et al. Programmable functionalization of surfactant-stabilized microfluidic droplets via DNA-tags. Adv. Funct. Mater. 29, 1808647 (2019).

Göpfrich, K. et al. One-pot assembly of complex giant unilamellar vesicle-based synthetic cells. ACS Synth. Biol. 8, 937–947 (2019).

Pardee, J. D. & Aspudich, J. in Methods in Enzymology 164–181 (Elsevier, 1982).

Kron, S. J., Toyoshima, Y. Y., Uyeda, T. Q. & Spudich, J. A. in Methods in Enzymology 399–416 (Elsevier, 1991).

Baldock, B. L. & Hutchison, J. E. UV-visible spectroscopy-based quantification of unlabeled DNA bound to gold nanoparticles. Anal. Chem. 88, 12072–12080 (2016).
Acknowledgements
K.G. received funding from the Deutsche Forschungsgemeinschaft (DFG, German Research Foundation) under Germany's Excellence Strategy via the Excellence Cluster 3D Matter Made to Order (EXC-2082/1 - 390761711) and the Max Planck Society. K.J. thanks the Carl Zeiss and Joachim Herz Foundation for financial support. P.Z. and N.L. were supported by the European Research Council (ERC Dynamic Nano). N.L. also acknowledges support from the Max Planck Society (Max Planck Fellow). We thank E. D'Este and the Optical Microscopy facility at the MPI for Medical Research for support and acknowledge the kind help of F. Neubrech for material transportation.
Funding
Open access funding provided by Max Planck Society.
Ethics declarations
Competing interests
The authors declare no competing interests.
Peer review
Peer review information
Nature Chemistry thanks Chengde Mao and the other, anonymous, reviewer(s) for their contribution to the peer review of this work.
Additional information
Publisher's note Springer Nature remains neutral with regard to jurisdictional claims in published maps and institutional affiliations.
Supplementary information
Rights and permissions
Open Access This article is licensed under a Creative Commons Attribution 4.0 International License, which permits use, sharing, adaptation, distribution and reproduction in any medium or format, as long as you give appropriate credit to the original author(s) and the source, provide a link to the Creative Commons license, and indicate if changes were made. The images or other third party material in this article are included in the article's Creative Commons license, unless indicated otherwise in a credit line to the material. If material is not included in the article's Creative Commons license and your intended use is not permitted by statutory regulation or exceeds the permitted use, you will need to obtain permission directly from the copyright holder. To view a copy of this license, visit http://creativecommons.org/licenses/by/4.0/.
About this article
Cite this article
Zhan, P., Jahnke, K., Liu, N. et al. Functional DNA-based cytoskeletons for synthetic cells. Nat. Chem. 14, 958–963 (2022). https://doi.org/10.1038/s41557-022-00945-w
Received:

Accepted:

Published:

Issue Date:

DOI: https://doi.org/10.1038/s41557-022-00945-w