Abstract
Trisubstituted alkenyl fluorides are important compounds for drug discovery, agrochemical development and materials science. Despite notable progress, however, many stereochemically defined trisubstituted fluoroalkenes either cannot be prepared efficiently or can only be accessed in one isomeric form. Here we outline a general solution to this problem by first unveiling a practical, widely applicable and catalytic strategy for stereodivergent synthesis of olefins bearing a fluoro-chloro terminus. This has been accomplished by cross-metathesis between two trisubstituted olefins, one of which is a purchasable but scarcely utilized trihaloalkene. Subsequent cross-coupling can then be used to generate an assortment of trisubstituted alkenyl fluorides. The importance of the advance is highlighted by syntheses of, among others, a fluoronematic liquid-crystal component, peptide analogues bearing an E- or a Z-amide bond mimic, and all four stereoisomers of difluororumenic ester (an anti-cancer compound).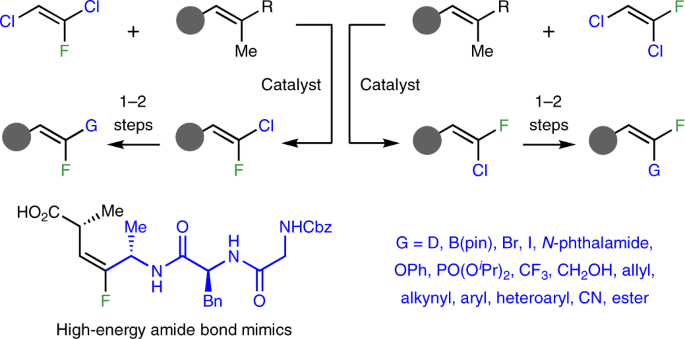 Access options
Subscribe to Nature+
Get immediate online access to the entire Nature family of 50+ journals
Subscribe to Journal
Get full journal access for 1 year
$119.00
only $9.92 per issue
All prices are NET prices.
VAT will be added later in the checkout.
Tax calculation will be finalised during checkout.
Buy article
Get time limited or full article access on ReadCube.
$32.00
All prices are NET prices.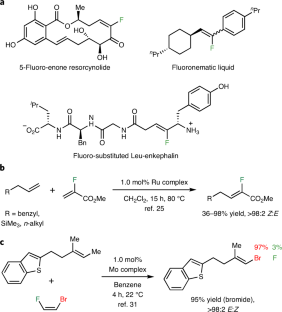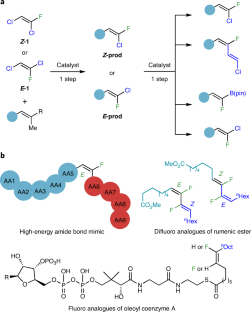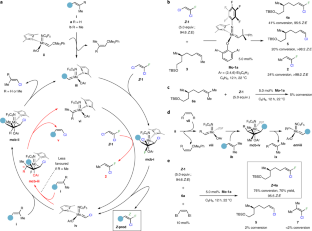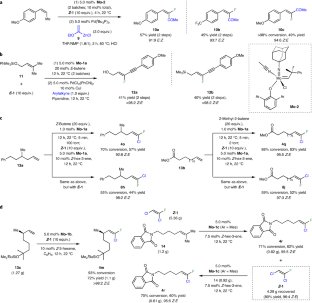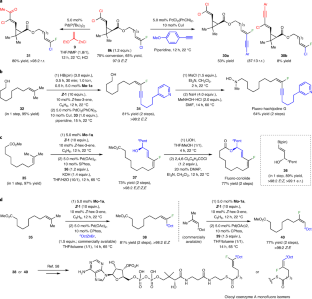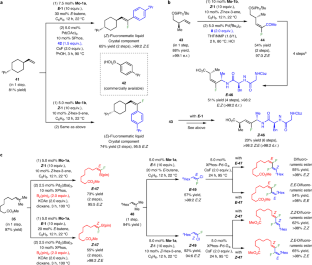 Data availability
All data in support of the findings of this study are available within the article and its Supplementary Information.
References
Jeschke, P. The unique role of fluorine in the design of active ingredients for modern crop protection. ChemBioChem 5, 570–589 (2004).

Berger, R., Resnati, G., Metrangolo, P., Weber, E. & Hulliger, J. Organic fluorine compounds: a great opportunity for enhanced materials properties. J. Chem. Soc. Rev. 40, 3496–3508 (2011).

Berger, A. A., Völler, J.-S., Budisa, N. & Koksch, B. Deciphering the fluorine code—the many hats fluorine wears in a protein environment. Acc. Chem. Res. 50, 2093–2103 (2017).

Meanwell, N. A. Fluorine and fluorinated motifs in the design and application of bioisosteres for drug design. J. Med. Chem. 61, 5822–5880 (2018).

Mei, H. et al. Fluorine-containing drugs approved by the FDA in 2019. Chin. Chem. Lett. 31, 2401–2413 (2020).

Oishi, S. et al. Peptide bond mimicry by (E)-alkene and (Z)-fluoroalkene peptide isosteres: synthesis and bioevaluation of α-helical anti-HIV peptide anlogues. Org. Biomol. Chem. 7, 2872–2877 (2009).

Yanai, H. & Taguchi, T. Synthetic methods for fluorinated olefins. Eur. J. Org. Chem. 2011, 5939–5954 (2011).

Landelle, G., Bergeron, M., Turcotte-Savard, M.-O. & Paquin, J.-F. Synthetic approaches to monofluoroalkenes. Chem. Soc. Rev. 40, 2867–2908 (2011).

Drouin, M., Hamel, J.-D. & Paquin, J.-F. Synthesis of monofluoroalkenes: a leap forward. Synthesis 50, 881–995 (2018).

Damy, P. et al. Pseudo-prolines as a molecular hinge: reversible induction of cis amide bonds into peptide backbones. J. Am. Chem. Soc. 119, 918–925 (1997).

Niida, A. et al. Unequivocal synthesis of (Z)-alkene and (E)-fluoroalkene dipeptide isosteres to probe structural requirements of the peptide transporter PEPT1. Org. Lett. 8, 613–616 (2006).

Marraud, M. et al. Modifications of the amide bond and conformational constraints in pseudopeptide analogues. Biopolymers 33, 1135–1148 (1993).

Altman, R. A. et al. Tyr1-ψ[(Z)CF=CH]-Gly2 fluorinated peptidomimetic improves distribution and metabolism properties of Leu-enkephalin. ACS Chem. Neurosci. 9, 1735–1742 (2018).

Bohm, H.-J. et al. Fluorine in medicinal chemistry. ChemBioChem 5, 637–643 (2004).

O'Hagan, D. Fluorine in healthcare: organofluorine containing blockbuster drugs. J. Fluor. Chem. 131, 1071–1081 (2010).

Jogireddy, R., Barluenga, S. & Wissinger, N. Molecular editing of kinase-targeting resorcyclic acid lactones (RAL): fluoroenone RAL. ChemMedChem 5, 670–673 (2010).

Furuya, T., Kamlet, A. S. & Ritter, T. Catalysis for fluorination and trifluoromethylation. Nature 473, 470–477 (2011).

Nie, J., Guo, H.-C., Cahard, D. & Ma, J.-A. Asymmetric construction of stereogenic carbon centers featuring a trifluoromethyl group from prochiral trifluoromethylated substrates. Chem. Rev. 111, 455–529 (2011).

Liang, T., Neumann, C. N. & Ritter, T. Introduction of fluorine and fluorine-containing functional groups. Angew. Chem. Int. Ed. 52, 8214–8264 (2013).

Yang, X., Wu, T., Phipps, R. J. & Toste, F. D. Advances in catalytic enantioselective fluorination, mono-, di-, and trifluoromethylation, and trifluoromethylthiolation reactions. Chem. Rev. 115, 826–870 (2015).

Zhu, Y. et al. Modern approaches for asymmetric construction of carbon–fluorine quaternary stereogenic centers: synthetic challenges and pharmaceutical needs. Chem. Rev. 118, 3887–3964 (2018).

Hirschmann, H., Schüpfer, S., Reiffenrath, V. & Schoen, S. Nematic liquid crystal mixture and displays comprising the same. European Patent EP 1 215 270 B1 (2004).

Burton, D. J., Yang, Z.-Y. & Qiu, W. Fluorinated ylides and related compounds. Chem. Rev. 96, 1641–1715 (1996).

Takahira, Y. & Morizawa, Y. Ruthenium-catalyzed olefin cross-metathesis with tetrafluoroethylene and analogous fluoroolefins. J. Am. Chem. Soc. 137, 7031–7034 (2015).

Nouaille, A., Pannecoucke, X., Poisson, T. & Couve-Bonnaire, S. Access to trisubstituted fluoroalkenes by ruthenium-catalyzed cross-metathesis. Adv. Synth. Catal. 363, 2140–2147 (2021).

Sakaguchi, H. et al. Copper-catalyzed regioselective monodefluoroborylation of polyfluoroalkenes en route to diverse fluoroalkenes. J. Am. Chem. Soc. 139, 12855–12862 (2017).

Zhang, J., Dai, W., Liu, Q. & Cao, S. Cu-catalyzed stereoselective borylation of gem-difluoroalkenes with B2pin2. Org. Lett. 19, 3283–3286 (2017).

Andrei, D. & Wnuk, S. F. Synthesis of multisubstituted halogenated olefins via cross-coupling of dihaloalkenes with alkylzinc bromides. J. Org. Chem. 71, 405–408 (2006).

Isoda, M. et al. Convergent synthesis of fluoroalkenes using a dual-reactive unit. J. Org. Chem. 86, 1622–1632 (2021).

Montgomery, T. P., Ahmed, T. S. & Grubbs, R. H. Stereoretentive olefin metathesis: an avenue to kinetic selectivity. Angew. Chem. Int. Ed. 56, 11024–11036 (2017).

Nguyen, T. T. et al. Synthesis of E- and Z-trisubstituted alkenes by catalytic cross-metathesis. Nature 552, 347–354 (2017).

Xu, C. et al. Synthesis of E- and Z-trisubstituted allylic alcohols and ethers by kinetically controlled cross-metathesis with a Ru catechothiolate complex. J. Am. Chem. Soc. 139, 15640–15643 (2017).

Mu, Y., Nguyen, T. T., Koh, M. J., Schrock, R. R. & Hoveyda, A. H. E- and Z-, di- and trisubstituted alkenyl nitriles through catalytic cross-metathesis. Nat. Chem. 11, 478–487 (2019).

Nguyen, T. T. et al. Kinetically controlled E-selective catalytic olefin metathesis. Science 352, 569–575 (2016).

Chen, C., Wilcoxen, K., Strack, N. & McCarthy, J. R. Synthesis of fluorinated olefins via the palladium catalyzed cross-coupling reaction of 1-fluorovinyl halides with organoboranes. Tetrahedron Lett. 40, 827–830 (1999).

Bougnoux, P., Hajjaji, N., Maheo, K., Couet, C. & Chevalier, S. Fatty acids and breast cancer: sensitization to treatments and prevention of metastatic re-growth. Prog. Lipid Res. 49, 76–86 (2010).

Turapov, O. et al. Oleoyl coenzyme A regulates interaction of transcriptional regulator RaaS (Rv1219c) with DNA in mycobacteria. J. Biol. Chem. 289, 25241–25249 (2014).

Hoveyda, A. H. et al. Impact of ethylene on efficiency and stereocontrol in olefin metathesis: when to add it, when to remove it, and when to avoid it. Angew. Chem. Int. Ed. 59, 22324–22348 (2020).

Koh, M. J. et al. Direct synthesis of Z-alkenyl halides through catalytic cross-metathesis. Nature 531, 459–465 (2016).

Xu, Z. et al. Applications of Zr-catalyzed carbomagnesation and Mo-catalyzed macrocyclic ring-closing metathesis in asymmetric synthesis. Enantioselective total synthesis of Sch 38516 (fluvirucin B1). J. Am. Chem. Soc. 119, 10302–10316 (1997).

Wang, C., Haeffner, F., Schrock, R. R. & Hoveyda, A. H. Molybdenum-based complexes with two aryloxides and a pentafluoroimido ligand: catalysts for efficient Z-selective synthesis of a macrocyclic trisubstituted alkene by ring-closing metathesis. Angew. Chem. Int. Ed. 52, 1939–1943 (2013).

Mu, Y. et al. Traceless protection for more broadly applicable olefin metathesis. Angew. Chem. Int. Ed. 58, 5365–5370 (2019).

Koh, M. J. et al. Molybdenum chloride catalysts for Z-selective olefin metathesis reactions. Nature 542, 80–85 (2017).

Hart, F. D. & Boardman, P. L. Indomethacin: a new non-steroid anti-inflammatory agent. Br. Med. J. 2, 965–970 (1963).

Bibak, B. et al. A review of the pharmacological and therapeutic effects of auraptene. BioFactors 45, 867–879 (2019).

Luszczki, J. J. et al. Anticonvulsant and acute neurotoxic effects of imperatorin, osthole and valproate in the maximal electroshock seizure and chimney tests in mice: a comparative study. Epilepsy Res. 85, 293–299 (2009).

Pirali, T., Serafini, M., Cargnin, S. & Genazzani, A. A. Applications of deuterium in medicinal chemistry. J. Med. Chem. 62, 5276–5297 (2019).

Almond-Thynne, J., Blakemore, D. C., Pryde, D. C. & Spivey, A. C. Site-selective Suzuki–Miyaura coupling of heteroaryl halides—understanding the trends for pharmaceutically important classes. Chem. Sci. 8, 40–62 (2017).

Ito, H., Seo, T., Kojima, R. & Kubota, K. Copper(I)-catalyzed stereoselective defluoroborylation of aliphatic gem-difluoroalkenes. Chem. Lett. 47, 1330–1332 (2018).

Orsi, D. L., Yadav, M. R. & Altman, R. A. Organocatalytic strategy for hydrophenolation of gem-difluoroalkenes. Tetrahedron 75, 4325–4336 (2019).

Zhang, X. & Burton, D. J. A kinetic separation method for the stereoselective preparation of 1-fluorovinylphosphonates from E/Z mixtures of 1-bromo-1-fluoroolefins. J. Fluor. Chem. 112, 47–54 (2001).

Rousée, K., Bouillon, J.-P., Couve-Bonnaire, S. & Pannecouke, X. Stereospecific synthesis of tri- and tetrasubstituted α-fluoroacrylates by Mizoroki–Heck reaction. Org. Lett. 18, 540–543 (2016).

Zhang, J., Xu, C., Wu, W. & Cao, S. Mild and copper-free stereoselective cyanation of gem-difluoroalkenes by using benzyl nitrile as a cyanating agent. Chem. Eur. J. 22, 9902–9908 (2016).

Tsukamoto, S. et al. Hachijodines A–G: seven new cytotoxic 3-alkylpyridine alkaloids from two marine sponges of the genera Xestopongia and Amphimedon. J. Nat. Prod. 63, 682–684 (2000).

Schulz, S. et al. Macrolides from the scent glands of the tropical butterflies Heliconius cydno and Heliconius pachinus. Org. Biomol. Chem. 5, 3434–3441 (2007).

Nie, L. et al. A novel paradigm of fatty acid β-oxidation exemplified by the thioesterase-dependent partial degradation of conjugated linoleic acid that fully supports growth of Escherichia coli. Biochemistry 47, 9618–9626 (2008).

Dutheuil, G. et al. First stereospecific synthesis of (E)- or (Z)-α-fluoroenones via kinetically controlled Negishi coupling reaction. J. Org. Chem. 71, 4316–4319 (2006).

Dutheuil, G., Couve-Bonnaire, S. & Pannecoucke, X. Diastereomeric fluoroolefins as peptide bond mimics prepared by asymmetric reductive amination of α-fluoroenones. Angew. Chem. Int. Ed. 46, 1290–1292 (2007).

Butcher, T. W. & Hartwig, J. F. Enantioselective synthesis of tertiary allylic fluorides by iridium-catalyzed allylic fluoroalkylation. Angew. Chem. Int. Ed. 57, 13125–13129 (2018).

Liu, J., Yuan, Q., Toste, F. D. & Sigman, M. S. Enantioselective construction of remote tertiary carbon–fluorine bonds. Nat. Chem. 11, 710–715 (2019).
Acknowledgements
Financial support was provided by the NIH (grants GM-59426 to A.H.H. and R.R.S. and GM-130395 to A.H.H.) and the Shanghai Institute of Organic Chemistry (postdoctoral fellowship to Q.L.). We thank F. Romiti, P. H. S. Paioti, X. Li and C. Qin for valuable discussions.
Ethics declarations
Competing interests
The authors declare no competing interests.
Peer review
Peer review information
Nature Chemistry thanks the anonymous reviewers for their contribution to the peer review of this work.
Additional information
Publisher's note Springer Nature remains neutral with regard to jurisdictional claims in published maps and institutional affiliations.
Supplementary information
Optimization studies, criteria for additive selection, experimental procedures, analytical data for all cross-metathesis products and related derivatives, and Supplementary Figs. 1–3.
About this article
Cite this article
Liu, Q., Mu, Y., Koengeter, T. et al. Stereodefined alkenes with a fluoro-chloro terminus as a uniquely enabling compound class. Nat. Chem. 14, 463–473 (2022). https://doi.org/10.1038/s41557-022-00893-5
Received:

Accepted:

Published:

Issue Date:

DOI: https://doi.org/10.1038/s41557-022-00893-5