Abstract
Biomacromolecules are highly promising therapeutic modalities to treat various diseases. However, they suffer from poor cellular membrane permeability, limiting their access to intracellular targets. Strategies to overcome this challenge often employ nanoscale carriers that can get trapped in endosomal compartments. Here we report conjugated peptides that form pH- and redox-responsive coacervate microdroplets by liquid–liquid phase separation that readily cross the cell membrane. A wide range of macromolecules can be quickly recruited within the microdroplets, including small peptides, enzymes as large as 430 kDa and messenger RNAs (mRNAs). The therapeutic-loaded coacervates bypass classical endocytic pathways to enter the cytosol, where they undergo glutathione-mediated release of payload, the bioactivity of which is retained in the cell, while mRNAs exhibit a high transfection efficiency. These peptide coacervates represent a promising platform for the intracellular delivery of a large palette of macromolecular therapeutics that have potential for treating various pathologies (for example, cancers and metabolic diseases) or as carriers for mRNA-based vaccines.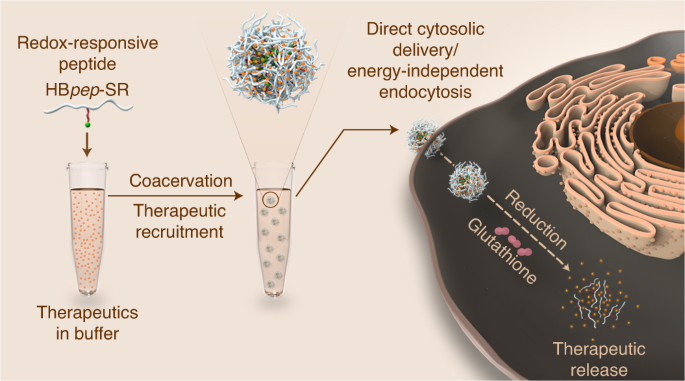 Data availability
All relevant data supporting the findings of this study are available within the paper, the Extended Data files and the Supplementary Information. Source data are provided with this paper. Data are available from the corresponding author on request.
References
Zou, P. et al. Recent advances: peptides and self-assembled peptide-nanosystems for antimicrobial therapy and diagnosis. Biomater. Sci. 8, 4975–4996 (2020).

Fu, A., Tang, R., Hardie, J., Farkas, M. E. & Rotello, V. M. Promises and pitfalls of intracellular delivery of proteins. Bioconjug. Chem. 25, 1602–1608 (2014).

Nelson, A. L., Dhimolea, E. & Reichert, J. M. Development trends for human monoclonal antibody therapeutics. Nat. Rev. Drug Discov. 9, 767–774 (2010).

Dowdy, S. F. Overcoming cellular barriers for RNA therapeutics. Nat. Biotechnol. 35, 222–229 (2017).

Baden, L. R. et al. Efficacy and safety of the mRNA-1273 SARS-CoV-2 vaccine. N. Engl. J. Med. 384, 403–416 (2021).

Polack, F. P. et al. Safety and efficacy of the BNT162b2 mRNA COVID-19 Vaccine. N. Engl. J. Med. 383, 2603–2615 (2020).

Du, S., Liew, S. S., Li, L. & Yao, S. Q. Bypassing endocytosis: direct cytosolic delivery of proteins. J. Am. Chem. Soc. 140, 15986–15996 (2018).

Goswami, R., Jeon, T., Nagaraj, H., Zhai, S. & Rotello, V. M. Accessing intracellular targets through nanocarrier-mediated cytosolic protein delivery. Trends Pharmacol. Sci. 41, 743–754 (2020).

Li, M. et al. Discovery and characterization of a peptide that enhances endosomal escape of delivered proteins in vitro and in vivo. J. Am. Chem. Soc. 137, 14084–14093 (2015).

Ping, Y. et al. Supramolecular β-sheets stabilized protein nanocarriers for drug delivery and gene transfection. ACS Nano 11, 4528–4541 (2017).

Scaletti, F. et al. Protein delivery into cells using inorganic nanoparticle-protein supramolecular assemblies. Chem. Soc. Rev. 47, 3421–3432 (2018).

Liu, C. et al. A boronic acid-rich dendrimer with robust and unprecedented efficiency for cytosolic protein delivery and CRISPR-Cas9 gene editing. Sci. Adv. 5, eaaw8922 (2019).

Mout, R. et al. Direct cytosolic delivery of CRISPR/Cas9-ribonucleoprotein for efficient gene editing. ACS Nano 11, 2452–2458 (2017).

Lee, S. et al. Transmembrane epitope delivery by passive protein threading through the pores of the OmpF porin trimer. J. Am. Chem. Soc. 142, 12157–12166 (2020).

Akishiba, M. et al. Cytosolic antibody delivery by lipid-sensitive endosomolytic peptide. Nat. Chem. 9, 751–761 (2017).

Hu, Y., Mignani, S., Majoral, J.-P., Shen, M. & Shi, X. Construction of iron oxide nanoparticle-based hybrid platforms for tumor imaging and therapy. Chem. Soc. Rev. 47, 1874–1900 (2018).

Buse, J. & El-Aneed, A. Properties, engineering and applications of lipid-based nanoparticle drug-delivery systems: current research and advances. Nanomedicine 5, 1237–1260 (2010).

Yang, J., Tu, J., Lamers, G. E. M., Olsthoorn, R. C. L. & Kros, A. Membrane fusion mediated intracellular delivery of lipid bilayer coated mesoporous silica nanoparticles. Adv. Healthcare Mater. 6, 1700759 (2017).

Tai, W., Zhao, P. & Gao, X. Cytosolic delivery of proteins by cholesterol tagging. Sci. Adv. 6, eabb0310 (2020).

Khlebtsov, N. & Dykman, L. Biodistribution and toxicity of engineered gold nanoparticles: a review of in vitro and in vivo studies. Chem. Soc. Rev. 40, 1647–1671 (2011).

Fadeel, B. & Garcia-Bennett, A. E. Better safe than sorry: understanding the toxicological properties of inorganic nanoparticles manufactured for biomedical applications. Adv. Drug Deliv. Rev. 62, 362–374 (2010).

Lim, Z. W., Ping, Y. & Miserez, A. Glucose-responsive peptide coacervates with high encapsulation efficiency for controlled release of insulin. Bioconjug. Chem. 29, 2176–2180 (2018).

Lim, Z. W., Varma, V. B., Ramanujan, R. V. & Miserez, A. Magnetically responsive peptide coacervates for dual hyperthermia and chemotherapy treatments of liver cancer. Acta Biomater. 110, 221–230 (2020).

Blocher McTigue, W. C. & Perry, S. L. Protein encapsulation using complex coacervates: what Nature has to teach us. Small 16, 1907671 (2020).

Blocher, W. C. & Perry, S. L. Complex coacervate-based materials for biomedicine. Wiley Interdiscip. Rev. Nanomed. Nanobiotechnol. 9, e1442 (2017).

Gabryelczyk, B. et al. Hydrogen bond guidance and aromatic stacking drive liquid–liquid phase separation of intrinsically disordered histidine-rich peptides. Nat. Commun. 10, 5465 (2019).

Lampel, A. Biology-inspired supramolecular peptide systems. Chem 6, 1222–1236 (2020).

Riber, C. F., Smith, A. A. A. & Zelikin, A. N. Self-immolative linkers literally bridge disulfide chemistry and the realm of thiol-free drugs. Adv. Healthcare Mater. 4, 1887–1890 (2015).

Tang, L. et al. Enhancing T cell therapy through TCR-signaling-responsive nanoparticle drug delivery. Nat. Biotechnol. 36, 707–716 (2018).

Zhou, Z. et al. GSH depletion liposome adjuvant for augmenting the photothermal immunotherapy of breast cancer. Sci. Adv. 6, eabc4373 (2020).

Wang, Y.-M. et al. Depletion of intracellular glutathione mediates butenolide-induced cytotoxicity in HepG2 cells. Toxicol. Lett. 164, 231–238 (2006).

Lv, J. et al. Fluoropolymers for intracellular and in vivo protein delivery. Biomaterials 182, 167–175 (2018).

Wang, M., Alberti, K., Sun, S., Arellano, C. L. & Xu, Q. Combinatorially designed lipid-like nanoparticles for intracellular delivery of cytotoxic protein for cancer therapy. Angew. Chem. Int. Ed. 53, 2893–2898 (2014).

Mitragotri, S., Burke, P. A. & Langer, R. Overcoming the challenges in administering biopharmaceuticals: formulation and delivery strategies. Nat. Rev. Drug Discov. 13, 655–672 (2014).

Fosgerau, K. & Hoffmann, T. Peptide therapeutics: current status and future directions. Drug Discov. Today 20, 122–128 (2015).

Li, M. et al. Smac therapeutic peptide nanoparticles inducing apoptosis of cancer cells for combination chemotherapy with doxorubicin. ACS Appl. Mater. Interfaces 7, 8005–8012 (2015).

Toyama, K., Nomura, W., Kobayakawa, T. & Tamamura, H. Delivery of a proapoptotic peptide to EGFR-positive cancer cells by a cyclic peptide mimicking the dimerization arm structure of EGFR. Bioconjug. Chem. 29, 2050–2057 (2018).

Zhan, C. et al. An ultrahigh affinity d-peptide antagonist of MDM2. J. Med. Chem. 55, 6237–6241 (2012).

Partridge, A. W. et al. Incorporation of putative helix-breaking amino acids in the design of novel stapled peptides: exploring biophysical and cellular permeability properties. Molecules 24, 2292 (2019).

Peier, A. et al. NanoClick: a high throughput, target-agnostic peptide cell permeability assay. ACS Chem. Biol. 16, 293–309 (2021).

Momand, J., Zambetti, G. P., Olson, D. C., George, D. & Levine, A. J. The mdm-2 oncogene product forms a complex with the p53 protein and inhibits p53-mediated transactivation. Cell 69, 1237–1245 (1992).

Vassilev, L. T. et al. In vivo activation of the p53 pathway by small-molecule antagonists of MDM2. Science 303, 844–848 (2004).

Naldini, L. Gene therapy returns to centre stage. Nature 526, 351–360 (2015).

Pardi, N. et al. Zika virus protection by a single low-dose nucleoside-modified mRNA vaccination. Nature 543, 248–251 (2017).

Pardi, N. et al. Administration of nucleoside-modified mRNA encoding broadly neutralizing antibody protects humanized mice from HIV-1 challenge. Nat. Commun. 8, 14630 (2017).

Liu, C., Zhang, L., Liu, H. & Cheng, K. Delivery strategies of the CRISPR-Cas9 gene-editing system for therapeutic applications. J. Control. Release 266, 17–26 (2017).

Yoshinaga, N. et al. Bundling mRNA strands to prepare nano-assemblies with enhanced stability towards RNase for in vivo delivery. Angew. Chem. Int. Ed. 58, 11360–11363 (2019).

Panja, P. & Jana, N. R. Lipid-raft-mediated direct cytosolic delivery of polymer-coated soft nanoparticles. The. J. Phys. Chem. B 124, 5323–5333 (2020).

Sangsuwan, R., Tachachartvanich, P. & Francis, M. B. Cytosolic delivery of proteins using amphiphilic polymers with 2-pyridinecarboxaldehyde groups for site-selective attachment. J. Am. Chem. Soc. 141, 2376–2383 (2019).

Lin, Q. et al. Imaging the cytosolic drug delivery mechanism of HDL-like nanoparticles. Pharm. Res. 31, 1438–1449 (2014).

Xu, C. et al. Self-assembled nanoparticles from hyaluronic acid-paclitaxel prodrugs for direct cytosolic delivery and enhanced antitumor activity. Int. J. Pharm. 493, 172–181 (2015).

Mayor, S. & Pagano, R. E. Pathways of clathrin-independent endocytosis. Nat. Rev. Mol. Cell Biol. 8, 603–612 (2007).

Rennick, J. J., Johnston, A. P. R. & Parton, R. G. Key principles and methods for studying the endocytosis of biological and nanoparticle therapeutics. Nat. Nanotechnol. 16, 266–276 (2021).

Murata, N. & Los, D. A. Membrane fluidity and temperature perception. Plant Physiol. 115, 875–879 (1997).

Lu, X. et al. Discordance between accumulated p53 protein level and its transcriptional activity in response to UV radiation. Oncogene 13, 413–418 (1996).

Blaydes, J. P. & Hupp, T. R. DNA damage triggers DRB-resistant phosphorylation of human p53 at the CK2 site. Oncogene 17, 1045–1052 (1998).

Merrifield, R. B. Solid phase peptide synthesis. I. The synthesis of a tetrapeptide. J. Am. Chem. Soc. 85, 2149–2154 (1963).

Chang, H. et al. Rational design of a polymer with robust efficacy for intracellular protein and peptide delivery. Nano Lett. 17, 1678–1684 (2017).
Acknowledgements
This research was funded by the Singapore Ministry of Education (MOE) through an Academic Research Fund (AcRF) Tier 3 grant (grant no. MOE 2019-T3-1-012). S.C.C. acknowledges support from the Merck Research Laboratories (MRL) Postdoctoral Research Program.
Ethics declarations
Competing interests
Y.S and A.M. have filed a PCT application on the peptide coacervates described in this study (PCT application no. PCT/SG2021/050309).
Peer review
Peer review information
Nature Chemistry thanks Yuan Ping and the other, anonymous, reviewer(s) for their contribution to the peer review of this work.
Additional information
Publisher's note Springer Nature remains neutral with regard to jurisdictional claims in published maps and institutional affiliations.
Supplementary information
About this article
Cite this article
Sun, Y., Lau, S.Y., Lim, Z.W. et al. Phase-separating peptides for direct cytosolic delivery and redox-activated release of macromolecular therapeutics. Nat. Chem. 14, 274–283 (2022). https://doi.org/10.1038/s41557-021-00854-4
Received:

Accepted:

Published:

Issue Date:

DOI: https://doi.org/10.1038/s41557-021-00854-4
This article is cited by
Nature Chemistry (2022)

Ajith Ravindran
D. Nirmal
J. Ajayan

Optical and Quantum Electronics (2022)