Abstract
Key requirements for the first cells on Earth include the ability to compartmentalize and evolve. Compartmentalization spatially localizes biomolecules from a dilute pool and an evolving cell, which, as it grows and divides, permits mixing and propagation of information to daughter cells. Complex coacervate microdroplets are excellent candidates as primordial cells with the ability to partition and concentrate molecules into their core and support primitive and complex biochemical reactions. However, the evolution of coacervate protocells by fusion, growth and fission has not yet been demonstrated. In this work, a primordial environment initiated the evolution of coacervate-based protocells. Gas bubbles inside heated rock pores perturb the coacervate protocell distribution and drive the growth, fusion, division and selection of coacervate microdroplets. Our findings provide a compelling scenario for the evolution of membrane-free coacervate microdroplets on the early Earth, induced by common gas bubbles within heated rock pores.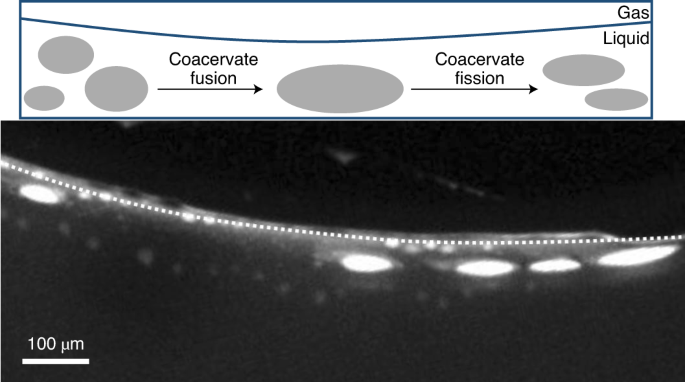 Code availability
The code for the analysis of the particle sizes and for the dual-channel images is available via Edmond (the Open Research Data Repository of the Max Planck Society) at https://doi.org/10.17617/3.6n.
References
Mason, A. F. et al. Mimicking cellular compartmentalization in a hierarchical protocell through spontaneous spatial organization. ACS Cent. Sci. 5, 1360–1365 (2019).

Sokolova, E. et al. Enhanced transcription rates in membrane-free protocells formed by coacervation of cell lysate. Proc. Natl Acad. Sci. USA 110, 11692–11697 (2013).

Oparin, A. I. The Origin of Life 2nd edn (Dover Publications, 1953).

Priftis, D., Laugel, N. & Tirrell, M. Thermodynamic characterization of polypeptide complex coacervation. Langmuir 28, 15947–15957 (2012).

Koga, S., Williams, D. S., Perriman, A. W. & Mann, S. Peptide–nucleotide microdroplets as a step towards a membrane-free protocell model. Nat. Chem. 3, 720–724 (2011).

Tena-Solsona, M. et al. Kinetic Control over droplet ripening in fuel-driven active emulsions. Preprint at ChemRxiv https://doi.org/10.26434/CHEMRXIV.9978539.V1 (2019).

Crosby, J. et al. Stabilization and enhanced reactivity of actinorhodin polyketide synthase minimal complex in polymer–nucleotide coacervate droplets. Chem. Commun. 48, 11832 (2012).

McCall, P. M. et al. Partitioning and enhanced self-assembly of actin in polypeptide coacervates. Biophys. J. 114, 1636–1645 (2018).

Nakashima, K. K., Vibhute, M. A. & Spruijt, E. Biomolecular chemistry in liquid phase separated compartments. Front. Mol. Biosci. 6, 1–9 (2019).

Beneyton, T., Love, C., Girault, M., Tang, T. ‐Y. D. & Baret, J. High‐throughput synthesis and screening of functional coacervates using microfluidics. ChemSystemsChem 2, e2000022 (2020).

Tang, T.-Y. D. et al. Fatty acid membrane assembly on coacervate microdroplets as a step towards a hybrid protocell model. Nat. Chem. 6, 527–533 (2014).

Drobot, B. et al. Compartmentalised RNA catalysis in membrane-free coacervate protocells. Nat. Commun. 9, 3643 (2018).

Poudyal, R. R. et al. Template-directed RNA polymerization and enhanced ribozyme catalysis inside membraneless compartments formed by coacervates. Nat. Commun. 10, 490 (2019).

Poudyal, R. R., Pir Cakmak, F., Keating, C. D. & Bevilacqua, P. C. Physical principles and extant biology reveal roles for RNA-containing membraneless compartments in origins of life chemistry. Biochemistry 57, 2509–2519 (2018).

Santos, M., Zintzaras, E. & Szathmáry, E. Origin of sex revisited. Origins Life Evol. Biospheres 33, 405–432 (2003).

Hanczyc, M. M. & Szostak, J. W. Replicating vesicles as models of primitive cell growth and division. Curr. Opin. Chem. Biol. 8, 660–664 (2004).

Smith, A. E. & Chance, M. A. C. Coacervate behaviour in an alternating electric field. Nature 209, 74–75 (1966).

Nakashima, K. K., Baaij, J. F. & Spruijt, E. Reversible generation of coacervate droplets in an enzymatic network. Soft Matter 14, 361–367 (2018).

Mason, A. F., Buddingh, B. C., Williams, D. S. & Van Hest, J. C. M. Hierarchical self-assembly of a copolymer-stabilized coacervate protocell. J. Am. Chem. Soc. 139, 17309–17312 (2017).

Schafer, K. A. The cell cycle: a review. Vet. Pathol. 35, 461–478 (1998).

Beltrán-Heredia, E., Almendro-Vedia, V. G., Monroy, F. & Cao, F. J. Modeling the mechanics of cell division: influence of spontaneous membrane curvature, surface tension, and osmotic pressure. Front. Physiol. 8, 312 (2017).

Zhu, T. F., Adamala, K., Zhang, N. & Szostak, J. W. Photochemically driven redox chemistry induces protocell membrane pearling and division. Proc. Natl Acad. Sci. USA 109, 9828–9832 (2012).

Kudella, P. W. et al. Fission of lipid-vesicles by membrane phase transitions in thermal convection.Sci. Rep. 9, 18808 (2019).

Pal, A. & Khakhar, D. V. Breakage of vesicles in a simple shear flow. Soft Matter 15, 1979–1987 (2019).

Zwicker, D., Seyboldt, R., Weber, C. A., Hyman, A. A. & Jülicher, F. Growth and division of active droplets provides a model for protocells. Nat. Phys. 13, 408–413 (2017).

Agerschou, E. D., Mast, C. B. & Braun, D. Emergence of life from trapped nucleotides? Non-equilibrium behavior of oligonucleotides in thermal gradients. Synlett 28, 56–63 (2017).

Ianeselli, A., Mast, C. B. & Braun, D. Periodic melting of oligonucleotides by oscillating salt concentrations triggered by microscale water cycles inside heated rock pores. Angew. Chem. Int. Ed. 58, 13155–13160 (2019).

Morasch, M. et al. Heated gas bubbles enrich, crystallize, dry, phosphorylate and encapsulate prebiotic molecules. Nat. Chem. 11, 779–788 (2019).

Ukmar-Godec, T. et al. Lysine/RNA-interactions drive and regulate biomolecular condensation. Nat. Commun. 10, 2909 (2019).

Moreau, N. G., Martin, N., Gobbo, P., Tang, T. Y. D. & Mann, S. Spontaneous membrane-less multi-compartmentalization: via aqueous two-phase separation in complex coacervate micro-droplets. Chem. Commun. 56, 12717–12720 (2020).

Donau, C. et al. Active coacervate droplets as a model for membraneless organelles and protocells. Nat. Commun. 11, 5167 (2020).

Love, C. et al. Reversible pH‐responsive coacervate formation in lipid vesicles activates dormant enzymatic reactions. Angew. Chem. Int. Ed. 59, 5950–5957 (2020).

Van Der Kooij, H. M. et al. On the stability and morphology of complex coacervate core micelles: from spherical to wormlike micelles. Langmuir 28, 14180–14191 (2012).

Perry, S., Li, Y., Priftis, D., Leon, L. & Tirrell, M. The effect of salt on the complex coacervation of vinyl polyelectrolytes. Polymers (Basel) 6, 1756–1772 (2014).

Urakami, N., Jimbo, T., Sakuma, Y. & Imai, M. Molecular mechanism of vesicle division induced by coupling between lipid geometry and membrane curvatures. Soft Matter 14, 3018–3027 (2018).

Mountain, G. A. & Keating, C. D. Formation of multiphase complex coacervates and partitioning of biomolecules within them. Biomacromolecules 21, 630–640 (2020).

Cornell, C. E. et al. Prebiotic amino acids bind to and stabilize prebiotic fatty acid membranes. Proc. Natl Acad. Sci. USA 116, 17239–17244 (2019).

Vieregg, J. R. et al. Oligonucleotide-peptide complexes: phase control by hybridization. J. Am. Chem. Soc. 140, 1632–1638 (2018).

Poudyal, R. R., Keating, C. D. & Bevilacqua, P. C. Polyanion-assisted ribozyme catalysis inside complex coacervates. ACS Chem. Biol. 14, 1243–1248 (2019).
Acknowledgements
Financial support came from the European Research Council (ERC Evotrap, grant no. 787356 (D.B.)), the Simons Foundation (grant no. 327125 (D.B.)), the Quantitative Biosciences Munich Graduate School (QBM), MaxSynBio Consortium (jointly funded by the Federal Ministry of Education and Research (Germany) and the Max Planck Society (T.-Y.D.T.)), the MPI‐CBG, the Cluster of Excellence Physics of Life of TU Dresden (grant no. EXC‐1056 (T.-Y.D.T.)) and the VW foundation—"Life" initiative (grant nos. 92857 (T.-Y.D.T.) and 94743 (C.B.M., D.B.)), Deutsche Forschungsgemeinschaft (DFG, German Research Foundation)—Project-ID 364653263—TRR 235 (CRC235), Project P08 (C.B.M.). We thank L. Keil for sharing his expertise in the preparation of the setup for imaging and for programming support and S. Janosch (MPI-CBG) for assistance with archiving and making available the source data.
Funding
Open access funding provided by Max Planck Society.
Ethics declarations
Competing interests
The authors declare no competing interests.
Additional information
Peer review information Nature Chemistry thanks the anonymous reviewers for their contribution to the peer review of this work.
Publisher's note Springer Nature remains neutral with regard to jurisdictional claims in published maps and institutional affiliations.
Supplementary information
Rights and permissions
Open Access This article is licensed under a Creative Commons Attribution 4.0 International License, which permits use, sharing, adaptation, distribution and reproduction in any medium or format, as long as you give appropriate credit to the original author(s) and the source, provide a link to the Creative Commons license, and indicate if changes were made. The images or other third party material in this article are included in the article's Creative Commons license, unless indicated otherwise in a credit line to the material. If material is not included in the article's Creative Commons license and your intended use is not permitted by statutory regulation or exceeds the permitted use, you will need to obtain permission directly from the copyright holder. To view a copy of this license, visit http://creativecommons.org/licenses/by/4.0/.
About this article
Cite this article
Ianeselli, A., Tetiker, D., Stein, J. et al. Non-equilibrium conditions inside rock pores drive fission, maintenance and selection of coacervate protocells. Nat. Chem. 14, 32–39 (2022). https://doi.org/10.1038/s41557-021-00830-y
Received:

Accepted:

Published:

Issue Date:

DOI: https://doi.org/10.1038/s41557-021-00830-y