Finding alternative fates for plastics that would otherwise end up in landfills requires innovative chemistry. Now, poly(acrylic acid) from diaper waste has been converted into valuable pressure-sensitive adhesives through an open-loop recycling method that is cost-effective and environmentally competitive.
This is a preview of subscription content
Access options
Subscribe to Journal
Get full journal access for 1 year
$119.00
only $9.92 per issue
All prices are NET prices.
VAT will be added later in the checkout.
Tax calculation will be finalised during checkout.
Rent or Buy article
Get time limited or full article access on ReadCube.
from$8.99
All prices are NET prices.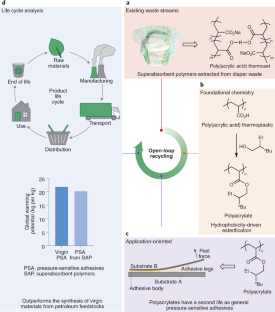 References
1.

Laskow, S. The woman who invented disposable diapers. The Atlantic https://www.theatlantic.com/technology/archive/2014/10/the-woman-who-invented-disposable-diapers/381310/ (2014).

2.

Khoo, S. C. et al. Process Saf. Environ. Prot. 123, 116–129 (2019).

3.

Takaya, C. A. et al. Waste Manag. 88, 56–70 (2019).

4.

Chazovachii, P. T. et al. Nat. Commun. 12, 4524 (2021).

5.

Liu, M. & Guo, T. J. App. Polym. Sci. 82, 1515–1520 (2001).

6.

Korley, L. T. J., Epps, T. H., Helms, B. A. & Ryan, A. J. Science 373, 66–69 (2021).

7.

Curran, M. A. Curr. Opin. Chem. Eng. 2, 273–277 (2013).

8.

Chang, E. P. J. Adhes. 34, 189–200 (1991).
Ethics declarations
Competing interests
The authors declare no competing interests.
About this article
Cite this article
Borden, M.A., Leibfarth, F.A. From disposable diapers to adhesives. Nat. Chem. 13, 930–932 (2021). https://doi.org/10.1038/s41557-021-00793-0