Abstract
Catalytic nucleic acids, such as ribozymes, are central to a variety of origin-of-life scenarios. Typically, they require elevated magnesium concentrations for folding and activity, but their function can be inhibited by high concentrations of monovalent salts. Here we show that geologically plausible high-sodium, low-magnesium solutions derived from leaching basalt (rock and remelted glass) inhibit ribozyme catalysis, but that this activity can be rescued by selective magnesium up-concentration by heat flow across rock fissures. In contrast to up-concentration by dehydration or freezing, this system is so far from equilibrium that it can actively alter the Mg:Na salt ratio to an extent that enables key ribozyme activities, such as self-replication and RNA extension, in otherwise challenging solution conditions. The principle demonstrated here is applicable to a broad range of salt concentrations and compositions, and, as such, highly relevant to various origin-of-life scenarios.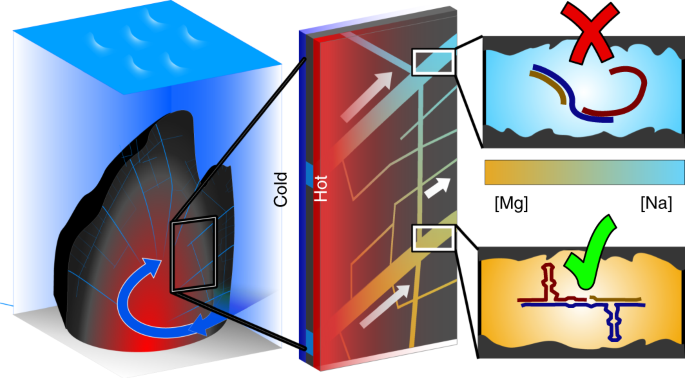 Relevant articles
Open Access articles citing this article.
Annalena Salditt

,

Leonie Karr

…

Hannes Mutschler

Nature Communications Open Access 17 March 2023

Thomas Matreux

,

Bernhard Altaner

…

Ulrich Gerland

Communications Physics Open Access 19 January 2023

Peiying Li

,

Philipp Holliger

&

Shunsuke Tagami

Nature Communications Open Access 03 June 2022
Access options
Access Nature and 54 other Nature Portfolio journals
Get Nature+, our best-value online-access subscription
$29.99 per month
cancel any time
Subscribe to this journal
Receive 12 print issues and online access
$259.00 per year
only $21.58 per issue
Rent or buy this article
Get just this article for as long as you need it
$39.95
Prices may be subject to local taxes which are calculated during checkout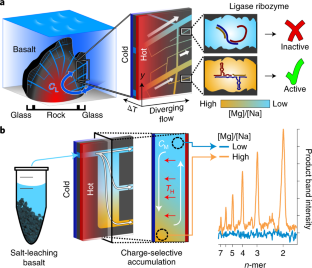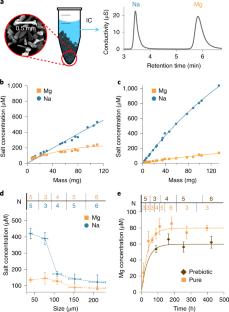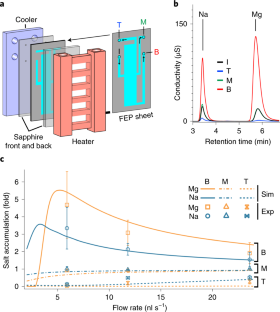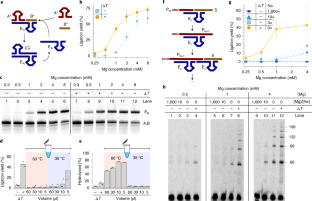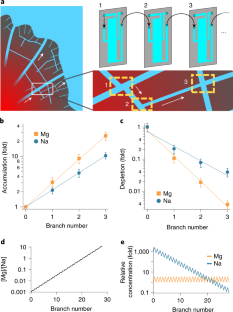 Data availability
The data supporting the findings of this study are available within the paper and its Supplementary Information. Raw data in the form of images (gels) or data series (Excel files) are also provided in the Supplementary Information. Source data are provided with this paper.
Code availability
The full details of the finite element simulation from Fig. 3 are documented in the mph files in the Supplementary Information. The extrapolation from Fig. 5d,e and Supplementary Figs. 14–19 was done using a Labview program, which is also provided in the Supplementary Source file.
References
Gilbert, W. Origin of life: the RNA world. Nature 319, 618 (1986).

Neveu, M., Kim, H.-J. & Benner, S. A. The 'strong' RNA world hypothesis: fifty years old. Astrobiology 13, 391–403 (2013).

Hud, N. V. Searching for lost nucleotides of the pre-RNA world with a self-refining model of early Earth. Nat. Commun. 9, 5171 (2018).

Bhowmik, S. & Krishnamurthy, R. The role of sugar-backbone heterogeneity and chimeras in the simultaneous emergence of RNA and DNA. Nat. Chem. 11, 1009–1018 (2019).

Kazakov, S. A., Balatskaya, S. V. & Johnston, B. H. Ligation of the hairpin ribozyme in cis induced by freezing and dehydration. RNA 12, 446–456 (2006).

Denesyuk, N. A. & Thirumalai, D. How do metal ions direct ribozyme folding? Nat. Chem. 7, 793–801 (2015).

Le Vay, K., Salibi, E., Song, E. Y. & Mutschler, H. Nucleic acid catalysis under potential prebiotic conditions. Chem. Asian J. 15, 214 (2020).

Freisinger, E. & Sigel, R. K. O. From nucleotides to ribozymes—a comparison of their metal ion binding properties. Coord. Chem. Rev. 251, 1834–1851 (2007).

Wu, Y.-Y., Zhang, Z.-L., Zhang, J.-S., Zhu, X.-L. & Tan, Z.-J. Multivalent ion-mediated nucleic acid helix–helix interactions: RNA versus DNA. Nucleic Acids Res. 43, 6156–6165 (2015).

Erat, M. C., Coles, J., Finazzo, C., Knobloch, B. & Sigel, R. K. O. Accurate analysis of Mg2+ binding to RNA: from classical methods to a novel iterative calculation procedure. Coord. Chem. Rev. 256, 279–288 (2012).

Xi, K., Wang, F.-H., Xiong, G., Zhang, Z.-L. & Tan, Z.-J. Competitive Binding of Mg2+ and Na+ ions to nucleic acids: from helices to tertiary structures. Biophys. J. 114, 1776–1790 (2018).

Fischer, N. M., Polêto, M. D., Steuer, J. & van der Spoel, D. Influence of Na+ and Mg2+ ions on RNA structures studied with molecular dynamics simulations. Nucleic Acids Res. 46, 4872–4882 (2018).

Attwater, J. et al. Chemical fidelity of an RNA polymerase ribozyme. Chem. Sci. 4, 2804–2814 (2013).

Heilman-Miller, S. L., Pan, J., Thirumalai, D. & Woodson, S. A. Role of counterion condensation in folding of the Tetrahymena ribozyme. II. Counterion-dependence of folding kinetics. J. Mol. Biol. 309, 57–68 (2001).

Koculi, E., Hyeon, C., Thirumalai, D. & Woodson, S. A. Charge density of divalent metal cations determines RNA stability. J. Am. Chem. Soc. 129, 2676–2682 (2007).

Shellnutt, J. G. Derivation of intermediate to silicic magma from the basalt analyzed at the Vega 2 landing site, Venus. PLoS ONE 13, e0194155 (2018).

Toner, J. D. & Catling, D. C. A carbonate-rich lake solution to the phosphate problem of the origin of life. Proc. Natl. Acad. Sci. USA 117, 883–888 (2020).

Gangidine, A., Havig, J. R., Hannon, J. S. & Czaja, A. D. Silica precipitation in a wet–dry cycling hot spring simulation chamber. Life 10, 3 (2020).

Damer, B. & Deamer, D. The hot spring hypothesis for an origin of life. Astrobiology 20, 429–452 (2020).

Attwater, J., Wochner, A., Pinheiro, V. B., Coulson, A. & Holliger, P. Ice as a protocellular medium for RNA replication. Nat. Commun. 1, 76 (2010).

Monnard, P.-A., Kanavarioti, A. & Deamer, D. W. Eutectic phase polymerization of activated ribonucleotide mixtures yields quasi-equimolar incorporation of purine and pyrimidine nucleobases. J. Am. Chem. Soc. 125, 13734–13740 (2003).

Mutschler, H., Wochner, A. & Holliger, P. Freeze–thaw cycles as drivers of complex ribozyme assembly. Nat. Chem. 7, 502–508 (2015).

Baaske, P. et al. Extreme accumulation of nucleotides in simulated hydrothermal pore systems. Proc. Natl Acad. Sci. USA 104, 9346–9351 (2007).

Debye, P. Zur Theorie des clusiusschen trennungsverfahrens. Ann. Phys. 428, 284–294 (1939).

Clusius, K. & Dickel, G. Neues verfahren zur gasentmischung und isotopentrennung. Naturwissenschaften 26, 546 (1938).

Kreysing, M., Keil, L., Lanzmich, S. & Braun, D. Heat flux across an open pore enables the continuous replication and selection of oligonucleotides towards increasing length. Nat. Chem. 7, 203–208 (2015).

Mast, C. B. & Braun, D. Thermal trap for DNA replication. Phys. Rev. Lett. 104, 188102 (2010).

Keil, L. M. R., Möller, F. M., Kieß, M., Kudella, P. W. & Mast, C. B. Proton gradients and pH oscillations emerge from heat flow at the microscale. Nat. Commun. 8, 1897 (2017).

Niether, D., Afanasenkau, D., Dhont, J. K. G. & Wiegand, S. Accumulation of formamide in hydrothermal pores to form prebiotic nucleobases. Proc. Natl Acad. Sci. USA 113, 4272–4277 (2016).

Morasch, M. et al. Heated gas bubbles enrich, crystallize, dry, phosphorylate and encapsulate prebiotic molecules. Nat. Chem. 11, 779–788 (2019).

Ianeselli, A., Mast, C. B. & Braun, D. Periodic melting of oligonucleotides by oscillating salt concentrations triggered by microscale water cycles inside heated rock pores. Angew. Chem. 131, 13289–13294 (2019).

Budin, I., Bruckner, R. J. & Szostak, J. W. Formation of protocell-like vesicles in a thermal diffusion column. J. Am. Chem. Soc. 131, 9628–9629 (2009).

Verney-Carron, A., Vigier, N. & Millot, R. Experimental determination of the role of diffusion on Li isotope fractionation during basaltic glass weathering. Geochim. Cosmochim. Acta 75, 3452–3468 (2011).

Allègre, C. J. et al. The fundamental role of island arc weathering in the oceanic Sr isotope budget. Earth Planet. Sci. Lett. 292, 51–56 (2010).

Dessert, C., Dupré, B., Gaillardet, J., François, L. M. & Allègre, C. J. Basalt weathering laws and the impact of basalt weathering on the global carbon cycle. Chem. Geol. 202, 257–273 (2003).

Gislason, S. R. & Oelkers, E. H. Mechanism, rates, and consequences of basaltic glass dissolution: II. An experimental study of the dissolution rates of basaltic glass as a function of pH and temperature. Geochim. Cosmochim. Acta 67, 3817–3832 (2003).

Robertson, M. P. & Joyce, G. F. Highly efficient self-replicating RNA enzymes. Chem. Biol. 21, 238–245 (2014).

McCollom, T. M. & Donaldson, C. Experimental constraints on abiotic formation of tubules and other proposed biological structures in subsurface volcanic glass. Astrobiology 19, 53–63 (2019).

de Ronde, C. E. J., Channer, D. M. D., Faure, K., Bray, C. J. & Spooner, E. T. C. Fluid chemistry of Archean seafloor hydrothermal vents: implications for the composition of circa 3.2 Ga seawater. Geochim. Cosmochim. Acta 61, 4025–4042 (1997).

Takeyama, N. & Nakashima, K. Proportionality of intrinsic heat of transport to standard entropy of hydration for aqueous ions. J. Solution Chem. 17, 305–325 (1988).

Petit, C. J., Hwang, M.-H. & Lin, J.-L. The Soret effect in dilute aqueous alkaline earth and nickel chloride solutions at 25 °C. Int. J. Thermophys. 7, 687–697 (1986).

Lide, D. R. CRC Handbook of Chemistry and Physics. A Ready-Reference Book of Chemical and Physical Data 84th edn (CRC, 2003).

Potuzak, M., Nichols, A. R. L., Dingwell, D. B. & Clague, D. A. Hyperquenched volcanic glass from Loihi Seamount, Hawaii. Earth Planet. Sci. Lett. 270, 54–62 (2008).

Nichols, A. R. L., Potuzak, M. & Dingwell, D. B. Cooling rates of basaltic hyaloclastites and pillow lava glasses from the HSDP2 drill core. Geochim. Cosmochim. Acta 73, 1052–1066 (2009).

Dimroth, E., Cousineau, P., Leduc, M. & Sanschagrin, Y. Structure and organization of Archean subaqueous basalt flows, Rouyn–Noranda area, Quebec, Canada. Can. J. Earth Sci. 15, 902–918 (1978).

Sigurðsson, H. Encyclopedia of Volcanoes 4th edn (Academic, 2007).

Knauth, L. P. & Lowe, D. R. High Archean climatic temperature inferred from oxygen isotope geochemistry of cherts in the 3.5 Ga Swaziland Supergroup, South Africa. Geol. Soc. Am. Bull. 115, 566–580 (2003).

Robert, F. & Chaussidon, M. A palaeotemperature curve for the Precambrian oceans based on silicon isotopes in cherts. Nature 443, 969–972 (2006).

Smith, B. J. Rock temperature measurements from the northwest Sahara and their implications for rock weathering. CATENA 4, 41–63 (1977).

Keil, L., Hartmann, M., Lanzmich, S. & Braun, D. Probing of molecular replication and accumulation in shallow heat gradients through numerical simulations. Phys. Chem. Chem. Phys. 18, 20153–20159 (2016).

Lester, D. R., Metcalfe, G. & Trefry, M. G. Is chaotic advection inherent to porous media flow? Phys. Rev. Lett. 111, 174101 (2013).

Bygrave, F. L. The ionic environment and metabolic control. Nature 214, 667–671 (1967).

Maurer, S. The impact of salts on single chain amphiphile membranes and implications for the location of the origin of life for an origin of life. Life 7, 44 (2017).

Milshtey, D., Damer, B., Havig, J. & Deamer, D. Amphiphilic compounds assemble into membranous vesicles in hydrothermal hot spring water but not in seawater. Life 8, 11 (2018).

Priftis, D. & Tirrell, M. Phase behaviour and complex coacervation of aqueous polypeptide solutions. Soft Matter 8, 9396–9405 (2012).

Reichl, M., Herzog, M., Götz, A. & Braun, D. Why charged molecules move across a temperature gradient: the role of electric fields. Phys. Rev. Lett. 112, 198101 (2014).

Brown, J., Bearman, G. & Wright, J. Seawater: Its Composition, Properties and Behaviour 2nd edn (Butterworth-Heinemann, 1995).
Acknowledgements
Funded by the Deutsche Forschungsgemeinschaft (DFG, German Research Foundation)—Project-ID 364653263–TRR 235 (CRC235), Project P08 (C.B.M. and H.M.), P09 (D.B. and B.S.) and P03 (B.S.). Funding by the Volkswagen Initiative 'Life?—A Fresh Scientific Approach to the Basic Principles of Life' (C.B.M., D.B., H.M., K.L.V., T.M., D.B.D. and A.Z.Ç.), from the Simons Foundation (327125 to D.B.) and from Germany's Excellence Strategy EXC-2094-390783311 is gratefully acknowledged. We thank Quantitative Biology Munich for funding (A.K.). This project has received funding from the European Research Council (ERC) under the European Union's Horizon 2020 research and innovation programme (grant agreement no. 802000, RiboLife) (H.M.). H.M. is grateful for funding by the MaxSynBio consortium, which is jointly funded by the Federal Ministry of Education and Research of Germany and the Max Planck Society. D.B.D. acknowledges the support of ERC ADV 2018 Grant 834225 (EAVESDROP) and D.B. is grateful for financial support from ERC-2017-ADG from the European Research Council. The work is supported by the Center for Nanoscience Munich (CeNS). We thank E. Song for fruitful discussions.
Ethics declarations
Competing interests
The authors declare no competing interests.
Additional information
Peer review information Nature Chemistry thanks Katarzyna Adamala, Rowena Ball and Philip Bevilacqua for their contribution to the peer review of this work.
Publisher's note Springer Nature remains neutral with regard to jurisdictional claims in published maps and institutional affiliations.
Supplementary information
About this article
Cite this article
Matreux, T., Le Vay, K., Schmid, A. et al. Heat flows in rock cracks naturally optimize salt compositions for ribozymes. Nat. Chem. 13, 1038–1045 (2021). https://doi.org/10.1038/s41557-021-00772-5
Received:

Accepted:

Published:

Issue Date:

DOI: https://doi.org/10.1038/s41557-021-00772-5