Abstract
Recent advances in chemical proteomics have begun to characterize the reactivity and ligandability of lysines on a global scale. Yet, only a limited diversity of aminophilic electrophiles have been evaluated for interactions with the lysine proteome. Here, we report an in-depth profiling of >30 uncharted aminophilic chemotypes that greatly expands the content of ligandable lysines in human proteins. Aminophilic electrophiles showed disparate proteomic reactivities that range from selective interactions with a handful of lysines to, for a set of dicarboxaldehyde fragments, remarkably broad engagement of the covalent small-molecule–lysine interactions captured by the entire library. We used these latter 'scout' electrophiles to efficiently map ligandable lysines in primary human immune cells under stimulatory conditions. Finally, we show that aminophilic compounds perturb diverse biochemical functions through site-selective modification of lysines in proteins, including protein–RNA interactions implicated in innate immune responses. These findings support the broad potential of covalent chemistry for targeting functional lysines in the human proteome.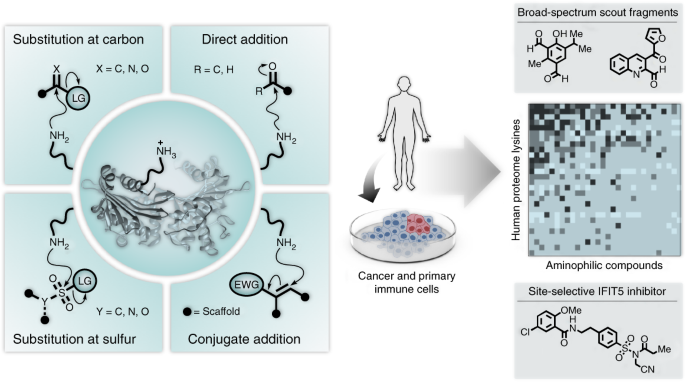 Data availability
All data associated with this study are available in the published article and its Supplementary Information. All raw proteomics data have been uploaded to the PRIDE repository with PRIDE ID PXD025829. Source data are provided with this paper.
References
Schreiber, S. L. et al. Advancing biological understanding and therapeutics discovery with small-molecule probes. Cell 161, 1252–1265 (2015).

Hopkins, A. L. & Groom, C. R. The druggable genome. Nat. Rev. Drug Discov. 1, 727–730 (2002).

Macarron, R. et al. Impact of high-throughput screening in biomedical research. Nat. Rev. Drug Discov. 10, 188–195 (2011).

Scott, D. E., Coyne, A. G., Hudson, S. A. & Abell, C. Fragment-based approaches in drug discovery and chemical biology. Biochemistry 51, 4990–5003 (2012).

Johnson, D. S., Weerapana, E. & Cravatt, B. F. Strategies for discovering and derisking covalent, irreversible enzyme inhibitors. Future Med. Chem. 2, 949–964 (2010).

Backus, K. M. et al. Proteome-wide covalent ligand discovery in native biological systems. Nature 534, 570–574 (2016).

Hacker, S. M. et al. Global profiling of lysine reactivity and ligandability in the human proteome. Nat. Chem. 9, 1181–1190 (2017).

Ward, C. C., Kleinman, J. I. & Nomura, D. K. NHS-esters as versatile reactivity-based probes for mapping proteome-wide ligandable hotspots. ACS Chem. Biol. 12, 1478–1483 (2017).

Bachovchin, D. A. & Cravatt, B. F. The pharmacological landscape and therapeutic potential of serine hydrolases. Nat. Rev. Drug Discov. 11, 52–68 (2012).

Kato, D. et al. Activity-based probes that target diverse cysteine protease families. Nat. Chem. Biol. 1, 33–38 (2005).

Chaikuad, A., Koch, P., Laufer, S. A. & Knapp, S. The cysteinome of protein kinases as a target in drug development. Angew. Chem. Int. Ed. 57, 4372–4385 (2018).

Walker, C. J. et al. Preclinical and clinical efficacy of XPO1/CRM1 inhibition by the karyopherin inhibitor KPT-330 in Ph+ leukemias. Blood 122, 3034–3044 (2013).

Ostrem, J. M., Peters, U., Sos, M. L., Wells, J. A. & Shokat, K. M. K-Ras(G12C) inhibitors allosterically control GTP affinity and effector interactions. Nature 503, 548–551 (2013).

Zhao, Q. et al. Broad-spectrum kinase profiling in live cells with lysine-targeted sulfonyl fluoride probes. J. Am. Chem. Soc. 139, 680–685 (2017).

Mortenson, D. E. et al. 'Inverse drug discovery' strategy to identify proteins that are targeted by latent electrophiles as exemplified by aryl fluorosulfates. J. Am. Chem. Soc. 140, 200–210 (2018).

Shannon, D. A. et al. Investigating the proteome reactivity and selectivity of aryl halides. J. Am. Chem. Soc. 136, 3330–3333 (2014).

Choi, S., Connelly, S., Reixach, N., Wilson, I. A. & Kelly, J. W. Chemoselective small molecules that covalently modify one lysine in a non-enzyme protein in plasma. Nat. Chem. Biol. 6, 133–139 (2010).

Tamura, T. et al. Rapid labelling and covalent inhibition of intracellular native proteins using ligand-directed N-acyl-N-alkyl sulfonamide. Nat. Commun. 9, 1870 (2018).

Suh, E. H. et al. Stilbene vinyl sulfonamides as fluorogenic sensors of and traceless covalent kinetic stabilizers of transthyretin that prevent amyloidogenesis. J. Am. Chem. Soc. 135, 17869–17880 (2013).

Hunter, M. J. & Ludwig, M. L. The reaction of imidoesters with proteins and related small molecules. J. Am. Chem. Soc. 84, 3491–3504 (1962).

Nakamura, T., Kawai, Y., Kitamoto, N., Osawa, T. & Kato, Y. Covalent modification of lysine residues by allyl isothiocyanate in physiological conditions: plausible transformation of isothiocyanate from thiol to amine. Chem. Res. Toxicol. 22, 536–542 (2009).

Metcalf, B. et al. Discovery of GBT440, an orally bioavailable R-state stabilizer of sickle cell hemoglobin. ACS Med. Chem. Lett. 8, 321–326 (2017).

Akçay, G. et al. Inhibition of Mcl-1 through covalent modification of a noncatalytic lysine side chain. Nat. Chem. Biol. 12, 931–936 (2016).

Pettinger, J. et al. An irreversible inhibitor of HSP72 that unexpectedly targets lysine-56. Angew. Chem. Int. Ed. 56, 3536–3540 (2017).

Cuesta, A. & Taunton, J. Lysine-targeted inhibitors and chemoproteomic probes. Ann. Rev. Biochem. 88, 365–381 (2019).

Wang, C., Weerapana, E., Blewett, M. M. & Cravatt, B. F. A chemoproteomic platform to quantitatively map targets of lipid-derived electrophiles. Nat. Methods 11, 79–85 (2014).

Weerapana, E. et al. Quantitative reactivity profiling predicts functional cysteines in proteomes. Nature 468, 790–795 (2010).

Ma, N. et al. 2H-azirine-based reagents for chemoselective bioconjugation at carboxyl residues inside live cells. J. Am. Chem. Soc. 142, 6051–6059 (2020).

Bach, K., Beerkens, B. L. H., Zanon, P. R. A. & Hacker, S. M. Light-activatable, 2,5-disubstituted tetrazoles for the proteome-wide profiling of aspartates and glutamates in living bacteria. ACS Cent. Sci. 6, 546–554 (2020).

Cheng, K. et al. Tetrazole-based probes for integrated phenotypic screening, affinity-based proteome profiling, and sensitive detection of a cancer biomarker. Angew. Chem. Int. Ed. 56, 15044–15048 (2017).

Lin, S. et al. Redox-based reagents for chemoselective methionine bioconjugation. Science 355, 597–602 (2017).

Hahm, H. S. et al. Global targeting of functional tyrosines using sulfur-triazole exchange chemistry. Nat. Chem. Biol. 16, 150–159 (2020).

Balthaser, B. R., Maloney, M. C., Beeler, A. B., Porco, J. A. & Snyder, J. K. Remodelling of the natural product fumagillol employing a reaction discovery approach. Nat. Chem. 3, 969–973 (2011).

Lajkiewicz, N. J., Cognetta, A. B., Niphakis, M. J., Cravatt, B. F. & Porco, J. A. Remodeling natural products: chemistry and serine hydrolase activity of a rocaglate-derived β-lactone. J. Am. Chem. Soc. 136, 2659–2664 (2014).

Lipinski, C. A. Lead- and drug-like compounds: the rule-of-five revolution. Drug Discov. Today Technol. 1, 337–341 (2004).

Patricelli, M. P., Giang, D. K., Stamp, L. M. & Burbaum, J. J. Direct visualization of serine hydrolase activities in complex proteomes using fluorescent active site-directed probes. Proteomics 1, 1067–1071 (2001).

Rostovtsev, V. V., Green, L. G., Fokin, V. V. & Sharpless, K. B. A stepwise Huisgen cycloaddition process: copper(I)-catalyzed regioselective 'ligation' of azides and terminal alkynes. Angew. Chem. Int. Ed. 41, 2596–2599 (2002).

Zhang, Z. et al. Genomic variations of the mevalonate pathway in porokeratosis. eLife 4, e06322 (2015).

Brooks, S. S. et al. A novel ribosomopathy caused by dysfunction of RPL10 disrupts neurodevelopment and causes X-linked microcephaly in humans. Genetics 198, 723–733 (2014).

Lee, D.-S. et al. Structural basis of hereditary coproporphyria. Proc. Natl Acad. Sci. USA 102, 14232–14237 (2005).

Hussey, A. J. & Hayes, J. D. Characterization of a human class-Theta glutathione S-transferase with activity towards 1-menaphthyl sulphate. Biochem. J. 286, 929–935 (1992).

Schmiedeknecht, G. et al. Isolation and characterization of a 14.5-kDa trichloroacetic-acid-soluble translational inhibitor protein from human monocytes that is upregulated upon cellular differentiation. Eur. J. Biochem. 242, 339–351 (1996).

Katritzky, A. R. & Yousaf, T. I. A C-13 nuclear magnetic resonance study of the pyrimidine synthesis by the reactions of 1,3-dicarbonyl compounds with amidines and ureas. Can. J. Chem. 64, 2087–2093 (1986).

Kragelund, B. B., Weterings, E., Hartmann-Petersen, R. & Keijzers, G. The Ku70/80 ring in non-homologous end-joining: easy to slip on, hard to remove. Front. Biosci. 21, 514–527 (2016).

Tung, C. L., Wong, C. T. T., Fung, E. Y. M. & Li, X. Traceless and chemoselective amine bioconjugation via phthalimidine formation in native protein modification. Org. Lett. 18, 2600–2603 (2016).

Adhikari, S. et al. Colorimetric and fluorescence probe for the detection of nano-molar lysine in aqueous medium. Org. Biomol. Chem. 14, 10688–10694 (2016).

Bar-Peled, L. et al. Chemical proteomics identifies druggable vulnerabilities in a genetically defined cancer. Cell 171, 696–709.e623 (2017).

Zhang, X., Crowley, V. M., Wucherpfennig, T. G., Dix, M. M. & Cravatt, B. F. Electrophilic PROTACS that degrade nuclear proteins by engaging DCAF16. Nat. Chem. Biol. 15, 737–746 (2019).

Vinogradova, E. V. et al. An activity-guided map of electrophile–cysteine interactions in primary human T cells. Cell 182, 1009–1026 (2020).

Shi, C., Qiao, S., Wang, S., Wu, T. & Ji, G. Recent progress of lysophosphatidylcholine acyltransferases in metabolic disease and cancer. Int. J. Clin. Exp. Med. 11, 8941–8953 (2018).

Zou, C. et al. LPS impairs phospholipid synthesis by triggering β-transducin repeat-containing protein (β-TRCP)-mediated polyubiquitination and degradation of the surfactant enzyme acyl-coa:Lysophosphatidylcholine acyltransferase 1 (LPCAT1). J. Biol. Chem. 286, 2719–2727 (2011).

Rieckmann, J. C. et al. Social network architecture of human immune cells unveiled by quantitative proteomics. Nat. Immunol. 18, 583–593 (2017).

Fensterl, V. & Sen, G. C. Interferon-induced IFIT proteins: their role in viral pathogenesis. J. Virol. 89, 2462–2468 (2015).

Lo, U.-G. et al. Interferon-induced IFIT5 promotes epithelial-to-mesenchymal transition leading to renal cancer invasion. Am. J. Clin. Exp. Urol. 7, 31–45 (2019).

Abbas, Y. M., Pichlmair, A., Górna, M. W., Superti-Furga, G. & Nagar, B. Structural basis for viral 5′-PPP-RNA recognition by human IFIT proteins. Nature 494, 60–64 (2013).

Speers, A. E., Adam, G. C. & Cravatt, B. F. Activity-based protein profiling in vivo using a copper(I)-catalyzed azide-alkyne [3 + 2] cycloaddition. J. Am. Chem. Soc. 125, 4686–4687 (2003).

Krüger, D. M., Neubacher, S. & Grossmann, T. N. Protein–RNA interactions: structural characteristics and hotspot amino acids. RNA 24, 1457–1465 (2018).

Zanon, P. R. A. et al. Profiling the proteome-wide selectivity of diverse electrophiles. Preprint at https://doi.org/10.26434/chemrxiv.14186561.v1 (2021).

Congreve, M., Carr, R., Murray, C. & Jhoti, H. A 'rule of three' for fragment-based lead discovery? Drug Discov. Today 8, 876–877 (2003).

Sander, T., Freyss, J., von Korff, M. & Rufener, C. DataWarrior: an open-source program for chemistry aware data visualization and analysis. J. Chem. Inf. Model. 55, 460–473 (2015).

Herdendorf, T. J. & Miziorko, H. M. Functional evaluation of conserved basic residues in human phosphomevalonate kinase. Biochemistry 46, 11780–11788 (2007).
Acknowledgements
This work was supported by the NIH (CA231991, Al-126592), a Hewitt Foundation for Medical Research Fellowship (M.E.A.), a Sir Henry Wellcome Postdoctoral Fellowship, Wellcome Trust (M.E.K.), Pfizer and Vividion Therapeutics.
Ethics declarations
Competing interests
B.F.C. is a founder and scientific advisor to Vividion Therapeutics, a biotechnology company interested in developing small-molecule therapeutics.
Additional information
Peer review information Nature Chemistry thanks Yimon Aye and the other, anonymous, reviewer(s) for their contribution to the peer review of this work.
Publisher's note Springer Nature remains neutral with regard to jurisdictional claims in published maps and institutional affiliations.
Supplementary information
About this article
Cite this article
Abbasov, M.E., Kavanagh, M.E., Ichu, TA. et al. A proteome-wide atlas of lysine-reactive chemistry. Nat. Chem. 13, 1081–1092 (2021). https://doi.org/10.1038/s41557-021-00765-4
Received:

Accepted:

Published:

Issue Date:

DOI: https://doi.org/10.1038/s41557-021-00765-4