The origin and evolution of translational machinery — which produces a specific peptide from an RNA sequence — is a major unsolved puzzle in prebiotic chemistry. Now, the coupling of amino acids directed by RNA templates in the absence of a ribosome provides clues on how this protein synthesis process might have started.
This is a preview of subscription content
Access options
Subscribe to Journal
Get full journal access for 1 year
$119.00
only $9.92 per issue
All prices are NET prices.
VAT will be added later in the checkout.
Tax calculation will be finalised during checkout.
Rent or Buy article
Get time limited or full article access on ReadCube.
from$8.99
All prices are NET prices.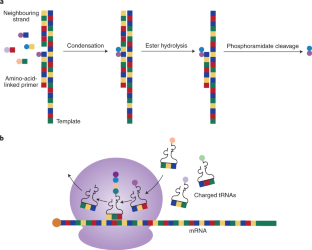 References
1.

Cobb, M. PLOS Biol. 15, e2003243 (2017).

2.

Nissen, P., Hansen, J., Ban, N., Moore, P. B. & Steiz, T. A. Science 289, 920–930 (2000).

3.

Jash, B., Tremmel, P., Jovanovic, D. & Richert, C. Nat. Chem. https://doi.org/10.1038/s41557-021-00749-4 (2021).

4.

Orgel, L. E. J. Mol. Evol. 29, 465–474 (1989).

5.

Lopez, M. J. & Mohiuddin, S. S. Biochemistry, Essential Amino Acids (StatPearls [Internet], 2021); https://www.ncbi.nlm.nih.gov/books/NBK557845/

6.

Sutherland, J. D. Angew. Chem. Int. Ed. 55, 104–121 (2016).

7.

Ralser, M. Biochem. Soc. Trans. 42, 985–988 (2014).

8.

Foden, C. S. et al. Science 370, 865–869 (2020).
Ethics declarations
Competing interests
The authors declare no competing interests.
About this article
Cite this article
Zheng, Y.Y., Sheng, J. The origin of translation. Nat. Chem. 13, 725–726 (2021). https://doi.org/10.1038/s41557-021-00760-9