DNA-encoded libraries are a powerful tool to identify hit compounds for drug discovery. Now, two papers have reported new advances in this technology. One paper reports a method to screen for binders inside a living cell, and the other investigates the effects of stereo- and regiochemistry on ligand discovery.
Access options
Subscribe to Journal
Get full journal access for 1 year
$59.00
only $4.92 per issue
All prices are NET prices.
VAT will be added later in the checkout.
Tax calculation will be finalised during checkout.
Rent or Buy article
Get time limited or full article access on ReadCube.
from$8.99
All prices are NET prices.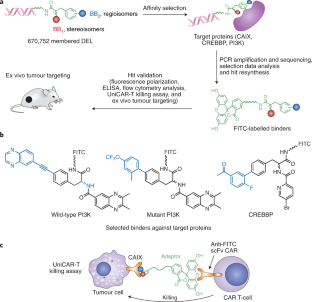 References
1.

Song, M. & Hwang, G. T. J. Med. Chem. 63, 6578–6599 (2020).

2.

Holenz, J. & Stoy, P. Bioorg. Med. Chem. Lett. 29, 517–524 (2019).

3.

Soutter, H. H. et al. Proc. Natl Acad. Sci. USA 113, E7880–E7889 (2016).

4.

Petersen, L. K. et al. J. Am. Chem. Soc. 143, 2751–2756 (2021).

5.

Favalli, N. et al. Nat. Chem. https://doi.org/10.1038/s41557-021-00660-y (2021).

6.

Lee, Y. G. et al. Cancer Res. 79, 387–396 (2019).
Ethics declarations
Competing interests
The authors declare no competing interests.
About this article
Cite this article
Song, M., Hwang, G.T. Expanding the effectiveness of screening. Nat. Chem. 13, 515–517 (2021). https://doi.org/10.1038/s41557-021-00690-6