Controlling the formation of ordered and predictable patterns in dissipative reaction–diffusion processes is challenging. Now, liquid vibrations induced by audible sound have been shown to direct the formation of spatiotemporal patterns in switchable chemical systems and assemblies.
Access options
Subscribe to Journal
Get full journal access for 1 year
$169.00
only $14.08 per issue
All prices are NET prices.
VAT will be added later in the checkout.
Rent or Buy article
Get time limited or full article access on ReadCube.
from$8.99
All prices are NET prices.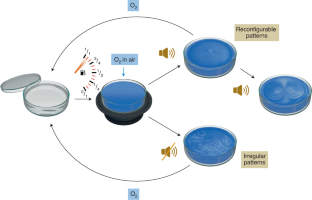 References
1.

van Esch, J. H., Klajn, R. & Otto, S. Chem. Soc. Rev. 46, 5474–5475 (2017).

2.

Cross, M. & Greenside, H. Pattern Formation and Dynamics in Nonequilibrium Systems (Cambridge Univ. Press, 2009).

3.

Semenov, S. N. et al. Nature 537, 656–660 (2016).

4.

Cravotto, G. & Cintas, P. Chem. Soc. Rev. 38, 2684–2697 (2009).

5.

Hwang, I. et al. Nat. Chem. https://doi.org/10.1038/s41557-020-0516-2 (2020).

6.

Tsuda, A. et al. Nat. Chem. 2, 977–983 (2010).

7.

Margulis, M. A. & Maximenko, N. A. Advances in Sonochemistry, Vol. 2 (JAI Press, 1991).
Ethics declarations
Competing interests
The authors declare no competing interests.
About this article
Cite this article
Pappas, C.G. A sound approach to self-assembly. Nat. Chem. 12, 784–785 (2020). https://doi.org/10.1038/s41557-020-0526-0