Metal-catalysed hydroformylations efficiently convert feedstock alkenes into aldehydes, though typically relatively simple ones. Now, the palladium-catalysed fragmentation of acid chlorides followed by reassembly with alkynes and silanes has been shown to form valuable, highly substituted α,β-unsaturated aldehydes.
Access options
Subscribe to Journal
Get full journal access for 1 year
$59.00
only $4.92 per issue
All prices are NET prices.
VAT will be added later in the checkout.
Tax calculation will be finalised during checkout.
Rent or Buy article
Get time limited or full article access on ReadCube.
from$8.99
All prices are NET prices.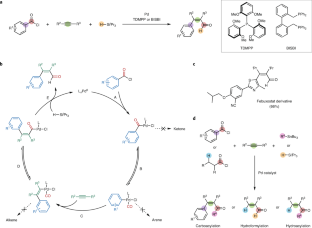 References
1.

Beller, M. & Wu, X.-F. Transition Metal Catalyzed Carbonylation Reactions (Springer, 2013).

2.

Börner, A. & Franke, R. Hydroformylation: Fundamentals, Processes, and Applications in Organic Synthesis (Wiley-VCH, 2016).

3.

Lee, Y. H., Denton, E. H. & Morandi, B. Nat. Chem. https://doi.org/10.1038/s41557-020-00621-x (2021).

4.

Fang, X., Cacherat, B. & Morandi, B. Nat. Chem. 9, 1105–1109 (2017).

5.

Lee, Y. H. & Morandi, B. Nat. Chem. 10, 1016–1022 (2018).

6.

De La Higuera Macias, M. & Arndtsen, B. A. J. Am. Chem. Soc. 140, 10140–10144 (2018).

7.

Brown, S., Clarkson, S., Grigg, R. & Sridharan, V. J. Chem. Soc., Chem. Commun. 1135–1136 (1995).

8.

Zhang, S., Neumann, H. & Beller, M. Chem. Soc. Rev. 49, 3187–3210 (2020).
Ethics declarations
Competing interests
The authors declare no competing interests.
About this article
Cite this article
Zgheib, J., Arndtsen, B.A. Fragmentation and reassembly. Nat. Chem. 13, 110–111 (2021). https://doi.org/10.1038/s41557-020-00631-9