Abstract
Closed-loop recycling offers the opportunity to mitigate plastic waste through reversible polymer construction and deconstruction. Although examples of chemical recycling of polymers are known, few have been applied to materials derived from abundant commodity olefinic monomers, which are the building blocks of ubiquitous plastic resins. Here we describe a [2+2] cycloaddition/oligomerization of 1,3-butadiene to yield a previously unrealized telechelic microstructure of (1,n′-divinyl)oligocyclobutane. This material is thermally stable, has stereoregular segments arising from chain-end control, and exhibits high crystallinity even at low molecular weight. Exposure of the oligocyclobutane to vacuum in the presence of the pyridine(diimine) iron precatalyst used to synthesize it resulted in deoligomerization to generate pristine butadiene, demonstrating a rare example of closed-loop chemical recycling of an oligomeric material derived from a commodity hydrocarbon feedstock.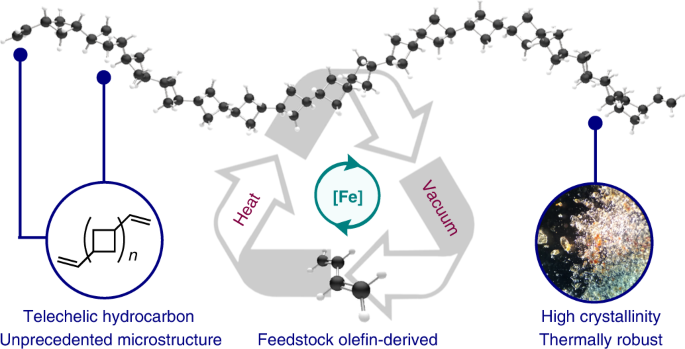 Access options
Subscribe to Journal
Get full journal access for 1 year
$169.00
only $14.08 per issue
All prices are NET prices.
VAT will be added later in the checkout.
Rent or Buy article
Get time limited or full article access on ReadCube.
from$8.99
All prices are NET prices.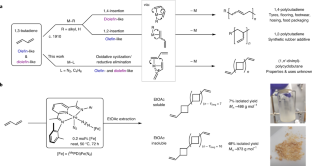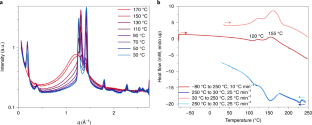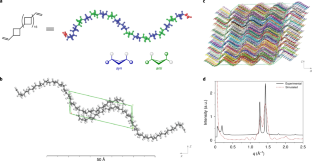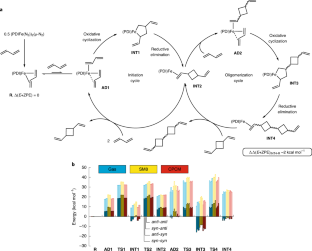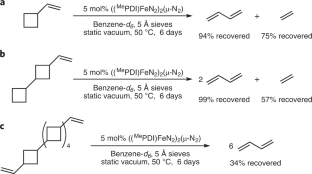 Data availability
All data necessary to support the conclusions of this paper are provided in the Supplementary Information, including optimized DFT coordinates and energetics, calculated free energies and MD equilibrated coordinates.
References
1.

Geyer, R., Jambeck, J. R. & Law, K. L. Production, use and fate of all plastics ever made. Sci. Adv. 3, e1700782 (2017).

2.

Rahimi, A. & García, J. M. Chemical recycling of waste plastics for new materials production. Nat. Rev. Chem. 1, 0046 (2017).

3.

Garcia, J. M. & Robertson, M. L. The future of plastics recycling. Science 358, 870–872 (2017).

4.

Seeley, M. E., Song, B., Passie, R. & Hale, R. C. Microplastics affect sedimentary microbial communities and nitrogen cycling. Nat. Commun. 11, 2372 (2020).

5.

Sardon, H. & Dove, A. P. Plastics recycling with a difference. Science 360, 380–381 (2018).

6.

Hopewell, J., Dvorak, R. & Kosior, E. Plastics recycling: challenges and opportunities. Philos. Trans. R. Soc. Lond. B Biol. Sci. 364, 2115–2126 (2009).

7.

Zhang, X., Fevre, M., Jones, G. O. & Waymouth, R. M. Catalysis as an enabling science for sustainable polymers. Chem. Rev. 118, 839–885 (2018).

8.

Helms, B. A. & Russell, T. P. Reaction: polymer chemistries enabling cradle-to-cradle life cycles for plastics. Chem 1, 816–818 (2016).

9.

Hong, M. & Chen, E. Y. X. Chemically recyclable polymers: a circular economy approach to sustainability. Green Chem. 19, 3692–3706 (2017).

10.

Rowan, S. J., Cantrill, S. J., Cousins, G. R. L., Sanders, J. K. M. & Stoddart, J. F. Dynamic covalent chemistry. Angew. Chem. Int. Ed. 41, 898–952 (2002).

11.

Liu, T. et al. Eugenol-derived biobased epoxy: shape memory, repairing and recyclability. Macromolecules 50, 8588–8597 (2017).

12.

Ogden, W. A. & Guan, Z. Recyclable, strong and highly malleable thermosets based on boroxine networks. J. Am. Chem. Soc. 140, 6217–6220 (2018).

13.

Zhu, J.-B., Watson, E. M., Tang, J. & Chen, E. Y.-X. A synthetic polymer system with repeatable chemical recyclability. Science 360, 398–403 (2018).

14.

Christensen, P. R., Scheuermann, A. M., Loeffler, K. E. & Helms, B. A. Closed-loop recycling of plastics enabled by dynamic covalent diketoenamine bonds. Nat. Chem. 11, 442–448 (2019).

15.

Lian, Z., Bhawal, B. N., Yu, P. & Morandi, B. Palladium-catalyzed carbon–sulfur or carbon–phosphorus bond metathesis by reversible arylation. Science 356, 1059–1063 (2017).

16.

García, J. M. Catalyst design challenges for the future of plastics recycling. Chem 1, 813–815 (2016).

17.

Feldman, D. Polymer history. Des. Monomers Polym. 11, 1–15 (2008).

18.

Amghizar, I., Vandewalle, L. A., Van Geem, K. M. & Marin, G. B. New trends in olefin production. Eng. J. 3, 171–178 (2017).

19.

Coates, G. W. & Getzler, Y. D. Y. L. Chemical recycling to monomer for an ideal, circular polymer economy. Nat. Rev. Mater. 5, 501–516 (2020).

20.

Pastine, S. J. Reaction: design with the end in mind. Chem 1, 818–819 (2016).

21.

Long, T. E. Reaction: benign by design demands innovation. Chem 2, 7–8 (2017).

22.

Russell, S. K., Lobkovsky, E. & Chirik, P. J. Iron-catalyzed intermolecular [2π+2π] cycloaddition. J. Am. Chem. Soc. 133, 8858–8861 (2011).

23.

Hoyt, J. M., Schmidt, V. A., Tondreau, A. M. & Chirik, P. J. Iron-catalyzed intermolecular [2+2] cycloadditions of unactivated alkenes. Science 349, 960–963 (2015).

24.

Hoyt, J. M., Sylvester, K. T., Semproni, S. P. & Chirik, P. J. Synthesis and electronic structure of bis(imino)pyridine iron metallacyclic intermediates in iron-catalyzed cyclization reactions. J. Am. Chem. Soc. 135, 4862–4877 (2013).

25.

Schmidt, V. A., Hoyt, J. M., Margulieux, G. W. & Chirik, P. J. Cobalt-catalyzed [2π+2π] cycloadditions of alkenes: scope, mechanism and elucidation of electronic structure of catalytic intermediates. J. Am. Chem. Soc. 137, 7903–7914 (2015).

26.

Hall, H. K. Jr Synthesis and polymerisation of polycyclic compounds with strained C–C single bonds. Br. Polym. J. 4, 371–389 (1972).

27.

Hall, H. K. Jr & Ykman, P. Addition polymerization of cyclobutene and bicyclobutane monomers. J. Polym. Sci. Macromol. Rev. 11, 1–45 (1976).

28.

Wu, C. C. & Lenz, R. W. Thermal and autoxidation reactions of poly-3-methylenecyclobutene and poly-1-methyl-3-methylenecyclobutene. J. Polym. Sci. A Polym. Chem. 10, 3555–3567 (1972).

29.

Danopoulos, A. A., Wright, J. A. & Motherwell, W. B. Molecular N2 complexes of iron stabilised by N-heterocyclic 'pincer' dicarbene ligands. Chem. Commun. 784–786 (2005); https://doi.org/10.1039/b415562a

30.

Darmon, J. M. et al. Electronic structure determination of pyridine N-heterocyclic carbene iron dinitrogen complexes and neutral ligand derivatives. Organometallics 33, 5423–5433 (2014).

31.

Pagar, V. V. & RajanBabu, T. V. Tandem catalysis for asymmetric coupling of ethylene and enynes to functionalized cyclobutanes. Science 361, 68–72 (2018).

32.

Parsutkar, M. M., Pagar, V. V. & RajanBabu, T. V. Catalytic enantioselective synthesis of cyclobutenes from alkynes and alkenyl derivatives. J. Am. Chem. Soc. 141, 15367–15377 (2019).

33.

Bandrup, J., Immergut, E. & Grulke, E. Polymer Handbook 4th edn (Wiley-Blackwell, 2003).

34.

Kennedy, C. R., Zhong, H., Joannou, M. V. & Chirik, P. J. Pyridine(diimine) iron diene complexes relevant to catalytic [2+2]-cycloaddition reactions. Adv. Synth. Catal. 362, 404–416 (2020).

35.

Kozuch, S. & Shaik, S. How to conceptualize catalytic cycles? The energetic span model. Acc. Chem. Res. 44, 101–110 (2011).

36.

Pangborn, A. B., Giardello, M. A., Grubbs, R. H., Rosen, R. K. & Timmers, F. J. Safe and convenient procedure for solvent purification. Organometallics 15, 1518–1520 (1996).

37.

Wreford, S. S. & Whitney, J. F. Magnesium butadiene as a reagent for the preparation of transition-metal butadiene complexes: molecular structure of bis(η-butadiene)[1,2-bis(dimethylphosphino)ethane]hafnium. Inorg. Chem. 20, 3918–3924 (1981).

38.

Britovsek, G. J. P. et al. Iron and cobalt ethylene polymerization catalysts bearing 2,6-bis(imino)pyridyl ligands: synthesis, structures and polymerization studies. J. Am. Chem. Soc. 121, 8728–8740 (1999).

39.

Russell, S. K., Darmon, J. M., Lobkovsky, E. & Chirik, P. J. Synthesis of aryl-substituted bis(imino)pyridine iron dinitrogen complexes. Inorg. Chem. 49, 2782–2792 (2010).

40.

Bart, S. C., Lobkovsky, E. & Chirik, P. J. Preparation and molecular and electronic structures of iron(0) dinitrogen and silane complexes and their application to catalytic hydrogenation and hydrosilation. J. Am. Chem. Soc. 126, 13794–13807 (2004).

41.

Russell, S. K., Milsmann, C., Lobkovsky, E., Weyhermüller, T. & Chirik, P. J. Synthesis, electronic structure and catalytic activity of reduced bis(aldimino)pyridine iron compounds: experimental evidence for ligand participation. Inorg. Chem. 50, 3159–3169 (2011).

42.

Bouwkamp, M. W., Bowman, A. C., Lobkovsky, E. & Chirik, P. J. Iron-catalyzed [2π+2π] cycloaddition of α,ω-dienes: the importance of redox-active supporting ligands. J. Am. Chem. Soc. 128, 13340–13341 (2006).

43.

Rummelt, S. M. et al. Synthesis, structure and hydrogenolysis of pyridine dicarbene iron dialkyl complexes. Organometallics 38, 3159–3168 (2019).

44.

Cirera, J., Via-Nadal, M. & Ruiz, E. Benchmarking density functional methods for calculation of state energies of first row spin-crossover molecules. Inorg. Chem. 57, 14097–14105 (2018).

45.

Jensen, K. P. Bioinorganic chemistry modeled with the TPSSh density functional. Inorg. Chem. 47, 10357–10365 (2008).

46.

Srinivasan, S., Rappe, A. M. & Soroush, M. in Computational Quantum Chemistry: Insights into Polymerization Reactions Ch. 4 (Elsevier, 2019).

47.

Pápai, M. & Vanko, G. On predicting Mössbauer parameters of iron-containing molecules with density-functional theory. J. Chem. Theory Comput. 9, 5004–5020 (2013).
Acknowledgements
We are grateful to S. Klemenz and the Schoop laboratory for initial assistance with powder diffraction, as well as D. Gregory for assistance with TGA/GCMS and DSC. M.M.B. thanks K. Conover for assistance with high-temperature NMR experiments. M.M.B., C.R.K. and P.J.C. thank Firmenich for initial support of this work. M.M.B. and C.R.K. thank the NIH for Ruth L. Kirschstein National Research Service Awards (F32 GM134610 and GM126640). All authors thank ExxonMobil for support of this research.
Ethics declarations
Competing interests
C.R.K. and P.J.C. are inventors on patent application US 2019/0211142 A1 titled 'Oligomeric and polymeric species comprising cyclobutane units'. J.M.Y., A.E.C., S.J.M. and J.A.T. are employees of ExxonMobil Chemical Company.
Additional information
Peer review information Nature Chemistry thanks the anonymous reviewers for their contribution to the peer review of this work.
Publisher's note Springer Nature remains neutral with regard to jurisdictional claims in published maps and institutional affiliations.
Supplementary information
About this article
Cite this article
Mohadjer Beromi, M., Kennedy, C.R., Younker, J.M. et al. Iron-catalysed synthesis and chemical recycling of telechelic 1,3-enchained oligocyclobutanes. Nat. Chem. 13, 156–162 (2021). https://doi.org/10.1038/s41557-020-00614-w
Received:

Accepted:

Published:

Issue Date: