Abstract
Solute–solvent interactions are key for the assembly and proper functioning of biomacromolecules and play important roles in many fields of organic and polymer chemistry. Despite numerous reports describing the effects of (chiral) solvents on helical conformations of (supramolecular) polymers, the combination of chiral solvents and chiral monomers is unexplored. Here we report diastereomeric differences in the supramolecular polymerization of enantiomers of chiral triphenylene-2,6,10-tricarboxamides in chiral chlorinated solvents. Competition between the preferences induced by the stereocentres of the assembled monomers and those present in the solvent molecules results in unforeseen temperature-dependent solvation effects. By combining experiments and mathematical modelling, we show that the observed differences between enantiomers originate from the combined additive entropic effects of stereocentres present in the monomer and in the solvent. Remarkably, copolymerizations show that the chiral solvent can bias the copolymer helicity and thereby overrule the helical preference of the monomers. Our results highlight the importance of cumulative solvation effects in supramolecular polymerizations.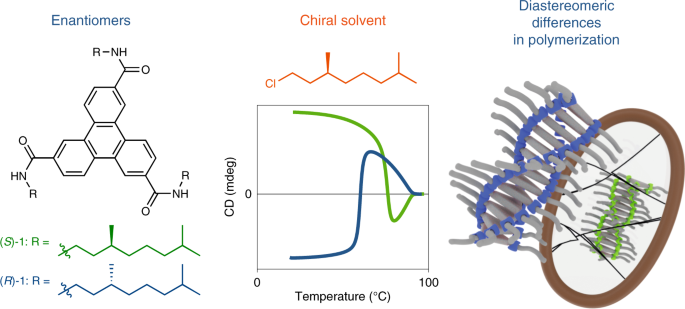 Relevant articles
Open Access articles citing this article.
Jingjing Li

,

Yihan Cui

…

Chun-Sen Liu

Nature Communications Open Access 18 August 2023

Xianhua Lang

,

Yingjie Huang

…

Hui Zhao

Nature Communications Open Access 29 May 2023

Minghui Tan

,

Pan Tian

…

Feng Shi

Nature Communications Open Access 03 September 2022
Access options
Access Nature and 54 other Nature Portfolio journals
Get Nature+, our best-value online-access subscription
$29.99 / 30 days
cancel any time
Subscribe to this journal
Receive 12 print issues and online access
$259.00 per year
only $21.58 per issue
Rent or buy this article
Prices vary by article type
from$1.95
to$39.95
Prices may be subject to local taxes which are calculated during checkout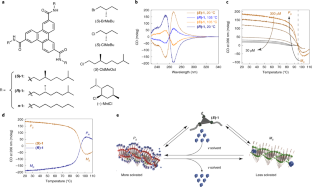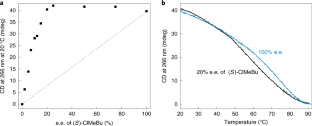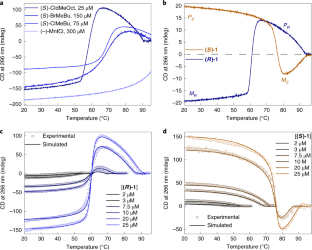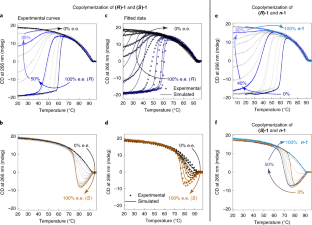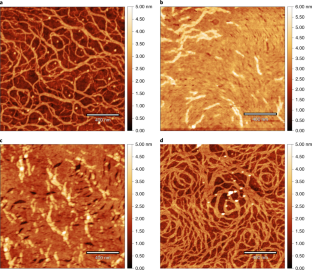 Data availability
All data supporting the findings are included in the manuscript and Supplementary Information. Individual data files are also available upon request from the corresponding authors.
References
Kulkarni, M. & Mukherjee, A. Understanding B-DNA to A-DNA transition in the right-handed DNA helix: perspective from a local to global transition. Prog. Biophys. Mol. Biol. 128, 63–73 (2017).

Fuller, W., Forsyth, T. & Mahendrasingam, A. Water–DNA interactions as studied by X-ray and neutron fibre diffraction. Philos. Trans. R. Soc. B Biol. Sci. 359, 1237–1248 (2004).

Siebert, T., Guchhait, B., Liu, Y., Fingerhut, B. P. & Elsaesser, T. Range, magnitude, and ultrafast dynamics of electric fields at the hydrated DNA surface. J. Phys. Chem. Lett. 7, 3131–3136 (2016).

Chong, S. H. & Ham, S. Anomalous dynamics of water confined in protein–protein and protein–DNA interfaces. J. Phys. Chem. Lett. 7, 3967–3972 (2016).

Chong, S. H. & Ham, S. Dynamics of hydration water plays a key role in determining the binding thermodynamics of protein complexes. Sci. Rep. 7, 8744 (2017).

Oshima, H., Hayashi, T. & Kinoshita, M. Statistical thermodynamics for actin–myosin binding: the crucial importance of hydration effects. Biophys. J. 110, 2496–2506 (2016).

Hunter, C. A. Quantifying intermolecular interactions: guidelines for the molecular recognition toolbox. Angew. Chem. Int. Ed. 43, 5310–5324 (2004).

Kanagaraj, K., Alagesan, M., Inoue, Y. & Yang, C. in Comprehensive Supramolecular Chemistry Vol. II (eds Atwood, J., Gokel, G. W. & Barbour, L.) 11–60 (Elsevier, 2017).

Chandler, D. Interfaces and the driving force of hydrophobic assembly. Nature 437, 640–647 (2005).

Cabot, R. & Hunter, C. A. Molecular probes of solvation phenomena. Chem. Soc. Rev. 41, 3485–3492 (2012).

Otto, S. The role of solvent cohesion in nonpolar solvation. Chem. Sci. 4, 2953–2959 (2013).

Van Zee, N. J. et al. Potential enthalpic energy of water in oils exploited to control supramolecular structure. Nature 558, 100–103 (2018).

Dong, S. et al. Structural water as an essential comonomer in supramolecular polymerization. Sci. Adv. 3, eaao0900 (2017).

Yashima, E., Matsushima, T. & Okamoto, Y. Chirality assignment of amines and amino alcohols based on circular dichroism induced by helix formation of a stereoregular poly((4-carboxyphenyl)acetylene) through acid–base complexation. J. Am. Chem. Soc. 119, 6345–6359 (1997).

Rao, K. V., Miyajima, D., Nihonyanagi, A. & Aida, T. Thermally bisignate supramolecular polymerization. Nat. Chem. 9, 1133–1139 (2017).

Biot, M. & Rapport de, M. Biot sur ce mémoire. C. R. Acad. Sci. 29, 433–447 (1849).

Pasteur, L. Recherches sur les relations qui peuvent exister entre la forme crystalline, la composition chimique et le sens de la polarisation rotatoire. Ann. Chim. Phys. 24, 442–459 (1848).

Cantekin, S. et al. A stereoselectively deuterated supramolecular motif to probe the role of solvent during self-assembly processes. Chem. Commun. 48, 3803–3805 (2012).

Jacques, J., Collet, A. & Wilen, S. H. Enantiomers, Racemates and Resolutions (Krieger, 1991).

Groen, M. B., Schadenberg, H. & Wynberg, H. Synthesis and resolution of some heterohelicenes. J. Org. Chem. 36, 2797–2809 (1971).

Lüttringhaus, A. & Berrer, D. Zur Struktur der Lösungen—III. Racemat-spaltung durch ein optisch aktives Lösungsmittel. Tetrahedron Lett. 10, 10–12 (1959).

Tulashie, S. K. The Potential of Chiral Solvents in Enantioselective Crystallization (Otto-von-Guericke Universität Magdeburg, 2010).

Yang, L., Adam, C., Nichol, G. S. & Cockroft, S. L. How much do van der Waals dispersion forces contribute to molecular recognition in solution? Nat. Chem. 5, 1006–1010 (2013).

Fujiki, M. Supramolecular chirality: solvent chirality transfer in molecular chemistry and polymer chemistry. Symmetry 6, 677–703 (2014).

Green, M. M., Khatri, C. & Peterson, N. C. A macromolecular conformational change driven by a minute chiral solvation energy. J. Am. Chem. Soc. 115, 4941–4942 (1993).

Palmans, A. R. A., Vekemans, J. A. J. M., Havinga, E. E. & Meijer, E. W. Sergeants-and-soldiers principle in chiral columnar stacks of disc-shaped molecules with C3 symmetry. Angew. Chem. Int. Ed. 36, 2648–2651 (1997).

Kawagoe, Y., Fujiki, M. & Nakano, Y. Limonene magic: noncovalent molecular chirality transfer leading to ambidextrous circularly polarised luminescent π-conjugated polymers. New J. Chem. 34, 637–647 (2010).

Nakashima, H., Koe, J. R., Torimitsu, K. & Fujiki, M. Transfer and amplification of chiral molecular information to polysilylene aggregates. J. Am. Chem. Soc. 123, 4847–4848 (2001).

Isare, B. et al. Chirality in dynamic supramolecular nanotubes induced by a chiral solvent. Chem. Eur. J. 16, 173–177 (2010).

Stepanenko, V., Li, X. Q., Gershberg, J. & Würthner, F. Evidence for kinetic nucleation in helical nanofiber formation directed by chiral solvent for a perylene bisimide organogelator. Chem. Eur. J. 19, 4176–4183 (2013).

Nagata, Y., Takeda, R. & Suginome, M. Asymmetric catalysis in chiral solvents: chirality transfer with amplification of homochirality through a helical macromolecular scaffold. ACS Cent. Sci. 5, 1235–1240 (2019).

Green, M. M., Andreola, C., Muñoz, B., Reidy, M. P. & Zero, K. Macromolecular stereochemistry: a cooperative deuterium isotope effect leading to a large optical rotation. J. Am. Chem. Soc. 110, 4063–4065 (1988).

Nagata, Y. et al. Elucidating the solvent effect on the switch of the helicity of poly(quinoxaline-2,3-diyl)s: a conformational analysis by small-angle neutron scattering. J. Am. Chem. Soc. 140, 2722–2726 (2018).

van't Hoff, J. H. Die Lagerung Der Atome in Raume (FB&C, 2018).

Green, M. M. et al. Majority rules in the copolymerization of mirror image isomers. J. Am. Chem. Soc. 117, 4181–4182 (1995).

Green, M. M. et al. Macromolecular stereochemistry: the out-of-proportion influence of optically active comonomers on the conformational characteristics of polyisocyanates. The sergeants and soldiers experiment. J. Am. Chem. Soc. 111, 6452–6454 (1989).

Cantekin, S., de Greef, T. F. A. & Palmans, A. R. A. Benzene-1,3,5-tricarboxamide: a versatile ordering moiety for supramolecular chemistry. Chem. Soc. Rev. 41, 6125–6137 (2012).

Markvoort, A. J., ten Eikelder, H. M. M., Hilbers, P. A. J., de Greef, T. F. A. & Meijer, E. W. Theoretical models of nonlinear effects in two-component cooperative supramolecular copolymerizations. Nat. Commun. 2, 509 (2011).

Roman, M. et al. Supramolecular balance: using cooperativity to amplify weak interactions. J. Am. Chem. Soc. 132, 16818–16824 (2010).

Lv, Z., Chen, Z., Shao, K., Qing, G. & Sun, T. Stimuli-directed helical chirality inversion and bio-applications. Polymers 8, 310 (2016).

Go, M. et al. Temperature-controlled helical inversion of asymmetric triphenylamine-based supramolecular polymers; difference of handedness at the micro- and macroscopic levels. Org. Chem. Front. 6, 1100–1108 (2019).

Harada, N., Nakanishi, K. & Berova, N. in Comprehensive Chirooptical Spectroscopy Vol. 2 (eds Berova, N., Polavarapu, P. L., Nakanashi, K. & Woody, R. W.) 115–166 (John Wiley, 2012).

Kang, J. et al. C5-Symmetric chiral corannulenes: desymmetrization of bowl inversion equilibrium via 'Intramolecular' hydrogen-bonding network. J. Am. Chem. Soc. 136, 10640–10644 (2014).

Garza, A. J. Solvation entropy made simple. J. Chem. Theory Comput. 15, 3204–3214 (2019).

Green, M. M. et al. A helical polymer with a cooperative response to chiral information. Science 268, 1860–1866 (2006).

Meyerhoffer, W. & van't Hoff, J. H. Gleichgewichte der Stereomeren (B.G. Teubner, 1906).

De Windt, L. N. J. et al. Detailed approach to investigate thermodynamically controlled supramolecular copolymerizations. Macromolecules 52, 7430–7438 (2019).

Ślęczkowski, M. L., Meijer, E. W. & Palmans, A. R. A. Cooperative folding of linear poly(dimethyl siloxane)s via supramolecular interactions. Macromol. Rapid Commun. 38, 1700566 (2017).

Stals, P. J. M., Smulders, M. M. J., Martín-Rapún, R., Palmans, A. R. A. & Meijer, E. W. Asymmetrically substituted benzene-1,3,5-tricarboxamides: self-assembly and odd–even effects in the solid state and in dilute solution. Chem. Eur. J. 15, 2071–2080 (2009).
Acknowledgements
We thank L. de Windt for providing BTA and SBTA monomers, C. Kulkarni for fruitful discussions about solvation, and B. Markvoort and H. ten Eikelder for discussion on the calculations. This work was partially supported by the European Union's Horizon 2020 research and innovation programme (Marie Skłodowska‐Curie grant agreement number 642083), the National Science Center, Poland (MINIATURA 3, grant number 2019/03/X/ST3/02148) and NWO (TOP-PUNT grant 10018944). Part of this work was carried out on the Dutch national e-infrastructure with the support of the SURF Cooperative.
Ethics declarations
Competing interests
The authors declare no competing interests.
Additional information
Publisher's note Springer Nature remains neutral with regard to jurisdictional claims in published maps and institutional affiliations.
Supplementary information
Synthetic procedures, Supplementary Fig. 1 and Table 1.
Matlab files for the fitting of the solvent-dependent homopolymerizations and copolymerizations.
About this article
Cite this article
Ślęczkowski, M.L., Mabesoone, M.F.J., Ślęczkowski, P. et al. Competition between chiral solvents and chiral monomers in the helical bias of supramolecular polymers. Nat. Chem. 13, 200–207 (2021). https://doi.org/10.1038/s41557-020-00583-0
Received:

Accepted:

Published:

Issue Date:

DOI: https://doi.org/10.1038/s41557-020-00583-0