Labelling proteins at internal sites holds promise for generating novel protein conjugates in a programmable fashion. Now, a chemoenzymatic approach, dubbed LACE, enables the site-specific modification of recombinant proteins that contain a short genetically encoded tag.
Access options
Subscribe to Journal
Get full journal access for 1 year
$119.00
only $9.92 per issue
All prices are NET prices.
VAT will be added later in the checkout.
Tax calculation will be finalised during checkout.
Rent or Buy article
Get time limited or full article access on ReadCube.
from$8.99
All prices are NET prices.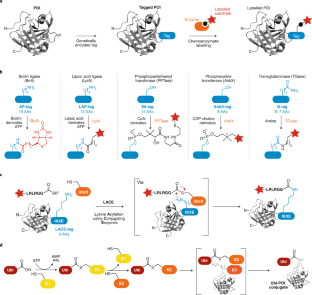 References
1.

Boutureira, O. & Bernardes, G. J. Chem. Rev. 115, 2174–2195 (2015).

2.

Lang, K. & Chin, J. W. Chem. Rev. 114, 4764–4806 (2014).

3.

Zhang, Y., Park, K. Y., Suazo, K. F. & Distefano, M. D. Chem. Soc. Rev. 47, 9106–9136 (2018).

4.

Lotze, J., Reinhardt, U., Seitz, O. & Beck-Sickinger, A. G. Mol. Biosyst. 12, 1731–1745 (2016).

5.

Hofmann, R., Akimoto, G., Wucherpfennig, T. G., Zeymer, C. & Bode, K. W. Nat. Chem. https://doi.org/10.1038/s41557-020-0528-y (2020).

6.

Komander, D. & Rape, M. Annu. Rev. Biochem. 81, 203–229 (2012).

7.

Bernier-Villamor, V., Sampson, D. A., Matunis, M. J. & Lima, C. D. Cell 108, 345–356 (2002).

8.

Mali, S. M., Singh, S. K., Eid, E. & Brik, A. J. Am. Chem. Soc. 139, 4971–4986 (2017).

9.

Fottner, M. et al. Nat. Chem. Biol. 15, 276–284 (2019).
Ethics declarations
Competing interests
The authors declare no competing interests.
About this article
Cite this article
Fottner, M., Lang, K. Decorating proteins with LACE. Nat. Chem. 12, 980–982 (2020). https://doi.org/10.1038/s41557-020-00566-1