Synthetic organic chemistry is increasingly automated, data rich and intelligent. At the Automated Synthesis Forum, industry and academia showcased their recent progress towards this augmented future.
Access options
Subscribe to Journal
Get full journal access for 1 year
$59.00
only $4.92 per issue
All prices are NET prices.
VAT will be added later in the checkout.
Tax calculation will be finalised during checkout.
Rent or Buy article
Get time limited or full article access on ReadCube.
from$8.99
All prices are NET prices.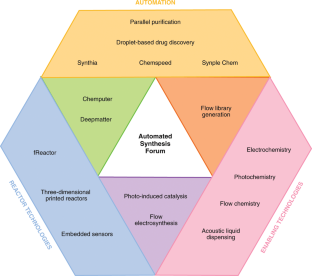 References
1.

Steiner, S. et al. Science 363, 144–152 (2019).

2.

Molga, K., Dittwald, P. & Grzybowski, B. A. Chem 5, 460–473 (2019).

3.

Doobary, S., Sedikides, A. T., Caldora, H. P., Poole, D. L. & Lennox, A. J. J. Angew. Chem. Int. Ed. https://doi.org/10.1002/anie.201912119 (2019).

4.

Petti, A. et al. Angew. Chem. Int. Ed. 58, 16115–16118 (2019).

5.

Abdiaj, I. et al. Angew. Chem. Int. Ed. 57, 13231–13236 (2018).

6.

Cerra, B. et al. ACS Med. Chem. Lett. 10, 677–681 (2019).

7.

Capel, A. J. et al. Beilstein J. Org. Chem. 13, 111–119 (2017).

8.

van Melis, C. G. W. et al. ChemElectroChem 6, 4144–4148 (2019).
About this article
Cite this article
Heard, D.M., Lennox, A.J.J. Minimal manual input. Nat. Chem. 12, 113–114 (2020). https://doi.org/10.1038/s41557-019-0416-5