Tertiary amines are poor directing groups for C(sp3)–H activation using Pdii catalysts due to favourable β-hydride elimination pathways. Now, an N-acetyl amino acid ligand is shown to shut down this deleterious pathway, enabling facile arylation of a highly medicinally relevant group of compounds.
Access options
Subscribe to Journal
Get full journal access for 1 year
$160.00
only $13.33 per issue
All prices are NET prices.
VAT will be added later in the checkout.
Rent or Buy article
Get time limited or full article access on ReadCube.
from$8.99
All prices are NET prices.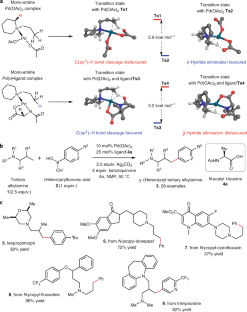 References
1.

Flick, A. C. et al. J. Med. Chem. 60, 6480–6515 (2017).

2.

Xu, Y. & Dong, G. Chem. Sci. 9, 1424–1432 (2018).

3.

He, C., Whitehurst, W. G. & Gaunt, M. J. Chem 5, 1031–1058 (2019).

4.

Niu, B., Yang, K., Lawrence, B. & Ge, H. ChemSusChem 12, 2955–2969 (2019).

5.

Rodrigalvarez, J. et al. Nat. Chem. https://doi.org/10.1038/s41557-019-0393-8 (2019).

6.

Chan, K. S. L. et al. Nat. Chem. 6, 146–150 (2014).

7.

St. John-Campell, S. & Bull, J. A. Org. Biomol. Chem. 16, 4582–4595 (2018).
About this article
Cite this article
Landge, V.G., Young, M.C. Teaching an old ligand new tricks. Nat. Chem. 12, 12–14 (2020) doi:10.1038/s41557-019-0395-6