Due to the high oxidation potential of gold, the development of dual gold/photoredox-catalysed processes has been limited by the need for an easily reduced radical source. Now, discovery of an energy transfer photoexcitation process overcomes this limitation, enabling the oxidative addition of iodoalkynes onto organogold intermediates.
Access options
Subscribe to Journal
Get full journal access for 1 year
$59.00
only $4.92 per issue
All prices are NET prices.
VAT will be added later in the checkout.
Tax calculation will be finalised during checkout.
Rent or Buy article
Get time limited or full article access on ReadCube.
from$8.99
All prices are NET prices.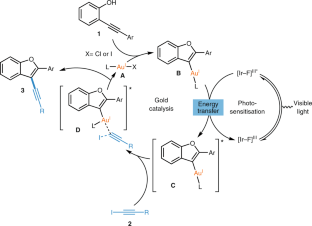 References
1.

Hashmi, A. S. K. Chem. Rev. 107, 3180–3211 (2007).

2.

Sahoo, B., Hopkinson, M. N. & Glorius, F. J. Am. Chem. Soc. 135, 5505–5508 (2013).

3.

Shu, X., Zhang, M., He, Y., Frei, H. & Toste, F. D. J. Am. Chem. Soc. 136, 5844–5847 (2014).

4.

Xia, Z. et al. Nat. Chem. https://doi.org/10.1038/s41557-019-0295-9 (2019).

5.

Zhou, Q., Zou, Y., Lu, L. & Xiao, W. Angew. Chem. Int. Ed. 58, 1586–1604 (2019).

6.

Streith-Kalthoff, F., James, M. J., Teders, M., Pitzer, L. & Glorius, F. Chem. Soc. Rev. 47, 7190–7202 (2018).
About this article
Cite this article
McLean, E.B., Lee, AL. Golden potential. Nat. Chem. 11, 760–761 (2019). https://doi.org/10.1038/s41557-019-0315-9