Interphases that form on the anode surface of lithium-ion batteries are critical for performance and lifetime, but are poorly understood. Now, a decade-old misconception regarding a main component of the interphase has been revealed, which could potentially lead to improved devices.
Access options
Subscribe to Journal
Get full journal access for 1 year
$169.00
only $14.08 per issue
All prices are NET prices.
VAT will be added later in the checkout.
Rent or Buy article
Get time limited or full article access on ReadCube.
from$8.99
All prices are NET prices.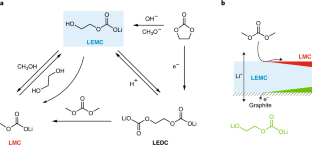 References
1.

Xu, K. Chem. Rev. 114, 11503–11618 (2014).

2.

Aurbach, D., Markovsky, B., Shechter, A., Ein-Eli, Y. & Cohen, H. J. Electrochem. Soc. 143, 3809–3820 (1996).

3.

Wang, L. et al. Nat. Chem. https://doi.org/10.1038/s41557-019-0304-z (2019).

4.

Gireaud, L., Grugeon, S., Laruelle, S., Pilard, S. & Tarascon, J.-M. J. Electrochem. Soc. 152, A850–A857 (2005).

5.

Borodin, O., Smith, G. D. & Fan, P. J. Phys. Chem. B 110, 22773–22779 (2006).

6.

Janek, J. & Zeier, W. G. Nat. Energy 1, 16141 (2016).

7.

Gachot, G. et al. J. Power Sources 178, 409–421 (2008).
About this article
Cite this article
Freunberger, S.A. Interphase identity crisis. Nat. Chem. 11, 761–763 (2019). https://doi.org/10.1038/s41557-019-0311-0
Further reading
Yu-Xing Yao

,

Chong Yan

&

Qiang Zhang

Chemical Communications (2020)