Scientific progress often relies on applying published methodological advances to different problems. With the aim of improving both the uptake and reproducibility of chemical transformations, a new assessment tool has now been developed that provides a clear and easy-to-interpret overview of common factors that affect a synthetic method.
Access options
Access options
Subscribe to Journal
Get full journal access for 1 year
$160.00
only $13.33 per issue
All prices are NET prices.
VAT will be added later in the checkout.
Rent or Buy article
Get time limited or full article access on ReadCube.
from$8.99
All prices are NET prices.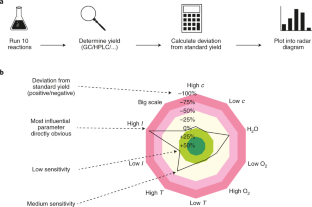 References
1.

Baker, M. Nature 533, 452–454 (2016).

2.

Collins, K. D. & Glorius, F. Nat. Chem. 5, 597–601 (2013).

3.

Gensch, T., Teders, M. & Glorius, F. J. Org. Chem. 82, 9154–915 (2017).

4.

Pitzer, L., Schäfers, F. & Glorius, F. Angew. Chem. Int. Ed. 58, 8572–8576 (2019).

5.

The brilliant history of photoredox catalysis. Nature https://www.nature.com/articles/d42473-019-00033-7 (2019).