Natural products often provide lead scaffolds for the development of therapeutics, but complexity of their synthesis can limit the discovery of improved analogues. Pharmacophore-directed retrosynthesis aims to accelerate the building of a structure–activity relationship profile of a natural product, aiming to identifying a simplified lead.
Access options
Subscribe to Journal
Get full journal access for 1 year
$119.00
only $9.92 per issue
All prices are NET prices.
VAT will be added later in the checkout.
Tax calculation will be finalised during checkout.
Rent or Buy article
Get time limited or full article access on ReadCube.
from$8.99
All prices are NET prices.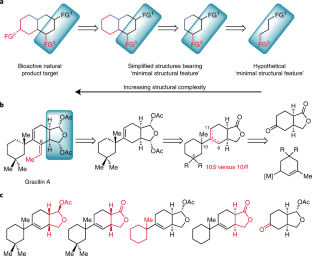 References
1.

Wender, P. A. Nat. Prod. Rep. 31, 433–440 (2014).

2.

Wilson, R. M. & Danishefsky, S. J. J. Org. Chem. 71, 8329–8351 (2006).

3.

Schreiber, S. L. Science 287, 1964–1969 (2000).

4.

Romo, D. et al. Nat. Chem. https://doi.org/10.1038/s41557-019-0230-0 (2019).

5.

Mayol, L., Piccialli, V. & Sica, D. Tetrahedron Lett. 26, 1357–1360 (1985).

6.

Sanchez, J. A. et al. Pharmacol. Res. 107, 407–414 (2016).

7.

Leiros, M. et al. Neuropharmacology 93, 285–293 (2015).

8.

Allred, T. K., Manoni, F. & Harran, P. G. Chem. Rev. 117, 11994–12051 (2017).
About this article
Cite this article
Hudlicky, J.R., Sulikowski, G.A. Simple start for complex products. Nat. Chem. 11, 297–298 (2019). https://doi.org/10.1038/s41557-019-0241-x