Finely tuned interactions in the second coordination sphere of enzymes or homogeneous catalysts can be essential for their function. Now, this concept has been applied to the surface of a catalytic material, utilizing pairs of Cu atoms for the selective electrochemical fixation of CO2.
This is a preview of subscription content
Access options
Subscribe to Journal
Get full journal access for 1 year
$119.00
only $9.92 per issue
All prices are NET prices.
VAT will be added later in the checkout.
Tax calculation will be finalised during checkout.
Rent or Buy article
Get time limited or full article access on ReadCube.
from$8.99
All prices are NET prices.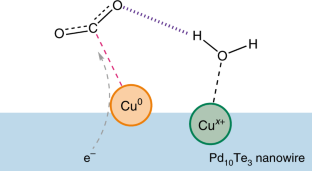 References
1.

Winkler, J. R. & Gray, H. B. Chem. Rev. 114, 3369–3380 (2013).

2.

Weinberg, D. R. et al. Chem. Rev. 112, 4016–4093 (2012).

3.

Costentin, C. & Savéant, J.-M. Nat. Rev. Chem. 1, 0087 (2017).

4.

Chen, Y. et al. Joule 2, 1242–1264 (2018).

5.

Jiao, J. et al. Nat. Chem. https://doi.org/10.1038/s41557-018-0201-x (2019).

6.

Pan, Y. et al. J. Am. Chem. Soc. 140, 4218–4221 (2018).
About this article
Cite this article
Natinsky, B.S., Liu, C. Two are better than one. Nature Chem 11, 200–201 (2019). https://doi.org/10.1038/s41557-019-0221-1