As the most abundant class of biomolecules on Earth, carbohydrates are implicated in a multitude of biological functions. Now, a simple chemical transformation has enabled the direct and selective installation of carbohydrates onto a diverse range of small molecules and peptides.
Access options
Subscribe to Journal
Get full journal access for 1 year
$119.00
only $9.92 per issue
All prices are NET prices.
VAT will be added later in the checkout.
Tax calculation will be finalised during checkout.
Rent or Buy article
Get time limited or full article access on ReadCube.
from$8.99
All prices are NET prices.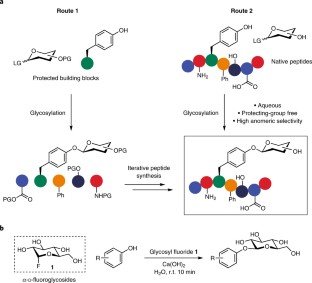 References
1.

Lauc, G., Krištić, J. & Zoldoš, V. Front. Genet. 5, 145 (2014).

2.

Doores, K. J., Gamblin, D. P. & Davis, B. G. Chem. Eur. J. 12, 656–665 (2006).

3.

Moradi, S. V., Hussein, W. M., Varamini, P., Simerska, P. & Toth, I. Chem. Sci. 7, 2492–2500 (2016).

4.

Wadzinski, T. J. et al. Nat. Chem. https://doi.org/10.1038/s41557-018-0041-8 (2018).

5.

Lafite, P. & Daniellou, R. Nat. Prod. Rep. 29, 729–738 (2012).

6.

Pelletier, G., Zwicker, A., Allen, C. L., Schepartz, A. & Miller, S. J. J. Am. Chem. Soc. 138, 3175–3182 (2016).

7.

deGruyter, J. N., Malins, L. R. & Baran, P. S. Biochemistry 56, 3863–3873 (2017).
About this article
Cite this article
Malins, L.R. Hitting the sweet spot. Nature Chem 10, 578–580 (2018). https://doi.org/10.1038/s41557-018-0071-2