Evolution of highly functionalized DNA could enable the discovery of artificial nucleic acid sequences with different properties to natural DNA. Now, an artificial translation system has been designed that can support the evolution of non-natural sequence-defined nucleic acid polymers carrying eight different functional groups on 32 codons.
This is a preview of subscription content
Access options
Subscribe to Journal
Get full journal access for 1 year
$119.00
only $9.92 per issue
All prices are NET prices.
VAT will be added later in the checkout.
Tax calculation will be finalised during checkout.
Rent or Buy article
Get time limited or full article access on ReadCube.
from$8.99
All prices are NET prices.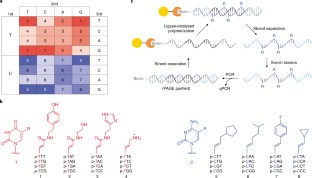 References
1.

Dunn, M. R., Jimenez, R. M. & Chaput, J. C. Nat. Rev. Chem. 1, 0076 (2017).

2.

Wilson, D. S. & Szostak, J. W. Ann. Rev. Biochem. 68, 611–647 (1999).

3.

Joyce, G. F. Ann. Rev. Biochem. 73, 791–836 (2004).

4.

Pinheiro, V. B. et al. Science 336, 341–344 (2012).

5.

Joyce, G. F. Cold Spring Harb. Symp. Quant. Biol. 52, 41–51 (1987).

6.

Chen, Z., Lichtor, P. A., Berliner, A. P., Chen, J. C. & Liu, D. R. Nat. Chem. https://doi.org/10.1038/s41557-018-0008-9 (2018).

7.

Kong, D., Yeung, W. & Hili, R. J. Am. Chem. Soc. 139, 13977–13980 (2017).
About this article
Cite this article
Chaput, J.C. Made in translation. Nature Chem 10, 379–381 (2018). https://doi.org/10.1038/s41557-018-0034-7