Abstract
The common view is that T lymphocytes activate telomerase to delay senescence. Here we show that some T cells (primarily naïve and central memory cells) elongated telomeres by acquiring telomere vesicles from antigen-presenting cells (APCs) independently of telomerase action. Upon contact with these T cells, APCs degraded shelterin to donate telomeres, which were cleaved by the telomere trimming factor TZAP, and then transferred in extracellular vesicles at the immunological synapse. Telomere vesicles retained the Rad51 recombination factor that enabled telomere fusion with T-cell chromosome ends lengthening them by an average of ~3,000 base pairs. Thus, there are antigen-specific populations of T cells whose ageing fate decisions are based on telomere vesicle transfer upon initial contact with APCs. These telomere-acquiring T cells are protected from senescence before clonal division begins, conferring long-lasting immune protection.
Relevant articles
Open Access articles citing this article.
Michael Le Pepke

,

Thomas Kvalnes

…

Thor Harald Ringsby

Scientific Reports Open Access 15 March 2023

Meiling Jin

&

Jian-Dong Huang

Cellular & Molecular Immunology Open Access 18 November 2022
Access options
Access Nature and 54 other Nature Portfolio journals
Get Nature+, our best-value online-access subscription
$29.99 per month
cancel any time
Subscribe to this journal
Receive 12 print issues and online access
$209.00 per year
only $17.42 per issue
Rent or buy this article
Get just this article for as long as you need it
$39.95
Prices may be subject to local taxes which are calculated during checkout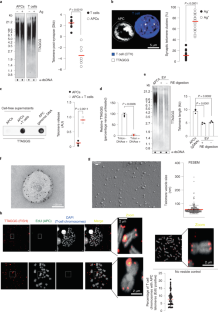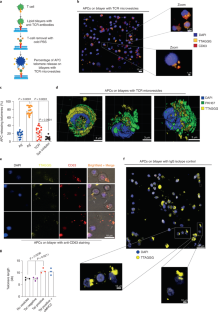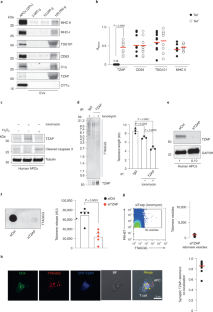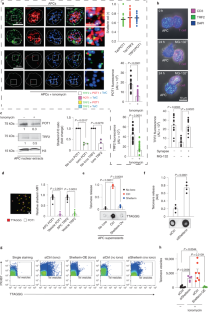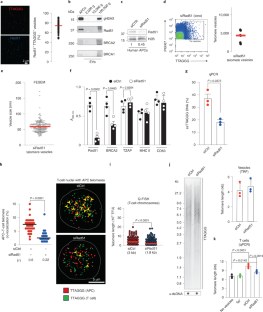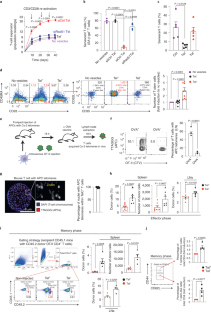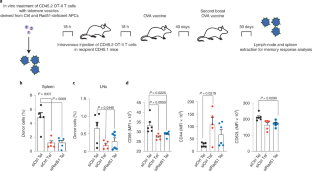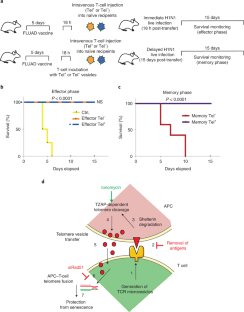 Data availability
Source data are provided with this paper. Further data supporting the findings of this study are available from the corresponding author upon reasonable request.
References
Kipling, D. Telomeres, replicative senescence and human ageing. Maturitas 38, 25–37 (2001).

Hayflick, L. & Moorhead, P. S. The serial cultivation of human diploid cell strains. Exp. Cell. Res. 25, 585–621 (1961).

Blasco, M. A. Telomeres and human disease: ageing, cancer and beyond. Nat. Rev. Genet. 6, 611–622 (2005).

Collins, K. Mammalian telomeres and telomerase. Curr. Opin. Cell Biol. 12, 378–383 (2000).

Cesare, A. J. & Reddel, R. R. Alternative lengthening of telomeres: models, mechanisms and implications. Nat. Rev. Genet. 11, 319–330 (2010).

Fooksman, D. R. et al. Functional anatomy of T cell activation and synapse formation. Annu. Rev. Immunol. 28, 79–105 (2010).

Akbar, A. N., Beverley, P. C. L. & Salmon, M. Will telomere erosion lead to a loss of T-cell memory? Nat. Rev. Immunol. 4, 737–743 (2004).

Weng, N.-P., Akbar, A. N. & Goronzy, J. CD28− T cells: their role in the age-associated decline of immune function. Trends Immunol. 30, 306–312 (2009).

Plunkett, F. J. et al. The loss of telomerase activity in highly differentiated CD8+CD28−CD27− T cells is associated with decreased Akt (Ser473) phosphorylation. J. Immunol. 178, 7710–7719 (2007).

Boraschi, D. et al. The gracefully aging immune system. Sci. Transl. Med. 5, 185ps8 (2013).

Goronzy, J. J. & Weyand, C. M. Understanding immunosenescence to improve responses to vaccines. Nat. Immunol. 14, 428–436 (2013).

Lanna, A. et al. A sestrin-dependent Erk-Jnk-p38 MAPK activation complex inhibits immunity during aging. Nat. Immunol. 18, 354–362 (2017).

Akbar, A. N. et al. Senescence of T lymphocytes: implications for enhancing human immunity. Trends Immunol. 37, 866–876 (2016).

Lanna, A., Henson, S. M., Escors, D. & Akbar, A. N. The kinase p38 activated by the metabolic regulator AMPK and scaffold TAB1 drives the senescence of human T cells. Nat. Immunol. 15, 965–972 (2014).

Akbar, A. N. & Vukmanovic-Stejic, M. Telomerase in T lymphocytes: use it and lose it? J. Immunol. 178, 6689–6694 (2007).

Hodes, R. J., Hathcock, K. S. & Weng, N. Telomeres in T and B cells. Nat. Rev. Immunol. 2, 699–706 (2002).

Dustin, M. L. & Groves, J. T. Receptor signaling clusters in the immune synapse. Annu. Rev. Biophys. 41, 543–556 (2012).

Chakraborty, A. K. & Weiss, A. Insights into the initiation of TCR signaling. Nat. Immunol. 15, 798–807 (2014).

Choudhuri, K. et al. Polarized release of T-cell-receptor-enriched microvesicles at the immunological synapse. Nature 507, 118–123 (2014).

Molenaar, C. et al. Visualizing telomere dynamics in living mammalian cells using PNA probes. EMBO J. 22, 6631–6641 (2003).

Messenger, S. W., Woo, S. S., Sun, Z. & Martin, T. F. J. A Ca2+-stimulated exosome release pathway in cancer cells is regulated by Munc13-4. J. Cell Biol. 217, 2877–2890 (2018).

van der Vlist, E. J., Nolte-'t Hoen, E. N. M., Stoorvogel, W., Arkesteijn, G. J. A. & Wauben, M. H. M. Fluorescent labeling of nano-sized vesicles released by cells and subsequent quantitative and qualitative analysis by high-resolution flow cytometry. Nat. Protoc. 7, 1311–1326 (2012).

Hadden, J. M., Déclais, A.-C., Carr, S. B., Lilley, D. M. J. & Phillips, S. E. V. The structural basis of Holliday junction resolution by T7 endonuclease I. Nature 449, 621–624 (2007).

Li, J. S. Z. et al. TZAP: a telomere-associated protein involved in telomere length control. Science 355, 638–641 (2017).

Denchi, E. L. & de Lange, T. Protection of telomeres through independent control of ATM and ATR by TRF2 and POT1. Nature 448, 1068–1071 (2007).

Sfeir, A. & de Lange, T. Removal of shelterin reveals the telomere end-protection problem. Science 336, 593–597 (2012).

Park, J. Y., Jang, S. Y., Shin, Y. K., Suh, D. J. & Park, H. T. Calcium-dependent proteasome activation is required for axonal neurofilament degradation. Neural Regen. Res. 8, 3401–3409 (2013).

Tarsounas, M. et al. Telomere maintenance requires the RAD51D recombination/repair protein. Cell 117, 337–347 (2004).

Vallejo, A. N., Brandes, J. C., Weyand, C. M. & Goronzy, J. J. Modulation of CD28 expression: distinct regulatory pathways during activation and replicative senescence. J. Immunol. 162, 6572–6579 (1999).

Warrington, K. J., Vallejo, A. N., Weyand, C. M. & Goronzy, J. J. CD28 loss in senescent CD4+ T cells: reversal by interleukin-12 stimulation. Blood 101, 3543–3549 (2003).

Larbi, A. & Fulop, T. From "truly naïve" to "exhausted senescent" T cells: when markers predict functionality. Cytom. Part A 85, 25–35 (2014).

Akbar, A. N. & Fletcher, J. M. Memory T cell homeostasis and senescence during aging. Curr. Opin. Immunol. 17, 480–485 (2005).

Fletcher, J. M. et al. Cytomegalovirus-specific CD4+ T cells in healthy carriers are continuously driven to replicative exhaustion. J. Immunol. 175, 8218–8225 (2005).

Gattinoni, L. et al. A human memory T cell subset with stem cell-like properties. Nat. Med. 17, 1290–1297 (2011).

Shimatani, K., Nakashima, Y., Hattori, M., Hamazaki, Y. & Minato, N. PD-1+ memory phenotype CD4+ T cells expressing C/EBPα underlie T cell immunodepression in senescence and leukemia. Proc. Natl Acad. Sci. USA 106, 15807–15812 (2009).

Shirakawa, K. et al. Obesity accelerates T cell senescence in murine visceral adipose tissue. J. Clin. Invest. 126, 4626–4639 (2016).

Pearce, E. L., Poffenberger, M. C., Chang, C.-H. & Jones, R. G. Fueling immunity: insights into metabolism and lymphocyte function. Science 342, 1242454 (2013).

Chang, J. T. et al. Asymmetric T lymphocyte division in the initiation of adaptive immune responses. Science 315, 1687–1691 (2007).

Kaech, S. M. & Wherry, E. J. Heterogeneity and cell-fate decisions in effector and memory CD8+ T cell differentiation during viral infection. Immunity 27, 393–405 (2007).

Bannard, O., Kraman, M. & Fearon, D. T. The secondary replicative function of CD8+ T cells that expressed granzyme B during a primary anti-viral response. Science 323, 505–509 (2009).

Di Mitri, D. et al. Reversible senescence in human CD4+CD45RA+CD27− memory T cells. J. Immunol. 187, 2093–2100 (2011).

Vallejo, A. N., Schirmer, M., Weyand, C. M. & Goronzy, J. J. Clonality and longevity of CD4+ CD28 null T cells are associated with defects in apoptotic pathways. J. Immunol. 165, 6301–6307 (2000).

Youngblood, B. et al. Effector CD8 T cells dedifferentiate into long-lived memory cells. Nature 552, 404–409 (2017).

Wijeyesinghe, S. et al. Expansible residence decentralizes immune homeostasis. Nature 592, 457–462 (2021).

Serakinci, N., Cagsin, H. & Mavis, M. Use of U-STELA for accurate measurement of extremely short telomeres. Methods Mol. Biol. 2045, 217–224 (2019).

Moon, J. J. et al. Tracking epitope-specific T cells. Nat. Protoc. 4, 565–581 (2009).

Huet, O. et al. Ensuring animal welfare while meeting scientific aims using a murine pneumonia model of septic shock. Shock 39, 488–494 (2013).

Costes, S. V. et al. Automatic and quantitative measurement of protein–protein colocalization in live cells. Biophys. J. 86, 3993–4003 (2004).
Acknowledgements
This study was supported by the Wellcome Trust (110229/Z/15/Z) and the Italian Ministry of Health (GR-2018 12365916) to A.L. Laboratory infrastructures were provided by Sentcell Ltd. M.L.D. was supported by the Wellcome Trust Principal Research Fellowship 100262Z/12/Z and the Kennedy Trust for Rheumatology Research. A.N.A. was supported by the Medical Research Council (MR/P00184X/1). M.K. is supported by the NIH (R37AI04477). A.L. is an Honorary Associate Professor of the University College London and the Chief Executive Officer of Sentcell Ltd. The funders had no role in study design, data collection and analysis, decision to publish or preparation of the manuscript.
Ethics declarations
Competing interests
A.L. is the founder of Sentcell and Electra Life Sciences Ltd. The remaining authors declare no present competing interests.
Peer review
Peer review information
Nature Cell Biology thanks Clotilde Théry and the other, anonymous, reviewer(s) for their contribution to the peer review of this work.
Additional information
Publisher's note Springer Nature remains neutral with regard to jurisdictional claims in published maps and institutional affiliations.
Supplementary information
This file contains an Excel workbook with multiple tabs. Supplementary Table 1. Statistical tests. Supplementary Table 2. Antibody list. Supplementary Table 3. Primer sequences. Supplementary Table 4. Clinical score criteria.
Rights and permissions
Springer Nature or its licensor (e.g. a society or other partner) holds exclusive rights to this article under a publishing agreement with the author(s) or other rightsholder(s); author self-archiving of the accepted manuscript version of this article is solely governed by the terms of such publishing agreement and applicable law.
About this article
Cite this article
Lanna, A., Vaz, B., D'Ambra, C. et al. An intercellular transfer of telomeres rescues T cells from senescence and promotes long-term immunological memory. Nat Cell Biol 24, 1461–1474 (2022). https://doi.org/10.1038/s41556-022-00991-z
Received:

Accepted:

Published:

Issue Date:

DOI: https://doi.org/10.1038/s41556-022-00991-z