Abstract
Tumour dependency on specific metabolic signals has been demonstrated and often guided numerous therapeutic approaches. We identify melanoma addiction to the mitochondrial protein glutaryl-CoA dehydrogenase (GCDH), which functions in lysine metabolism and controls protein glutarylation. GCDH knockdown induced cell death programmes in melanoma cells, an activity blocked by inhibition of the upstream lysine catabolism enzyme DHTKD1. The transcription factor NRF2 mediates GCDH-dependent melanoma cell death programmes. Mechanistically, GCDH knockdown induces NRF2 glutarylation, increasing its stability and DNA binding activity, with a concomitant transcriptional upregulation of ATF4, ATF3, DDIT3 and CHAC1, resulting in cell death. In vivo, inducible inactivation of GCDH effectively inhibited melanoma tumour growth. Correspondingly, reduced GCDH expression correlated with improved survival of patients with melanoma. These findings identify melanoma cell addiction to GCDH, limiting apoptotic signalling by controlling NRF2 glutarylation. Inhibiting the GCDH pathway could thus represent a therapeutic approach to treat melanoma.
Relevant articles
Open Access articles citing this article.
Eleanor Minogue

,

Pedro P. Cunha

…

Randall S. Johnson

Nature Metabolism Open Access 21 August 2023

Shi Qiu

,

Ying Cai

…

Aihua Zhang

Signal Transduction and Targeted Therapy Open Access 20 March 2023
Access options
Access Nature and 54 other Nature Portfolio journals
Get Nature+, our best-value online-access subscription
$29.99 / 30 days
cancel any time
Subscribe to this journal
Receive 12 print issues and online access
$209.00 per year
only $17.42 per issue
Rent or buy this article
Prices vary by article type
from$1.95
to$39.95
Prices may be subject to local taxes which are calculated during checkout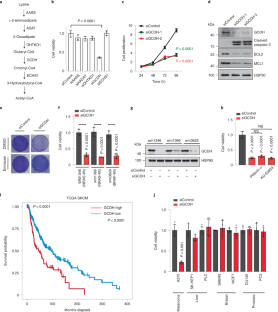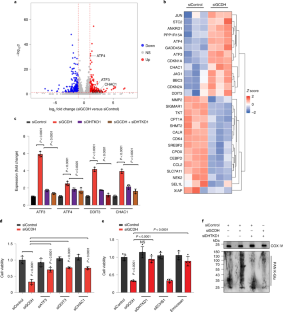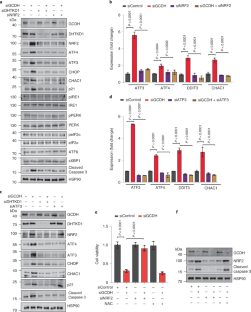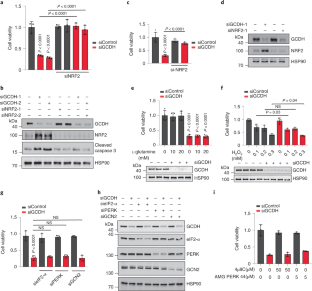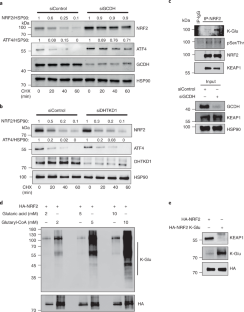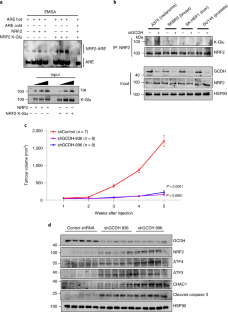 References
Palm, W. & Thompson, C. B. Nutrient acquisition strategies of mammalian cells. Nature 546, 234–242 (2017).

Zhu, J. & Thompson, C. B. Metabolic regulation of cell growth and proliferation. Nat. Rev. Mol. Cell Biol. 20, 436–450 (2019).

Vander Heiden, M. G. & DeBerardinis, R. J. Understanding the intersections between metabolism and cancer biology. Cell 168, 657–669 (2017).

Lieu, E. L., Nguyen, T., Rhyne, S. & Kim, J. Amino acids in cancer. Exp. Mol. Med 52, 15–30 (2020).

Hirschey, M. D. & Zhao, Y. Metabolic regulation by lysine malonylation, succinylation, and glutarylation. Mol. Cell Proteom. 14, 2308–2315 (2015).

Altman, B. J., Stine, Z. E. & Dang, C. V. From Krebs to clinic: glutamine metabolism to cancer therapy. Nat. Rev. Cancer 16, 619–634 (2016).

Butler, M., van der Meer, L. T. & van Leeuwen, F. N. Amino acid depletion therapies: starving cancer cells to death. Trends Endocrinol. Metab. 32, 367–381 (2021).

Lukey, M. J., Katt, W. P. & Cerione, R. A. Targeting amino acid metabolism for cancer therapy. Drug Discov. Today 22, 796–804 (2017).

Chaturvedi, S., Hoffman, R. M. & Bertino, J. R. Exploiting methionine restriction for cancer treatment. Biochem. Pharmacol. 154, 170–173 (2018).

Knott, S. R. V. et al. Asparagine bioavailability governs metastasis in a model of breast cancer. Nature 554, 378–381 (2018).

Maddocks, O. D. K. et al. Modulating the therapeutic response of tumours to dietary serine and glycine starvation. Nature 544, 372–376 (2017).

Chang, C. H. et al. Metabolic competition in the tumor microenvironment is a driver of cancer progression. Cell 162, 1229–1241 (2015).

Nakaya, M. et al. Inflammatory T cell responses rely on amino acid transporter ASCT2 facilitation of glutamine uptake and mTORC1 kinase activation. Immunity 40, 692–705 (2014).

Cruzat, V., Macedo Rogero, M., Noel Keane, K., Curi, R. & Newsholme, P. Glutamine: metabolism and immune function, supplementation and clinical translation. Nutrients 10, 1564 (2018).

O'Neill, L. A., Kishton, R. J. & Rathmell, J. A guide to immunometabolism for immunologists. Nat. Rev. Immunol. 16, 553–565 (2016).

Ananieva, E. Targeting amino acid metabolism in cancer growth and anti-tumor immune response. World J. Biol. Chem. 6, 281–289 (2015).

Pathria, G. & Ronai, Z. A. Harnessing the co-vulnerabilities of amino acid-restricted cancers. Cell Metab. 33, 9–20 (2021).

Pathria, G. et al. Translational reprogramming marks adaptation to asparagine restriction in cancer. Nat. Cell Biol. 21, 1590–1603 (2019).

Kim, H. et al. PRMT5 control of cGAS/STING and NLRC5 pathways defines melanoma response to antitumor immunity. Sci. Transl. Med. 12, eaaz5683 (2020).

Leandro, J. & Houten, S. M. The lysine degradation pathway: subcellular compartmentalization and enzyme deficiencies. Mol. Genet. Metab. 131, 14–22 (2020).

Fallarino, F. et al. Modulation of tryptophan catabolism by regulatory T cells. Nat. Immunol. 4, 1206–1212 (2003).

Schmiesing, J. et al. Disease-linked glutarylation impairs function and interactions of mitochondrial proteins and contributes to mitochondrial heterogeneity. Cell Rep. 24, 2946–2956 (2018).

Tan, M. et al. Lysine glutarylation is a protein posttranslational modification regulated by SIRT5. Cell Metab. 19, 605–617 (2014).

Biagosch, C. et al. Elevated glutaric acid levels in Dhtkd1-/Gcdh-double knockout mice challenge our current understanding of lysine metabolism. Biochim. Biophys. Acta Mol. Basis Dis. 1863, 2220–2228 (2017).

Wajner, M., Amaral, A. U., Leipnitz, G. & Seminotti, B. Pathogenesis of brain damage in glutaric acidemia type I: lessons from the genetic mice model. Int J. Dev. Neurosci. 78, 215–221 (2019).

Zinnanti, W. J. et al. A diet-induced mouse model for glutaric aciduria type I. Brain 129, 899–910 (2006).

Seminotti, B. et al. Oxidative stress, disrupted energy metabolism, and altered signaling pathways in glutaryl-CoA dehydrogenase knockout mice: potential implications of quinolinic acid toxicity in the neuropathology of glutaric acidemia type I. Mol. Neurobiol. 53, 6459–6475 (2016).

Rojo de la Vega, M., Chapman, E. & Zhang, D. D. NRF2 and the hallmarks of cancer. Cancer Cell 34, 21–43 (2018).

Malhotra, D. et al. Global mapping of binding sites for Nrf2 identifies novel targets in cell survival response through ChIP–seq profiling and network analysis. Nucleic Acids Res. 38, 5718–5734 (2010).

Hoetzenecker, W. et al. ROS-induced ATF3 causes susceptibility to secondary infections during sepsis-associated immunosuppression. Nat. Med. 18, 128–134 (2011).

Romero, R. et al. Keap1 mutation renders lung adenocarcinomas dependent on Slc33a1. Nat. Cancer 1, 589–602 (2020).

Teske, N. et al. Chemical hypoxia-induced integrated stress response activation in oligodendrocytes is mediated by the transcription factor nuclear factor (erythroid-derived 2)-like 2 (NRF2). J. Neurochem. 144, 285–301 (2018).

Wakabayashi, N. et al. Keap1-null mutation leads to postnatal lethality due to constitutive Nrf2 activation. Nat. Genet. 35, 238–245 (2003).

Menegon, S., Columbano, A. & Giordano, S. The dual roles of NRF2 in cancer. Trends Mol. Med. 22, 578–593 (2016).

Sporn, M. B. & Liby, K. T. NRF2 and cancer: the good, the bad and the importance of context. Nat. Rev. Cancer 12, 564–571 (2012).

Wu, Z. et al. TPO-induced metabolic reprogramming drives liver metastasis of colorectal cancer CD110+ tumor-initiating cells. Cell Stem Cell 17, 47–59 (2015).

Cantor, J. R. et al. Physiologic medium rewires cellular metabolism and reveals uric acid as an endogenous inhibitor of UMP synthase. Cell 169, 258–272 e217 (2017).

Mungrue, I. N., Pagnon, J., Kohannim, O., Gargalovic, P. S. & Lusis, A. J. CHAC1/MGC4504 is a novel proapoptotic component of the unfolded protein response, downstream of the ATF4–ATF3–CHOP cascade. J. Immunol. 182, 466–476 (2009).

Cazzalini, O., Scovassi, A. I., Savio, M., Stivala, L. A. & Prosperi, E. Multiple roles of the cell cycle inhibitor p21(CDKN1A) in the DNA damage response. Mutat. Res. 704, 12–20 (2010).

Afonyushkin, T. et al. Oxidized phospholipids regulate expression of ATF4 and VEGF in endothelial cells via NRF2-dependent mechanism: novel point of convergence between electrophilic and unfolded protein stress pathways. Arterioscler. Thromb. Vasc. Biol. 30, 1007–1013 (2010).

Kim, K. H., Jeong, J. Y., Surh, Y. J. & Kim, K. W. Expression of stress-response ATF3 is mediated by Nrf2 in astrocytes. Nucleic Acids Res. 38, 48–59 (2010).

Romero, R. et al. Keap1 loss promotes Kras-driven lung cancer and results in dependence on glutaminolysis. Nat. Med. 23, 1362–1368 (2017).

Cullinan, S. B. et al. Nrf2 is a direct PERK substrate and effector of PERK-dependent cell survival. Mol. Cell. Biol. 23, 7198–7209 (2003).

Kobayashi, A. et al. Oxidative stress sensor Keap1 functions as an adaptor for Cul3-based E3 ligase to regulate proteasomal degradation of Nrf2. Mol. Cell. Biol. 24, 7130–7139 (2004).

He, F. et al. NRF2 activates growth factor genes and downstream AKT signaling to induce mouse and human hepatomegaly. J. Hepatol. 72, 1182–1195 (2020).

Sanghvi, V. R. et al. The oncogenic action of NRF2 depends on de-glycation by fructosamine-3-kinase. Cell 178, 807–819 e821 (2019).

Sun, Z., Chin, Y. E. & Zhang, D. D. Acetylation of Nrf2 by p300/CBP augments promoter-specific DNA binding of Nrf2 during the antioxidant response. Mol. Cell. Biol. 29, 2658–2672 (2009).

He, C. H. et al. Identification of activating transcription factor 4 (ATF4) as an Nrf2-interacting protein. Implication for heme oxygenase-1 gene regulation. J. Biol. Chem. 276, 20858–20865 (2001).

Fujita, K., Maeda, D., Xiao, Q. & Srinivasula, S. M. Nrf2-mediated induction of p62 controls Toll-like receptor-4-driven aggresome-like induced structure formation and autophagic degradation. Proc. Natl Acad. Sci. USA 108, 1427–1432 (2011).

Ratnikov, B. et al. Glutamate and asparagine cataplerosis underlie glutamine addiction in melanoma. Oncotarget 6, 7379–7389 (2015).

Verma, S., Ali, A., Arora, S. & Banerjea, A. C. Inhibition of β-TrcP-dependent ubiquitination of p53 by HIV-1 Vpu promotes p53-mediated apoptosis in human T cells. Blood 117, 6600–6607 (2011).

Dobin, A. et al. STAR: ultrafast universal RNA-seq aligner. Bioinformatics 29, 15–21 (2013).

Li, B. & Dewey, C. N. RSEM: accurate transcript quantification from RNA-seq data with or without a reference genome. BMC Bioinformatics 12, 323 (2011).

Ewels, P., Magnusson, M., Lundin, S. & Kaller, M. MultiQC: summarize analysis results for multiple tools and samples in a single report. Bioinformatics 32, 3047–3048 (2016).

Love, M. I., Huber, W. & Anders, S. Moderated estimation of fold change and dispersion for RNA-seq data with DESeq2. Genome Biol. 15, 550 (2014).

Gu, Z., Eils, R. & Schlesner, M. Complex heatmaps reveal patterns and correlations in multidimensional genomic data. Bioinformatics 32, 2847–2849 (2016).

Hoadley, K. A. et al. Cell-of-origin patterns dominate the molecular classification of 10,000 tumors from 33 types of cancer. Cell 173, 291–304 e296 (2018).

Cerami, E. et al. The cBio Cancer Genomics Portal: an open platform for exploring multidimensional cancer genomics data. Cancer Discov. 2, 401–404 (2012).
Acknowledgements
We thank D. D. Zhang (University of Arizona) and V. R. Sanghvi (University of Miami) for providing us with the NRF2 mutants (HA-NRF2 K6R, K12R and K18R) and H.-G. Wendel for providing us with NRF2-glycation mutant (NRF2E79V-A6), Y. Altman for help with flow cytometry analysis, members of the Prebys Center for Chemical Genomics for help with the screen for GCDH inhibitors and members of the Ronai lab for discussions. National Cancer Insitute (NCI) support (R35CA197465) to Z.R. and SBP support for translational initiatives (to E.S. and Z.A.R.) is gratefully acknowledged. Sanford Burnham Prebys Shared Resources are supported by an NCI Cancer Center Support Grant (P30 CA030199). The funders had no role in study design, data collection and analysis, decision to publish or preparation of the manuscript.
Ethics declarations
Competing interests
Z.A.R. and E.R. (fully divested) are founders and scientific advisors for Pangea Therapeutics. All other authors declare no conflicts of interest.
Peer review
Peer review information
Nature Cell Biology thanks Afshin Samali, Thales Papagiannakopoulos and the other, anonymous, reviewer for their contribution to the peer review of this work. Peer reviewer reports are available.
Additional information
Publisher's note Springer Nature remains neutral with regard to jurisdictional claims in published maps and institutional affiliations.
Supplementary information
Rights and permissions
Springer Nature or its licensor holds exclusive rights to this article under a publishing agreement with the author(s) or other rightsholder(s); author self-archiving of the accepted manuscript version of this article is solely governed by the terms of such publishing agreement and applicable law.
About this article
Cite this article
Verma, S., Crawford, D., Khateb, A. et al. NRF2 mediates melanoma addiction to GCDH by modulating apoptotic signalling. Nat Cell Biol 24, 1422–1432 (2022). https://doi.org/10.1038/s41556-022-00985-x
Received:

Accepted:

Published:

Issue Date:

DOI: https://doi.org/10.1038/s41556-022-00985-x
This article is cited by
Francisco Yanqui-Rivera
Christiane A. Opitz

Nature Metabolism (2023)

Shi Qiu
Ying Cai
Aihua Zhang

Signal Transduction and Targeted Therapy (2023)

Eleanor Minogue
Pedro P. Cunha
Randall S. Johnson

Nature Metabolism (2023)