Abstract
Ferroptosis is a unique form of cell death caused by excessive iron-dependent lipid peroxidation. The level of the anabolic reductant NADPH is a biomarker of ferroptosis sensitivity. However, specific regulators that detect cellular NADPH levels, thereby modulating downstream ferroptosis cascades, are largely unknown. We show here that the transmembrane endoplasmic reticulum MARCHF6 E3 ubiquitin ligase recognizes NADPH through its C-terminal regulatory region. This interaction upregulates the E3 ligase activity of MARCHF6, thus downregulating ferroptosis. We also found that MARCHF6 mediates the degradation of the key ferroptosis effectors ACSL4 and p53. Furthermore, inhibiting ferroptosis rescued the growth of MARCHF6-deficient tumours and peri-natal lethality of Marchf6–/– mice. Together, these findings identify MARCHF6 as a previously unknown NADPH sensor in the ubiquitin system and a crucial regulator of ferroptosis.
Relevant articles
Open Access articles citing this article.
Anna S. Dickson

,

Tekle Pauzaite

…

James A. Nathan

Nature Communications Open Access 09 August 2023

Guixing Kuang

,

Weidong Wang

…

Chong Zeng

Journal of Translational Medicine Open Access 20 October 2022
Access options
Access Nature and 54 other Nature Portfolio journals
Get Nature+, our best-value online-access subscription
$29.99 / 30 days
cancel any time
Subscribe to this journal
Receive 12 print issues and online access
$209.00 per year
only $17.42 per issue
Rent or buy this article
Prices vary by article type
from$1.95
to$39.95
Prices may be subject to local taxes which are calculated during checkout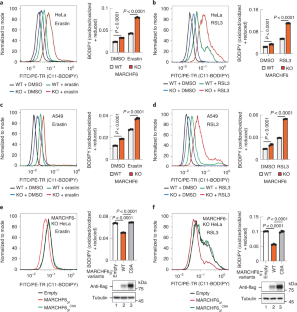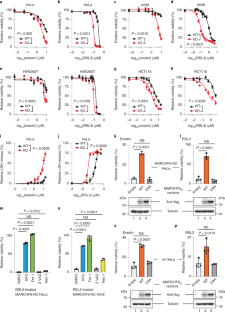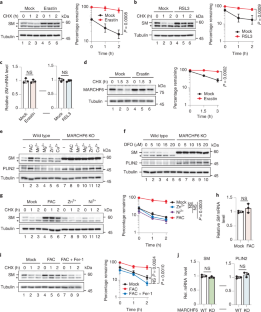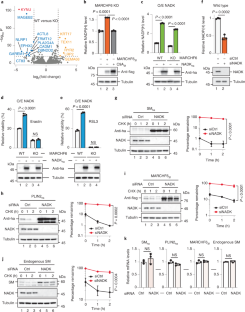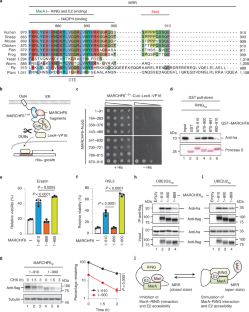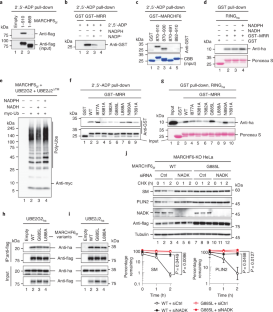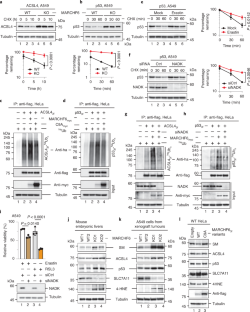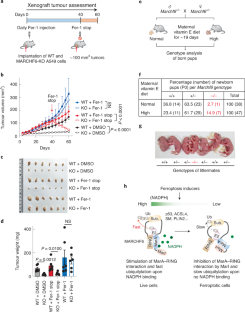 Data availability
RNA-seq data in wild-type and MARCHF6-KO HeLa cells were deposited in the Gene Expression Omnibus database under accession number GSE173282. All other data supporting the findings of this study are available from the corresponding authors on reasonable request. Source data are provided with this paper.
References
Jiang, X., Stockwell, B. R. & Conrad, M. Ferroptosis: mechanisms, biology and role in disease. Nat. Rev. Mol. Cell Biol. 22, 266–282 (2021).

Stockwell, B. R., Jiang, X. & Gu, W. Emerging mechanisms and disease relevance of ferroptosis. Trends Cell Biol. 30, 478–490 (2020).

Sun, Y. et al. The emerging role of ferroptosis in inflammation. Biomed. Pharmacother. 127, 110108 (2020).

Dixon, S. J. & Stockwell, B. R. The hallmarks of ferroptosis. Annu. Rev. Canc Biol. 3, 35–54 (2019).

Poltorack, C. D. & Dixon, S. J. Understanding the role of cysteine in ferroptosis: progress & paradoxes. FEBS J. 289, 374–385 (2022).

Ju, H. Q., Lin, J. F., Tian, T., Xie, D. & Xu, R. H. NADPH homeostasis in cancer: functions, mechanisms and therapeutic implications. Signal Transduct. Target Ther. 5, 231 (2020).

Shimada, K., Hayano, M., Pagano, N. C. & Stockwell, B. R. Cell-line selectivity improves the predictive power of pharmacogenomic analyses and helps identify NADPH as biomarker for ferroptosis sensitivity. Cell Chem. Biol. 23, 225–235 (2016).

Ding, C. C. et al. MESH1 is a cytosolic NADPH phosphatase that regulates ferroptosis. Nat. Metab. 2, 270–277 (2020).

Kreft, S. G., Wang, L. & Hochstrasser, M. Membrane topology of the yeast endoplasmic reticulum-localized ubiquitin ligase Doa10 and comparison with its human ortholog TEB4 (MARCH-VI). J. Biol. Chem. 281, 4646–4653 (2006).

Lin, H., Li, S. & Shu, H. B. The membrane-associated MARCH E3 ligase family: emerging roles in immune regulation. Front. Immunol. 10, 1751 (2019).

Scott, N. A., Sharpe, L. J. & Brown, A. J. The E3 ubiquitin ligase MARCHF6 as a metabolic integrator in cholesterol synthesis and beyond. Biochim. Biophys. Acta Mol. Cell. Biol. Lipids 1866, 158837 (2021).

Hassink, G. et al. TEB4 is a C4HC3 RING finger-containing ubiquitin ligase of the endoplasmic reticulum. Biochem. J. 388, 647–655 (2005).

Foresti, O., Ruggiano, A., Hannibal-Bach, H. K., Ejsing, C. S. & Carvalho, P. Sterol homeostasis requires regulated degradation of squalene monooxygenase by the ubiquitin ligase Doa10/Teb4. Elife 2, e00953 (2013).

Zelcer, N. et al. The E3 ubiquitin ligase MARCH6 degrades squalene monooxygenase and affects 3-hydroxy-3-methyl-glutaryl coenzyme A reductase and the cholesterol synthesis pathway. Mol. Cell. Biol. 34, 1262–1270 (2014).

Nguyen, K. T. et al. N-terminal acetylation and the N-end rule pathway control degradation of the lipid droplet protein PLIN2. J. Biol. Chem. 294, 379–388 (2019).

Park, S. E. et al. Control of mammalian G protein signaling by N-terminal acetylation and the N-end rule pathway. Science 347, 1249–1252 (2015).

Hwang, C. S., Shemorry, A. & Varshavsky, A. N-terminal acetylation of cellular proteins creates specific degradation signals. Science 327, 973–977 (2010).

Nguyen, K. T., Mun, S. H., Lee, C. S. & Hwang, C. S. Control of protein degradation by N-terminal acetylation and the N-end rule pathway. Exp. Mol. Med. 50, 91 (2018).

Varshavsky, A. N-degron and C-degron pathways of protein degradation. Proc. Natl Acad. Sci. USA 116, 358–366 (2019).

Schultz, M. L. et al. Coordinate regulation of mutant NPC1 degradation by selective ER autophagy and MARCH6-dependent ERAD. Nat. Commun. 9, 3671 (2018).

Stefanovic-Barrett, S. et al. MARCH6 and TRC8 facilitate the quality control of cytosolic and tail-anchored proteins. EMBO Rep. 19, e45603 (2018).

Zattas, D., Berk, J. M., Kreft, S. G. & Hochstrasser, M. A Conserved C-terminal element in the yeast Doa10 and human MARCH6 ubiquitin ligases required for selective substrate degradation. J. Biol. Chem. 291, 12105–12118 (2016).

Slenter, D. N. et al. WikiPathways: a multifaceted pathway database bridging metabolomics to other omics research. Nucleic Acids Res. 46, D661–D667 (2018).

Wang, H. et al. Characterization of ferroptosis in murine models of hemochromatosis. Hepatology 66, 449–465 (2017).

Mockli, N. et al. Yeast split-ubiquitin-based cytosolic screening system to detect interactions between transcriptionally active proteins. Biotechniques 42, 725–730 (2007).

Jumper, J. et al. Highly accurate protein structure prediction with AlphaFold. Nature 596, 583–589 (2021).

Hunt, T., Herbert, P., Campbell, E. A., Delidakis, C. & Jackson, R. J. The use of affinity chromatography on 2′5′ ADP-sepharose reveals a requirement for NADPH, thioredoxin and thioredoxin reductase for the maintenance of high protein synthesis activity in rabbit reticulocyte lysates. Eur. J. Biochem. 131, 303–311 (1983).

Garcia-Bermudez, J. et al. Squalene accumulation in cholesterol auxotrophic lymphomas prevents oxidative cell death. Nature 567, 118–122 (2019).

Doll, S. et al. ACSL4 dictates ferroptosis sensitivity by shaping cellular lipid composition. Nat. Chem. Biol. 13, 91–98 (2017).

Dixon, S. J. et al. Pharmacological inhibition of cystine–glutamate exchange induces endoplasmic reticulum stress and ferroptosis. eLife 3, e02523 (2014).

Yang, W. S. et al. Regulation of ferroptotic cancer cell death by GPX4. Cell 156, 317–331 (2014).

Sun, X. et al. Activation of the p62–Keap1–NRF2 pathway protects against ferroptosis in hepatocellular carcinoma cells. Hepatology 63, 173–184 (2016).

Jiang, L. et al. Ferroptosis as a p53-mediated activity during tumour suppression. Nature 520, 57–62 (2015).

Carlson, B. A. et al. Glutathione peroxidase 4 and vitamin E cooperatively prevent hepatocellular degeneration. Redox Biol. 9, 22–31 (2016).

Zheng, X. et al. Restructuring of the dinucleotide-binding fold in an NADP(H) sensor protein. Proc. Natl Acad. Sci. USA 104, 8809–8814 (2007).

Kempf, A., Song, S. M., Talbot, C. B. & Miesenbock, G. A potassium channel β-subunit couples mitochondrial electron transport to sleep. Nature 568, 230–234 (2019).

Jiang, P. et al. p53 regulates biosynthesis through direct inactivation of glucose-6-phosphate dehydrogenase. Nat. Cell Biol. 13, 310–316 (2011).

Wu, K. C., Cui, J. Y. & Klaassen, C. D. Beneficial role of Nrf2 in regulating NADPH generation and consumption. Toxicol. Sci. 123, 590–600 (2011).

Zhao, J. et al. Nrf2 mediates metabolic reprogramming in non-small cell lung cancer. Front. Oncol. 10, 578315 (2020).

Chen, X., Yu, C., Kang, R., Kroemer, G. & Tang, D. Cellular degradation systems in ferroptosis. Cell Death Differ. 28, 1135–1148 (2021).

Coates, H. W., Chua, N. K. & Brown, A. J. Consulting prostate cancer cohort data uncovers transcriptional control: regulation of the MARCH6 gene. Biochim. Biophys. Acta Mol. Cell. Biol. Lipids 1864, 1656–1668 (2019).

Florian, R. T. et al. Unstable TTTTA/TTTCA expansions in MARCH6 are associated with familial adult myoclonic epilepsy type 3. Nat. Commun. 10, 4919 (2019).

Sun, J. et al. MARCH6 promotes hepatocellular carcinoma development through up-regulation of ATF2. BMC Cancer 21, 827 (2021).

Coates, H. W., Capell-Hattam, I. M. & Brown, A. J. The mammalian cholesterol synthesis enzyme squalene monooxygenase is proteasomally truncated to a constitutively active form. J. Biol. Chem. 296, 100731 (2021).

Kim, D., Langmead, B. & Salzberg, S. L. HISAT: a fast spliced aligner with low memory requirements. Nat. Methods 12, 357–360 (2015).

Pertea, M. et al. StringTie enables improved reconstruction of a transcriptome from RNA-seq reads. Nat. Biotechnol. 33, 290–295 (2015).

Gietz, R. D. & Schiestl, R. H. High-efficiency yeast transformation using the LiAc/SS carrier DNA/PEG method. Nat. Protoc. 2, 31–34 (2007).
Acknowledgements
We thank A. Varshavsky (CALTECH), J. P. Mahaffey (Edanz), B.-H. Lee (DGIST) and S. T. Baek (POSTECH) for helpful comments on this manuscript and technical assistance. We also thank the present and former members of the Hwang and Lee laboratories for their advice and help. This work was supported by grants from the Korean Government (MSIP) NRF-2020R1A3B2078127 and NRF-2017R1A5A1015366 (C.-S.H.), NRF-2021R1A2C3004006 (Y.L.) and the BK21 Plus program (C.-S.H. and Y.L.).
Ethics declarations
Competing interests
All authors declare no competing interests.
Peer review
Peer review information
Nature Cell Biology thanks Boyi Gan, Scott Dixon and the other, anonymous, reviewer(s) for their contribution to the peer review of this work. Peer reviewer reports are available.
Additional information
Publisher's note Springer Nature remains neutral with regard to jurisdictional claims in published maps and institutional affiliations.
Supplementary information
About this article
Cite this article
Nguyen, K.T., Mun, SH., Yang, J. et al. The MARCHF6 E3 ubiquitin ligase acts as an NADPH sensor for the regulation of ferroptosis. Nat Cell Biol 24, 1239–1251 (2022). https://doi.org/10.1038/s41556-022-00973-1
Received:

Accepted:

Published:

Issue Date:

DOI: https://doi.org/10.1038/s41556-022-00973-1