Abstract
The mammalian heart arises from various populations of Mesp1-expressing cardiovascular progenitors (CPs) that are specified during the early stages of gastrulation. Mesp1 is a transcription factor that acts as a master regulator of CP specification and differentiation. However, how Mesp1 regulates the chromatin landscape of nascent mesodermal cells to define the temporal and spatial patterning of the distinct populations of CPs remains unknown. Here, by combining ChIP–seq, RNA-seq and ATAC-seq during mouse pluripotent stem cell differentiation, we defined the dynamic remodelling of the chromatin landscape mediated by Mesp1. We identified different enhancers that are temporally regulated to erase the pluripotent state and specify the pools of CPs that mediate heart development. We identified Zic2 and Zic3 as essential cofactors that act with Mesp1 to regulate its transcription-factor activity at key mesodermal enhancers, thereby regulating the chromatin remodelling and gene expression associated with the specification of the different populations of CPs in vivo. Our study identifies the dynamics of the chromatin landscape and enhancer remodelling associated with temporal patterning of early mesodermal cells into the distinct populations of CPs that mediate heart development.
Access options
Subscribe to Nature+
Get immediate online access to the entire Nature family of 50+ journals
Subscribe to Journal
Get full journal access for 1 year
$99.00
only $8.25 per issue
All prices are NET prices.
VAT will be added later in the checkout.
Tax calculation will be finalised during checkout.
Buy article
Get time limited or full article access on ReadCube.
$32.00
All prices are NET prices.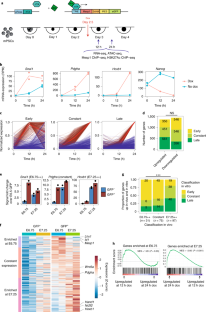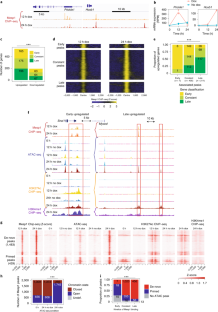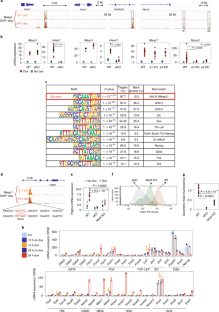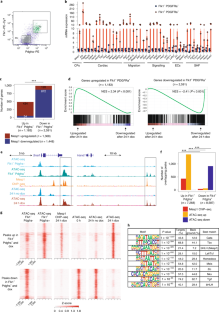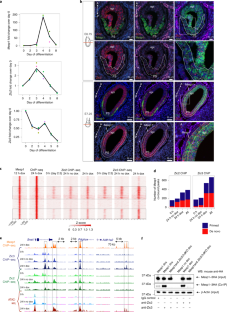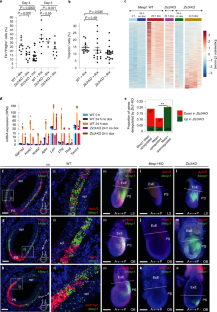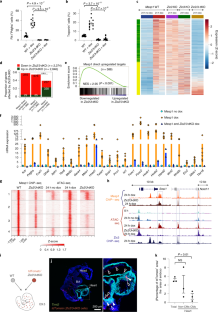 Data availability
The next-generation-sequencing data (ChIP–seq, ATAC-seq and RNA-seq) generated during this study has been deposited in Gene Expression Omnibus (GEO) and is accessible through GEO Series accession number GSE165107. Previously published next-generation-sequencing data and microarray data that were re-analysed here are available under the accession codes GSE41361, GSE44288 and GSE59033. Source data are provided with this paper. All other data supporting the findings of this study are available from the corresponding authors on reasonable request.
References
Xin, M., Olson, E. N. & Bassel-Duby, R. Mending broken hearts: cardiac development as a basis for adult heart regeneration and repair. Nat. Rev. Mol. Cell Biol. 14, 529–541 (2013).

Harvey, R. P. Patterning the vertebrate heart. Nat. Rev. Genet. 3, 544–556 (2002).

Meilhac, S. M. & Buckingham, M. E. The deployment of cell lineages that form the mammalian heart. Nat. Rev. Cardiol. 15, 705–724 (2018).

Protze, S. I., Lee, J. H. & Keller, G. M. Human pluripotent stem cell-derived cardiovascular cells: from developmental biology to therapeutic applications. Cell Stem Cell 25, 311–327 (2019).

Hoffman, J. I. & Kaplan, S. The incidence of congenital heart disease. J. Am. Coll. Cardiol. 39, 1890–1900 (2002).

Srivastava, D. Making or breaking the heart: from lineage determination to morphogenesis. Cell 126, 1037–1048 (2006).

Bruneau, B. G. The developmental genetics of congenital heart disease. Nature 451, 943–948 (2008).

Saga, Y. et al. MesP1: a novel basic helix-loop-helix protein expressed in the nascent mesodermal cells during mouse gastrulation. Development 122, 2769–2778 (1996).

Saga, Y. et al. MesP1 is expressed in the heart precursor cells and required for the formation of a single heart tube. Development 126, 3437–3447 (1999).

Kitajima, S., Takagi, A., Inoue, T. & Saga, Y. MesP1 and MesP2 are essential for the development of cardiac mesoderm. Development 127, 3215–3226 (2000).

Lescroart, F. et al. Early lineage restriction in temporally distinct populations of Mesp1 progenitors during mammalian heart development. Nat. Cell Biol. 16, 829–840 (2014).

Lescroart, F. et al. Defining the earliest step of cardiovascular lineage segregation by single-cell RNA-seq. Science 359, 1177–1181 (2018).

Bondue, A. et al. Mesp1 acts as a master regulator of multipotent cardiovascular progenitor specification. Cell Stem Cell 3, 69–84 (2008).

David, R. et al. MesP1 drives vertebrate cardiovascular differentiation through Dkk-1-mediated blockade of Wnt-signalling. Nat. Cell Biol. 10, 338–345 (2008).

Lindsley, R. C. et al. Mesp1 coordinately regulates cardiovascular fate restriction and epithelial–mesenchymal transition in differentiating ESCs. Cell Stem Cell 3, 55–68 (2008).

Chan, S. S. et al. Mesp1 patterns mesoderm into cardiac, hematopoietic, or skeletal myogenic progenitors in a context-dependent manner. Cell Stem Cell 12, 587–601 (2013).

Devine, W. P., Wythe, J. D., George, M., Koshiba-Takeuchi, K. & Bruneau, B. G. Early patterning and specification of cardiac progenitors in gastrulating mesoderm. eLife 3, e03848 (2014).

Zhang, Q. et al. Unveiling complexity and multipotentiality of early heart fields. Circ. Res. 129, 474–487 (2021).

Ivanovitch, K. et al. Ventricular, atrial and outflow tract heart progenitors arise from spatially and molecularly distinct regions of the primitive streak. Preprint at bioRxiv https://doi.org/2020.2007.2012.198994 (2020).

Creyghton, M. P. et al. Histone H3K27ac separates active from poised enhancers and predicts developmental state. Proc. Natl Acad. Sci. USA 107, 21931–21936 (2010).

Shlyueva, D., Stampfel, G. & Stark, A. Transcriptional enhancers: from properties to genome-wide predictions. Nat. Rev. Genet. 15, 272–286 (2014).

Heinz, S. et al. Simple combinations of lineage-determining transcription factors prime cis-regulatory elements required for macrophage and B cell identities. Mol. Cell 38, 576–589 (2010).

Wapinski, O. L. et al. Hierarchical mechanisms for direct reprogramming of fibroblasts to neurons. Cell 155, 621–635 (2013).

Soufi, A. et al. Pioneer transcription factors target partial DNA motifs on nucleosomes to initiate reprogramming. Cell 161, 555–568 (2015).

Paige, S. L. et al. A temporal chromatin signature in human embryonic stem cells identifies regulators of cardiac development. Cell 151, 221–232 (2012).

Wamstad, J. A. et al. Dynamic and coordinated epigenetic regulation of developmental transitions in the cardiac lineage. Cell 151, 206–220 (2012).

Pikkarainen, S., Tokola, H., Kerkela, R. & Ruskoaho, H. GATA transcription factors in the developing and adult heart. Cardiovasc. Res. 63, 196–207 (2004).

George, R. M. & Firulli, A. B. Hand factors in cardiac development. Anat. Rec. 302, 101–107 (2019).

Greulich, F., Rudat, C. & Kispert, A. Mechanisms of T-box gene function in the developing heart. Cardiovasc. Res. 91, 212–222 (2011).

Kume, T. Novel insights into the differential functions of Notch ligands in vascular formation. J. Angiogenes. Res. 1, 8 (2009).

Oda, M. et al. DNA methylation restricts lineage-specific functions of transcription factor Gata4 during embryonic stem cell differentiation. PLoS Genet. 9, e1003574 (2013).

Whyte, W. A. et al. Master transcription factors and mediator establish super-enhancers at key cell identity genes. Cell 153, 307–319 (2013).

Bondue, A. et al. Defining the earliest step of cardiovascular progenitor specification during embryonic stem cell differentiation. J. Cell Biol. 192, 751–765 (2011).

Kattman, S. J. et al. Stage-specific optimization of activin/nodal and BMP signaling promotes cardiac differentiation of mouse and human pluripotent stem cell lines. Cell Stem Cell 8, 228–240 (2011).

Ying, Q. L. et al. The ground state of embryonic stem cell self-renewal. Nature 453, 519–523 (2008).

Gebbia, M. et al. X-linked situs abnormalities result from mutations in ZIC3. Nat. Genet. 17, 305–308 (1997).

Ware, S. M. et al. Identification and functional analysis of ZIC3 mutations in heterotaxy and related congenital heart defects. Am. J. Hum. Genet. 74, 93–105 (2004).

Cowan, J., Tariq, M. & Ware, S. M. Genetic and functional analyses of ZIC3 variants in congenital heart disease. Hum. Mutat. 35, 66–75 (2014).

Purandare, S. M. et al. A complex syndrome of left-right axis, central nervous system and axial skeleton defects in Zic3 mutant mice. Development 129, 2293–2302 (2002).

Ware, S. M., Harutyunyan, K. G. & Belmont, J. W. Zic3 is critical for early embryonic patterning during gastrulation. Dev. Dyn. 235, 776–785 (2006).

Zhu, L. et al. Identification of a novel role of ZIC3 in regulating cardiac development. Hum. Mol. Genet. 16, 1649–1660 (2007).

Elms, P. et al. Overlapping and distinct expression domains of Zic2 and Zic3 during mouse gastrulation. Gene Expr. Patterns 4, 505–511 (2004).

Xu, J. et al. Genome-wide CRISPR screen identifies ZIC2 as an essential gene that controls the cell fate of early mesodermal precursors to human heart progenitors. Stem Cells 38, 741–755 (2020).

Lim, L. S., Hong, F. H., Kunarso, G. & Stanton, L. W. The pluripotency regulator Zic3 is a direct activator of the Nanog promoter in ESCs. Stem Cells 28, 1961–1969 (2010).

Lim, L. S. et al. Zic3 is required for maintenance of pluripotency in embryonic stem cells. Mol. Biol. Cell 18, 1348–1358 (2007).

Perl, E. & Waxman, J. S. Retinoic acid signaling and heart development. Subcell. Biochem. 95, 119–149 (2020).

Bertrand, N. et al. Hox genes define distinct progenitor sub-domains within the second heart field. Dev. Biol. 353, 266–274 (2011).

Ryckebusch, L. et al. Retinoic acid deficiency alters second heart field formation. Proc. Natl Acad. Sci. USA 105, 2913–2918 (2008).

Deshwar, A. R., Chng, S. C., Ho, L., Reversade, B. & Scott, I. C. The Apelin receptor enhances Nodal/TGFbeta signaling to ensure proper cardiac development. eLife 5, e13758 (2016).

Scott, I. C. et al. The G protein-coupled receptor agtrl1b regulates early development of myocardial progenitors. Dev. Cell 12, 403–413 (2007).

Zeng, X. X., Wilm, T. P., Sepich, D. S. & Solnica-Krezel, L. Apelin and its receptor control heart field formation during zebrafish gastrulation. Dev. Cell 12, 391–402 (2007).

Klootwijk, R. et al. A deletion encompassing Zic3 in bent tail, a mouse model for X-linked neural tube defects. Hum. Mol. Genet. 9, 1615–1622 (2000).

Pijuan-Sala, B. et al. A single-cell molecular map of mouse gastrulation and early organogenesis. Nature 566, 490–495 (2019).

Guibentif, C. et al. Diverse routes toward early somites in the mouse embryo. Dev. Cell 56, 141–153 e146 (2021).

Zaret, K. S. Pioneer transcription factors initiating gene network changes. Annu. Rev. Genet. 54, 367–385 (2020).

Zaret, K. S. Pioneering the chromatin landscape. Nat. Genet. 50, 167–169 (2018).

Zaret, K. S. & Carroll, J. S. Pioneer transcription factors: establishing competence for gene expression. Genes Dev. 25, 2227–2241 (2011).

Iwafuchi-Doi, M. & Zaret, K. S. Cell fate control by pioneer transcription factors. Development 143, 1833–1837 (2016).

Liu, Z. & Kraus, W. L. Catalytic-Independent functions of PARP-1 determine Sox2 pioneer activity at intractable genomic loci. Mol. Cell 65, 589–603 (2017).

Swinstead, E. E. et al. Steroid receptors reprogram FoxA1 occupancy through dynamic chromatin transitions. Cell 165, 593–605 (2016).

Donaghey, J. et al. Genetic determinants and epigenetic effects of pioneer-factor occupancy. Nat. Genet. 50, 250–258 (2018).

Mayran, A. et al. Pioneer and nonpioneer factor cooperation drives lineage specific chromatin opening. Nat. Commun. 10, 3807 (2019).

Cernilogar, F. M. et al. Pre-marked chromatin and transcription factor co-binding shape the pioneering activity of Foxa2. Nucleic Acids Res. 47, 9069–9086 (2019).

Sutherland, M. J., Wang, S., Quinn, M. E., Haaning, A. & Ware, S. M. Zic3 is required in the migrating primitive streak for node morphogenesis and left-right patterning. Hum. Mol. Genet. 22, 1913–1923 (2013).

Love, M. I., Huber, W. & Anders, S. Moderated estimation of fold change and dispersion for RNA-seq data with DESeq2. Genome Biol. 15, 550 (2014).

Tarbell, E. D. & Liu, T. HMMRATAC: a hidden Markov ModeleR for ATAC-seq. Nucleic Acids Res. 47, e91 (2019).

Chiapparo, G. et al. Mesp1 controls the speed, polarity, and directionality of cardiovascular progenitor migration. J. Cell Biol. 213, 463–477 (2016).

Ran, F. A. et al. Double nicking by RNA-guided CRISPR-Cas9n for enhanced genome editing specificity. Cell 154, 1380–1389 (2013).

Buenrostro, J. D., Wu, B., Chang, H. Y. & Greenleaf, W. J. ATAC-seq: a method for assaying chromatin accessibility genome-wide. Curr. Protoc. Mol. Biol. 109, 21.29.1–21.29.9 (2015).

Sambrook, J. & Russell, D. W. Identification of associated proteins by coimmunoprecipitation. CSH Protoc. 2006, pdb.prot3898 (2006).

Roux, M., Laforest, B., Capecchi, M., Bertrand, N. & Zaffran, S. Hoxb1 regulates proliferation and differentiation of second heart field progenitors in pharyngeal mesoderm and genetically interacts with Hoxa1 during cardiac outflow tract development. Dev. Biol. 406, 247–258 (2015).

de Soysa, T. Y. et al. Single-cell analysis of cardiogenesis reveals basis for organ-level developmental defects. Nature 572, 120–124 (2019).

Bolger, A. M., Lohse, M. & Usadel, B. Trimmomatic: a flexible trimmer for Illumina sequence data. Bioinformatics 30, 2114–2120 (2014).

Dobin, A. et al. STAR: ultrafast universal RNA-seq aligner. Bioinformatics 29, 15–21 (2013).

Anders, S., Pyl, P. T. & Huber, W. HTSeq–a Python framework to work with high-throughput sequencing data. Bioinformatics 31, 166–169 (2015).

Wickham, H. Ggplot2: Elegant Graphics for Data Analysis 2nd edn (Springer Publishing Company, Incorporated, 2009).

Langmead, B. & Salzberg, S. L. Fast gapped-read alignment with Bowtie 2. Nat. Methods 9, 357–359 (2012).

Li, H. et al. The Sequence Alignment/Map format and SAMtools. Bioinformatics 25, 2078–2079 (2009).

Zhang, Y. et al. Model-based analysis of ChIP-Seq (MACS). Genome Biol. 9, R137 (2008).

McLean, C. Y. et al. GREAT improves functional interpretation of cis-regulatory regions. Nat. Biotechnol. 28, 495–501 (2010).

Shen, L., Shao, N., Liu, X. & Nestler, E. ngs.plot: Quick mining and visualization of next-generation sequencing data by integrating genomic databases. BMC Genomics 15, 284 (2014).

Quinlan, A. R. & Hall, I. M. BEDTools: a flexible suite of utilities for comparing genomic features. Bioinformatics 26, 841–842 (2010).

Li, Z. et al. Identification of transcription factor binding sites using ATAC-seq. Genome Biol. 20, 45 (2019).
Acknowledgements
We thank the ULB animal facility and ULB genomic core facility (F. Libert and A. Lefort). We thank Y. Song for bioinformatic assistance. F.L., X.L. and B.S. were supported by an FNRS aspirant fellowship (B.S.), an EMBO long-term fellowship and the Leducq Foundation. S.G. was funded by a Royal Society Newton International Fellowship (grant no. NIF\R1\181950). C.G. is funded by the Swedish Research Council (grant no. 2017-06278). F.L. thanks the MMG imaging and the animal phenotyping core platforms. We thank R. Kelly for sharing antibodies. Work in the Göttgens laboratory is supported by grants from the Wellcome Trust, Blood Cancer UK, Cancer Research UK, NIDDK and core support grants from the Wellcome Trust to the Wellcome–MRC Cambridge Stem Cell Institute. Work in F.L.'s laboratory was supported by the INSERM ATIP-Avenir programme. C.B. is an investigator of WELBIO. Work in C.B.'s laboratory was supported by the FNRS, ULB foundation, European Research Council (ERC), foundation Bettencourt Schueller (C.B. and F.L.) and Leducq Foundation as part of the network '22q11.2 deletion syndrome: novel approaches to understand cardiopharyngeal pathogenesis'. C.B. and B.G. acknowledge support from the Fondation Philippe Wiener–Maurice Anspach.
Ethics declarations
Competing interests
The authors declare no competing interests.
Peer review
Peer review information
Nature Cell Biology thanks José Luis de la Pompa and the other, anonymous, reviewer(s) for their contribution to the peer review of this work.
Additional information
Publisher's note Springer Nature remains neutral with regard to jurisdictional claims in published maps and institutional affiliations.
Supplementary information
Supplementary Table 1. Guide RNA sequences used for CRISPR–Cas9n gene and enhancer KO as well as enhancer-motif editing. Supplementary Table 2. PCR primers used for screening of the KO cell lines. Supplementary Table 3. Sequences of qPCR primers used. Supplementary Table 4. List of primary antibodies used. Supplementary Table 5. Probes used for smRNA-FISH.
About this article
Cite this article
Lin, X., Swedlund, B., Ton, ML.N. et al. Mesp1 controls the chromatin and enhancer landscapes essential for spatiotemporal patterning of early cardiovascular progenitors. Nat Cell Biol 24, 1114–1128 (2022). https://doi.org/10.1038/s41556-022-00947-3
Received:

Accepted:

Published:

Issue Date:

DOI: https://doi.org/10.1038/s41556-022-00947-3