Abstract
In mammals, translational control plays critical roles during oocyte-to-embryo transition (OET) when transcription ceases. However, the underlying regulatory mechanisms remain challenging to study. Here, using low-input Ribo-seq (Ribo-lite), we investigated translational landscapes during OET using 30–150 mouse oocytes or embryos per stage. Ribo-lite can also accommodate single oocytes. Combining PAIso-seq to interrogate poly(A) tail lengths, we found a global switch of translatome that closely parallels changes of poly(A) tails upon meiotic resumption. Translation activation correlates with polyadenylation and is supported by polyadenylation signal proximal cytoplasmic polyadenylation elements (papCPEs) in 3′ untranslated regions. By contrast, translation repression parallels global de-adenylation. The latter includes transcripts containing no CPEs or non-papCPEs, which encode many transcription regulators that are preferentially re-activated before zygotic genome activation. CCR4-NOT, the major de-adenylation complex, and its key adaptor protein BTG4 regulate translation downregulation often independent of RNA decay. BTG4 is not essential for global de-adenylation but is required for selective gene de-adenylation and production of very short-tailed transcripts. In sum, our data reveal intimate interplays among translation, RNA stability and poly(A) tail length regulation underlying mammalian OET.
Your institute does not have access to this article
Access options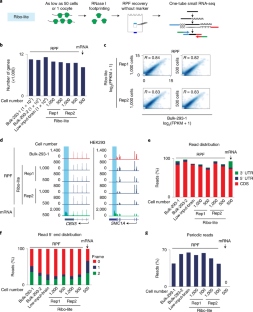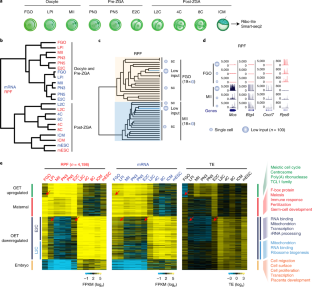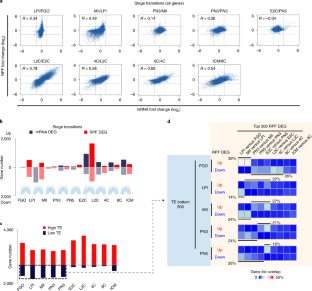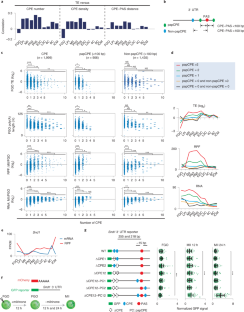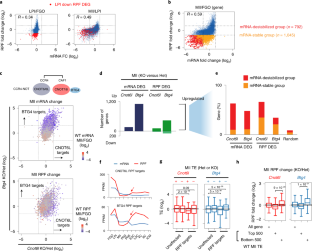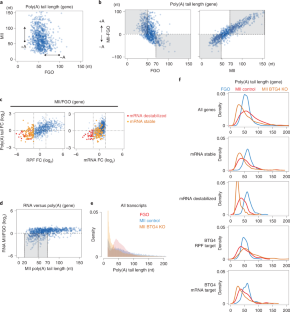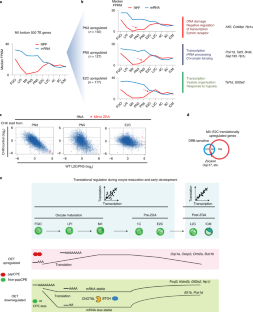 Data availability
The sequencing datasets have been deposited in the Gene Expression Omnibus (GEO) under the accession code GSE165782. The proteomics data of FGOs have been deposited into ProteomeXchange under the code PXD032229. Publicly available datasets used in this work were from NCBI GEO accession number GSE37744 (HEK293-bulk-1 (ref. 32)), GSE94460 (HEK293-bulk-2 (ref. 37)), GSE78163 (low-input-brain34), GSE118564 (Poly-seq27), GSE121358 (SSP profiling28) and GSE135525 (Ribo-tag29). The published PAIso-seq is available in NCBI Sequence Read Archive under accession number PRJNA529588. We used mouse genome version mm9 and human genome version hg19. Source data are provided with this paper. All other data supporting the findings of this study are available from the corresponding author on reasonable request.
References
Speed, R. M. Meiosis in the foetal mouse ovary. I. An analysis at the light microscope level using surface-spreading. Chromosoma 85, 427–437 (1982).

Hilscher, B. et al. Kinetics of gametogenesis. I. Comparative histological and autoradiographic studies of oocytes and transitional prospermatogonia during oogenesis and prespermatogenesis. Cell Tissue Res. 154, 443–470 (1974).

Veselovska, L. et al. Deep sequencing and de novo assembly of the mouse oocyte transcriptome define the contribution of transcription to the DNA methylation landscape. Genome Biol. 16, 209 (2015).

Bachvarova, R. Gene expression during oogenesis and oocyte development in mammals. Dev. Biol. 1, 453–524 (1985).

Li, L., Zheng, P. & Dean, J. Maternal control of early mouse development. Development 137, 859–870 (2010).

Pan, B. & Li, J. The art of oocyte meiotic arrest regulation. Reprod. Biol. Endocrinol. 17, 8 (2019).

Clarke, H. J. Post-transcriptional control of gene expression during mouse oogenesis. Results Probl. Cell Differ. 55, 1–21 (2012).

Conti, M. & Franciosi, F. Acquisition of oocyte competence to develop as an embryo: integrated nuclear and cytoplasmic events. Hum. Reprod. Update 24, 245–266 (2018).

Ozturk, S. The translational functions of embryonic poly(A)-binding protein during gametogenesis and early embryo development. Mol. Reprod. Dev. 86, 1548–1560 (2019).

Fox, C. A., Sheets, M. D. & Wickens, M. P. Poly(A) addition during maturation of frog oocytes: distinct nuclear and cytoplasmic activities and regulation by the sequence UUUUUAU. Genes Dev. 3, 2151–2162 (1989).

Richter, J. D. CPEB: a life in translation. Trends Biochem. Sci. 32, 279–285 (2007).

Setoyama, D., Yamashita, M. & Sagata, N. Mechanism of degradation of CPEB during Xenopus oocyte maturation. Proc. Natl Acad. Sci. USA 104, 18001–18006 (2007).

Mendez, R., Barnard, D. & Richter, J. D. Differential mRNA translation and meiotic progression require Cdc2-mediated CPEB destruction. EMBO J. 21, 1833–1844 (2002).

Stebbins-Boaz, B., Cao, Q., de Moor, C. H., Mendez, R. & Richter, J. D. Maskin is a CPEB-associated factor that transiently interacts with elF-4E. Mol. Cell 4, 1017–1027 (1999).

Cao, Q. & Richter, J. D. Dissolution of the maskin–eIF4E complex by cytoplasmic polyadenylation and poly(A)-binding protein controls cyclin B1 mRNA translation and oocyte maturation. EMBO J. 21, 3852–3862 (2002).

Vassalli, J. D. et al. Regulated polyadenylation controls mRNA translation during meiotic maturation of mouse oocytes. Genes Dev. 3, 2163–2171 (1989).

Tay, J., Hodgman, R. & Richter, J. D. The control of cyclin B1 mRNA translation during mouse oocyte maturation. Dev. Biol. 221, 1–9 (2000).

Racki, W. J. & Richter, J. D. CPEB controls oocyte growth and follicle development in the mouse. Development 133, 4527–4537 (2006).

Gebauer, F., Xu, W., Cooper, G. M. & Richter, J. D. Translational control by cytoplasmic polyadenylation of c-mos mRNA is necessary for oocyte maturation in the mouse. EMBO J. 13, 5712–5720 (1994).

Sha, Q. Q. et al. A MAPK cascade couples maternal mRNA translation and degradation to meiotic cell cycle progression in mouse oocytes. Development 144, 452–463 (2017).

Virant-Klun, I., Leicht, S., Hughes, C. & Krijgsveld, J. Identification of maturation-specific proteins by single-cell proteomics of human oocytes. Mol. Cell Proteom. 15, 2616–2627 (2016).

Wang, S. et al. Proteome of mouse oocytes at different developmental stages. Proc. Natl Acad. Sci. USA 107, 17639–17644 (2010).

Gao, Y. et al. Protein expression landscape of mouse embryos during pre-implantation development. Cell Rep. 21, 3957–3969 (2017).

Israel, S. et al. An integrated genome-wide multi-omics analysis of gene expression dynamics in the preimplantation mouse embryo. Sci. Rep. 9, 13356 (2019).

Potireddy, S., Vassena, R., Patel, B. G. & Latham, K. E. Analysis of polysomal mRNA populations of mouse oocytes and zygotes: dynamic changes in maternal mRNA utilization and function. Dev. Biol. 298, 155–166 (2006).

Chen, J. et al. Genome-wide analysis of translation reveals a critical role for deleted in azoospermia-like (Dazl) at the oocyte-to-zygote transition. Genes Dev. 25, 755–766 (2011).

Sha, Q. Q. et al. CNOT6L couples the selective degradation of maternal transcripts to meiotic cell cycle progression in mouse oocyte. EMBO J. 37, e99333 (2018).

Masek, T. et al. Identifying the translatome of mouse NEBD-stage oocytes via SSP-profiling; a novel polysome fractionation method. Int. J. Mol. Sci. 21, 1254 (2020).

Luong, X. G., Daldello, E. M., Rajkovic, G., Yang, C. R. & Conti, M. Genome-wide analysis reveals a switch in the translational program upon oocyte meiotic resumption. Nucleic Acids Res. 48, 3257–3276 (2020).

Larsson, O., Tian, B. & Sonenberg, N. Toward a genome-wide landscape of translational control. Cold Spring Harb. Perspect. Biol. 5, a012302 (2013).

Ingolia, N. T., Ghaemmaghami, S., Newman, J. R. S. & Weissman, J. S. Genome-wide analysis in vivo of translation with nucleotide resolution using ribosome profiling. Science 324, 218–223 (2009).

Ingolia, N. T., Brar, G. A., Rouskin, S., McGeachy, A. M. & Weissman, J. S. The ribosome profiling strategy for monitoring translation in vivo by deep sequencing of ribosome-protected mRNA fragments. Nat. Protoc. 7, 1534–1550 (2012).

McGlincy, N.J. & Ingolia, N.T. Transcriptome-wide measurement of translation by ribosome profiling. Methods 126, 112–129 (2017).

Hornstein, N. et al. Ligation-free ribosome profiling of cell type-specific translation in the brain. Genome Biol. 17, 149 (2016).

Clamer, M., Lauria, F., Tebaldi, T. & Viero, G. Active ribosome profiling with RiboLace: from bench to data analysis. Methods Mol. Biol. 2252, 201–220 (2021).

Gu, T. P. et al. The role of Tet3 DNA dioxygenase in epigenetic reprogramming by oocytes. Nature 477, 606–610 (2011).

Zhang, P. et al. Genome-wide identification and differential analysis of translational initiation. Nat. Commun. 8, 1749 (2017).

Lee, M. T., Bonneau, A. R. & Giraldez, A. J. Zygotic genome activation during the maternal-to-zygotic transition. Annu. Rev. Cell Dev. Biol. 30, 581–613 (2014).

Abe, K. et al. The first murine zygotic transcription is promiscuous and uncoupled from splicing and 3′ processing. EMBO J. 34, 1523–1537 (2015).

Schultz, R. M., Stein, P. & Svoboda, P. The oocyte-to-embryo transition in mouse: past, present, and future. Biol. Reprod. 99, 160–174 (2018).

Wang, R. et al. BMI1 deficiency results in female infertility by activating p16/p19 signaling and increasing oxidative stress. Int J. Biol. Sci. 15, 870–881 (2019).

Subtelny, A. O., Eichhorn, S. W., Chen, G. R., Sive, H. & Bartel, D. P. Poly(A)-tail profiling reveals an embryonic switch in translational control. Nature 508, 66–71 (2014).

Lim, J., Lee, M., Son, A., Chang, H. & Kim, V. N. mTAIL-seq reveals dynamic poly(A) tail regulation in oocyte-to-embryo development. Genes Dev. 30, 1671–1682 (2016).

Eichhorn, S. W. et al. mRNA poly(A)-tail changes specified by deadenylation broadly reshape translation in Drosophila oocytes and early embryos. eLife 5, e16955 (2016).

Liu, Y., Nie, H., Liu, H. & Lu, F. Poly(A) inclusive RNA isoform sequencing (PAIso-seq) reveals wide-spread non-adenosine residues within RNA poly(A) tails. Nat. Commun. 10, 5292 (2019).

VanInsberghe, M., van den Berg, J., Andersson-Rolf, A., Clevers, H. & van Oudenaarden, A. Single-cell Ribo-seq reveals cell cycle-dependent translational pausing. Nature 597, 561–565 (2021).

Sendzikaite, G. & Kelsey, G. The role and mechanisms of DNA methylation in the oocyte. Essays Biochem. 63, 691–705 (2019).

Sukari, A., Muqbil, I., Mohammad, R. M., Philip, P. A. & Azmi, A. S. F-BOX proteins in cancer cachexia and muscle wasting: emerging regulators and therapeutic opportunities. Semin. Cancer Biol. 36, 95–104 (2016).

Welcker, M. & Clurman, B. E. FBW7 ubiquitin ligase: a tumour suppressor at the crossroads of cell division, growth and differentiation. Nat. Rev. Cancer 8, 83–93 (2008).

Abe, T. et al. Germ-cell-specific inflammasome component NLRP14 negatively regulates cytosolic nucleic acid sensing to promote fertilization. Immunity 46, 621–634 (2017).

Hamatani, T. et al. Age-associated alteration of gene expression patterns in mouse oocytes. Hum. Mol. Genet 13, 2263–2278 (2004).

Spence, J. S. et al. IFITM3 directly engages and shuttles incoming virus particles to lysosomes. Nat. Chem. Biol. 15, 259–268 (2019).

Grow, E. J. et al. Intrinsic retroviral reactivation in human preimplantation embryos and pluripotent cells. Nature 522, 221–225 (2015).

Stein, P., Zeng, F., Pan, H. & Schultz, R. M. Absence of non-specific effects of RNA interference triggered by long double-stranded RNA in mouse oocytes. Dev. Biol. 286, 464–471 (2005).

Dai, X. X. et al. A combinatorial code for mRNA 3′-UTR-mediated translational control in the mouse oocyte. Nucleic Acids Res. 47, 328–340 (2019).

Pique, M., Lopez, J. M., Foissac, S., Guigo, R. & Mendez, R. A combinatorial code for CPE-mediated translational control. Cell 132, 434–448 (2008).

Jariwala, N. et al. Role of the staphylococcal nuclease and tudor domain containing 1 in oncogenesis (review). Int. J. Oncol. 46, 465–473 (2015).

Su, Y.-Q. et al. Selective degradation of transcripts during meiotic maturation of mouse oocytes. Dev. Biol. 302, 104–117 (2007).

Bazzini, A. A., Lee, M. T. & Giraldez, A. J. Ribosome profiling shows that miR-430 reduces translation before causing mRNA decay in zebrafish. Science 336, 233–237 (2012).

Collart, M. A. The Ccr4–Not complex is a key regulator of eukaryotic gene expression. Wiley Interdiscip. Rev. RNA 7, 438–454 (2016).

Yu, C. et al. BTG4 is a meiotic cell cycle-coupled maternal-zygotic-transition licensing factor in oocytes. Nat. Struct. Mol. Biol. 23, 387–394 (2016).

Liu, Y. et al. BTG4 is a key regulator for maternal mRNA clearance during mouse early embryogenesis. J. Mol. Cell. Biol. 8, 366–368 (2016).

Bawankar, P., Loh, B., Wohlbold, L., Schmidt, S. & Izaurralde, E. NOT10 and C2orf29/NOT11 form a conserved module of the CCR4–NOT complex that docks onto the NOT1 N-terminal domain. RNA Biol. 10, 228–244 (2013).

Cooke, A., Prigge, A. & Wickens, M. Translational repression by deadenylases. J. Biol. Chem. 285, 28506–28513 (2010).

Zekri, L., Kuzuoglu-Ozturk, D. & Izaurralde, E. GW182 proteins cause PABP dissociation from silenced miRNA targets in the absence of deadenylation. EMBO J. 32, 1052–1065 (2013).

Chekulaeva, M. et al. miRNA repression involves GW182-mediated recruitment of CCR4-NOT through conserved W-containing motifs. Nat. Struct. Mol. Biol. 18, 1218–1226 (2011).

Webster, M. W. et al. mRNA deadenylation is coupled to translation rates by the differential activities of Ccr4–Not nucleases. Mol. Cell 70, 1089–1100.e8 (2018).

Eisen, T. J. et al. The dynamics of cytoplasmic mRNA metabolism. Mol. Cell 77, 786–799.e10 (2020).

Liu, Y., Nie, H., Zhang, Y., Lu, F. & Wang, J. Comprehensive analysis of mRNA poly(A) tail reveals complex and conserved regulation. Preprint at bioRxiv https://doi.org/10.1101/2021.08.29.458068 (2021).

Burton, A. et al. Heterochromatin establishment during early mammalian development is regulated by pericentromeric RNA and characterized by non-repressive H3K9me3. Nat. Cell Biol. 22, 767–778 (2020).

Akiyama, T. et al. Transient bursts of Zscan4 expression are accompanied by the rapid derepression of heterochromatin in mouse embryonic stem cells. DNA Res. 22, 307–318 (2015).

Tardat, M. et al. Cbx2 targets PRC1 to constitutive heterochromatin in mouse zygotes in a parent-of-origin-dependent manner. Mol. Cell 58, 157–171 (2015).

Aoki, F., Hara, K. T. & Schultz, R. M. Acquisition of transcriptional competence in the 1-cell mouse embryo: requirement for recruitment of maternal mRNAs. Mol. Reprod. Dev. 64, 270–274 (2003).

Wang, Q. & Latham, K. E. Requirement for protein synthesis during embryonic genome activation in mice. Mol. Reprod. Dev. 47, 265–270 (1997).

Wang, Q., Chung, Y. G., deVries, W. N., Struwe, M. & Latham, K. E. Role of protein synthesis in the development of a transcriptionally permissive state in one-cell stage mouse embryos. Biol. Reprod. 65, 748–754 (2001).

Xiang, K. & Bartel, D. P. The molecular basis of coupling between poly(A)-tail length and translational efficiency. eLife 10, e66493 (2021).

Liu, H. Y. et al. The NOT proteins are part of the CCR4 transcriptional complex and affect gene expression both positively and negatively. EMBO J. 17, 1096–1106 (1998).

Chen, J. et al. Purification and characterization of the 1.0 MDa CCR4–NOT complex identifies two novel components of the complex. J. Mol. Biol. 314, 683–694 (2001).

Collart, M. A. Global control of gene expression in yeast by the Ccr4–Not complex. Gene 313, 1–16 (2003).

Mostafa, D. et al. Essential functions of the CNOT7/8 catalytic subunits of the CCR4–NOT complex in mRNA regulation and cell viability. RNA Biol. 17, 403–416 (2020).

Morgan, M. et al. mRNA 3′ uridylation and poly(A) tail length sculpt the mammalian maternal transcriptome. Nature 548, 347–351 (2017).

Chang, H. et al. Terminal uridylyltransferases execute programmed clearance of maternal transcriptome in vertebrate embryos. Mol. Cell 70, 72–82.e7 (2018).

Xiao, Z. et al. De novo annotation and characterization of the translatome with ribosome profiling data. Nucleic Acids Res. 46, e61 (2018).

Solter, D. & Knowles, B. B. Immunosurgery of mouse blastocyst. Proc. Natl Acad. Sci. USA 72, 5099–5102 (1975).

Picelli, S. et al. Full-length RNA-seq from single cells using Smart-seq2. Nat. Protoc. 9, 171–181 (2014).

Zhang, B. et al. Allelic reprogramming of the histone modification H3K4me3 in early mammalian development. Nature 537, 553–557 (2016).

Dobin, A. et al. STAR: ultrafast universal RNA-seq aligner. Bioinformatics 29, 15–21 (2013).

Trapnell, C. et al. Transcript assembly and quantification by RNA-seq reveals unannotated transcripts and isoform switching during cell differentiation. Nat. Biotechnol. 28, 511–515 (2010).

Langmead, B. & Salzberg, S. L. Fast gapped-read alignment with Bowtie 2. Nat. Methods 9, 357–359 (2012).

Wang, L., Wang, S. & Li, W. RSeQC: quality control of RNA-seq experiments. Bioinformatics 28, 2184–2185 (2012).

Dennis, G. Jr. et al. DAVID: Database for Annotation, Visualization, and Integrated Discovery. Genome Biol. 4, P3 (2003).

Li, H. Minimap2: pairwise alignment for nucleotide sequences. Bioinformatics 34, 3094–3100 (2018).

Wu, J. et al. The landscape of accessible chromatin in mammalian preimplantation embryos. Nature 534, 652–657 (2016).

Li, F., Xing, X., Xiao, Z., Xu, G. & Yang, X. RiboMiner: a toolset for mining multi-dimensional features of the translatome with ribosome profiling data. BMC Bioinformatics 21, 340 (2020).
Acknowledgements
We are grateful to members of the Xie laboratory for discussion and comments during the preparation of the manuscript, and the Animal Center and Biocomputing Facility at Tsinghua University for their support. We thank R. Méndez for kindly providing scripts for the CPE analysis. We thank P. Wang and J. Na for help in establishing the oocyte injection systems. We appreciate N. Ingolia for discussion on the Ribo-seq method. We thank Z. Xiao and X. Yang for help in establishing Ribo-seq data analysis pipeline. We thank F. Lu, Y. Liu and H. Nie for help and discussion in establishing PAIso-seq experiment and data analysis. We thank W. Hu and K. Kee for providing reagents. We thank Ying Yang and Yungui Yang for providing the YTHDF3 antibody. This work was funded by the National Natural Science Foundation of China (31988101 to W.X.), the National Key R&D Program of China (2021YFA1100102 and 2019YFA0508901 to W.X.), the National Natural Science Foundation of China (31725018 to W.X.; 31930033 and 32170812 to L. Li), the Tsinghua-Peking Center for Life Sciences (W.X.) and the Beijing Municipal Science and Technology Commission (grant Z181100001318006 to W.X.). W.X. is a recipient of an HHMI International Research Scholar award.
Ethics declarations
Competing interests
A patent for Ribo-lite has been issued to W.X. and Z.X (patent number: ZL 2019 1 0609393.9, issue number: CN 112195226 B). The remaining authors declare no competing interests.
Peer review
Peer review information
Nature Cell Biology thanks Shintaro Iwasaki and the other, anonymous, reviewer(s) for their contribution to the peer review of this work.
Additional information
Publisher's note Springer Nature remains neutral with regard to jurisdictional claims in published maps and institutional affiliations.
Supplementary information
Supplementary Table 1. Ribo-lite and RNA-seq gene FPKM table for oocytes and embryos with replicate data. Supplementary Table 2. Ribo-lite and RNA-seq gene average FPKM and calculated TE table for oocytes and embryos. Supplementary Table 3. Identified RPF DEGs and mRNA DEGs for consecutive stages from the Ribo-lite and mRNA-seq data.
About this article
Cite this article
Xiong, Z., Xu, K., Lin, Z. et al. Ultrasensitive Ribo-seq reveals translational landscapes during mammalian oocyte-to-embryo transition and pre-implantation development. Nat Cell Biol 24, 968–980 (2022). https://doi.org/10.1038/s41556-022-00928-6
Received:

Accepted:

Published:

Issue Date:

DOI: https://doi.org/10.1038/s41556-022-00928-6