Abstract
Various mechanisms contribute to membrane repair1,2,3,4,5,6,7,8 but the machinery that mediates the repair of large wounds on the plasma membrane is less clear. We found that shortly after membrane damage, Tetraspanin-enriched macrodomains are assembled around the damage site. Tetraspanin-enriched macrodomains are in the liquid-ordered phase and form a rigid ring around the damaged site. This restricts the spread of the damage and prevents membrane disintegration, thus facilitating membrane repair by other mechanisms. Functionally, Tetraspanin 4 helps cells mitigate damage caused by laser, detergent, pyroptosis and natural killer cells. We propose that assembly of Tetraspanin-enriched macrodomains creates a physical barrier to contain membrane damage.
Access options
Subscribe to Nature+
Get immediate online access to the entire Nature family of 50+ journals
Subscribe to Journal
Get full journal access for 1 year
$99.00
only $8.25 per issue
All prices are NET prices.
VAT will be added later in the checkout.
Tax calculation will be finalised during checkout.
Buy article
Get time limited or full article access on ReadCube.
$32.00
All prices are NET prices.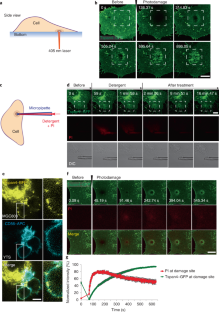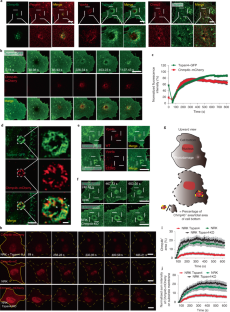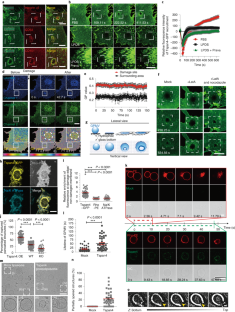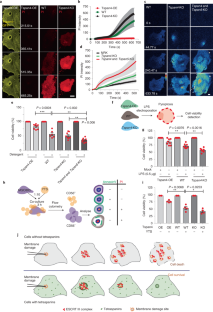 Data availability
All other data supporting the findings of this study are available from the corresponding author on reasonable request. Source data are provided with this paper.
References
McNeil, P. L. & Terasaki, M. Coping with the inevitable: how cells repair a torn surface membrane. Nat. Cell Biol. 3, E124–E129 (2001).

Andrews, N. W., Almeida, P. E. & Corrotte, M. Damage control: cellular mechanisms of plasma membrane repair. Trends Cell Biol. 24, 734–742 (2014).

Jimenez, A. J. & Perez, F. Physico-chemical and biological considerations for membrane wound evolution and repair in animal cells. Semin. Cell Dev. Biol. 45, 2–9 (2015).

Davenport, N. R., Sonnemann, K. J., Eliceiri, K. W. & Bement, W. M. Membrane dynamics during cellular wound repair. Mol. Biol. Cell 27, 2272–2285 (2016).

Christ, L., Raiborg, C., Wenzel, E. M., Campsteijn, C. & Stenmark, H. Cellular functions and molecular mechanisms of the ESCRT membrane-scission machinery. Trends Biochem. Sci. 42, 42–56 (2017).

Horn, A. & Jaiswal, J. K. Cellular mechanisms and signals that coordinate plasma membrane repair. Cell. Mol. Life Sci. 75, 3751–3770 (2018).

Radulovic, M. & Stenmark, H. ESCRTs in membrane sealing. Biochem. Soc. Trans. 46, 773–778 (2018).

Meng, X. et al. Actin polymerization and ESCRT trigger recruitment of the fusogens syntaxin-2 and EFF-1 to promote membrane repair in C. elegans. Dev. Cell 54, 624–638 (2020).

Jimenez, A. J. et al. ESCRT machinery is required for plasma membrane repair. Science 343, 1247136 (2014).

Ruhl, S. et al. ESCRT-dependent membrane repair negatively regulates pyroptosis downstream of GSDMD activation. Science 362, 956–960 (2018).

Gong, Y. N. et al. ESCRT-III acts downstream of MLKL to regulate necroptotic cell death and its consequences. Cell 169, 286–300 (2017).

Beckwith, K. S. et al. Plasma membrane damage causes NLRP3 activation and pyroptosis during Mycobacterium tuberculosis infection. Nat. Commun. 11, 2270 (2020).

Charrin, S. et al. Lateral organization of membrane proteins: tetraspanins spin their web. Biochem. J. 420, 133–154 (2009).

Le Naour, F., Andre, M., Boucheix, C. & Rubinstein, E. Membrane microdomains and proteomics: lessons from tetraspanin microdomains and comparison with lipid rafts. Proteomics 6, 6447–6454 (2006).

Hemler, M. E. Tetraspanin proteins mediate cellular penetration, invasion, and fusion events and define a novel type of membrane microdomain. Annu. Rev. Cell Dev. Biol. 19, 397–422 (2003).

Zuidscherwoude, M. et al. The tetraspanin web revisited by super-resolution microscopy. Sci. Rep. 5, 12201 (2015).

Wrigley, J. D., Ahmed, T., Nevett, C. L. & Findlay, J. B. Peripherin/rds influences membrane vesicle morphology. Implications for retinopathies. J. Biol. Chem. 275, 13191–13194 (2000).

Runge, K. E. et al. Oocyte CD9 is enriched on the microvillar membrane and required for normal microvillar shape and distribution. Dev. Biol. 304, 317–325 (2007).

Miyado, K. et al. The fusing ability of sperm is bestowed by CD9-containing vesicles released from eggs in mice. Proc. Natl Acad. Sci. USA 105, 12921–12926 (2008).

Huang, Y. et al. Migrasome formation is mediated by assembly of micron-scale tetraspanin macrodomains. Nat. Cell Biol. 21, 991–1002 (2019).

Parasassi, T., Gratton, E., Yu, W. M., Wilson, P. & Levi, M. Two-photon fluorescence microscopy of laurdan generalized polarization domains in model and natural membranes. Biophys. J. 72, 2413–2429 (1997).

Gaus, K., Zech, T. & Harder, T. Visualizing membrane microdomains by Laurdan 2-photon microscopy. Mol. Membr. Biol. 23, 41–48 (2006).

Noble, A. J. et al. Routine single particle CryoEM sample and grid characterization by tomography. eLife 7, e34257 (2018).

Wang, D. et al. Magnesium protects against sepsis by blocking gasdermin D N-terminal-induced pyroptosis. Cell Death Differ. 27, 466–481 (2020).

Trapani, J. A. & Smyth, M. J. Functional significance of the perforin/granzyme cell death pathway. Nat. Rev. Immunol. 2, 735–747 (2002).

Zhang, Z. B. et al. Gasdermin E suppresses tumour growth by activating anti-tumour immunity. Nature 579, 415 (2020).

Zhou, Z. W. et al. Granzyme A from cytotoxic lymphocytes cleaves GSDMB to trigger pyroptosis in target cells. Science 368, eaaz7548 (2020).

Russell, J. H. & Ley, T. J. Lymphocyte-mediated cytotoxicity. Annu. Rev. Immunol. 20, 323–370 (2002).

de Saint Basile, G., Menasche, G. & Fischer, A. Molecular mechanisms of biogenesis and exocytosis of cytotoxic granules. Nat. Rev. Immunol. 10, 568–579 (2010).

Kumar, S. Natural killer cell cytotoxicity and its regulation by inhibitory receptors. Immunology 154, 383–393 (2018).

Voskoboinik, I., Whisstock, J. C. & Trapani, J. A. Perforin and granzymes: function, dysfunction and human pathology. Nat. Rev. Immunol. 15, 388–400 (2015).

Mastronarde, D. N. Automated electron microscope tomography using robust prediction of specimen movements. J. Struct. Biol. 152, 36–51 (2005).

Kremer, J. R., Mastronarde, D. N. & McIntosh, J. R. Computer visualization of three-dimensional image data using IMOD. J. Struct. Biol. 116, 71–76 (1996).

Pettersen, E. F. et al. UCSF Chimera–a visualization system for exploratory research and analysis. J. Comput. Chem. 25, 1605–1612 (2004).

Renaud, J. F. et al. Normal serum and lipoprotein-deficient serum give different expressions of excitability, corresponding to different stages of differentiation, in chicken cardiac-cells in culture. Proc. Natl Acad. Sci. USA 79, 7768–7772 (1982).

Martin, B. J. & van Golen, K. L. A comparison of cholesterol uptake and storage in inflammatory and noninflammatory breast cancer cells. Int. J. Breast Cancer 2012, 412581 (2012).
Acknowledgements
We thank the Z. Dong laboratory (Tsinghua University) for the generous gift of YTS cells and the F. Shao laboratory (NIBS) for their help with the pyroptosis-related work. We thank all of the members of L.Y.'s group for their helpful discussions. This research was supported by the Ministry of Science and Technology of the People's Republic of China (grant no. 2017YFA0503404 to L.Y.) and the National Natural Science Foundation of China (grant nos 32070691 to Y.H. and 92054301 to L.Y.).
Ethics declarations
Competing interests
The authors declare no competing interests.
Peer review
Peer review information
Nature Cell Biology thanks Harald Stenmark, Martin Hemler and the other, anonymous, reviewer(s) for their contribution to the peer review of this work.
Additional information
Publisher's note Springer Nature remains neutral with regard to jurisdictional claims in published maps and institutional affiliations.
Supplementary information
About this article
Cite this article
Huang, Y., Zhang, X., Wang, HW. et al. Assembly of Tetraspanin-enriched macrodomains contains membrane damage to facilitate repair. Nat Cell Biol 24, 825–832 (2022). https://doi.org/10.1038/s41556-022-00920-0
Received:

Accepted:

Published:

Issue Date:

DOI: https://doi.org/10.1038/s41556-022-00920-0