Phosphoinositide signalling regulates cellular processes and is hijacked by pathogens. Classically, phosphoinositides are produced by kinase- and phosphatase-catalysed reactions. A study now reveals an unprecedented, kinase- and ATP-free synthesis of PtdIns(3,4)P2 via a phosphotransferase mechanism during bacterial infection.
Access options
Subscribe to Nature+
Get immediate online access to Nature and 55 other Nature journal
Subscribe to Journal
Get full journal access for 1 year
$99.00
only $8.25 per issue
All prices are NET prices.
VAT will be added later in the checkout.
Tax calculation will be finalised during checkout.
Buy article
Get time limited or full article access on ReadCube.
$32.00
All prices are NET prices.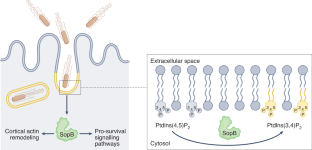 References
Fruman, D. A. & Rommel, C. Nat. Rev. Drug Discov. 13, 140–156 (2014).

Gozzelino, L., De Santis, M. C., Gulluni, F., Hirsch, E. & Martini, M. Front. Oncol. 10, 360 (2020).

Niebuhr, K. et al. EMBO J. 21, 5069–5078 (2002).

Mallo, G. V. et al. J. Cell Biol. 182, 741–752 (2008).

Walpole, G. F. W. et al. Nat. Cell Biol. https://doi.org/10.1038/s41556-022-00895-y (2022).

Balla, T. Physiol. Rev. 93, 1019–1137 (2013).

Pizarro-Cerdá, J., Kühbacher, A. & Cossart, P. Biochim. Biophys. Acta Mol. Cell Biol. Lipids 1851, 911–918 (2015).

Altan-Bonnet, N. & Balla, T. Trends Biochem. Sci. 37, 293–302 (2012).

Steele-Mortimer, O. et al. J. Biol. Chem. 275, 37718–37724 (2000).

Walpole, G. F. W. & Grinstein, S. F1000Research 9, 368 (2020).

Norris, F. A., Wilson, M. P., Wallis, T. S., Galyov, E. E. & Majerus, P. W. Proc. Natl Acad. Sci. USA 95, 14057–14059 (1998).

Goulden, B. D. et al. J. Cell Biol. 218, 1066–1079 (2019).

Dyson, J. M. et al. Subcell. Biochem. 58, 215–279 (2012).

Basu, S. S., York, J. D. & Raetz, C. R. H. J. Biol. Chem. 274, 11139–11149 (1999).

Morita, Y. S. et al. J. Biol. Chem. 285, 16643–16650 (2010).
Ethics declarations
Competing interests
The authors declare no competing interests.
About this article
Cite this article
Cao, X., Baskin, J.M. Phosphoinositide phosphorylation sans kinase. Nat Cell Biol 24, 604–606 (2022). https://doi.org/10.1038/s41556-022-00885-0
Published:

Issue Date:

DOI: https://doi.org/10.1038/s41556-022-00885-0