Abstract
During development, morphogen gradients encode positional information to pattern morphological structures during organogenesis1. Some gradients, like that of Dpp in the fly wing, remain proportional to the size of growing organs—that is, they scale. Gradient scaling keeps morphological patterns proportioned in organs of different sizes2,3. Here we show a mechanism of scaling that ensures that, when the gradient is smaller than the organ, cell death trims the developing tissue to match the size of the gradient. Scaling is controlled by molecular associations between Dally and Pentagone, known factors involved in scaling, and a key factor that mediates cell death, Flower4,5,6. We show that Flower activity in gradient expansion is not dominated by cell death, but by the activity of Dally/Pentagone on scaling. Here we show a potential connection between scaling and cell death that may uncover a molecular toolbox hijacked by tumours.
Access options
Subscribe to Nature+
Get immediate online access to the entire Nature family of 50+ journals
Subscribe to Journal
Get full journal access for 1 year
$99.00
only $8.25 per issue
All prices are NET prices.
VAT will be added later in the checkout.
Tax calculation will be finalised during checkout.
Buy article
Get time limited or full article access on ReadCube.
$32.00
All prices are NET prices.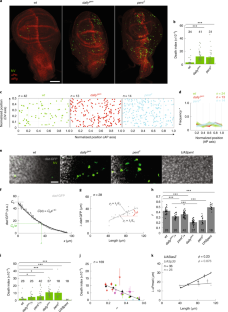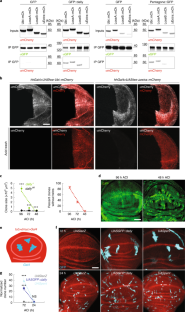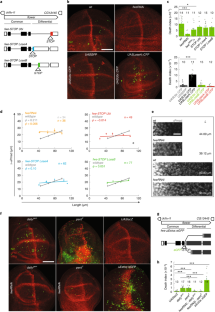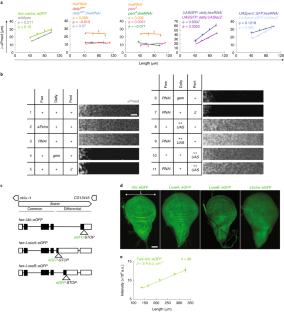 Data availability
The data that support the findings of this study are available within the paper and its Supplementary Information files. Data supporting the findings of this study are available from the corresponding author on reasonable request. Publicly available datasets used in this work are available at https://flybase.org/ (FB2021_06)71 and https://m.ensembl.org/index.html. Source data are provided with this paper.
References
Hamaratoglu, F., Affolter, M. & Pyrowolakis, G. Dpp/BMP signaling in flies: from molecules to biology. Semin. Cell Dev. Biol. 32, 128–136 (2014).

Wartlick, O. et al. Dynamics of Dpp signaling and proliferation control. Science 331, 1154–1159 (2011).

Hamaratoglu, F., de Lachapelle, A. M., Pyrowolakis, G., Bergmann, S. & Affolter, M. Dpp signaling activity requires Pentagone to scale with tissue size in the growing Drosophila wing imaginal disc. PLoS Biol. 9, e1001182 (2011).

Vuilleumier, R. et al. Control of Dpp morphogen signalling by a secreted feedback regulator. Nat. Cell Biol. 12, 611–617 (2010).

Akiyama, T. et al. Dally regulates Dpp morphogen gradient formation by stabilizing Dpp on the cell surface. Dev. Biol. 313, 408–419 (2008).

Rhiner, C. et al. Flower forms an extracellular code that reveals the fitness of a cell to its neighbors in Drosophila. Dev. Cell 18, 985–998 (2010).

Barkai, N. & Ben-Zvi, D. 'Big frog, small frog'—maintaining proportions in embryonic development: delivered on 2 July 2008 at the 33rd FEBS Congress in Athens, Greece. FEBS J. 276, 1196–1207 (2009).

Norman, M., Vuilleumier, R., Springhorn, A., Gawlik, J. & Pyrowolakis, G. Pentagone internalises glypicans to fine-tune multiple signalling pathways. eLife https://doi.org/10.7554/eLife.13301 (2016).

Mateus, R. et al. BMP signaling gradient scaling in the Zebrafish pectoral fin. Cell Rep. 30, 4292–4302 (2020).

Chorsky, R. & Belote, J. M. Genitalia missing (gem): an autosomal recessive mutant that affects development of the genital disc derivatives. D. I. S. 75, 33 (1994).

Cen, H., Mao, F., Aronchik, I., Fuentes, R. J. & Firestone, G. L. DEVD-NucView488: a novel class of enzyme substrates for real-time detection of caspase-3 activity in live cells. FASEB J. 22, 2243–2252 (2008).

Gudipaty, S. A., Conner, C. M., Rosenblatt, J. & Montell, D. J. Unconventional ways to live and die: cell death and survival in development, homeostasis and disease. Annu. Rev. Cell Dev. Biol. 34, 311–332 (2018).

Moreno, E., Yan, M. & Basler, K. Evolution of TNF signaling mechanisms: JNK-dependent apoptosis triggered by Eiger, the Drosophila homolog of the TNF superfamily. Curr. Biol. 12, 1263–1268 (2002).

Igaki, T. et al. Eiger, a TNF superfamily ligand that triggers the Drosophila JNK pathway. EMBO J. 21, 3009–3018 (2002).

Andersen, D. S. et al. The Drosophila TNF receptor Grindelwald couples loss of cell polarity and neoplastic growth. Nature 522, 482–486 (2015).

Levayer, R., Dupont, C. & Moreno, E. Tissue crowding induces caspase-dependent competition for space. Curr. Biol. 26, 670–677 (2016).

Monier, B. et al. Apico-basal forces exerted by apoptotic cells drive epithelium folding. Nature 518, 245–248 (2015).

Tsuneizumi, K. et al. Daughters against dpp modulates dpp organizing activity in Drosophila wing development. Nature 389, 627–631 (1997).

Morin, X., Daneman, R., Zavortink, M. & Chia, W. A protein trap strategy to detect GFP-tagged proteins expressed from their endogenous loci in Drosophila. Proc. Natl Acad. Sci. USA 98, 15050–15055 (2001).

Ben-Zvi, D., Pyrowolakis, G., Barkai, N. & Shilo, B. Z. Expansion-repression mechanism for scaling the Dpp activation gradient in Drosophila wing imaginal discs. Curr. Biol. 21, 1391–1396 (2011).

Crossman, S. H., Streichan, S. J. & Vincent, J. P. EGFR signaling coordinates patterning with cell survival during Drosophila epidermal development. PLoS Biol. 16, e3000027 (2018).

Ohtsubo, T., Kamada, S. & Tsujimoto, Y. Inhibition of apoptosis by a baculovirus p35 gene.Nihon Rinsho J. J. Clin. Med. 54, 1907–1911 (1996).

Hay, B. A., Wassarman, D. A. & Rubin, G. M. Drosophila homologs of baculovirus inhibitor of apoptosis proteins function to block cell death. Cell 83, 1253–1262 (1995).

Zhou, L., Hashimi, H., Schwartz, L. M. & Nambu, J. R. Programmed cell death in the Drosophila central nervous system midline. Curr. Biol. 5, 784–790 (1995).

Luo, X., Puig, O., Hyun, J., Bohmann, D. & Jasper, H. Foxo and Fos regulate the decision between cell death and survival in response to UV irradiation. EMBO J. 26, 380–390 (2007).

Merino, M. M. et al. Elimination of unfit cells maintains tissue health and prolongs lifespan. Cell 160, 461–476 (2015).

Wartlick, O., Jülicher, F. A. & Gonzalez-Gaitan, M. Growth control by a moving morphogen gradient during Drosophila eye development. Development 141, 1884–1893 (2014).

Baillon, L. & Basler, K. Reflections on cell competition. Semin. Cell Dev. Biol. 32, 137–144 (2014).

Bowling, S., Lawlor, K. & Rodriguez, T. A. Cell competition: the winners and losers of fitness selection. Development https://doi.org/10.1242/dev.167486 (2019).

Fahey-Lozano, N., La Marca, J. E., Portela, M. & Richardson, H. E. Drosophila models of cell polarity and cell competition in tumourigenesis. Adv. Exp. Med. Biol. 1167, 37–64 (2019).

Merino, M. M., Levayer, R. & Moreno, E. Survival of the fittest: essential roles of cell competition in development, aging and cancer. Trends Cell Biol. 26, 776–788 (2016).

Moreno, E., Basler, K. & Morata, G. Cells compete for decapentaplegic survival factor to prevent apoptosis in Drosophila wing development. Nature 416, 755–759 (2002).

Adachi-Yamada, T., Fujimura-Kamada, K., Nishida, Y. & Matsumoto, K. Distortion of proximodistal information causes JNK-dependent apoptosis in Drosophila wing. Nature 400, 166–169 (1999).

Adachi-Yamada, T. & O'Connor, M. B. Mechanisms for removal of developmentally abnormal cells: cell competition and morphogenetic apoptosis. J. Biochem. 136, 13–17 (2004).

Adachi-Yamada, T. & O'Connor, M. B. Morphogenetic apoptosis: a mechanism for correcting discontinuities in morphogen gradients. Dev. Biol. 251, 74–90 (2002).

Coelho, D. S. et al. Culling less fit neurons protects against amyloid-β-induced brain damage and cognitive and motor decline. Cell Rep. 25, 3661–3673 (2018).

Madan, E. et al. Flower isoforms promote competitive growth in cancer. Nature 572, 260–264 (2019).

Merino, M. M., Rhiner, C., Portela, M. & Moreno, E. 'Fitness fingerprints' mediate physiological culling of unwanted neurons in Drosophila. Curr. Biol. 23, 1300–1309 (2013).

Nagata, R., Nakamura, M., Sanaki, Y. & Igaki, T. Cell competition is driven by autophagy. Dev. Cell 51, 99–112 (2019).

Casas-Tinto, S., Maraver, A., Serrano, M. & Ferrus, A. Troponin-I enhances and is required for oncogenic overgrowth. Oncotarget 7, 52631–52642 (2016).

Basagiannis, D. et al. VEGF induces signalling and angiogenesis by directing VEGFR2 internalisation through macropinocytosis. J. Cell Sci. 129, 4091–4104 (2016).

Hemalatha, A., Prabhakara, C. & Mayor, S. Endocytosis of Wingless via a dynamin-independent pathway is necessary for signaling in Drosophila wing discs. Proc. Natl Acad. Sci. USA 113, E6993–E7002 (2016).

Basagiannis, D., Zografou, S., Galanopoulou, K. & Christoforidis, S. Dynasore impairs VEGFR2 signalling in an endocytosis-independent manner. Sci. Rep. 7, 45035 (2017).

Lamb, J. E., Ray, F., Ward, J. H., Kushner, J. P. & Kaplan, J. Internalization and subcellular localization of transferrin and transferrin receptors in HeLa cells. J. Biol. Chem. 258, 8751–8758 (1983).

Portela, M. et al. Drosophila SPARC is a self-protective signal expressed by loser cells during cell competition. Dev. Cell 19, 562–573 (2010).

Morata, G. & Ripoll, P. Minutes: mutants of Drosophila autonomously affecting cell division rate. Dev. Biol. 42, 211–221 (1975).

Meyer, S. N. et al. An ancient defense system eliminates unfit cells from developing tissues during cell competition. Science 346, 1258236 (2014).

Blanco, J., Cooper, J. C. & Baker, N. E. Roles of C/EBP class bZip proteins in the growth and cell competition of Rp ('Minute') mutants in Drosophila. eLife https://doi.org/10.7554/eLife.50535 (2020).

Vincent, J. P., Kolahgar, G., Gagliardi, M. & Piddini, E. Steep differences in wingless signaling trigger Myc-independent competitive cell interactions. Dev. Cell 21, 366–374 (2011).

Froldi, F. et al. The lethal giant larvae tumour suppressor mutation requires dMyc oncoprotein to promote clonal malignancy. BMC Biol. 8, 33 (2010).

Rodrigues, A. B. et al. Activated STAT regulates growth and induces competitive interactions independently of Myc, Yorkie, Wingless and ribosome biogenesis. Development 139, 4051–4061 (2012).

Chen, C. L., Schroeder, M. C., Kango-Singh, M., Tao, C. & Halder, G. Tumor suppression by cell competition through regulation of the Hippo pathway. Proc. Natl Acad. Sci. USA 109, 484–489 (2012).

Tamori, Y. et al. Involvement of Lgl and Mahjong/VprBP in cell competition. PLoS Biol. 8, e1000422 (2010).

Moreno, E. & Basler, K. dMyc transforms cells into super-competitors. Cell 117, 117–129 (2004).

Ben-Zvi, D. & Barkai, N. Scaling of morphogen gradients by an expansion-repression integral feedback control. Proc. Natl Acad. Sci. USA 107, 6924–6929 (2010).

Green, E. W., Fedele, G., Giorgini, F. & Kyriacou, C. P. A Drosophila RNAi collection is subject to dominant phenotypic effects. Nat. Methods 11, 222–223 (2014).

Yao, C. K. et al. A synaptic vesicle-associated Ca2+ channel promotes endocytosis and couples exocytosis to endocytosis. Cell 138, 947–960 (2009).

Beira, J. V. et al. The Dpp/TGFβ-dependent corepressor Schnurri protects epithelial cells from JNK-induced apoptosis in Drosophila embryos. Dev. Cell 31, 240–247 (2014).

Weiss, A. et al. A conserved activation element in BMP signaling during Drosophila development. Nat. Struct. Mol. Biol. 17, 69–76 (2010).

Levayer, R., Hauert, B. & Moreno, E. Cell mixing induced by myc is required for competitive tissue invasion and destruction. Nature 524, 476–480 (2015).

Massague, J. TGFβ in cancer. Cell 134, 215–230 (2008).

Jakowlew, S. B. Transforming growth factor-β in cancer and metastasis. Cancer Metastasis Rev. 25, 435–457 (2006).

Dahmann, C. Drosophila: Methods and Protocols (Springer, 2018).

Ryoo, H. D., Gorenc, T. & Steller, H. Apoptotic cells can induce compensatory cell proliferation through the JNK and the Wingless signaling pathways. Dev. Cell 7, 491–501 (2004).

Derivery, E. et al. Polarized endosome dynamics by spindle asymmetry during asymmetric cell division. Nature 528, 280–285 (2015).

Loubery, S. & Gonzalez-Gaitan, M. Monitoring notch/delta endosomal trafficking and signaling in Drosophila. Methods Enzymol. 534, 301–321 (2014).

Basagiannis, D. & Christoforidis, S. Constitutive endocytosis of VEGFR2 protects the receptor against shedding. J. Biol. Chem. 291, 16892–16903 (2016).

Venken, K. J. et al. MiMIC: a highly versatile transposon insertion resource for engineering Drosophila melanogaster genes. Nat. Methods 8, 737–743 (2011).

Entchev, E. V., Schwabedissen, A. & Gonzalez-Gaitan, M. Gradient formation of the TGF-β homolog Dpp. Cell 103, 981–991 (2000).

Kondo, S. & Ueda, R. Highly improved gene targeting by germline-specific Cas9 expression in Drosophila. Genetics 195, 715–721 (2013).

Larkin, A. et al. FlyBase: updates to the Drosophila melanogaster knowledge base. Nucleic Acids Res. 49, D899–D907 (2021).
Acknowledgements
We thank WellGenetics and Y. Chen for the generation of Drosophila lines including flower mutants and eGFP fusion proteins, Bloomington Drosophila Stock Center, FlyORF, Vienna Drosophila Resource Center and the Developmental Studies Hybridoma Bank for reagents and G. Morata, H. D. Ryoo, J. Felix de Celis, K. Basler, N. Tapon, R. Levayer, S. B. Selleck, S. Casas-Tinto, S. Eaton and T. B. Kornberg for providing Drosophila fly lines and antibodies. We thank B. Habermann, O. Schaad and A. Daeden for helpful discussions and A. C. Oates, J. E. Castelli-Gair, D. Basagiannis, I. Castanon, R. Rashpa, R. Mateus and Z. Hadjivasiliou for critical reading of the manuscript. We thank T. Wagner for technical assistance. M.M.M. was supported by the Swiss National Science Foundation (SNSF) (SystemsX.ch, Transition Postdoc Fellowship) and Novartis Foundation Fellowships. This work was supported by grants from the SNSF, by the ERC (Sara and Morphogen), the NCCR Chemical Biology programme, the DIP of the Canton of Geneva and the SystemsX EpiPhysX (SNSF) granted to M. Gonzalez-Gaitan.
Ethics declarations
Competing interests
The authors declare no competing interests.
Peer review
Peer review information
Nature Cell Biology thanks the anonymous reviewers for their contribution to the peer review of this work.
Additional information
Publisher's note Springer Nature remains neutral with regard to jurisdictional claims in published maps and institutional affiliations.
Supplementary information
Statistical analyses, alleles, detailed genotypes, parameters and sample sizes.
About this article
Cite this article
Merino, M.M., Seum, C., Dubois, M. et al. A role for Flower and cell death in controlling morphogen gradient scaling. Nat Cell Biol 24, 424–433 (2022). https://doi.org/10.1038/s41556-022-00858-3
Received:

Accepted:

Published:

Issue Date:

DOI: https://doi.org/10.1038/s41556-022-00858-3