Abstract
Haematopoietic stem cells (HSCs) home to the bone marrow via, in part, interactions with vascular cell adhesion molecule-1 (VCAM1)1,2,3. Once in the bone marrow, HSCs are vetted by perivascular phagocytes to ensure their self-integrity. Here we show that VCAM1 is also expressed on healthy HSCs and upregulated on leukaemic stem cells (LSCs), where it serves as a quality-control checkpoint for entry into bone marrow by providing 'don't-eat-me' stamping in the context of major histocompatibility complex class-I (MHC-I) presentation. Although haplotype-mismatched HSCs can engraft, Vcam1 deletion, in the setting of haplotype mismatch, leads to impaired haematopoietic recovery due to HSC clearance by mononuclear phagocytes. Mechanistically, VCAM1 'don't-eat-me' activity is regulated by β2-microglobulin MHC presentation on HSCs and paired Ig-like receptor-B (PIR-B) on phagocytes. VCAM1 is also used by cancer cells to escape immune detection as its expression is upregulated in multiple cancers, including acute myeloid leukaemia (AML), where high expression associates with poor prognosis. In AML, VCAM1 promotes disease progression, whereas VCAM1 inhibition or deletion reduces leukaemia burden and extends survival. These results suggest that VCAM1 engagement regulates a critical immune-checkpoint gate in the bone marrow, and offers an alternative strategy to eliminate cancer cells via modulation of the innate immune tolerance.
Relevant articles
Open Access articles citing this article.
Haojun Shi

,

Yiusing Tsang

&

Yisi Yang

BMC Cancer Open Access 09 December 2022
Access options
Access Nature and 54 other Nature Portfolio journals
Get Nature+, our best-value online-access subscription
$29.99 per month
cancel any time
Subscribe to this journal
Receive 12 print issues and online access
$209.00 per year
only $17.42 per issue
Rent or buy this article
Get just this article for as long as you need it
$39.95
Prices may be subject to local taxes which are calculated during checkout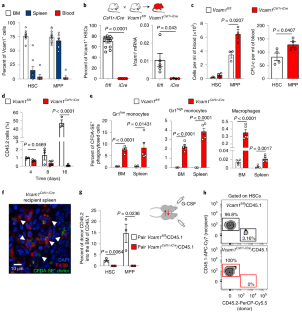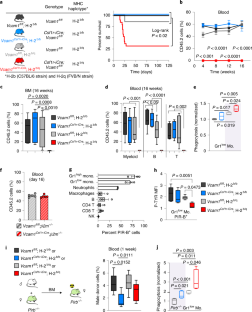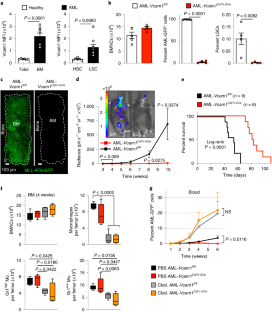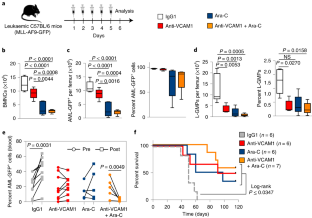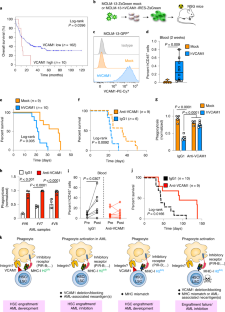 Data availability
Previously published data that were re-analysed here are available under accession codes GSE1035842 and GSE35008/GSE35010 (refs. 44,45). Human AML survival data were derived from the TCGA Research Network (http://cancergenome.nih.gov/) and re-analysed via the cBioPortal for Cancer Genomics from the Memorial Sloan Kettering Cancer Center (https://cbioportal.mskcc.org). All other data supporting the findings of this study are available from the corresponding author on reasonable request. Source data are provided with this paper.
References
Miyake, K. et al. A VCAM-like adhesion molecule on murine bone marrow stromal cells mediates binding of lymphocyte precursors in culture. J. Cell Biol. 114, 557–565 (1991).

Simmons, P. J. et al. Vascular cell adhesion molecule-1 expressed by bone marrow stromal cells mediates the binding of hematopoietic progenitor cells. Blood 80, 388–395 (1992).

Ulyanova, T. et al. VCAM-1 expression in adult hematopoietic and nonhematopoietic cells is controlled by tissue-inductive signals and reflects their developmental origin. Blood 106, 86–94 (2005).

Pinho, S. & Frenette, P. S. Haematopoietic stem cell activity and interactions with the niche. Nat. Rev. Mol. Cell Biol. 20, 303–320 (2019).

Gurtner, G. C. et al. Targeted disruption of the murine VCAM1 gene: essential role of VCAM-1 in chorioallantoic fusion and placentation. Genes Dev. 9, 1–14 (1995).

Frenette, P. S., Subbarao, S., Mazo, I. B., von Andrian, U. H. & Wagner, D. D. Endothelial selectins and vascular cell adhesion molecule-1 promote hematopoietic progenitor homing to bone marrow. Proc. Natl Acad. Sci. USA 95, 14423–14428 (1998).

Papayannopoulou, T., Craddock, C., Nakamoto, B., Priestley, G. V. & Wolf, N. S. The VLA4/VCAM-1 adhesion pathway defines contrasting mechanisms of lodgement of transplanted murine hemopoietic progenitors between bone marrow and spleen. Proc. Natl Acad. Sci. USA 92, 9647–9651 (1995).

Craddock, C. F., Nakamoto, B., Andrews, R. G., Priestley, G. V. & Papayannopoulou, T. Antibodies to VLA4 integrin mobilize long-term repopulating cells and augment cytokine-induced mobilization in primates and mice. Blood 90, 4779–4788 (1997).

Papayannopoulou, T., Priestley, G. V. & Nakamoto, B. Anti-VLA4/VCAM-1-induced mobilization requires cooperative signaling through the kit/mkit ligand pathway. Blood 91, 2231–2239 (1998).

Koni, P. A. et al. Conditional vascular cell adhesion molecule 1 deletion in mice: impaired lymphocyte migration to bone marrow. J. Exp. Med. 193, 741–754 (2001).

Deng, L. et al. A novel mouse model of inflammatory bowel disease links mammalian target of rapamycin-dependent hyperproliferation of colonic epithelium to inflammation-associated tumorigenesis. Am. J. Pathol. 176, 952–967 (2010).

Wei, Q. et al. Maea expressed by macrophages, but not erythroblasts, maintains postnatal murine bone marrow erythroblastic islands. Blood 133, 1222–1232 (2019).

Miyamoto, T. et al. Myeloid or lymphoid promiscuity as a critical step in hematopoietic lineage commitment. Dev. Cell 3, 137–147 (2002).

Sarrazin, S. et al. MafB restricts M-CSF-dependent myeloid commitment divisions of hematopoietic stem cells. Cell 138, 300–313 (2009).

Dutta, P. et al. Macrophages retain hematopoietic stem cells in the spleen via VCAM-1. J. Exp. Med. 212, 497–512 (2015).

Koller, B. H., Marrack, P., Kappler, J. W. & Smithies, O. Normal development of mice deficient in beta 2M, MHC class I proteins, and CD8+ T cells. Science 248, 1227–1230 (1990).

Kubagawa, H. et al. Biochemical nature and cellular distribution of the paired immunoglobulin-like receptors, PIR-A and PIR-B. J. Exp. Med. 189, 309–318 (1999).

Takai, T. Paired immunoglobulin-like receptors and their MHC class I recognition. Immunology 115, 433–440 (2005).

Ujike, A. et al. Impaired dendritic cell maturation and increased TH2 responses in PIR-B−/− mice. Nat. Immunol. 3, 542–548 (2002).

Nakamura, A., Kobayashi, E. & Takai, T. Exacerbated graft-versus-host disease in Pirb−/− mice. Nat. Immunol. 5, 623–629 (2004).

Pereira, S., Zhang, H., Takai, T. & Lowell, C. A. The inhibitory receptor PIR-B negatively regulates neutrophil and macrophage integrin signaling. J. Immunol. 173, 5757–5765 (2004).

Nakayama, M. et al. Paired Ig-like receptors bind to bacteria and shape TLR-mediated cytokine production. J. Immunol. 178, 4250–4259 (2007).

Munitz, A. et al. Paired immunoglobulin-like receptor B (PIR-B) negatively regulates macrophage activation in experimental colitis. Gastroenterology 139, 530–541 (2010).

Ma, G. et al. Paired immunoglobin-like receptor-B regulates the suppressive function and fate of myeloid-derived suppressor cells. Immunity 34, 385–395 (2011).

Ding, Y. B. et al. Association of VCAM-1 overexpression with oncogenesis, tumor angiogenesis and metastasis of gastric carcinoma. World J. Gastroenterol. 9, 1409–1414 (2003).

Lin, K. Y. et al. Ectopic expression of vascular cell adhesion molecule-1 as a new mechanism for tumor immune evasion. Cancer Res. 67, 1832–1841 (2007).

Huang, J. et al. Exome sequencing of hepatitis B virus-associated hepatocellular carcinoma. Nat. Genet. 44, 1117–1121 (2012).

Yuan, W. et al. Commonly dysregulated genes in murine APL cells. Blood 109, 961–970 (2007).

Chen, Q., Zhang, X. H. & Massague, J. Macrophage binding to receptor VCAM-1 transmits survival signals in breast cancer cells that invade the lungs. Cancer Cell 20, 538–549 (2011).

Lu, X. et al. VCAM-1 promotes osteolytic expansion of indolent bone micrometastasis of breast cancer by engaging α4β1-positive osteoclast progenitors. Cancer Cell 20, 701–714 (2011).

Damiano, J. S., Cress, A. E., Hazlehurst, L. A., Shtil, A. A. & Dalton, W. S. Cell adhesion mediated drug resistance (CAM-DR): role of integrins and resistance to apoptosis in human myeloma cell lines. Blood 93, 1658–1667 (1999).

Jacamo, R. et al. Reciprocal leukemia-stroma VCAM-1/VLA-4-dependent activation of NF-κB mediates chemoresistance. Blood 123, 2691–2702 (2014).

Matsunaga, T. et al. Interaction between leukemic-cell VLA-4 and stromal fibronectin is a decisive factor for minimal residual disease of acute myelogenous leukemia. Nat. Med. 9, 1158–1165 (2003).

Carlson, P. et al. Targeting the perivascular niche sensitizes disseminated tumour cells to chemotherapy. Nat. Cell Biol. 21, 238–250 (2019).

Krivtsov, A. V. et al. Transformation from committed progenitor to leukaemia stem cell initiated by MLL-AF9. Nature 442, 818–822 (2006).

Jaiswal, S. et al. CD47 is upregulated on circulating hematopoietic stem cells and leukemia cells to avoid phagocytosis. Cell 138, 271–285 (2009).

Majeti, R. et al. CD47 is an adverse prognostic factor and therapeutic antibody target on human acute myeloid leukemia stem cells. Cell 138, 286–299 (2009).

Barkal, A. A. et al. Engagement of MHC class I by the inhibitory receptor LILRB1 suppresses macrophages and is a target of cancer immunotherapy. Nat. Immunol. 19, 76–84 (2018).

Austin, R., Smyth, M. J. & Lane, S. W. Harnessing the immune system in acute myeloid leukaemia. Crit. Rev. Oncol. Hematol. 103, 62–77 (2016).

Freedman, A. S. et al. Adhesion of human B cells to germinal centers in vitro involves VLA-4 and INCAM-110. Science 249, 1030–1033 (1990).

Walsh, G. M., Symon, F. A., Lazarovils, A. L. & Wardlaw, A. J. Integrin α4β7 mediates human eosinophil interaction with MAdCAM-1, VCAM-1 and fibronectin. Immunology 89, 112–119 (1996).

Tomasson, M. H. et al. Somatic mutations and germline sequence variants in the expressed tyrosine kinase genes of patients with de novo acute myeloid leukemia. Blood 111, 4797–4808 (2008).

Falini, B., Sciabolacci, S., Falini, L., Brunetti, L. & Martelli, M. P. Diagnostic and therapeutic pitfalls in NPM1-mutated AML: notes from the field. Leukemia 35, 3113–3126 (2021).

Barreyro, L. et al. Overexpression of IL-1 receptor accessory protein in stem and progenitor cells and outcome correlation in AML and MDS. Blood 120, 1290–1298 (2012).

Schinke, C. et al. IL8-CXCR2 pathway inhibition as a therapeutic strategy against MDS and AML stem cells. Blood 125, 3144–3152 (2015).

Havel, J. J., Chowell, D. & Chan, T. A. The evolving landscape of biomarkers for checkpoint inhibitor immunotherapy. Nat. Rev. Cancer 19, 133–150 (2019).

Woo, S. R., Corrales, L. & Gajewski, T. F. Innate immune recognition of cancer. Annu. Rev. Immunol. 33, 445–474 (2015).

Bix, M. et al. Rejection of class I MHC-deficient haemopoietic cells by irradiated MHC-matched mice. Nature 349, 329–331 (1991).

An, N. & Kang, Y. Using quantitative real-time PCR to determine donor cell engraftment in a competitive murine bone marrow transplantation model. J. Vis. Exp 73, e50193 (2013).

Pinho, S. et al. Lineage-biased hematopoietic stem cells are regulated by distinct niches. Dev. Cell 44, 634–641 (2018).
Acknowledgements
We thank J. W. Pollard for providing Csf1r-iCre mice, T. Papayannopoulou for providing Vcam1floxed mice, T. Takai and M. Rothenberg for providing Pirb−/− mice and S. A. Armstrong for providing the MLL-AF9 construct. We thank C. Prophete, C. Cruz, P. Ciero, G. Amatuni and A. Landeros for technical assistance, the University of Illinois and the Einstein Flow Cytometry Core Facility for cell sorting assistance, U. Steidl, A. Zahalka and K. Chronis for scientific discussions, and S. V. Buhl and M. D. Scharff of the Macromolecule Therapeutics Core at Einstein for technical assistance and guidance with VCAM1 mAb generation. S.P. and M.M. were supported by a New York Stem Cell Foundation-Druckenmiller Fellowship, J.C.B. by a Pew Latin America Fellowship and CONACYT (México), H.P. by a Training Program in Cellular and Molecular Biology and Genetics (T32 GM007491), D.K.B. by a NIH training grant (T32GM007288) and F.N. by the Japanese Society for the Promotion of Science. We thank the NIH (DK056638, HL069438, HL116340), the Leukemia and Lymphoma Society (LLS-TRP 6475-15) and the New York State Department of Health (NYSTEM IIRP C029570 and C029154) for support of the P.S.F. laboratory and the Cancer Center, University of Illinois Cancer Biology Targeted Grant for support of S.P. During the resubmission of this manuscript Dr Paul S. Frenette passed away on 26 July 2021.
Ethics declarations
Competing interests
S.P., Q.W. and P.S.F. are co-inventors on a patent application using anti-VCAM1 antibodies (patent W02017205560A1). P.S.F. serves as a consultant for Pfizer, has received research funding from Ironwood Pharmaceuticals and is a shareholder of Cygnal Therapeutics. The remaining authors declare no competing interests.
Peer review
Peer review information
Nature Cell Biology thanks the anonymous reviewers for their contribution to the peer review of this work.
Additional information
Publisher's note Springer Nature remains neutral with regard to jurisdictional claims in published maps and institutional affiliations.
Supplementary information
About this article
Cite this article
Pinho, S., Wei, Q., Maryanovich, M. et al. VCAM1 confers innate immune tolerance on haematopoietic and leukaemic stem cells. Nat Cell Biol 24, 290–298 (2022). https://doi.org/10.1038/s41556-022-00849-4
Received:

Accepted:

Published:

Issue Date:

DOI: https://doi.org/10.1038/s41556-022-00849-4
This article is cited by
Haojun Shi
Yiusing Tsang
Yisi Yang

BMC Cancer (2022)