Abstract
Metastatic breast cancer cells disseminate to organs with a soft microenvironment. Whether and how the mechanical properties of the local tissue influence their response to treatment remains unclear. Here we found that a soft extracellular matrix empowers redox homeostasis. Cells cultured on a soft extracellular matrix display increased peri-mitochondrial F-actin, promoted by Spire1C and Arp2/3 nucleation factors, and increased DRP1- and MIEF1/2-dependent mitochondrial fission. Changes in mitochondrial dynamics lead to increased production of mitochondrial reactive oxygen species and activate the NRF2 antioxidant transcriptional response, including increased cystine uptake and glutathione metabolism. This retrograde response endows cells with resistance to oxidative stress and reactive oxygen species-dependent chemotherapy drugs. This is relevant in a mouse model of metastatic breast cancer cells dormant in the lung soft tissue, where inhibition of DRP1 and NRF2 restored cisplatin sensitivity and prevented disseminated cancer-cell awakening. We propose that targeting this mitochondrial dynamics- and redox-based mechanotransduction pathway could open avenues to prevent metastatic relapse.
Relevant articles
Open Access articles citing this article.
Jixiang Xing

,

Luyao Qi

…

Yi Yang

World Journal of Surgical Oncology Open Access 03 October 2022
Access options
Subscribe to Nature+
Get immediate online access to Nature and 55 other Nature journal
Subscribe to Journal
Get full journal access for 1 year
$99.00
only $8.25 per issue
All prices are NET prices.
VAT will be added later in the checkout.
Tax calculation will be finalised during checkout.
Buy article
Get time limited or full article access on ReadCube.
$32.00
All prices are NET prices.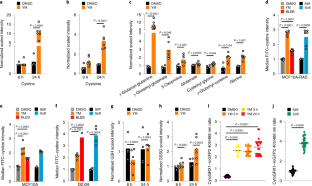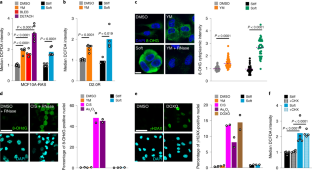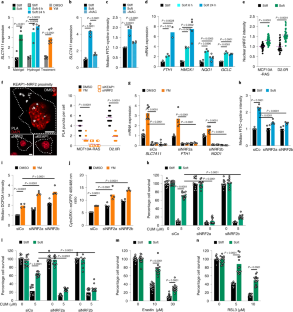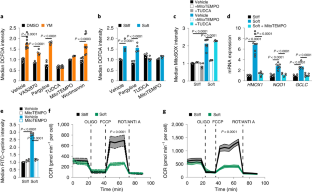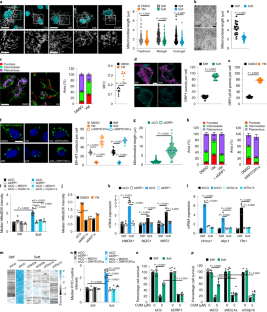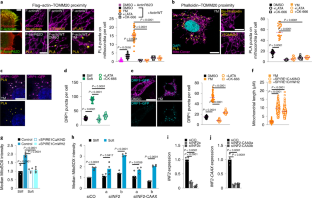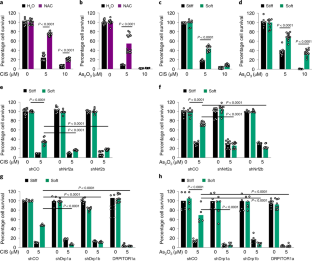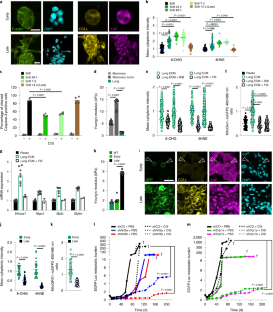 Data availability
Previously published metabolomics data have been deposited to the Figshare database and are available at https://doi.org/10.6084/m9.figshare.7338764. The RNA sequencing data have been deposited to Gene EXpression Omnibus database as GSE189803. All other data supporting the findings of this study are available from the corresponding author on reasonable request. Source data are provided with this paper.
References
Min, E. & Schwartz, M. A. Translocating transcription factors in fluid shear stress-mediated vascular remodeling and disease. Exp. Cell. Res. 376, 92–97 (2019).

Petridou, N. I., Spiró, Z. & Heisenberg, C.-P. Multiscale force sensing in development. Nat. Cell Biol. 19, 581–588 (2017).

Tschumperlin, D. J., Ligresti, G., Hilscher, M. B. & Shah, V. H. Mechanosensing and fibrosis. J. Clin. Invest. 128, 74–84 (2018).

Vining, K. H. & Mooney, D. J. Mechanical forces direct stem cell behaviour in development and regeneration. Nat. Rev. Mol. Cell Biol. 18, 728–742 (2017).

Humphrey, J. D., Dufresne, E. R. & Schwartz, M. A. Mechanotransduction and extracellular matrix homeostasis. Nat. Rev. Mol. Cell Biol. 15, 802–812 (2014).

Iskratsch, T., Wolfenson, H. & Sheetz, M. P. Appreciating force and shape—the rise of mechanotransduction in cell biology. Nat. Rev. Mol. Cell Biol. 15, 825–833 (2014).

Mohammadi, H. & Sahai, E. Mechanisms and impact of altered tumour mechanics. Nat. Cell Biol. 20, 766–774 (2018).

Gensbittel, V. et al. Mechanical adaptability of tumor cells in metastasis. Dev. Cell 56, 164–179 (2021).

Montagner, M. & Dupont, S. Mechanical Forces as Determinants of Disseminated Metastatic Cell Fate. Cells 9, 250 (2020).

Romani, P., Valcarcel-Jimenez, L., Frezza, C. & Dupont, S. Crosstalk between mechanotransduction and metabolism. Nat. Rev. Mol. Cell Biol. https://doi.org/10.1038/s41580-020-00306-w (2020).

Romani, P. et al. Extracellular matrix mechanical cues regulate lipid metabolism through Lipin-1 and SREBP. Nat. Cell Biol. 21, 338–347 (2019).

Gutscher, M. et al. Real-time imaging of the intracellular glutathione redox potential. Nat. Methods 5, 553–559 (2008).

Tao, R. et al. Genetically encoded fluorescent sensors reveal dynamic regulation of NADPH metabolism. Nat. Methods 14, 720–728 (2017).

Hawk, M. A. et al. RIPK1-mediated induction of mitophagy compromises the viability of extracellular-matrix-detached cells. Nat. Cell Biol. 20, 272–284 (2018).

Jiang, L. et al. Reductive carboxylation supports redox homeostasis during anchorage-independent growth. Nature 532, 255–258 (2016).

Schafer, Z. T. et al. Antioxidant and oncogene rescue of metabolic defects caused by loss of matrix attachment. Nature 461, 109–113 (2009).

Sasaki, H. et al. Electrophile response element-mediated induction of the cystine/glutamate exchange transporter gene expression. J. Biol. Chem. 277, 44765–44771 (2002).

Rojo de la Vega, M., Chapman, E. & Zhang, D. D. NRF2 and the hallmarks of cancer. Cancer Cell 34, 21–43 (2018).

Sies, H. & Jones, D. P. Reactive oxygen species (ROS) as pleiotropic physiological signalling agents. Nat. Rev. Mol. Cell Biol. 21, 363–383 (2020).

Agyeman, A. S. et al. Transcriptomic and proteomic profiling of KEAP1 disrupted and sulforaphane treated human breast epithelial cells reveals common expression profiles. Breast Cancer Res. Treat. 132, 175–187 (2012).

Hayes, J. D. & Dinkova-Kostova, A. T. The Nrf2 regulatory network provides an interface between redox and intermediary metabolism. Trends Biochem. Sci. 39, 199–218 (2014).

Panieri, E., Telkoparan-Akillilar, P., Suzen, S. & Saso, L. The NRF2/KEAP1 axis in the regulation of tumor metabolism: mechanisms and therapeutic perspectives. Biomolecules 10, 791 (2020).

Romero, R. et al. Keap1 loss promotes Kras-driven lung cancer and results in dependence on glutaminolysis. Nat. Med. 23, 1362–1368 (2017).

Rodriguez-Barrueco, R. et al. Inhibition of the autocrine IL-6–JAK2–STAT3–calprotectin axis as targeted therapy for HR−/HER2+ breast cancers. Genes Dev. 29, 1631–1648 (2015).

Vera-Ramirez, L., Vodnala, S. K., Nini, R., Hunter, K. W. & Green, J. E. Autophagy promotes the survival of dormant breast cancer cells and metastatic tumour recurrence. Nat. Commun. 9, 1944 (2018).

Medina, S. H. et al. Identification of a mechanogenetic link between substrate stiffness and chemotherapeutic response in breast cancer. Biomaterials 202, 1–11 (2019).

Havas, K. M. et al. Metabolic shifts in residual breast cancer drive tumor recurrence. J. Clin. Invest. 127, 2091–2105 (2017).

Jing, H. et al. Early evaluation of relative changes in tumor stiffness by shear wave elastography predicts the response to neoadjuvant chemotherapy in patients with breast cancer. J. Ultrasound Med. 35, 1619–1627 (2016).

Hsu, C.-K. et al. Caveolin-1 controls hyperresponsiveness to mechanical stimuli and fibrogenesis-associated RUNX2 activation in keloid fibroblasts. J. Invest. Dermatol. 138, 208–218 (2018).

Huang, C. & Ogawa, R. Fibroproliferative disorders and their mechanobiology. Connect. Tissue Res. 53, 187–196 (2012).

Dupont, S. et al. Role of YAP/TAZ in mechanotransduction. Nature 474, 179–183 (2011).

Ahn, S.-G. & Thiele, D. J. Redox regulation of mammalian heat shock factor 1 is essential for Hsp gene activation and protection from stress. Genes Dev. 17, 516–528 (2003).

Mendillo, M. L. et al. HSF1 drives a transcriptional program distinct from heat shock to support highly malignant human cancers. Cell 150, 549–562 (2012).

Tharp, K. M. et al. Adhesion-mediated mechanosignaling forces mitohormesis. Cell Metab. 33, 1322–1341 (2021).

Luo, M. et al. Heat stress activates YAP/TAZ to induce the heat shock transcriptome. Nat. Cell Biol. 22, 1447–1459 (2020).

Chandel, N. S. Evolution of mitochondria as signaling organelles. Cell Metab. 22, 204–206 (2015).

Shadel, G. S. & Horvath, T. L. Mitochondrial ROS signaling in organismal homeostasis. Cell 163, 560–569 (2015).

Yun, J. & Finkel, T. Mitohormesis. Cell Metab. 19, 757–766 (2014).

Dixon, S. J. & Stockwell, B. R. The hallmarks of ferroptosis. Ann. Rev. Cancer Biol. 3, 35–54 (2019).

Ursini, F. & Maiorino, M. Lipid peroxidation and ferroptosis: the role of GSH and GPx4. Free Radic. Biol. Med. 152, 175–185 (2020).

Bertero, T. et al. Tumor-stroma mechanics coordinate amino acid availability to sustain tumor growth and malignancy. Cell Metab. 29, 124–140 (2019).

Chakraborty, M. et al. Mechanical stiffness controls dendritic cell metabolism and function. Cell Rep. 34, 108609 (2021).

Khan, A. U. H. et al. Mitochondrial complex I activity signals antioxidant response through ERK5. Sci. Rep. 8, 7420 (2018).

Santacatterina, F. et al. Down-regulation of oxidative phosphorylation in the liver by expression of the ATPase inhibitory factor 1 induces a tumor-promoter metabolic state. Oncotarget 7, 490–508 (2015).

Wu, D. et al. Identification of novel dynamin-related protein 1 (Drp1) GTPase inhibitors: therapeutic potential of Drpitor1 and Drpitor1a in cancer and cardiac ischemia-reperfusion injury. FASEB J. 34, 1447–1464 (2020).

Giacomello, M., Pyakurel, A., Glytsou, C. & Scorrano, L. The cell biology of mitochondrial membrane dynamics. Nat. Rev. Mol. Cell Biol. 21, 204–224 (2020).

Kraus, F., Roy, K., Pucadyil, T. J. & Ryan, M. T. Function and regulation of the divisome for mitochondrial fission. Nature 590, 57–66 (2021).

Cieri, D. et al. SPLICS: a split green fluorescent protein-based contact site sensor for narrow and wide heterotypic organelle juxtaposition. Cell Death Differ. 25, 1131–1145 (2018).

Vallese, F. et al. An expanded palette of improved SPLICS reporters detects multiple organelle contacts in vitro and in vivo. Nat. Commun. 11, 6069 (2020).

Bordt, E. A. et al. The putative Drp1 inhibitor mdivi-1 is a reversible mitochondrial complex I inhibitor that modulates reactive oxygen species. Dev. Cell 40, 583–594 (2017).

Cassidy-Stone, A. et al. Chemical inhibition of the mitochondrial division dynamin reveals its role in Bax/Bak-dependent mitochondrial outer membrane permeabilization. Dev. Cell 14, 193–204 (2008).

Atkins, K., Dasgupta, A., Chen, K.-H., Mewburn, J. & Archer, S. L. The role of Drp1 adaptor proteins MiD49 and MiD51 in mitochondrial fission: implications for human disease. Clin. Sci. 130, 1861–1874 (2016).

Dasgupta, A. et al. An epigenetic increase in mitochondrial fission by MiD49 and MiD51 regulates the cell cycle in cancer: diagnostic and therapeutic implications. FASEB J. 34, 5106–5127 (2020).

Koirala, S. et al. Interchangeable adaptors regulate mitochondrial dynamin assembly for membrane scission. Proc. Natl Acad. Sci. USA 110, E1342–E1351 (2013).

Osellame, L. D. et al. Cooperative and independent roles of the Drp1 adaptors Mff, MiD49 and MiD51 in mitochondrial fission. J. Cell Sci. 129, 2170–2181 (2016).

Lomakin, A. J. et al. Competition for actin between two distinct F-actin networks defines a bistable switch for cell polarization. Nat. Cell Biol. 17, 1435–1445 (2015).

Pocaterra, A. et al. Fascin1 empowers YAP mechanotransduction and promotes cholangiocarcinoma development. Commun. Biol. 4, 1–13 (2021).

Suarez, C. & Kovar, D. R. Internetwork competition for monomers governs actin cytoskeleton organization. Nat. Rev. Mol. Cell Biol. 17, 799–810 (2016).

Yang, Q., Zhang, X.-F., Pollard, T. D. & Forscher, P. Arp2/3 complex-dependent actin networks constrain myosin II function in driving retrograde actin flow. J. Cell Biol. 197, 939–956 (2012).

Carlier, M.-F. & Shekhar, S. Global treadmilling coordinates actin turnover and controls the size of actin networks. Nat. Rev. Mol. Cell Biol. 18, 389–401 (2017).

Korobova, F., Ramabhadran, V. & Higgs, H. N. An actin-dependent step in mitochondrial fission mediated by the ER-associated formin INF2. Science 339, 464–467 (2013).

Li, S. et al. Transient assembly of F-actin on the outer mitochondrial membrane contributes to mitochondrial fission. J. Cell Biol. 208, 109–123 (2015).

Manor, U. et al. A mitochondria-anchored isoform of the actin-nucleating spire protein regulates mitochondrial division. eLife 4, e08828 (2015).

Posern, G., Sotiropoulos, A. & Treisman, R. Mutant actins demonstrate a role for unpolymerized actin in control of transcription by serum response factor. Mol. Biol. Cell 13, 4167–4178 (2002).

Helle, S. C. J. et al. Mechanical force induces mitochondrial fission. eLife 6, e30292 (2017).

Kleele, T. et al. Distinct fission signatures predict mitochondrial degradation or biogenesis. Nature 593, 435–439 (2021).

Moore, A. S. et al. Actin cables and comet tails organize mitochondrial networks in mitosis. Nature 591, 659–664 (2021).

Barkan, D. & Chambers, A. F. β1-Integrin: a potential therapeutic target in the battle against cancer recurrence. Clin. Cancer Res. 17, 7219–7223 (2011).

Montagner, M. & Sahai, E. In vitro models of breast cancer metastatic dormancy. Front. Cell Dev. Biol. 8, 37 (2020).

Klein, C. A. Cancer progression and the invisible phase of metastatic colonization. Nat. Rev. Cancer 20, 681–694 (2020).

Barkan, D. et al. Inhibition of metastatic outgrowth from single dormant tumor cells by targeting the cytoskeleton. Cancer Res. 68, 6241–6250 (2008).

Barkan, D. et al. Metastatic growth from dormant cells induced by a Col-I-enriched fibrotic environment. Cancer Res. 70, 5706–5716 (2010).

Alsafadi, H. N. et al. Applications and approaches for three-dimensional precision-cut lung slices. Disease modeling and drug discovery. Am. J. Respir. Cell Mol. Biol. 62, 681–691 (2020).

Giobbe, G. G. et al. Extracellular matrix hydrogel derived from decellularized tissues enables endodermal organoid culture. Nat. Commun. 10, 5658 (2019).

Maghsoudlou, P. et al. Preservation of micro-architecture and angiogenic potential in a pulmonary acellular matrix obtained using intermittent intra-tracheal flow of detergent enzymatic treatment. Biomaterials 34, 6638–6648 (2013).

Liu, F. et al. Feedback amplification of fibrosis through matrix stiffening and COX-2 suppression. J. Cell Biol. 190, 693–706 (2010).

Girton, T. S., Oegema, T. R. & Tranquillo, R. T. Exploiting glycation to stiffen and strengthen tissue equivalents for tissue engineering. J. Biomed. Mater. Res. 46, 87–92 (1999).

Roy, R., Boskey, A. & Bonassar, L. J. Processing of type I collagen gels using non-enzymatic glycation. J. Biomed. Mater. Res. A 93, 843–851 (2010).

Goddard, E. T., Bozic, I., Riddell, S. R. & Ghajar, C. M. Dormant tumour cells, their niches and the influence of immunity. Nat. Cell Biol. 20, 1240–1249 (2018).

Rehman, J. et al. Inhibition of mitochondrial fission prevents cell cycle progression in lung cancer. FASEB J. 26, 2175–2186 (2012).

Takahashi, N. et al. 3D culture models with CRISPR screens reveal hyperactive NRF2 as a prerequisite for spheroid formation via regulation of proliferation and ferroptosis. Mol. Cell https://doi.org/10.1016/j.molcel.2020.10.010 (2020).

Chen, K., Wang, Y., Deng, X., Guo, L. & Wu, C. Extracellular matrix stiffness regulates mitochondrial dynamics through PINCH-1- and kindlin-2-mediated signalling. Curr. Res. Cell Biol. 2, 100008 (2021).

Yang, H. et al. Materials stiffness-dependent redox metabolic reprogramming of mesenchymal stem cells for secretome-based therapeutic angiogenesis. Adv. Healthcare Mater. 8, 1900929 (2019).

Khacho, M. et al. Mitochondrial dynamics impacts stem cell identity and fate decisions by regulating a nuclear transcriptional program. Cell Stem Cell 19, 232–247 (2016).

Hatch, A. L., Ji, W.-K., Merrill, R. A., Strack, S. & Higgs, H. N. Actin filaments as dynamic reservoirs for Drp1 recruitment. Mol. Biol. Cell 27, 3109–3121 (2016).

Palmer, C. S. et al. MiD49 and MiD51, new components of the mitochondrial fission machinery. EMBO Rep. 12, 565–573 (2011).

Moore, A. S., Wong, Y. C., Simpson, C. L. & Holzbaur, E. L. F. Dynamic actin cycling through mitochondrial subpopulations locally regulates the fission-fusion balance within mitochondrial networks. Nat. Commun. 7, 12886 (2016).

Liu, X. & Hajnóczky, G. Altered fusion dynamics underlie unique morphological changes in mitochondria during hypoxia–reoxygenation stress. Cell Death Differ. 18, 1561–1572 (2011).

Miyazono, Y. et al. Uncoupled mitochondria quickly shorten along their long axis to form indented spheroids, instead of rings, in a fission-independent manner. Sci. Rep. 8, 350 (2018).

Maguire, S. L. et al. Three-dimensional modelling identifies novel genetic dependencies associated with breast cancer progression in the isogenic MCF10 model. J. Pathol. 240, 315–328 (2016).

Pocaterra, A. et al. F-actin dynamics regulates mammalian organ growth and cell fate maintenance. J. Hepatol. 71, 130–142 (2019).

Ignesti, M. et al. A polydnavirus-encoded ANK protein has a negative impact on steroidogenesis and development. Insect Biochem. Mol. Biol. 95, 26–32 (2018).

Romani, P. et al. Dynamin controls extracellular level of Awd/Nme1 metastasis suppressor protein. Naunyn Schmiedebergs Arch. Pharmacol. 389, 1171–1182 (2016).

Romani, P., Duchi, S., Gargiulo, G. & Cavaliere, V. Evidence for a novel function of Awd in maintenance of genomic stability. Sci. Rep. 7, 16820 (2017).

Chen, K.-H. et al. Epigenetic dysregulation of the dynamin-related protein 1 binding partners MiD49 and MiD51 increases mitotic mitochondrial fission and promotes pulmonary arterial hypertension: mechanistic and therapeutic implications. Circulation 138, 287–304 (2018).

Enzo, E. et al. Aerobic glycolysis tunes YAP/TAZ transcriptional activity. EMBO J. 34, 1349–1370 (2015).

Hagen, C. K. et al. High contrast microstructural visualization of natural acellular matrices by means of phase-based x-ray tomography. Sci. Rep. 5, 18156 (2015).

Urciuolo, A. et al. Intravital three-dimensional bioprinting. Nat. Biomed. Eng. 4, 901–915 (2020).

Albrengues, J. et al. Neutrophil extracellular traps produced during inflammation awaken dormant cancer cells in mice. Science 361, eaao4227 (2018).

Montagner, M. et al. Crosstalk with lung epithelial cells regulates Sfrp2-mediated latency in breast cancer dissemination. Nat. Cell Biol. 22, 289–296 (2020).

Shibue, T., Brooks, M. W. & Weinberg, R. A. An integrin-linked machinery of cytoskeletal regulation that enables experimental tumor initiation and metastatic colonization. Cancer Cell 24, 481–498 (2013).

Aston, W. J. et al. A systematic investigation of the maximum tolerated dose of cytotoxic chemotherapy with and without supportive care in mice. BMC Cancer 17, 684 (2017).
Acknowledgements
We thank D. De Stefani for help with plasmids and advice on toroidal mitochondria, L. Scorrano and M. Zamberlan for protocols to measure mitochondrial morphology and reagents to study DRP1, C. Laterza for help with tissue sectioning, J. Weedon who contributed to the set-up of the bleomycin model, and I. Szabo for help with the transmission electron microscopy and critically reading the manuscript. This study was supported by: Worldwide Cancer Research grant no. 21-0156, AIRC Foundation Investigator grant no. 21392 and a CARIPARO Excellence Grant to S.D.; P.R. is supported by a Veronesi Foundation Postdoctoral Fellowship; AIRC Foundation Investigator grant no. 2018-ID 2135, AIRC Foundation Investigator Grant 5 per mille grant no. 22759, Ministero della Salute grant no. RCR-2019-23669115, Ministero della Salute grant no. NET-2016-02361632 and Istituto Oncologico Veneto to A.R.; Giovanni Armenise–Harvard Foundation and ERC Starting Grant (MetEpiStem) to G.M.; Canadian Institutes for Health Research (CIHR) Foundation Grant, National Institutes of Health grant nos R01-HL071115 and 1RC1HL099462, a Tier I Canada Research Chair and the William J. Henderson Foundation to S.L.A.; Longfonds (Voorhen Astma Fonds) BREATH Consortium, NIHR GOSH Biomedical Research Centre, the National Institute for Health Research grant no. NIHR-RP-2014-04-046 to P.D.C.; F.M. is supported by a GOSH BRC Catalyst Fellowship; University of Padua STARS Consolidator Grant 2019 to T.C.; University of Padua TWINING-VELT 2017 Grant to N.E.; and Fondazione IRP Città della Speranza to A.U.
Ethics declarations
Competing interests
The invention of Drpitor1a is the subject of the US Patent Application 20200323829 by D.W. and S.L.A. The remaining authors declare no competing interests.
Peer review
Peer review information
Nature Cell Biology thanks the anonymous reviewers for their contribution to the peer review of this work. Peer reviewer reports are available.
Additional information
Publisher's note Springer Nature remains neutral with regard to jurisdictional claims in published maps and institutional affiliations.
Supplementary information
About this article
Cite this article
Romani, P., Nirchio, N., Arboit, M. et al. Mitochondrial fission links ECM mechanotransduction to metabolic redox homeostasis and metastatic chemotherapy resistance. Nat Cell Biol 24, 168–180 (2022). https://doi.org/10.1038/s41556-022-00843-w
Received:

Accepted:

Published:

Issue Date:

DOI: https://doi.org/10.1038/s41556-022-00843-w