Abstract
Simultaneous imaging of various facets of intact biological systems across multiple spatiotemporal scales is a long-standing goal in biology and medicine, for which progress is hindered by limits of conventional imaging modalities. Here we propose using the refractive index (RI), an intrinsic quantity governing light–matter interaction, as a means for such measurement. We show that major endogenous subcellular structures, which are conventionally accessed via exogenous fluorescence labelling, are encoded in three-dimensional (3D) RI tomograms. We decode this information in a data-driven manner, with a deep learning-based model that infers multiple 3D fluorescence tomograms from RI measurements of the corresponding subcellular targets, thereby achieving multiplexed microtomography. This approach, called RI2FL for refractive index to fluorescence, inherits the advantages of both high-specificity fluorescence imaging and label-free RI imaging. Importantly, full 3D modelling of absolute and unbiased RI improves generalization, such that the approach is applicable to a broad range of new samples without retraining to facilitate immediate applicability. The performance, reliability and scalability of this technology are extensively characterized, and its various applications within single-cell profiling at unprecedented scales (which can generate new experimentally testable hypotheses) are demonstrated.
This is a preview of subscription content
Access options
Subscribe to Nature+
Get immediate online access to the entire Nature family of 50+ journals
Subscribe to Journal
Get full journal access for 1 year
$99.00
only $8.25 per issue
All prices are NET prices.
VAT will be added later in the checkout.
Tax calculation will be finalised during checkout.
Buy article
Get time limited or full article access on ReadCube.
$32.00
All prices are NET prices.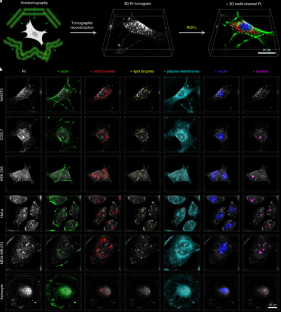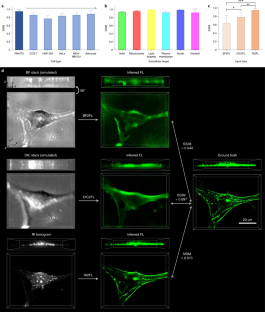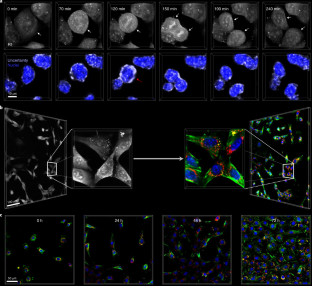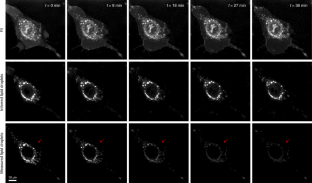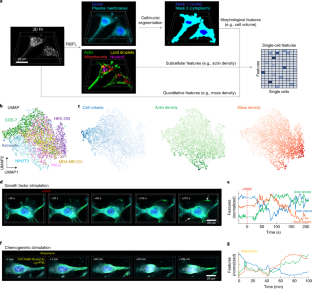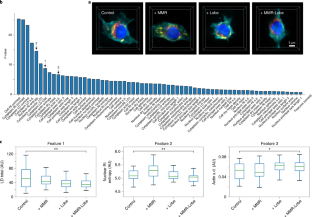 Data availability
RI2FL datasets are available at https://github.com/NySunShine/ri2fl. Source data are provided with this paper. All other data supporting the findings of this study are available from the corresponding author on reasonable request.
References
Mertz, J. Introduction to Optical Microscopy (Cambridge Univ. Press, 2019).

Lichtman, J. W. & Conchello, J.-A. Fluorescence microscopy. Nat. Methods 2, 910–919 (2005).

Christiansen, E. M. et al. In silico labeling: predicting fluorescent labels in unlabeled images. Cell 173, 792–803.e19 (2018).

Ounkomol, C., Seshamani, S., Maleckar, M. M., Collman, F. & Johnson, G. R. Label-free prediction of three-dimensional fluorescence images from transmitted-light microscopy. Nat. Methods 15, 917–920 (2018).

Guo, S.-M. et al. Revealing architectural order with quantitative label-free imaging and deep learning. eLife 9, e55502 (2020).

Cheng, S. et al. Single-cell cytometry via multiplexed fluorescence prediction by label-free reflectance microscopy. Sci. Adv. 7, eabe0431 (2021).

Rivenson, Y. et al. PhaseStain: the digital staining of label-free quantitative phase microscopy images using deep learning. Light Sci. Appl. 8, 23 (2019).

Nygate, Y. N. et al. Holographic virtual staining of individual biological cells. Proc. Natl Acad. Sci. USA 117, 9223–9231 (2020).

Kandel, M. E. et al. Phase imaging with computational specificity (PICS) for measuring dry mass changes in sub-cellular compartments. Nat. Commun. 11, 6256 (2020).

Kandel, M. E. et al. Multiscale assay of unlabeled neurite dynamics using phase imaging with computational specificity. ACS Sens. 6, 1864–1874 (2021).

Park, Y., Depeursinge, C. & Popescu, G. Quantitative phase imaging in biomedicine. Nat. Photonics 12, 578–589 (2018).

Kim, K. et al. Correlative three-dimensional fluorescence and refractive index tomography: bridging the gap between molecular specificity and quantitative bioimaging. Biomed. Opt. Express 8, 5688–5697 (2017).

Lee, J. et al. Deep-learning-based label-free segmentation of cell nuclei in time-lapse refractive index tomograms. IEEE Access 7, 83449–83460 (2019).

Park, S. et al. Label-free tomographic imaging of lipid droplets in foam cells for machine-learning-assisted therapeutic evaluation of targeted nanodrugs. ACS Nano 14, 1856–1865 (2020).

Yoon, J. et al. Label-free identification of lymphocyte subtypes using three-dimensional quantitative phase imaging and machine learning. J. Vis. Exp. https://doi.org/10.3791/58305 (2018).

Gal, Y. & Ghahramani, Z. Dropout as a Bayesian approximation: representing model uncertainty in deep learning. Proc. Int. Conf. Mach. Learn. 48, 1050–1059 (2016).

Wang, G. et al. Aleatoric uncertainty estimation with test-time augmentation for medical image segmentation with convolutional neural networks. Neurocomputing 338, 34–45 (2019).

Weigert, M. et al. Content-aware image restoration: pushing the limits of fluorescence microscopy. Nat. Methods 15, 1090–1097 (2018).

Xue, Y., Cheng, S., Li, Y. & Tian, L. Reliable deep-learning-based phase imaging with uncertainty quantification. Optica 6, 618–629 (2019).

Kendall, A. & Gal, Y. What uncertainties do we need in Bayesian deep learning for computer vision? In Proc. 31st International Conference on Neural Information Processing Systems (eds von Luxburg, U. et al.) 5574–5584 (Curran Associates, 2017).

Zheng, G., Horstmeyer, R. & Yang, C. Wide-field, high-resolution Fourier ptychographic microscopy. Nat. Photonics 7, 739–745 (2013).

Baek, Y., Lee, K., Shin, S. & Park, Y. Kramers–Kronig holographic imaging for high-space-bandwidth product. Optica 6, 45–51 (2019).

Bray, M.-A. et al. Cell Painting, a high-content image-based assay for morphological profiling using multiplexed fluorescent dyes. Nat. Protoc. 11, 1757–1774 (2016).

Barer, R. Determination of dry mass, thickness, solid and water concentration in living cells. Nature 172, 1097–1098 (1953).

Cooper, K. L. et al. Multiple phases of chondrocyte enlargement underlie differences in skeletal proportions. Nature 495, 375–378 (2013).

Mir, M. et al. Optical measurement of cycle-dependent cell growth. Proc. Natl Acad. Sci. USA 108, 13124–13129 (2011).

McInnes, L., Healy, J. & Melville, J. UMAP: uniform manifold approximation and projection for dimension reduction. Preprint at https://arxiv.org/abs/1802.03426 (2018).

Martin, K., Vilela, M., Jeon, N. L., Danuser, G. & Pertz, O. A growth factor-induced, spatially organizing cytoskeletal module enables rapid and persistent fibroblast migration. Dev. Cell 30, 701–716 (2014).

Kim, K., Kim, K. S., Park, H., Ye, J. C. & Park, Y. Real-time visualization of 3-D dynamic microscopic objects using optical diffraction tomography. Opt. Express 21, 32269–32278 (2013).

Inoue, T., Do Heo, W., Grimley, J. S., Wandless, T. J. & Meyer, T. An inducible translocation strategy to rapidly activate and inhibit small GTPase signaling pathways. Nat. Methods 2, 415–418 (2005).

Liu, P. et al. Rab-regulated interaction of early endosomes with lipid droplets. Biochim. Biophys. Acta 1773, 784–793 (2007).

Kounakis, K., Chaniotakis, M., Markaki, M. & Tavernarakis, N. Emerging roles of lipophagy in health and disease. Front. Cell Dev. Biol. 7, 185 (2019).

Pandarinath, C. et al. Inferring single-trial neural population dynamics using sequential auto-encoders. Nat. Methods 15, 805–815 (2018).

Topol, E. J. High-performance medicine: the convergence of human and artificial intelligence. Nat. Med. 25, 44–56 (2019).

Jo, Y. et al. Quantitative phase imaging and artificial intelligence: a review. IEEE J. Sel. Top. Quantum Electron. 25, 1–14 (2019).

Chen, M., Ren, D., Liu, H.-Y., Chowdhury, S. & Waller, L. Multi-layer Born multiple-scattering model for 3D phase microscopy. Optica 7, 394–403 (2020).

Lim, J., Ayoub, A. B., Antoine, E. E. & Psaltis, D. High-fidelity optical diffraction tomography of multiple scattering samples. Light Sci. Appl. 8, 82 (2019).

Doshi-Velez, F. & Kim, B. Towards a rigorous science of interpretable machine learning. Preprint at https://arxiv.org/abs/1702.08608 (2017).

Sussillo, D. & Barak, O. Opening the black box: low-dimensional dynamics in high-dimensional recurrent neural networks. Neural Comput. 25, 626–649 (2013).

Zaritsky, A. et al. Interpretable deep learning uncovers cellular properties in label-free live cell images that are predictive of highly metastatic melanoma. Cell Syst. 12, 733–747.e6 (2021).

Lim, J. et al. Comparative study of iterative reconstruction algorithms for missing cone problems in optical diffraction tomography. Opt. Express 23, 16933–16948 (2015).

Jo, Y., Park, W. S. & Park, Y. Holotomographic imaging of eukaryotic cells. Protoc. Exch. https://doi.org/10.21203/rs.3.pex-1667/v1 (2021).

Kim, S. et al. in International Conference on Medical Image Computing and Computer-Assisted Intervention (eds Shen, D. et al.) 220-228 (Springer, 2019).

Tan, M. & Le, Q. Efficientnet: rethinking model scaling for convolutional neural networks. Proc. Int. Conf. Mach. Learn. 97, 6105–6114 (2019).

Berg, S. et al. Ilastik: interactive machine learning for (bio) image analysis. Nat. Methods 16, 1226–1232 (2019).

Kandel, M. E. et al. Reproductive outcomes predicted by phase imaging with computational specificity of spermatozoon ultrastructure. Proc. Natl Acad. Sci. USA 117, 18302–18309 (2020).
Acknowledgements
We thank the members of KAIST Biomedical Optics Laboratory for helpful discussions. This work was supported by the KAIST Up program, the BK21+ program, Tomocube, the National Research Foundation of Korea (2015R1A3A2066550), an Institute of Information & Communications Technology Planning & Evaluation (IITP; 2021-0-00745) grant and the Commercialization Promotion Agency for R&D Outcomes (COMPA; 055586) funded by the Korean government (MSIT) to Y.P.; the Korea Health Technology R&D Project through the Korea Health Industry Development Institute (KHIDI), funded by the Ministry of Health & Welfare, Korea (HI21C0977) to H.-s.M.; and a KAIST Presidential Fellowship and Asan Foundation Biomedical Science Scholarship to Y.J.
Ethics declarations
Competing interests
H.C., M.L., H. Jo, Sumin Lee, H.-s.M. and Y.P. have financial interests in Tomocube, a company that commercializes ODT and QPI instruments and is one of the sponsors of the work. The remaining authors declare no competing interests.
Additional information
Peer review information Nature Cell Biology thanks Gaudenz Danuser, and the other, anonymous reviewer(s) for their contribution to the peer review of this work.
Publisher's note Springer Nature remains neutral with regard to jurisdictional claims in published maps and institutional affiliations.
Supplementary information
About this article
Cite this article
Jo, Y., Cho, H., Park, W.S. et al. Label-free multiplexed microtomography of endogenous subcellular dynamics using generalizable deep learning. Nat Cell Biol 23, 1329–1337 (2021). https://doi.org/10.1038/s41556-021-00802-x
Received:

Accepted:

Published:

Issue Date:

DOI: https://doi.org/10.1038/s41556-021-00802-x
Further reading
Soorya Pradeep
Thomas A. Zangle

Scientific Reports (2022)

Geon Kim
Daewoong Ahn
YongKeun Park

Light: Science & Applications (2022)