Abstract
While there is extensive evidence for genetic variation as a basis for treatment resistance, other sources of variation result from cellular plasticity. Using multiple myeloma as an example of an incurable lymphoid malignancy, we show how cancer cells modulate lineage restriction, adapt their enhancer usage and employ cell-intrinsic diversity for survival and treatment escape. By using single-cell transcriptome and chromatin accessibility profiling, we show that distinct transcriptional states co-exist in individual cancer cells and that differential transcriptional regulon usage and enhancer rewiring underlie these alternative transcriptional states. We demonstrate that exposure to standard treatment further promotes transcriptional reprogramming and differential enhancer recruitment while simultaneously reducing developmental potential. Importantly, treatment generates a distinct complement of actionable immunotherapy targets, such as CXCR4, which can be exploited to overcome treatment resistance. Our studies therefore delineate how to transform the cellular plasticity that underlies drug resistance into immuno-oncologic therapeutic opportunities.
This is a preview of subscription content
Access options
Subscribe to Journal
Get full journal access for 1 year
$99.00
only $8.25 per issue
All prices are NET prices.
VAT will be added later in the checkout.
Tax calculation will be finalised during checkout.
Rent or Buy article
Get time limited or full article access on ReadCube.
from$8.99
All prices are NET prices.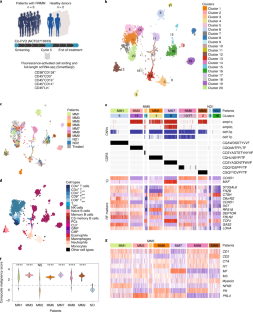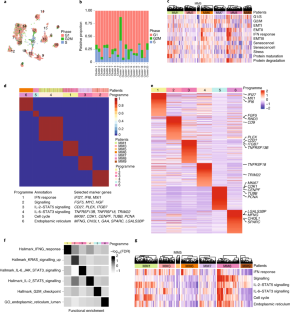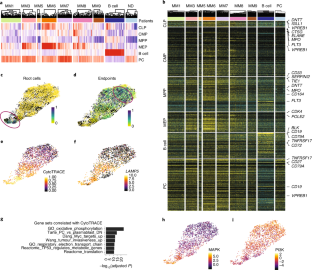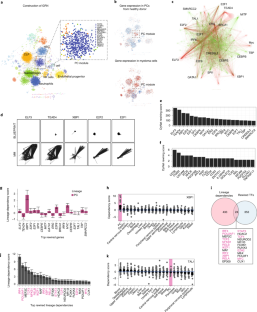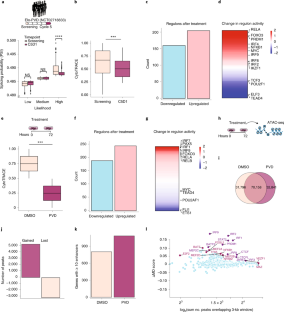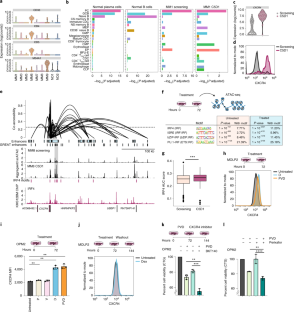 Data availability
The data collected in this paper include next-generation sequencing (NGS) data. The following NGS datasets were produced: (1) scRNA-seq datasets from primary myeloma and CD45+ immune cells and normal donor bone marrow plasma cells and CD45+ immune cells; (2) scRNA-seq datasets from the MMCL MOLP2 treated with PVD or DMSO; (3) scATAC-seq datasets from primary myeloma and normal donor plasma cells; (4) bulk ATAC-seq datasets from the MMCL MOLP2 treated with PVD or DMSO; (5) CUT&Tag data for H3K27 acetylation from the MMCL MOLP2 treated with PVD or DMSO. FASTQ files were generated following Illumina sequencing and further analysed as described below and in the Methods. The scRNA-seq and ATAC-seq datasets and CUT&Tag data generated in this study have been deposited in the Gene Expression Omnibus under the accession number GSE162337. The cytoscape files for the final GRNs are available for download at the Broad Institute Single Cell Portal (https://singlecell.broadinstitute.org/single_cell/study/SCP1511/dynamic-transcriptional-reprogramming-leads-to-novel-immunotherapeutic-vulnerabilities-in-myeloma). Previously published IRF4 Chip-seq data that were re-analysed here are available under accession code PRJEB25605 from the European Nucleotide Archive. Previously published H3K27 acetylation ChIP-seq data that were re-analysed here are available from the European Nucleotide Archive under accession codes PRJEB25605 (for patient samples) and PRJNA608682 (for normal plasma cells). Additionally, we used the following publicly available datasets: the dependency scores available through the depmap download portal (https://depmap.org/portal/download/); the BLUEPRINT dataset12; and the JASPAR motif database. Source data are provided with this paper. All other data supporting the findings of this study are available from the corresponding authors on reasonable request.
Code availability
The following tools are available on github: trimmomatic, STAR aligner, HTSeq, RSEM and the nfcore/atacseq pipeline v.1.0.0; for downstream analysis, R (v.3.6.1 or 4.0) and python (v.2.7.2 or 3.6.0); and the packages mvoutlier (v.2.1.1), PAGODA2 (v.0.1.1), SingleR (v.1.0.1), scran (1.12.1), InferCNV (1.4.0), CONICSmat (v.0.0.0.1), MiXCR, randomFOREST (v.4.6-14), SCANPY (v.1.4.6), CytoTRACE (v.0.1.0), PROGENy (1.6.0), LandSCENT (0.99.3), SCENIC (1.1.2-2), Seurat (v.3.2.1), velocyto, scvelo (v.0.2.0), TissueEnrich (v.1.4.1), Cicero (v.1.2.0), chromVAR (v.1.6.0), GVIZ (v.1.28.3), deeptools (v.3.0.2), ArchR (v.0.9.5), edgeR (v.3.32.0), NMF (v.0.23.0), BRIE2 (v.2) and MISO (v.0.5.4); also FlowJo (v.10), cytoscape (v.3.8.0), GREAT (http://great.stanford.edu/public/html/) and GSEA (https://www.gsea-msigdb.org/gsea/index.jsp).
References
1.

Sharma, S. V. et al. A chromatin-mediated reversible drug-tolerant state in cancer cell subpopulations. Cell 141, 69–80 (2010).

2.

Hangauer, M. J. et al. Drug-tolerant persister cancer cells are vulnerable to GPX4 inhibition. Nature 551, 247–250 (2017).

3.

Shaffer, S. M. et al. Rare cell variability and drug-induced reprogramming as a mode of cancer drug resistance. Nature 546, 431–435 (2017).

4.

Risom, T. et al. Differentiation-state plasticity is a targetable resistance mechanism in basal-like breast cancer. Nat. Commun. 9, 3815 (2018).

5.

Verfaillie, A. et al. Decoding the regulatory landscape of melanoma reveals TEADS as regulators of the invasive cell state. Nat. Commun. 6, 6683 (2015).

6.

Wouters, J. et al. Robust gene expression programs underlie recurrent cell states and phenotype switching in melanoma. Nat. Cell Biol. 22, 986–998 (2020).

7.

LaFave, L. M. et al. Epigenomic state transitions characterize tumor progression in mouse lung adenocarcinoma. Cancer Cell 38, 212–228.e13 (2020).

8.

Paiva, B. et al. Differentiation stage of myeloma plasma cells: biological and clinical significance on behalf of GEM/PETHEMA cooperative study groups Europe PMC Funders Group. Leukemia 31, 382–392 (2017).

9.

Joseph, D., Gonsky, J. P. & Blain, S. W. Macrophage inhibitory factor-1 (MIF-1) controls the plasticity of multiple myeloma tumor cells. PLoS ONE 13, e0206368 (2018).

10.

Picelli, S. et al. Full-length RNA-seq from single cells using Smart-seq2. Nat. Protoc. 9, 171–181 (2014).

11.

Fan, J. et al. Characterizing transcriptional heterogeneity through pathway and gene set overdispersion analysis. Nat. Methods 13, 241–244 (2016).

12.

Fernández, J. M. et al. The BLUEPRINT data analysis portal. Cell Syst. 3, 491–495.e5 (2016).

13.

Ledergor, G. et al. Single cell dissection of plasma cell heterogeneity in symptomatic and asymptomatic myeloma. Nat. Med. 24, 1867–1876 (2018).

14.

Broyl, A. et al. Gene expression profiling for molecular classification of multiple myeloma in newly diagnosed patients. Blood 116, 2543–2553 (2010).

15.

Kinker, G. S. et al. Pan-cancer single-cell RNA-seq identifies recurring programs of cellular heterogeneity. Nat. Genet. 52, 1208–1218 (2020).

16.

Hay, S. B., Ferchen, K., Chetal, K., Grimes, H. L. & Salomonis, N. The human cell atlas bone marrow single-cell interactive web portal. Exp. Hematol. 68, 51–61 (2018).

17.

La Manno, G. et al. RNA velocity of single cells. Nature 560, 494–498 (2018).

18.

Gulati, G. S. et al. Single-cell transcriptional diversity is a hallmark of developmental potential. Science 367, 405–411 (2020).

19.

Teschendorff, A. E. & Enver, T. Single-cell entropy for accurate estimation of differentiation potency from a cell's transcriptome. Nat. Commun. 8, 15599 (2017).

20.

Chen, W. et al. Single-cell landscape in mammary epithelium reveals bipotent-like cells associated with breast cancer risk and outcome. Commun. Biol. 2, 306 (2019).

21.

Setz, C. S. et al. PI3K-mediated Blimp-1 activation controls B cell selection and homeostasis. Cell Rep. 24, 391–405 (2018).

22.

Aibar, S. et al. SCENIC: single-cell regulatory network inference and clustering. Nat. Methods 14, 1083–1086 (2017).

23.

Kas, K. et al. ESE-3, a novel member of an epithelium-specific ets transcription factor subfamily, demonstrates different target gene specificity from ESE-1. J. Biol. Chem. 275, 2986–2998 (2000).

24.

Joshi, S. et al. TEAD transcription factors are required for normal primary myoblast differentiation in vitro and muscle regeneration in vivo. PLoS Genet. 13, e1006600 (2017).

25.

Goenawan, I. H., Bryan, K. & Lynn, D. J. DyNet: visualization and analysis of dynamic molecular interaction networks. Bioinformatics 32, 2713–2715 (2016).

26.

Cuitiño, M. C. et al. Two distinct E2F transcriptional modules drive cell cycles and differentiation. Cell Rep. 27, 3547–3560.e5 (2019).

27.

Fulciniti, M. et al. Non-overlapping control of transcriptome by promoter- and super-enhancer-associated dependencies in multiple myeloma. Cell Rep. 25, 3693–3705.e6 (2018).

28.

Jin, Y. et al. Active enhancer and chromatin accessibility landscapes chart the regulatory network of primary multiple myeloma. Blood 131, 2138–2150 (2018).

29.

McLean, C. Y. et al. GREAT improves functional interpretation of cis-regulatory regions. Nat. Biotechnol. 28, 495–501 (2010).

30.

Fulco, C. P. et al. Activity-by-contact model of enhancer-promoter regulation from thousands of CRISPR perturbations. Nat. Genet. 51, 1664–1669 (2019).

31.

Schep, A. N., Wu, B., Buenrostro, J. D. & Greenleaf, W. J. chromVAR: inferring transcription-factor-associated accessibility from single-cell epigenomic data. Nat. Methods 14, 975–978 (2017).

32.

Salomonis, N. et al. Alternative splicing regulates mouse embryonic stem cell pluripotency and differentiation. Proc. Natl Acad. Sci. USA 107, 10514–10519 (2010).

33.

Lee, J. H., Kwon, E. J. & Kim, D. H. Calumenin has a role in the alleviation of ER stress in neonatal rat cardiomyocytes. Biochem. Biophys. Res. Commun. 439, 327–332 (2013).

34.

Campbell, K. S., Cohen, A. D. & Pazina, T. Mechanisms of NK cell activation and clinical activity of the therapeutic SLAMF7 antibody, elotuzumab in multiple myeloma. Front. Immunol. 9, 2551 (2018).

35.

Roccaro, A. M. et al. CXCR4 regulates extra-medullary myeloma through epithelial–mesenchymal-transition-like transcriptional activation. Cell Rep. 12, 622–635 (2015).

36.

Ghobrial, I. M. et al. A Phase Ib/II trial of the first-in-class anti-CXCR4 antibody ulocuplumab in combination with lenalidomide or bortezomib plus dexamethasone in relapsed multiple myeloma. Clin. Cancer Res. 26, 344–353 (2020).

37.

DiPersio, J. F. et al. Plerixafor and G-CSF versus placebo and G-CSF to mobilize hematopoietic stem cells for autologous stem cell transplantation in patients with multiple myeloma. Blood 113, 5720–5726 (2009).

38.

Mandal, M. et al. CXCR4 signaling directs Igk recombination and the molecular mechanisms of late B lymphopoiesis. Nat. Immunol. 20, 1393–1403 (2019).

39.

Barwick, B. G., Gupta, V. A., Vertino, P. M. & Boise, L. H. Cell of origin and genetic alterations in the pathogenesis of multiple myeloma. Front. Immunol. 10, 1121 (2019).

40.

Ordonez, R. et al. Chromatin activation as a unifying principle underlying pathogenic mechanisms in multiple myeloma. Genome Res. 30, 1217–1227 (2020).

41.

Flavahan, W. A., Gaskell, E. & Bernstein, B. E. Epigenetic plasticity and the hallmarks of cancer. Science 357, eaal2380 (2017).

42.

Rauscher, B., Henkel, L., Heigwer, F. & Boutros, M. Lineage specific core-regulatory circuits determine gene essentiality in cancer cells. Preprint bioRxiv https://doi.org/10.1101/609552 (2019).

43.

Corces, M. R. et al. An improved ATAC-seq protocol reduces background and enables interrogation of frozen tissues. Nat. Methods 14, 959–962 (2017).

44.

Bolger, A. M., Lohse, M. & Usadel, B. Trimmomatic: a flexible trimmer for Illumina sequence data. Bioinformatics 30, 2114–2120 (2014).

45.

Dobin, A. et al. STAR: ultrafast universal RNA-seq aligner. Bioinformatics 29, 15–21 (2013).

46.

Li, B. & Dewey, C. N. RSEM: accurate transcript quantification from RNA-seq data with or without a reference genome. BMC Bioinformatics 12, 323 (2011).

47.

Anders, S., Pyl, P. T. & Huber, W. HTSeq—a Python framework to work with high-throughput sequencing data. Bioinformatics 31, 166–169 (2015).

48.

Aran, D. et al. Reference-based analysis of lung single-cell sequencing reveals a transitional profibrotic macrophage. Nat. Immunol. 20, 163–172 (2019).

49.

Lun, A. T., McCarthy, D. J. & Marioni, J. C. A step-by-step workflow for low-level analysis of single-cell RNA-seq data with Bioconductor. F1000Research 5, 2122 (2016).

50.

Patel, A. P. et al. Single-cell RNA-seq highlights intratumoral heterogeneity in primary glioblastoma. Science 344, 1396–1401 (2014).

51.

Tirosh, I. et al. Dissecting the multicellular ecosystem of metastatic melanoma by single-cell RNA-seq. Science 352, 189–196 (2016).

52.

Muller, S., Cho, A., Liu, S. J., Lim, D. A. & Diaz, A. CONICS integrates scRNA-seq with DNA sequencing to map gene expression to tumor sub-clones. Bioinformatics 34, 3217–3219 (2018).

53.

Bolotin, D. A. et al. MiXCR: software for comprehensive adaptive immunity profiling. Nat. Methods 12, 380–381 (2015).

54.

Gaujoux, R. & Seoighe, C. A flexible R package for nonnegative matrix factorization. BMC Bioinformatics 11, 367 (2010).

55.

Robinson, M. D., McCarthy, D. J. & Smyth, G. K. edgeR: a Bioconductor package for differential expression analysis of digital gene expression data. Bioinformatics 26, 139–140 (2010).

56.

McCarthy, D. J., Chen, Y. & Smyth, G. K. Differential expression analysis of multifactor RNA-seq experiments with respect to biological variation. Nucleic Acids Res. 40, 4288–4297 (2012).

57.

Puram, S. V. et al. Single-cell transcriptomic analysis of primary and metastatic tumor ecosystems in head and neck cancer. Cell 171, 1611–1624.e24 (2017).

58.

Subramanian, A. et al. Gene set enrichment analysis: a knowledge-based approach for interpreting genome-wide expression profiles. Proc. Natl Acad. Sci. USA 102, 15545–15550 (2005).

59.

Liberzon, A. et al. Molecular signatures database (MSigDB) 3.0. Bioinformatics 27, 1739–1740 (2011).

60.

Liberzon, A. et al. The molecular signatures database (MSigDB) hallmark gene set collection. Cell Syst. 1, 417–425 (2015).

61.

Wolf, F. A., Angerer, P. & Theis, F. J. SCANPY: large-scale single-cell gene expression data analysis. Genome Biol. 19, 15 (2018).

62.

Aran, D., Hu, Z. & Butte, A. J. xCell: digitally portraying the tissue cellular heterogeneity landscape. Genome Biol. 18, 220 (2017).

63.

Butler, A., Hoffman, P., Smibert, P., Papalexi, E. & Satija, R. Integrating single-cell transcriptomic data across different conditions, technologies, and species. Nat. Biotechnol. 36, 411–420 (2018).

64.

Schubert, M. et al. Perturbation-response genes reveal signaling footprints in cancer gene expression. Nat. Commun. 9, 20 (2018).

65.

Anand, P. et al. Single-cell RNA-seq reveals developmental plasticity with coexisting oncogenic states and immune evasion programs in ETP-ALL. Blood 137, 2463–2480 (2021).

66.

Shannon, P. et al. Cytoscape: a software environment for integrated models of biomolecular interaction networks. Genome Res. 13, 2498–2504 (2003).

67.

Huang, Y. & Sanguinetti, G. BRIE2: computational identification of splicing phenotypes from single-cell transcriptomic experiments. Genome Biol. 22, 251 (2021).

68.

Katz, Y., Wang, E. T., Airoldi, E. M. & Burge, C. B. Analysis and design of RNA sequencing experiments for identifying isoform regulation. Nat. Methods 7, 1009–1015 (2010).

69.

Wang, E. T. et al. Alternative isoform regulation in human tissue transcriptomes. Nature 456, 470–476 (2008).

70.

Granja, J. M. et al. ArchR is a scalable software package for integrative single-cell chromatin accessibility analysis. Nat. Genet. 53, 403–411 (2021).

71.

Ewels, P. A. et al. The nf-core framework for community-curated bioinformatics pipelines. Nat. Biotechnol. 38, 276–278 (2020).

72.

Jia, Y. et al. Myeloma-specific superenhancers affect genes of biological and clinical relevance in myeloma. Blood Cancer J. 11, 32 (2021).

73.

Kaya-Okur, H. S. et al. CUT&Tag for efficient epigenomic profiling of small samples and single cells. Nat. Commun. 10, 1930 (2019).

74.

Pliner, H. A. et al. Cicero predicts cis-regulatory DNA interactions from single-cell chromatin accessibility data. Mol. Cell 71, 858–871.e8 (2018).
Acknowledgements
The authors would like to thank A. Letai for discussion and critical comments on the manuscript. This project was supported by grants from the National Cancer Institute (K08CA191026 to J.G.L.), (K08CA191091 to B.K.), the Anna Fuller Fund (to J.G.L.) and a Scholar Award by the V Foundation for Cancer Research (to J.G.L.). K.C.A. is an American Cancer Society Clinical Research Professor. J.F. acknowledges support from the German Research Foundation (DFG) and the American Association for Cancer Research (AACR).
Ethics declarations
Competing interests
A.J.Y. has a consulting role for Adaptive Biotechnologies, Amgen, BMS, Celgene, GSK, Janssen, Karyopharm, Sanofi and Takeda. The remaining authors declare no competing interests.
Additional information
Peer review statement Nature Cell Biology thanks the anonymous reviewers for their contribution to the peer review of this work.
Publisher's note Springer Nature remains neutral with regard to jurisdictional claims in published maps and institutional affiliations.
Supplementary information
Enlarged version of heatmaps with dendrograms.
Supplementary Tables 1–11.
About this article
Cite this article
Frede, J., Anand, P., Sotudeh, N. et al. Dynamic transcriptional reprogramming leads to immunotherapeutic vulnerabilities in myeloma. Nat Cell Biol 23, 1199–1211 (2021). https://doi.org/10.1038/s41556-021-00766-y
Received:

Accepted:

Published:

Issue Date: