Neuronal mitochondria perturbation elicits a mitochondrial unfolded protein response (UPRmt) in peripheral tissues cell non-autonomously, dependent on the Wnt signalling pathway. A study now reveals that a Wnt-mediated increase in maternally inherited mitochondria DNA is responsible for transgenerational UPRmt induced by neuronal mitochondria perturbation.
Access options
Subscribe to Journal
Get full journal access for 1 year
$99.00
only $8.25 per issue
All prices are NET prices.
VAT will be added later in the checkout.
Tax calculation will be finalised during checkout.
Rent or Buy article
Get time limited or full article access on ReadCube.
from$8.99
All prices are NET prices.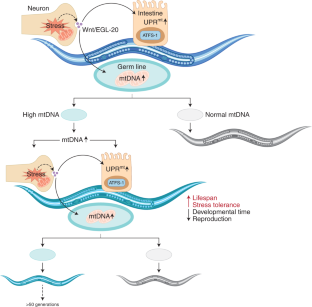 References
1.

Baugh, L. R. & Day, T. eLife 9, e58498 (2020).

2.

Perez, M. F. & Lehner, B. Nat. Cell Biol. 21, 143–151 (2019).

3.

Moore, R. S., Kaletsky, R. & Murphy, C. T. Cell 177, 1827–1841.e2 (2019).

4.

Klosin, A., Casas, E., Hidalgo-Carcedo, C., Vavouri, T. & Lehner, B. Science 356, 320–323 (2017).

5.

Zhang, Q. et al. Nat. Cell Biol. https://doi.org/10.1038/s41556-021-00724-8 (2021).

6.

Shpilka, T. & Haynes, C. M. Nat. Rev. Mol. Cell Biol. 19, 109–120 (2018).

7.

Berendzen, K. M. et al. Cell 166, 1553–1563.e10 (2016).

8.

Zhang, Q. et al. Cell 174, 870–883.e17 (2018).

9.

Gitschlag, B. L. et al. Cell Metab. 24, 91–103 (2016).

10.

Lin, Y. F. et al. Nature 533, 416–419 (2016).

11.

Nargund, A. M., Pellegrino, M. W., Fiorese, C. J., Baker, B. M. & Haynes, C. M. Science 337, 587–590 (2012).

12.

Lee, S. S. et al. Nat. Genet. 33, 40–48 (2003).
Ethics declarations
Competing interests
The authors declare no competing interests.
About this article
Cite this article
Park, M., Wang, M.C. Mitochondrial UPR through generations. Nat Cell Biol 23, 820–821 (2021). https://doi.org/10.1038/s41556-021-00729-3