Abstract
The memory of stresses experienced by parents can be passed on to descendants as a forecast of the challenges to come. Here, we discovered that the neuronal mitochondrial perturbation-induced systemic mitochondrial unfolded protein response (UPRmt) in Caenorhabditis elegans can be transmitted to offspring over multiple generations. The transgenerational activation of UPRmt is mediated by maternal inheritance of elevated levels of mitochondrial DNA (mtDNA), which causes the proteostasis stress within mitochondria. Furthermore, results from intercrossing studies using wild C. elegans strains further support that maternal inheritance of higher levels of mtDNA can induce the UPRmt in descendants. The mitokine Wnt signalling pathway is required for the transmission of elevated mtDNA levels across generations, thereby conferring lifespan extension and stress resistance to offspring. Collectively, our results reveal that the nervous system can transmit stress signals across generations by increasing mtDNA in the germline, enabling descendants to better cope with anticipated challenges.
Relevant articles
Open Access articles citing this article.
Runshuai Zhang

,

Jinan Fang

…

Lianfeng Wu

Cell Research Open Access 27 July 2023

Chen-Song Zhang

,

Mengqi Li

…

Sheng-Cai Lin

Nature Metabolism Open Access 10 October 2022

Qin-Li Wan

,

Xiao Meng

…

Qinghua Zhou

Nature Communications Open Access 09 February 2022
Access options
Access Nature and 54 other Nature Portfolio journals
Get Nature+, our best-value online-access subscription
$29.99 / 30 days
cancel any time
Subscribe to this journal
Receive 12 print issues and online access
$209.00 per year
only $17.42 per issue
Rent or buy this article
Prices vary by article type
from$1.95
to$39.95
Prices may be subject to local taxes which are calculated during checkout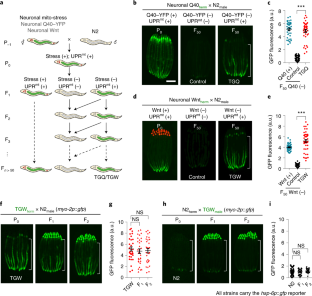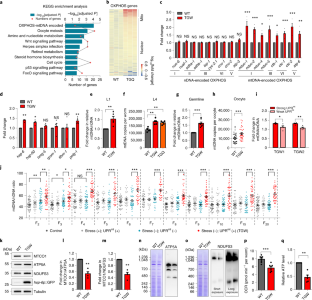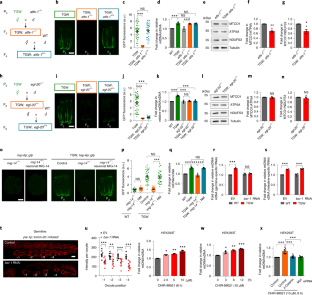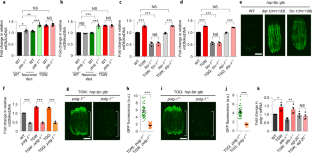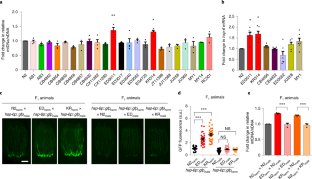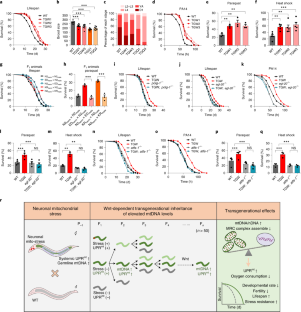 Data availability
The accession numbers for the raw sequencing files and the processed data reported in this paper are NCBI GEO: GSE157031, and NCBI BioProject: PRJNA607689 and PRJNA727630. Previously published DNA-sequencing data that were used here are available under accession code PRJNA13758. The KEGG pathway database used in this study is available online (http://www.genome.jp/kegg/). All other data supporting the findings of this study are available from the corresponding author on reasonable request. Source data are provided with this paper.
References
Rechavi, O. et al. Starvation-induced transgenerational inheritance of small RNAs in C. elegans. Cell 158, 277–287 (2014).

Chen, Q. et al. Sperm tsRNAs contribute to intergenerational inheritance of an acquired metabolic disorder. Science 351, 397–400 (2016).

Perez, M. F., Francesconi, M., Hidalgo-Carcedo, C. & Lehner, B. Maternal age generates phenotypic variation in Caenorhabditis elegans. Nature 552, 106–109 (2017).

Perez, M. F. & Lehner, B. Intergenerational and transgenerational epigenetic inheritance in animals. Nat. Cell Biol. 21, 143–151 (2019).

Skvortsova, K., Iovino, N. & Bogdanović, O. Functions and mechanisms of epigenetic inheritance in animals. Nat. Rev. Mol. Cell Biol. 19, 774–790 (2018).

Webster, A. K., Jordan, J. M., Hibshman, J. D., Chitrakar, R. & Baugh, R. L. Transgenerational effects of extended dauer diapause on starvation survival and gene expression plasticity in Caenorhabditis elegans. Genetics 210, 263–274 (2018).

Jobson, M. A. et al. Transgenerational effects of early life starvation on growth, reproduction, and stress resistance in Caenorhabditis elegans. Genetics 201, 201–212 (2015).

Baugh, L. R. & Day, T. Nongenetic inheritance and multigenerational plasticity in the nematode C. Elegans. eLife 9, e58498 (2020).

Wallace, D. C. A mitochondrial paradigm of metabolic and degenerative diseases, aging, and cancer: a dawn for evolutionary medicine. Ann. Rev. Genet. 39, 359–407 (2005).

Shpilka, T. & Haynes, C. M. The mitochondrial UPR: mechanisms, physiological functions and implications in ageing. Nat. Rev. Mol. Cell Biol. 19, 109–120 (2018).

Ma, C. et al. N6-methyldeoxyadenine is a transgenerational epigenetic signal for mitochondrial stress adaptation. Nat. Cell Biol. 21, 319–327 (2019).

Hibshman, J. D., Hung, A. & Baugh, L. R. Maternal diet and insulin-like signaling control intergenerational plasticity of progeny size and starvation resistance. PLoS Genet. 12, e1006396 (2016).

Jordan, J. M. et al. Insulin/IGF signaling and vitellogenin provisioning mediate intergenerational adaptation to nutrient stress. Curr. Biol. 29, 2380–2388 (2019).

Okimoto, R., Macfarlane, J. L., Clary, D. O. & Wolstenholme, D. R. The mitochondrial genomes of two nematodes, Caenorhabditis elegans and Ascaris suum. Genetics 130, 471–498 (1992).

Houtkooper, R. H. et al. Mitonuclear protein imbalance as a conserved longevity mechanism. Nature 497, 451–457 (2013).

Martinus, R. D. et al. Selective induction of mitochondrial chaperones in response to loss of the mitochondrial genome. Eur. J. Biochem. 240, 98–103 (1996).

Yoneda, T. et al. Compartment-specific perturbation of protein handling activates genes encoding mitochondrial chaperones. J. Cell Sci. 117, 4055–4066 (2004).

Tian, Y. et al. Mitochondrial stress induces chromatin reorganization to promote longevity and UPRmt. Cell 165, 1197–1208 (2016).

Merkwirth, C. et al. Two conserved histone demethylases regulate mitochondrial stress-induced longevity. Cell 165, 1209–1223 (2016).

Zhu, D. et al. NuRD mediates mitochondrial stress–induced longevity via chromatin remodeling in response to acetyl-CoA level. Sci. Adv. 6, eabb2529 (2020).

Benedetti, C., Haynes, C. M., Yang, Y., Harding, H. P. & Ron, D. Ubiquitin-like protein 5 positively regulates chaperone gene expression in the mitochondrial unfolded protein response. Genetics 174, 229–239 (2006).

Nargund, A. M., Pellegrino, M. W., Fiorese, C. J., Baker, B. M. & Haynes, C. M. Mitochondrial import efficiency of ATFS-1 regulates mitochondrial UPR activation. Science 337, 587–590 (2012).

Nargund, A. M., Fiorese, C. J., Pellegrino, M. W., Deng, P. & Haynes, C. M. Mitochondrial and nuclear accumulation of the transcription factor ATFS-1 promotes OXPHOS recovery during the UPRmt. Mol. Cell 58, 123–133 (2015).

Durieux, J., Wolff, S. & Dillin, A. The cell-non-autonomous nature of electron transport chain-mediated longevity. Cell 144, 79–91 (2011).

Berendzen, K. M. et al. Neuroendocrine coordination of mitochondrial stress signaling and proteostasis. Cell 166, 1553–1563 (2016).

Lan, J. et al. Translational regulation of non-autonomous mitochondrial stress response promotes longevity. Cell Rep. 28, 1050–1062 (2019).

Higuchi-Sanabria, R., Frankino, P. A., Paul, J. W., Tronnes, S. U. & Dillin, A. A futile battle? Protein quality control and the stress of aging. Dev. Cell 44, 139–163 (2018).

Suomalainen, A. et al. FGF-21 as a biomarker for muscle-manifesting mitochondrial respiratory chain deficiencies: a diagnostic study. Lancet Neurol. 10, 806–818 (2011).

Owusu-Ansah, E., Song, W. & Perrimon, N. Muscle mitohormesis promotes longevity via systemic repression of insulin signaling. Cell 155, 699–712 (2013).

Kang, G. M. et al. Mitohormesis in hypothalamic POMC neurons mediates regular exercise-induced high-turnover metabolism. Cell Metab. 33, 334–349 (2021).

Shao, L. W., Niu, R. & Liu, Y. Neuropeptide signals cell non-autonomous mitochondrial unfolded protein response. Cell Res. 26, 1182–1196 (2016).

Zhang, Q. et al. The mitochondrial unfolded protein response is mediated cell-non-autonomously by retromer-dependent Wnt signaling. Cell 174, 870–883 (2018).

Taylor, R. C. & Dillin, A. XBP-1 is a cell-nonautonomous regulator of stress resistance and longevity. Cell 153, 1435–1447 (2013).

Lin, Y. F. et al. Maintenance and propagation of a deleterious mitochondrial genome by the mitochondrial unfolded protein response. Nature 533, 416–419 (2016).

Tsang, W. Y. & Lemire, B. D. Mitochondrial genome content is regulated during nematode development. Biochem. Biophys. Res. Commun. 291, 8–16 (2002).

Haynes, C. M., Yang, Y., Blais, S. P., Neubert, T. A. & Ron, D. The matrix peptide exporter HAF-1 signals a mitochondrial UPR by activating the transcription factor ZC376.7 in C. elegans. Mol. Cell 37, 529–540 (2010).

Korswagen, H. C. et al. The Axin-like protein PRY-1 is a negative regulator of a canonical Wnt pathway in C. elegans. Genes Dev. 16, 1291–1302 (2002).

Narendra, D. P. et al. PINK1 is selectively stabilized on impaired mitochondria to activate Parkin. PLoS Biol. 8, e1000298 (2010).

Silva Ramos, E. et al. Mitochondrial fusion is required for regulation of mitochondrial DNA replication. PLoS Genet. 15, e1008085 (2019).

Jones, B. A. & Fangman, W. L. Mitochondrial DNA maintenance in yeast requires a protein containing a region related to the GTP-binding domain of dynamin. Genes Dev. 6, 380–389 (1992).

Bratic, I. et al. Mitochondrial DNA level, but not active replicase, is essential for Caenorhabditis elegans development. Nucleic Acids Res. 37, 1817–1828 (2009).

Maydan, J. S., Lorch, A., Edgley, M. L., Flibotte, S. & Moerman, D. G. Copy number variation in the genomes of twelve natural isolates of Caenorhabditis elegans. BMC Genomics 11, 62 (2010).

Andersen, E. C. et al. Chromosome-scale selective sweeps shape Caenorhabditis elegans genomic diversity. Nat. Genet. 44, 285–290 (2012).

Pellegrino, M. W. et al. Mitochondrial UPR-regulated innate immunity provides resistance to pathogen infection. Nature 516, 414–417 (2014).

Tan, M. W., Mahajan-Miklos, S. & Ausubel, F. M. Killing of Caenorhabditis elegans by Pseudomonas aeruginosa used to model mammalian bacterial pathogenesis. Proc. Natl Acad. Sci. USA 96, 715–720 (1999).

Mousseau, T. A. & Fox, C. W. The adaptive significance of maternal effects. Trends Ecol. Evol. 13, 403–407 (1998).

Öst, A. et al. Paternal diet defines offspring chromatin state and intergenerational obesity. Cell 159, 1352–1364 (2014).

Klosin, A., Casas, E., Hidalgo-Carcedo, C., Vavouri, T. & Lehner, B. Transgenerational transmission of environmental information in C. elegans. Science 356, 320–323 (2017).

Dias, B. G. & Ressler, K. J. Parental olfactory experience influences behavior and neural structure in subsequent generations. Nat. Neurosci. 17, 89–96 (2014).

Moore, R. S., Kaletsky, R. & Murphy, C. T. Piwi/PRG-1 argonaute and TGF-β mediate transgenerational learned pathogenic avoidance. Cell 177, 1827–1841 (2019).

Posner, R. et al. Neuronal small RNAs control behavior transgenerationally. Cell 177, 1814–1826 (2019).

Mengel-From, J. et al. Mitochondrial DNA copy number in peripheral blood cells declines with age and is associated with general health among elderly. Hum. Genet. 133, 1149–1159 (2014).

Barazzoni, R., Short, K. R. & Nair, K. S. Effects of aging on mitochondrial DNA copy number and cytochrome c oxidase gene expression in rat skeletal muscle, liver, and heart. J. Biol. Chem. 275, 3343–3347 (2000).

Ding, J. et al. Assessing mitochondrial DNA variation and copy number in lymphocytes of ~2,000 sardinians using tailored sequencing analysis tools. PLoS Genet. 11, e1005306 (2015).

Wachsmuth, M., Hübner, A., Li, M., Madea, B. & Stoneking, M. Age-related and heteroplasmy-related variation in human mtDNA copy number. PLoS Genet. 12, e1005939 (2016).

Skujina, I., McMahon, R., Lenis, V. P. E., Gkoutos, G. V. & Hegarty, M. Duplication of the mitochondrial control region is associated with increased longevity in birds. Aging 8, 1781–1789 (2016).

Garesse, R. & Vallejo, C. G. Animal mitochondrial biogenesis and function: a regulatory cross-talk between two genomes. Gene 263, 1–16 (2001).

Latorre-Pellicer, A. et al. Mitochondrial and nuclear DNA matching shapes metabolism and healthy ageing. Nature 535, 561–565 (2016).

Quiros, P. M., Goyal, A., Jha, P. & Auwerx, J. Analysis of mtDNA/nDNA ratio in mice. Curr. Protoc. Mouse Biol. 7, 47–54 (2017).

Rieckher, M., Markaki, M., Princz, A., Schumacher, B. & Tavernarakis, N. Maintenance of proteostasis by P body-mediated regulation of eIF4E availability during aging in Caenorhabditis elegans. Cell Rep. 25, 199–211 (2018).

Dillin, A. et al. Rates of behavior and aging specified by mitochondrial function during development. Science 298, 2398–2401 (2002).

van den Ecker, D. et al. Blue native electrophoresis to study mitochondrial complex I in C. elegans. Anal. Biochem. 407, 287–289 (2010).

Love, M. I., Huber, W. & Anders, S. Moderated estimation of fold change and dispersion for RNA-seq data with DESeq2. Genome Biol. 15, 550 (2014).

Chen, C. et al. TBtools: an integrative toolkit developed for interactive analyses of big biological data. Mol. Plant 13, 1194–1202 (2020).
Acknowledgements
We thank the members of the Tian laboratory, D. Chen and X. Zhan for discussion and technical assistance; Y. Qi for the polg-1 mutant strain; S. Zuryn for the germline mitochondrial marker strain; and S. Cai for the wild C. elegans strains. Several C. elegans strains used in this work were provided by CGC (supported by the NIH-Officer of Research Infrastructure Programs (P40 OD010440) and the Japanese National BioResource Project. This work was supported by the National Key R&D Program of China (2017YFA0506400, to Y.T.; and 2019YFA0508700, to W.Q.), the Strategic Priority Research Program of Chinese Academy of Sciences (XDB39000000, to Y.T.) and the National Natural Science Foundation of China (nos 31930023 and 31771333, to Y.T.; and no. 31922014, to W.Q.).
Ethics declarations
Competing interests
The authors declare no competing interests.
Additional information
Peer review information Nature Cell Biology thanks Doris Germain, and the other, anonymous, reviewer(s) for their contribution to the peer review of this work. Peer reviewer reports are available.
Publisher's note Springer Nature remains neutral with regard to jurisdictional claims in published maps and institutional affiliations.
Supplementary information
About this article
Cite this article
Zhang, Q., Wang, Z., Zhang, W. et al. The memory of neuronal mitochondrial stress is inherited transgenerationally via elevated mitochondrial DNA levels. Nat Cell Biol 23, 870–880 (2021). https://doi.org/10.1038/s41556-021-00724-8
Received:

Accepted:

Published:

Issue Date:

DOI: https://doi.org/10.1038/s41556-021-00724-8