Abstract
In the last decade, DNA-based tension sensors have made significant contributions to the study of the importance of mechanical forces in many biological systems. Albeit successful, one shortcoming of these techniques is their inability to reversibly measure receptor forces in a higher regime (that is, >20 pN), which limits our understanding of the molecular details of mechanochemical transduction in living cells. Here, we developed a reversible shearing DNA-based tension probe (RSDTP) for probing molecular piconewton-scale forces between 4 and 60 pN transmitted by cells. Using these probes, we can easily distinguish the differences in force-bearing integrins without perturbing adhesion biology and reveal that a strong force-bearing integrin cluster can serve as a 'mechanical pivot' to maintain focal adhesion architecture and facilitate its maturation. The benefits of the RSDTP include a high dynamic range, reversibility and single-molecule sensitivity, all of which will facilitate a better understanding of the molecular mechanisms of mechanobiology.
Relevant articles
Open Access articles citing this article.
Myung Hyun Jo

,

Jing Li

…

Taekjip Ha

Nature Communications Open Access 03 December 2022
Access options
Access Nature and 54 other Nature Portfolio journals
Get Nature+, our best-value online-access subscription
$29.99 per month
cancel any time
Subscribe to this journal
Receive 12 print issues and online access
$209.00 per year
only $17.42 per issue
Rent or buy this article
Get just this article for as long as you need it
$39.95
Prices may be subject to local taxes which are calculated during checkout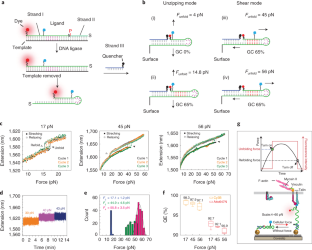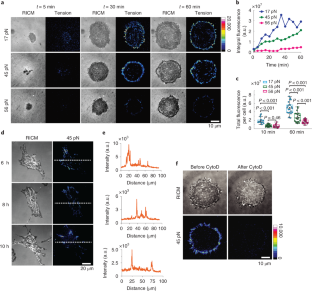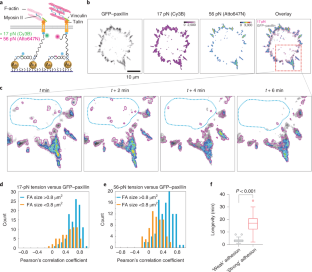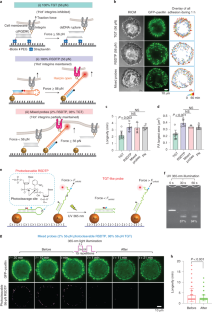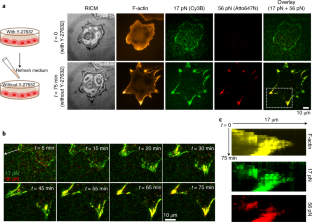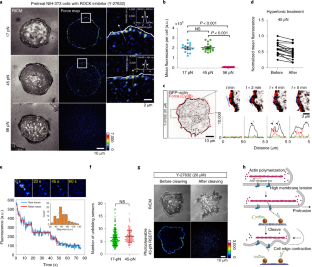 Data availability
The raw image data generated and analysed that support the findings of this study are available from the corresponding author upon reasonable request. Source data are provided with this paper.
Code availability
The behaviour of FAs in cells was analysed using the Focal Adhesion Analysis Server (FAAS): a web tool for analysing FA dynamics (https://faas.bme.unc.edu).
References
Iskratsch, T., Wolfenson, H. & Sheetz, M. P. Appreciating force and shape—the rise of mechanotransduction in cell biology. Nat. Rev. Mol. Cell Biol. 15, 825–833 (2014).

Schwartz, M. A. The force is with us. Science 323, 588–589 (2009).

Parsons, J. T., Horwitz, A. R. & Schwartz, M. A. Cell adhesion: integrating cytoskeletal dynamics and cellular tension. Nat. Rev. Mol. Cell Bio. 11, 633–643 (2010).

Roca-Cusachs, P., Conte, V. & Trepat, X. Quantifying forces in cell biology. Nat. Cell Biol. 19, 742–751 (2017).

Liu, Y., Galior, K., Ma, V. P. Y. & Salaita, K. Molecular tension probes for imaging forces at the cell surface. Acc. Chem. Res. 50, 2915–2924 (2017).

Polacheck, W. J. & Chen, C. S. Measuring cell-generated forces: a guide to the available tools. Nat. Methods 13, 415–423 (2016).

Kechagia, J. Z., Ivaska, J. & Roca-Cusachs, P. Integrins as biomechanical sensors of the microenvironment. Nat. Rev. Mol. Cell Bio. 20, 457–473 (2019).

Kanchanawong, P. et al. Nanoscale architecture of integrin-based cell adhesions. Nature 468, 580–584 (2010).

Hoffman, B. D., Grashoff, C. & Schwartz, M. A. Dynamic molecular processes mediate cellular mechanotransduction. Nature 475, 316–323 (2011).

Plotnikov, S. V., Pasapera, A. M., Sabass, B. & Waterman, C. M. Force fluctuations within focal adhesions mediate ECM-rigidity sensing to guide directed cell migration. Cell 151, 1513–1527 (2012).

Morimatsu, M., Mekhdjian, A. H., Adhikari, A. S. & Dunn, A. R. Molecular tension sensors report forces generated by single integrin molecules in living cells. Nano Lett. 13, 3985–3989 (2013).

Morimatsu, M., Mekhdjian, A. H., Chang, A. C., Tan, S. J. & Dunn, A. R. Visualizing the interior architecture of focal adhesions with high-resolution traction maps. Nano Lett. 15, 2220–2228 (2015).

Ma, V. P.-Y. & Salaita, K. DNA nanotechnology as an emerging tool to study mechanotransduction in living systems. Small 15, 1900961 (2019).

Stabley, D. R., Jurchenko, C., Marshall, S. S. & Salaita, K. S. Visualizing mechanical tension across membrane receptors with a fluorescent sensor. Nat. Methods 9, 64–67 (2011).

Liu, Y., Yehl, K., Narui, Y. & Salaita, K. Tension sensing nanoparticles for mechano-imaging at the living/nonliving interface. J. Am. Chem. Soc. 135, 5320–5323 (2013).

Chang, Y. et al. A general approach for generating fluorescent probes to visualize piconewton forces at the cell surface. J. Am. Chem. Soc. 138, 2901–2904 (2016).

Blakely, B. L. et al. A DNA-based molecular probe for optically reporting cellular traction forces. Nat. Methods 11, 1229–1232 (2014).

Zhang, Y., Ge, C., Zhu, C. & Salaita, K. DNA-based digital tension probes reveal integrin forces during early cell adhesion. Nat. Commun. 5, 5167 (2014).

Brockman, J. M. et al. Live-cell super-resolved PAINT imaging of piconewton cellular traction forces. Nat. Methods 17, 1018–1024 (2020).

Tan, S. J. et al. Regulation and dynamics of force transmission at individual cell-matrix adhesion bonds. Sci. Adv. 6, eaax0317 (2020).

Jurchenko, C., Chang, Y., Narui, Y., Zhang, Y. & Salaita, K. S. Integrin-generated forces lead to streptavidin-biotin unbinding in cellular adhesions. Biophys. J. 106, 1436–1446 (2014).

Galior, K., Liu, Y., Yehl, K., Vivek, S. & Salaita, K. Titin-based nanoparticle tension sensors map high-magnitude integrin forces within focal adhesions. Nano Lett. 16, 341–348 (2016).

Wang, X. & Ha, T. Defining single molecular forces required to activate integrin and notch signaling. Science 340, 991–994 (2013).

Zhao, Y. C., Wang, Y. L., Sarkar, A. & Wang, X. F. Keratocytes generate high integrin tension at the trailing edge to mediate rear de-adhesion during rapid cell migration. iScience 9, 502–512 (2018).

Zhao, Y. C., Pal, K., Tu, Y. & Wang, X. F. Cellular force nanoscopy with 50 nm resolution based on integrin molecular tension imaging and localization. J. Am. Chem. Soc. 142, 6930–6934 (2020).

Jo, M. H., Cottle, W. T. & Ha, T. Real-time measurement of molecular tension during cell adhesion and migration using multiplexed differential analysis of tension gauge tethers. ACS Biomater. Sci. Eng. 5, 3856–3863 (2019).

Woodside, M. T. et al. Nanomechanical measurements of the sequence-dependent folding landscapes of single nucleic acid hairpins. Proc. Natl Acad. Sci. USA 103, 6190–6195 (2006).

Hatch, K., Danilowicz, C., Coljee, V. & Prentiss, M. Demonstration that the shear force required to separate short double-stranded DNA does not increase significantly with sequence length for sequences longer than 25 base pairs. Phys. Rev. E 78, 011920 (2008).

Mosayebi, M., Louis, A. A., Doye, J. P. & Ouldridge, T. E. Force-induced rupture of a DNA duplex: from fundamentals to force sensors. ACS Nano 9, 11993–12003 (2015).

Zhang, C. et al. The mechanical properties of RNA–DNA hybrid duplex stretched by magnetic tweezers. Biophys. J. 116, 196–204 (2019).

Liu, Y. et al. DNA-based nanoparticle tension sensors reveal that T-cell receptors transmit defined pN forces to their antigens for enhanced fidelity. Proc. Natl Acad. Sci. USA 113, 5610–5615 (2016).

Ma, R. et al. DNA probes that store mechanical information reveal transient piconewton forces applied by T cells. Proc. Natl Acad. Sci. USA 116, 16949–16954 (2019).

Berginski, M. E. & Gomez, S. M. The Focal Adhesion Analysis Server: a web tool for analyzing focal adhesion dynamics. F1000Res 2, 68 (2013).

Glazier, R. et al. DNA mechanotechnology reveals that integrin receptors apply pN forces in podosomes on fluid substrates. Nat. Commun. 10, 4507 (2019).

Liu, Y. et al. Nanoparticle tension probes patterned at the nanoscale: impact of integrin clustering on force transmission. Nano Lett. 14, 5539–5546 (2014).

Swaminathan, V., Fischer, R. S. & Waterman, C. M. The FAK-Arp2/3 interaction promotes leading edge advance and haptosensing by coupling nascent adhesions to lamellipodia actin. Mol. Biol. Cell 27, 1085–1100 (2016).

Harris, A. R., Jreij, P. & Fletcher, D. A. Mechanotransduction by the actin cytoskeleton: converting mechanical stimuli into biochemical signals. Annu. Rev. Biophys. 47, 617–631 (2018).

Gordon, M. P., Ha, T. & Selvin, P. R. Single-molecule high-resolution imaging with photobleaching. Proc. Natl Acad. Sci. USA 101, 6462–6465 (2004).

Basu, R. et al. Cytotoxic T cells use mechanical force to potentiate target cell killing. Cell 165, 100–110 (2016).

Wang, J. et al. Profiling the origin, dynamics, and function of traction force in B cell activation. Sci. Signal. 11, eaai9192 (2018).

Chen, Y. et al. An integrin αIIbβ3 intermediate affinity state mediates biomechanical platelet aggregation. Nat. Mater. 18, 760–769 (2019).

Zhang, Y. et al. Platelet integrins exhibit anisotropic mechanosensing and harness piconewton forces to mediate platelet aggregation. Proc. Natl Acad. Sci. USA 115, 325–330 (2018).

Myers, D. R. et al. Single-platelet nanomechanics measured by high-throughput cytometry. Nat. Mater. 16, 230–235 (2017).

Li, H., Hu, Y., Sun, F., Chen, W. & Liu, Z. A reversible shearing DNA-based tension probe for cellular force measurement. Protocol Exchange https://doi.org/10.21203/rs.3.pex-1451/v1 (2021).

Piella, J., Bastús, N. G. & Puntes, V. Size-controlled synthesis of sub-10-nanometer citrate-stabilized gold nanoparticles and related optical properties. Chem. Mater. 28, 1066–1075 (2016).
Acknowledgements
This work was supported by the National Natural Science Foundation of China (21775115, 32071305, 31670760, 11704286 and 11674403), the start-up funding from Wuhan University for financial support, and the Fundamental Research Funds for the Central Universities (2042018kf02). We thank V. Ma for comments on the manuscript and for helpful discussion.
Ethics declarations
Competing interests
The authors declare no competing interests.
Additional information
Peer review information Nature Cell Biology thanks Khalid Salaita and the other, anonymous, reviewer(s) for their contribution to the peer review of this work.
Publisher's note Springer Nature remains neutral with regard to jurisdictional claims in published maps and institutional affiliations.
Supplementary information
About this article
Cite this article
Li, H., Zhang, C., Hu, Y. et al. A reversible shearing DNA probe for visualizing mechanically strong receptors in living cells. Nat Cell Biol 23, 642–651 (2021). https://doi.org/10.1038/s41556-021-00691-0
Received:

Accepted:

Published:

Issue Date:

DOI: https://doi.org/10.1038/s41556-021-00691-0
This article is cited by
Myung Hyun Jo
Jing Li
Taekjip Ha

Nature Communications (2022)

Jordan Rosenbohm
Grayson Minnick
Ruiguo Yang

Biomedical Microdevices (2022)